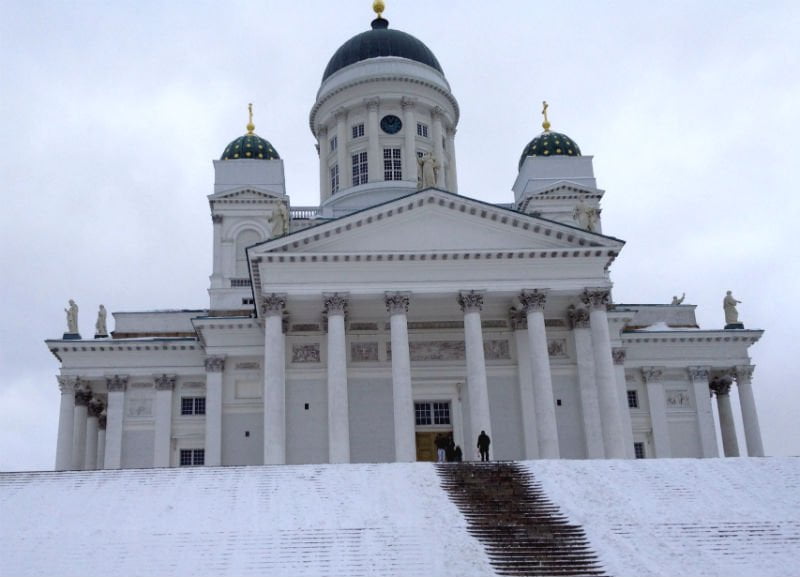 Most Norwegians choose to warm up in the winter by flying south and chasing the sun. Although I flew to Tenerife in November, when the real winter sets in I seem to want to get even colder. Go figure. Last winter, I chose to take my first flight north of the Arctic Circle, experiencing Tromsø at Christmas.
My buddy Chris spent most of 2012 jumping up and down and stamping his feet until I agreed to fly to Helsinki with him for pre-Christmas larks. Eventually I agreed, after all it was a chance for me to chalk off another country on my hit-list.
I didn't know what to expect in Helsinki, in fact I deliberately chose not to look at any guide books. All I knew of the Finnish capital was its title as design capital of the Universe – and all I knew of Finland was that a very angry bird just stole all the Nokias.
Lager and Lakka
On arrival in the city centre I was struck by something you don't see a lot of in Oslo – PEOPLE. It was quite late on a Friday night and people were out on the streets going places, there was a buzz, a bustle, call it what you will. Life! Hurra! When Chris eventually arrived we made a beeline for the nearest bar and somehow amid the lager and lakka, it was 4am and we were queueing for fried chicken. That has never happened to me in Oslo…
Read more: Fun Facts About Finland
This phenomenon lasted all weekend. Despite the cold, the Finns were out in numbers. Clearly the stereotype about Finns being big drinkers has some basis in reality.
By the way, lakka is delicious. It's cloudberry liqueur (no, me neither), but I just called it mead and felt all medieval. Oh, and we also travelled to the top floor bar of a swanky hotel for some warm spicy cocktails and equally delicious views over the city. One place we didn't investigate was the KGB nightclub, although I do want to find out what makes it Helsinki's "most interesting nightclub". I have a few ideas…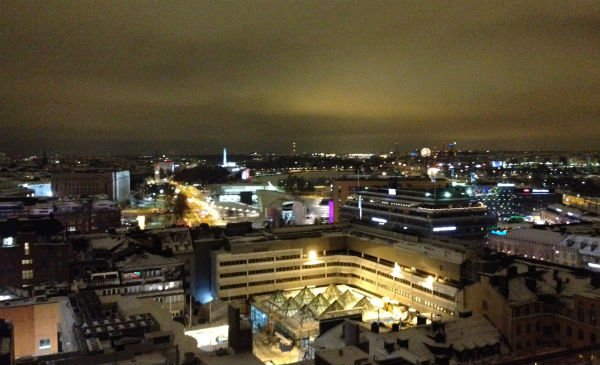 A whole new kind of cold
When I lived in Britain, there was just one kind of cold. I didn't like it very much. Since living in a city where the temperature can drop below -10C for weeks at a time, I have come to discover several different kinds of cold.
In Helsinki, I discovered yet another. I named this the OH-MY-GOD-ARE-YOU-KIDDING-ME-ITS-ONLY-MINUS-FIVE-BUT-THAT-FREEZING-WIND-OFF-THE-SEA-IS-LIKE-STABBING-MY-FACE-WITH-ICICLES-IN-THE-FREEZER-SECTION-OF-TESCOS-AND-MAKING-ME-CRY-I-CANT-TAKE-THIS-ANYMORE-GET-ME-SOME-HOT-RUM kind of cold.
Luckily for me, hot rum is available on every corner. Chris summed up this beautiful invention rather well:
we also had a cup of hot rum (I think it was the following in a cup: Rum, water – put in microwave, pay €8) on a boat which rolled about in the choppy water.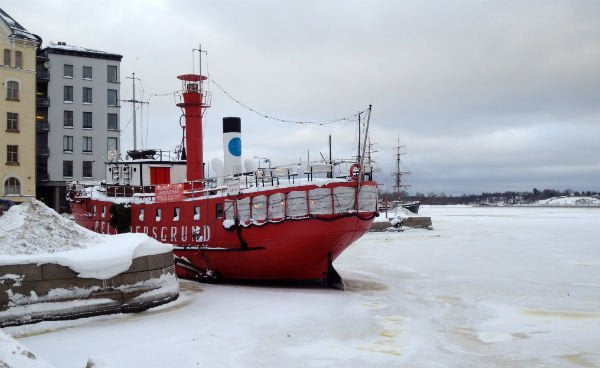 Driven crazy by design
You can't move in Helsinki without seeing an Iittala glass or a Marimekko print. They are the Coca-Cola and McDonalds of Helsinki. The tourist board forces every visitor into the Design Museum. It's like some kind of magnetic pull – if you visit Helsinki, you will end up there. I thought the museum might be a tad pretentious, but actually I enjoyed each and every exhibit and they really made me think. Even if I was at times thinking "hæ!?"
On that theme of thinking though… presumably to a local, Finnish design is just, you know, "design". Every home contains those Iittala glasses and Marimekko prints. So to distinguish themselves, maybe all Finns should rush out and buy English design. Like, framed pictures of dogs playing poker, or those little magazine racks that go next to the toilet. Who knows. I might suggest it next time I'm in town.
See also: A Postcard from Helsinki – Drowning in Design
Goodbye and God Bless
Something I rarely touch on here is religion, because quite frankly I'm not interested. However, I always find myself visiting churches wherever I go. They always tell stories, especially of communities long-lost. The churches in Flåm and Røros were memorable and I now have one from Helsinki to add to that list – the church of the rock.
All in all, a thrilling weekend in a thrilling city. Helsinki deserves its reputation, it's more lively than any Norwegian city with far more to see and do. Good job then it's perfect for a weekend away, with SAS, Norwegian and Finnair all offering direct flights from Oslo. And of course thanks to the dark magic of global economics, earning in Norway means we are some of Helsinki's few visitors who find the place affordable. I'll raise a glass of lakka to that!
My advice – go. But take a sweater.