Finland's capital city Helsinki has a truly fascinating history with strong influences from Sweden, the Baltics and the Russian Empire. Here's an introduction to the Helsinki of today.
It's time to continue our tour of Scandinavia and the Nordic region. Today we head east to Finland, and specifically to its capital city, Helsinki.
Best known recently as the world's happiest country, Finland has only been an independent country since 1917. Its capital city Helsinki has had to grow up fast to become an independent capital on the global stage.
In parts the city is reminiscent of Sweden's capital city Stockholm. In others, you can see influences from elsewhere. But there's plenty that's uniquely Finnish about this fascinating city.
With direct flights from several Norwegian cities, Helsinki is within easy reach for a weekend break. Curious to find out more? Here are ten fun Helsinki facts.
1. Helsinki is the coldest capital in the Nordic region
Of the five main Nordic capital cities, Helsinki has the coldest average winter temperature.
The record low in Helsinki was a bone chilling −34.3 °C (−29.7 °F), although temperatures are likely to be far milder than that today. Still, average temperatures below freezing are considered normal during the winter.
2. There are saunas, everywhere
If you want to try out the Finnish national obsession of visiting a sauna for yourself, you won't have to look very hard in Helsinki. Saunas are installed in hotels, leisure centres, and even office buildings.
In fact, in one of the executive boxes at the city's Hartwall Arena, groups can even take a sauna while watching an ice hockey game. That particular option doesn't come cheap, though!
Get a sense of the diverse range of public saunas available in Helsinki with this list from our friends at Visit Finland.
3. Helsinki is a Nordic design capital
Since it was recognised as a trend in the 1950s, Nordic design has intrigued people all over the world. Furniture and glass are two key elements of the movement and there is no better place to explore this than Helsinki.
Many of the biggest names in Nordic design–Alvar and Aino Aalto, Harri Koskinen, and the Marimekko brand founded by Armi Ratia–are rooted in Helsinki. The city was also recognised globally in 2012, enjoying a year in the spotlight as World Design Capital.
Modern designers are keeping the trend going. Helsinki's Design District is a must-see destination for anyone interested in discovering the latest trends.
4. Helsinki is about the same size as Oslo
For some reason I always assumed Helsinki was bigger than Oslo. But in actual fact, the two cities are of a very similar size.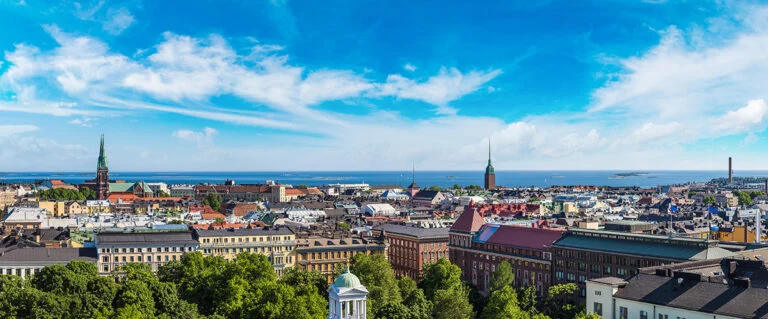 Helsinki itself has a population of 658,864, with 1,268,296 in the wider urban area. Oslo's population is 702,543, with 1,036,059 in the wider urban area.
5. Helsinki has a strong relationship with Tallinn, Estonia
The Estonian capital city Tallinn is directly across the Gulf of Finland from Helsinki. More than ten ferries per day from several operators cross this busy stretch of water, providing a valuable link for business and tourism between Estonia and Finland.
6. The city was established by a Swedish King
In 1550, King Gustav I of Sweden founded the trading town Helsingfors, which remains the name of Helsinki in Swedish. He intended the city to act as a rival to the Hanseatic city that is now Tallinn.
7. There is a church inside a rock
Temppeliaukio Church is a Lutheran church in the Töölö neighborhood of the city. There are many churches in Helsinki, but this one has a compelling reason to visit.
Designed by architect brothers Timo and Tuomo Suomalainen, the church is built directly into solid rock. The brothers discovered they could fulfil the acoustic requirements by leaving the rock walls exposed inside.
Originally though too radical, the church has gone on to become a major tourist attraction for the city since its opening in 1969.
8. The library is architecturally stunning
The National Library of Finland library serves as a hub of Finnish literary and cultural life.
With the responsibility of preserving all printed and audiovisual material produced within Finland, the library is a temple of books. Among other highlights, it has the largest, most comprehensive collection chronicling the Russian Empire anywhere in the world.
But most people visit to admire the stunning architecture. Expect vaulted ceilings, classical staircases and art nouveau accents.
9. The city's sea fortress is a World Heritage site
Built in the late 18th century over six islands at the entrance to Helsinki's harbour, Suomenlinna fortress is an "especially interesting example of European military architecture of the time."
That's the verdict of UNESCO, who added the fortress to its World Heritage site list in 1991. Among its features, the fortress consists of 200 buildings and 6km of defensive walls.
Built by the Swedish admiralty, the fortress has defended Sweden, the Russian Empire and Finland over the years. In Swedish, the fortress is known as Sveaborg.
10. Helsinki is the home airport of Finnair
Helsinki-Vantaa Airport is home to Finnair, the flag carrier of Finland that dominates domestic and international aviation in the country. A member of Oneworld, Finnair serves more than 100 destinations worldwide.
Traditionally, Finnair is known as an important link between Northern Europe and Asia, especially China. However much of this network is currently suspended.
So, that's a very quick introduction to Helsinki, by way of some fun facts. What else do you think people should know about Finland's capital city? Let us know in the comments.