Are you interested in art? If so, here's how to make the most of your time on a trip to Norway's capital city.
Art-based travel is more often associated with France, Spain and Italy than Scandinavia. Yet things are changing in the north, and it doesn't always involve dusty museums.
The recent opening of two flagship museums has put Oslo firmly on the map for anyone interested in art history. Together with an attractive new library and sculpture parks galore, the museums are the latest stage in the decades-long transformation of Oslo and its waterfront.
If you're planning a trip to the Norwegian capital, here are the must-see sights in the world of Norwegian art and design.
National Museum
After many years of waiting, Norway's new National Museum finally opened its doors to the public last month.
The vast Klaus Schuwerk-designed waterfront facility has one major benefit: there's more room for the public display of the paintings, contemporary art, architecture exhibits, and arts, crafts and design from the national museum's collection than ever before.
So much room, in fact, that the museum has more exhibition space than Amsterdam's Rijksmuseum and Bilbao's Guggenheim.
The first floor focuses on design and crafts, ranging from imperial porcelain to contemporary Norwegian fashion including the royal costume collection. Head upstairs for the vast art collection, arranged chronologically over more than 50 rooms.
The development of Norwegian landscape painting and its role in national identity come under the spotlight, as does the emotional trauma of Edvard Munch. 19th-century French art and its influence on Norwegian art is also showcased.
Munch Museum
Whatever you think of the controversial exterior design, the contents of the Munch museum are a comprehensive study into the weird emotionally-charged world of Norway's most famous artist.
Edvard Munch (1863-1944) suffered a tough childhood with a family that suffered from mental illness, a trauma resulting in his unique creative expression later in life. Munch was known to prefer his work displayed in context.
Now that one of the world's biggest museums dedicated to a single artist is open, Munch has his wish.
Three different versions of his most famous work The Scream are on display, rotating every hour. There's another—believed to be the original—in the National Museum.
Tracey Emin was one of many artists to be strongly influenced by Munch throughout her lifetime. Although her first major Nordic exhibition The Loneliness of the Soul that opened the museum is now over, her presence remains through her dramatic 29-feet-high sculpture The Mother, now in place outside the museum.
Astrup Fearnley Museum
Modern art fans are also well catered for in Oslo thanks to the Astrup Fearnley Museum. Another architecture highlight on the capital's waterfront, the privately-owned museum contains one of Europe's most comprehensive collections of international contemporary art.
Designed by Renzo Piano, the boat-like sloping exterior reflects the area's maritime heritage. Themes include the young American art scene, American and European pop-art, and 1980's post-modern appropriation art.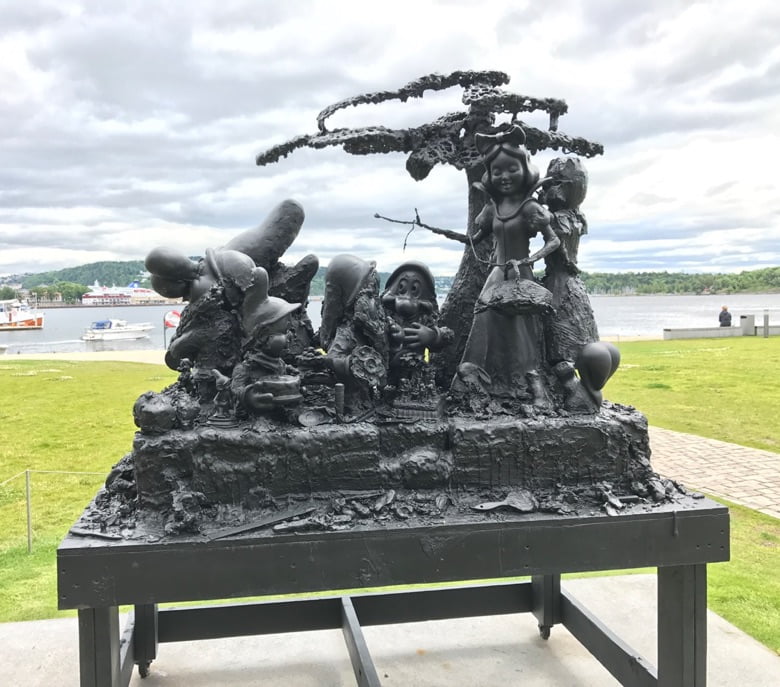 Dotted around the exterior of the museum are a handful of notable public art installations, which anyone can enjoy without paying to enter the museum.
Sculpture parks in Oslo
Oslo's Vigeland Sculpture Park draws millions of visitors to the leafy Frogner Park every year. Yet it's not the only outdoor venue full of public art. Although Vigeland is the most well-known, there are several sculpture parks in Oslo worth a look.
Allow at least an hour and possibly two to fully enjoy Vigeland Sculpture Park. There are more than 200 sculptures set in the beautiful park.
The 46-feet-tall monolith depicting 121 intertwined human figures is a highlight of the park and of the entire Norwegian art scene.
While at Vigeland Park, it's well worth a short detour into the City Museum. A small yet fascinating collection of paintings and photographs showcase the development of Oslo over the centuries.
Elsewhere in the city, the 31 sculptures by international artists set in the woods of Ekeberg Sculpture Park are well worth the short tram ride. Many people take the trip just to see Spanish surrealist Salvador Dali's Venus de Milo aux tiroirs.
Finally, don't miss the fairytale-inspired sculptures in the Royal Palace Gardens. Named after future queen Princess Ingrid Alexandra, the sculpture park was designed based on submissions from schoolchildren across Norway.
The remarkable Emanuel Vigelands Museum
Oslo's lesser-known Emanuel Vigeland Museum, originally established by Emanuel Vigeland himself in 1926, houses remarkable fresco paintings and sculptures, representing human life from conception to death.
Found in the hilly suburbs, the museum's interior is a dark, windowless mausoleum with impressive acoustics, requiring time for your eyes to adjust to appreciate the details.
Emanuel, Gustav Vigeland's younger brother, made a name for himself through his frescoes, stained glass, and sculptures, examples of which are found in various Norwegian churches.
The museum is only open to the public for a few hours on Sundays, and tickets must be booked in advance. The site is accessible via T-Bane to Slemdal and a short walk.
Contemporary art galleries in Oslo
While there are small, independent galleries in many parts of Oslo, head to Grünerløkka to explore the latest in contemporary modern art from Norway and beyond.
This recommended list by Culture Trip includes TM51 on Thorvald Meyers gate, Galleri Schæffer's Gate 5, Fotogalleriet on Møllergata, and Kunstplass 5 at Olaf Ryes Plass.
What are your favourite art destinations in Oslo? Let us know in the comments below.