One of Oslo's hidden gems, the mauseleum of the Emanuel Vigeland museum is well worth the trip into the hilly suburbs.
Many visitors to Oslo have heard of sculptor Gustav Vigeland. Those that haven't, soon do. But Gustav's younger brother Emanuel? He's much less known, yet is responsible for one of Oslo's most surprising attractions.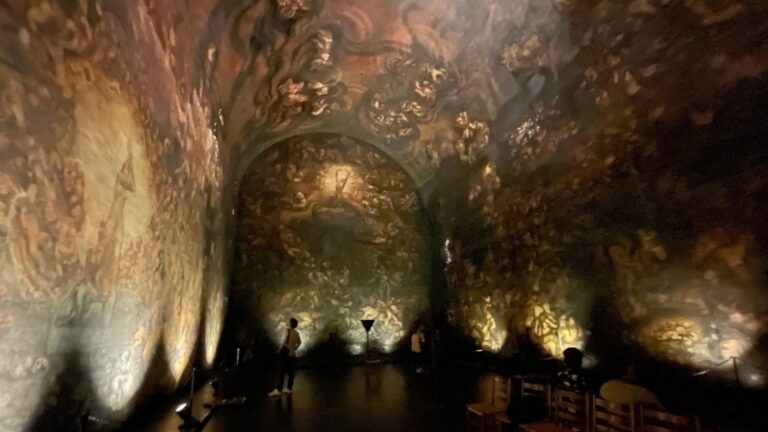 While Gustav Vigeland lent his life's work and name to Vigeland Sculpture Park, Emanual Vigeland (1875-1948) made his name as a painter. He was known for his frescoes and stained glass, of which many examples can be seen in several Norwegian churches.
Emanuel erected what is now the museum in 1926. It was originally intended to be a future museum for his sculptures and paintings. However, he soon decided that the museum should also serve as a mausoleum and the windows were bricked up.
The interior walls and roof of this barrel-shaped building are completely covered with fresco paintings, one of the most stunning artworks on show anywhere in Norway. Since 1958 the museum has been open to the public and is presently open on Sundays.
I can't believe it's taken me more than ten years to make it to this remarkable place!
If you're interested in finding out more about the mausoleum, how to visit it and what to expect when you arrive, then read on.
Introducing the Emanuel Vigeland museum
Located on a tree-lined suburban street in the hills above downtown Oslo, the museum appears from the outside to be a windowless church.
Upon entry, you have to duck through a tiny door and are greeted by almost total darkness. The lighting inside is extremely low, but after a minute or two your eyes will begin to adjust and, wow.
Read more: An Introduction to Norwegian Art
The enormous fresco named Vita depicts human life from conception through to death. There are dramatic scenes and erotic scenes too. Around the room there are sculptures depicting birth, but they are hard to see given the low light. More on that later!
As you exit the mausoleum you have to bow your head to get through the small, low door. This serves dual purpose. You are also bowing to the urn containing the ashes of Emanuel Vigeland, which sits just above the door.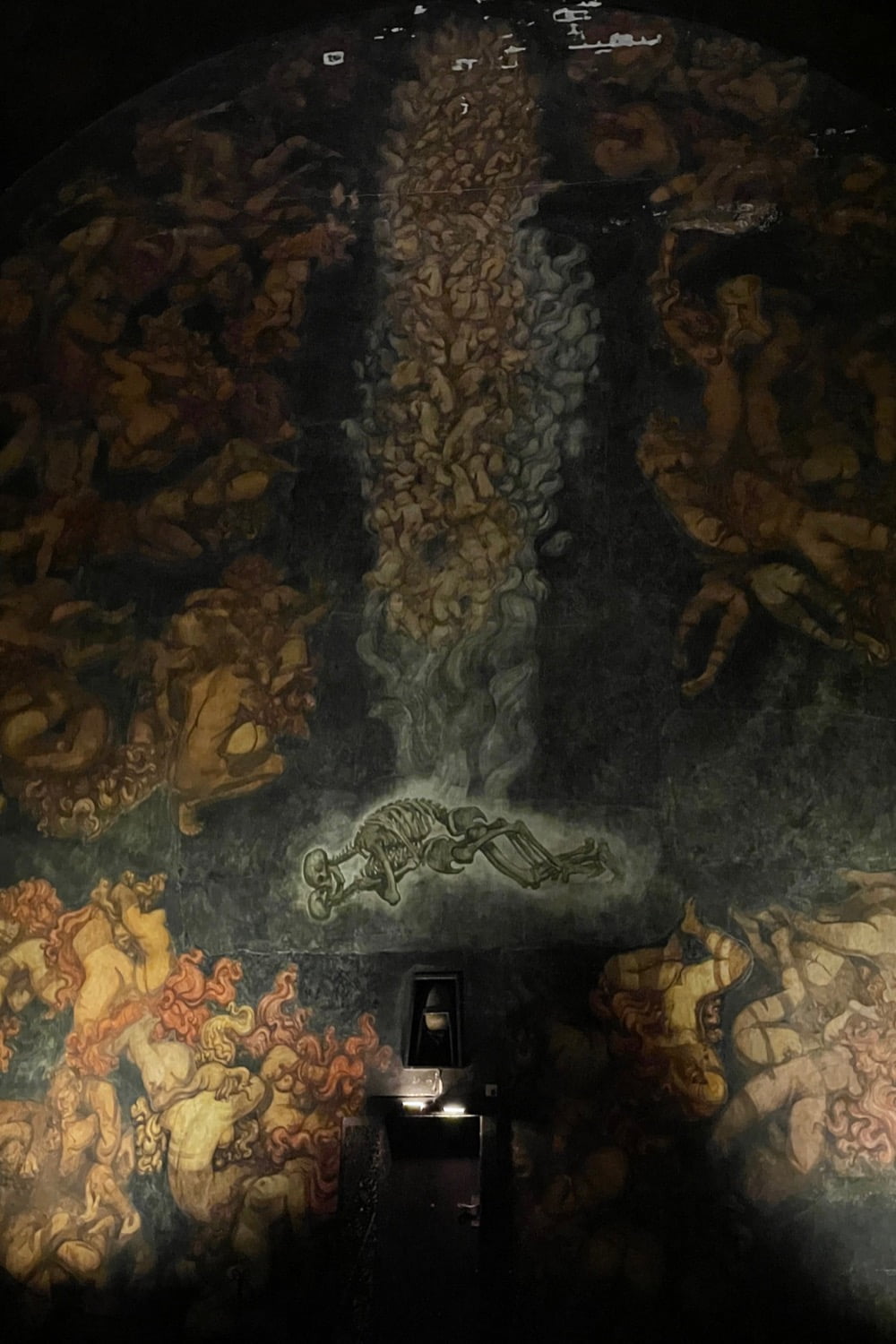 Aside from the stunning visuals, the acoustics of the room are also remarkable. Anything above a quiet whisper instantly richochets around the room! The necessary silence adds to the atmosphere.
Who was Emanuel Vigeland?
Emanuel Vigeland was born near Mandal in 1875 to cabinet maker Elesæus Thorsen and his wife Anna Aanensdatter. Emanuel's brother Gustav was born in 1869.
Emanuel studied at the Norwegian National Academy in Oslo, before studying in Copenhagen. He also spent time in France, Italy, Spain and the UK. It was on these travels that he developed a love for frescoes.
In 1909, Vigeland was commissioned to decorate the first Norwegian Crematorium with frescoes and stained glass. Much of his work is inspired by Christianity and his work features in many Norwegian churches.
Mostly known for his paintings, frescoes and stained glass, he also produced sculptures. Perhaps the most notable of these stands in Nygårdsparken in Bergen.
Visiting the museum
First things first, the photos you see on this page don't accurately reflect what you see. The room is extremely dark and you need to be in the room for quite some time to let your eyes adjust.
Even then, you need to examine the walls closely to fully appreciate the paintings. Flash photography is not permitted. But hopefully, these long exposure images will give you some idea of what to expect, despite their blurriness!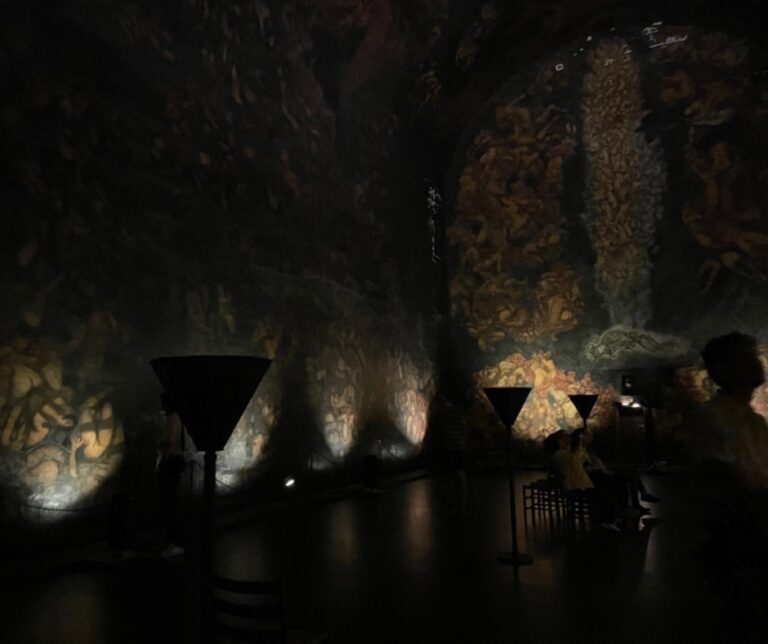 I've included a shorter exposure image above, to better show the darkness of the room.
Bear in mind that there are strict rules inside the museum. Photography is permitted, but there is a strict no flash rule and you will also be asked to turn down the brightness on the screen.
Are you interested in visiting? The most important things you need to know are that the museum is only open for a few hours on Sundays and that tickets must be booked in advance.
Although the sign outside says 12-4pm, timed slots were available online from 11.30am. The entrance fee was 90 kroner, paid at the time of booking. Upon arrival, you just give your name and you are granted entry. Tickets are not available on the door.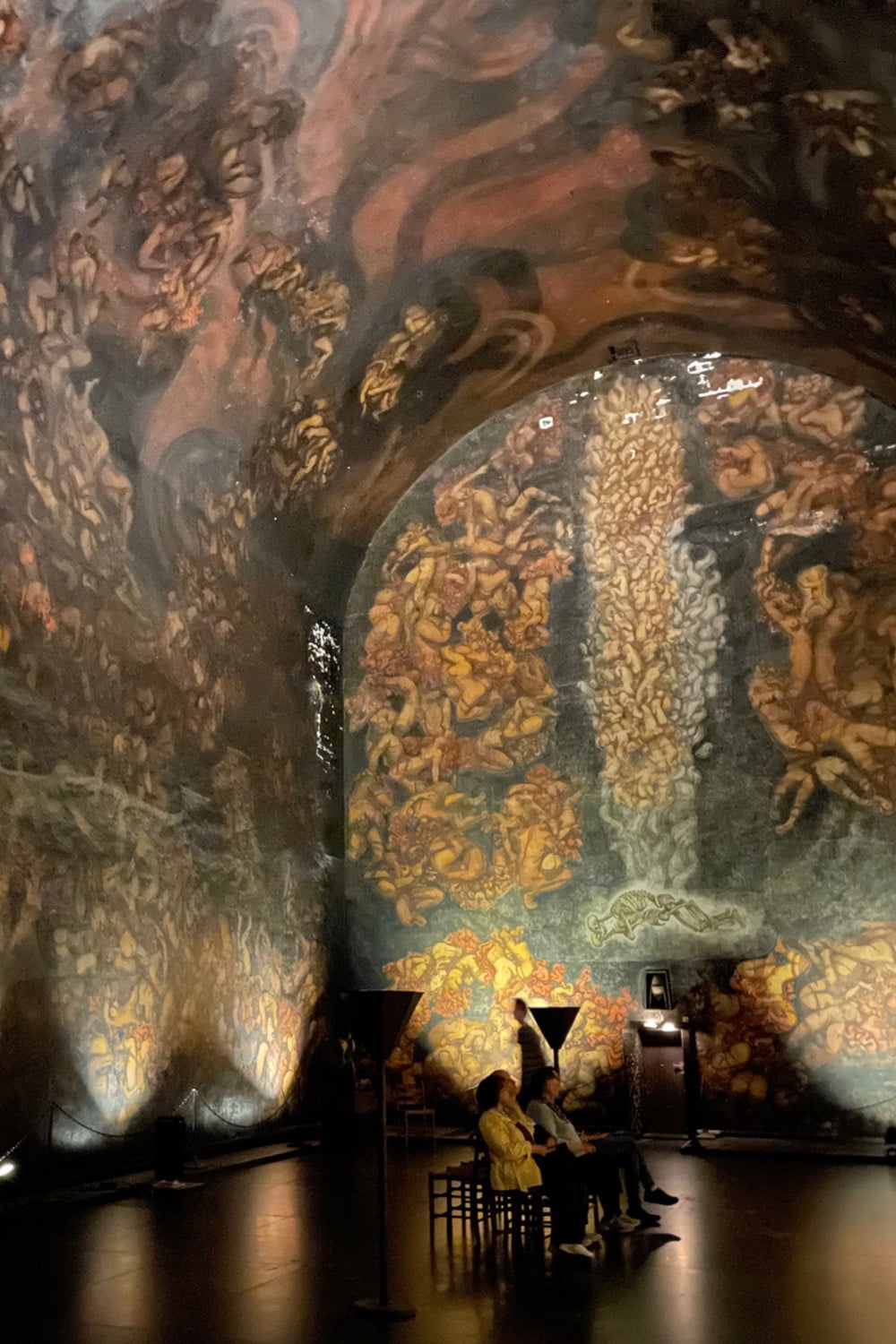 Another factor to bear in mind is getting there. The museum is on a very steep residential street. I walked up from ring 3 and almost instantly regretted it!
I recommend taking the T-Bane to Slemdal and walking from there. On the way back, you can walk downhill to the Grumelundsveien bus stop on Holmenveien, from where you can catch a bus to the T-Bane station at Majorstuen.