Are you researching your family history? Here is the story of Norway's most common family names and how they have evolved through recent centuries.
If you even have a passing interest in Norway or Scandinavia, then you have probably wondered about the distinctive Nordic family names.
Norwegian surnames often comprise of place names or geographical features of the landscape, while others reflect the family history. In many cases, they point to the historic naming system of the father's or mother's first name being passed down.
Trends in Norwegian family names
As a result of this, surnames like Larsen, Hansen and Johansen are still commonplace in modern day Norway, even though they don't mean what they once did. In fact, the top ten Norwegian surnames all end in -sen.
However, a report from Statistics Norway shows that the overall percentage of such names in Norway is dropping. Among newborns, the percentage with a -sen surname has dropped from 22.5% to 18.5% in recent years.
The trend can be seen across all names. For example, number of living people with the name Hansen has dropped from 53,000 in 2015 to just 49,500 in 2023.
Naming of children is regulated in Norway, although the rules are more liberal now than ever before. If you're curious, check out this article on banned names in Norway.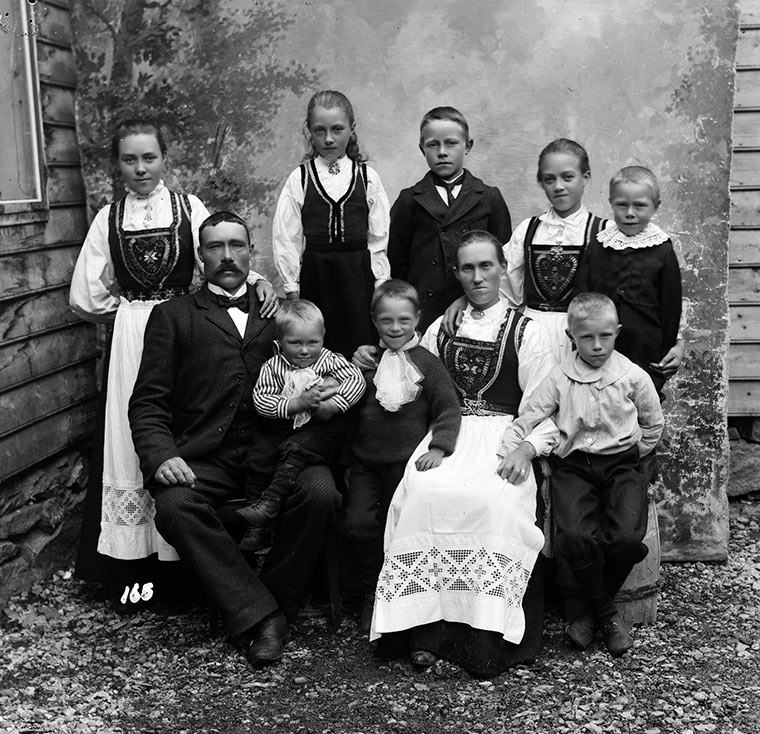 Now, let's dive right in with the statistics, before we look at Norwegian family names in much more detail.
Top 10 Norwegian family names
The top 10 surnames in use in Norway today all end in -sen, a reflection of the former patronymic naming system in the Nordic region. These figures are from Statistics Norway, and reflect the latest data available from 2022.
The number in brackets refers to the number of people presently in Norway with that surname.
1. Hansen (49,503)
2. Johansen (47,097)
3. Olsen (46,094)
4. Larsen (35,935)
5. Andersen (35,277)
6. Pedersen (33,467)
7. Nilsen (32,620)
8. Kristiansen (22,356)
9. Jensen (21,845)
10. Karlsen (20,113)
Other popular Norwegian surnames
Continuing down the list in decreasing popularity, we start to see names based on places and geographic features. We'll look into meanings of specific names later.
11. Johnsen (19,718)
12. Pettersen (18,972)
13. Eriksen (18,499)
14. Berg (17,569)
15. Haugen (13,939)
16. Hagen (13,608)
17. Johannessen (12,619)
18. Jacobsen (11,572)
19. Andreassen (11,562)
20. Dahl (11,296)
Terminology of family names
Before we dive into the history of naming and the meaning behind popular family names, let's look at some important terminology. Etymology is the study of a word's origin and a word's changeable state trough history.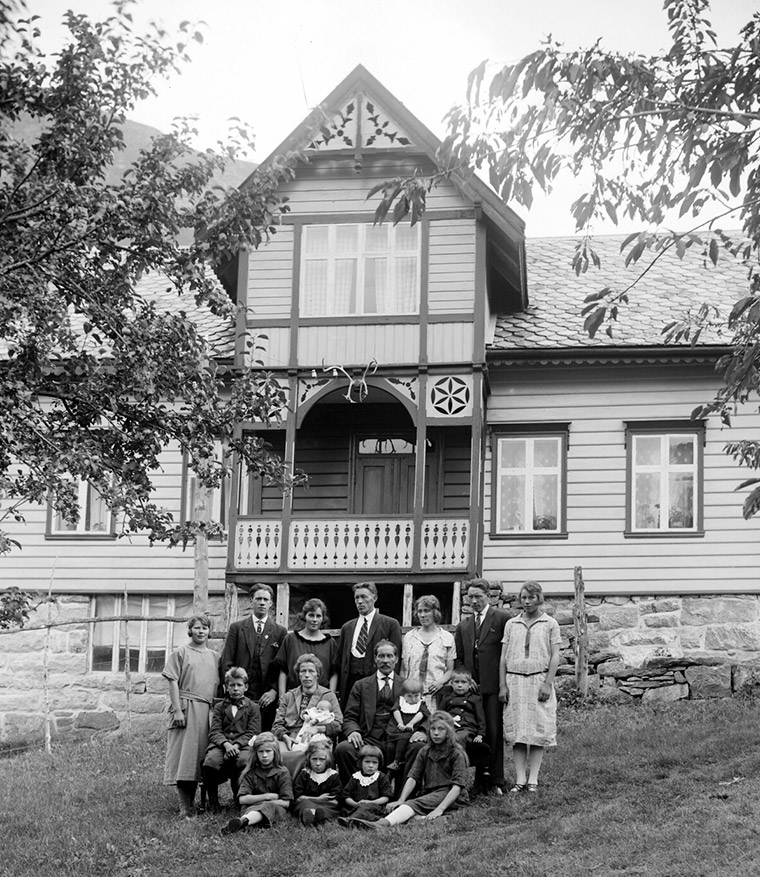 Family names are typically one of three types: Occupational names are derived from the occupation or job of an ancestor. Patronymic names are passed down from the parent. Finally, toponymic names are based on a geographical feature.
Occupational names are common in Great Britain. For example, names like Baker, Butcher, Farmer, and Gardener are in common use.
History of Norwegian family names
Tracing your family ancestry in Norway is a relatively straightforward affair, that is until you get to the pivotal year of 1923. This was the year a law was introduced stating that families should have just one surname.
Before 1923, patronymic surnames were common. Post-1923, many family names were then formed by fixing the patronymic name. So whereas Magnus Johnsen would have previously meant Magnus, son of John, it would now mean, Magnus of the Johnsen family, as it does today.
Female family names operated in the same way: "–dotter" or "–datter" meaning "daughter of". For example, if your father was called "Johan" then your surname might have been listed as "Johansdotter" – "Johan's daughter".
Not all families used patronymic names. Some family names were formed from place names, farm names, or from geographical features. Some of these historic names like Bakke, Berg, Dahl, and Haagen, remain in use today.
Interestingly, the patronymic naming system can still be found in Iceland to this day.
By the way, if you're interested in first names, there's some fascinating trends there too. Check out our article on the most popular Norwegian baby names for more information and inspiration.
The meaning of popular family names in Norway
Let's take a closer look at the meanings behind some of the most common Norwegian surnames.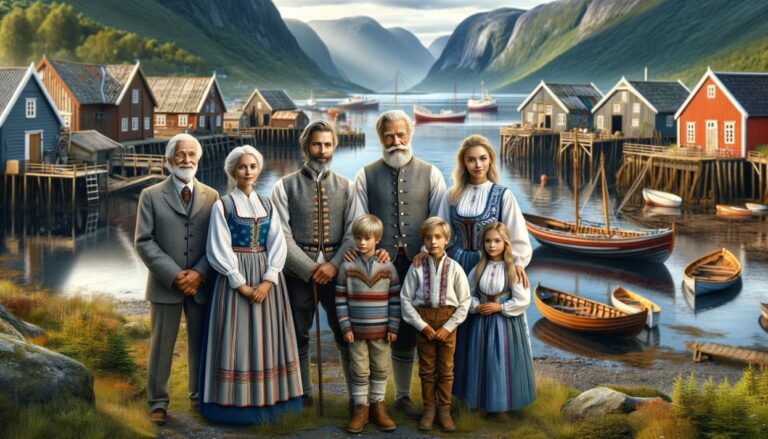 -sen: All names ending in -sen were historically patronymic names. This Old Norse naming system referenced your father. So Peter Johnsen would have originally meant, Peter, son of John. This meaning has gone, but the names remain.
Berg: Derived from the Norwegian word for 'mountain' or 'rock,' surnames with 'Berg' typically indicate a family's ancestral connection to a mountainous or rocky area. For example, someone with the surname Berg likely had ancestors who lived near or on a mountain.
Dahl: This surname originates from the Old Norse word 'dalr,' meaning 'valley.' It was often used to signify someone who came from or lived near a valley. In modern Norwegian, the word valley is 'Dal', but the spelling 'Dahl' is retained for names.
Hagen: Hagen comes from the Old Norse word 'hagi,' which means 'enclosed pasture' or 'garden.' It signifies a family's association with farming, agriculture, or a place characterized by a garden or a protected, fertile land.
Haugen: This name is derived from 'haugr,' an Old Norse word meaning 'hill' or 'mound.' It typically refers to families who originated from or lived near a small hill or a raised area in the landscape. Like many Norwegian surnames, Haugen reflects a connection to specific geographical features.
Ibsen: The great Norwegian playwright, Henrik Ibsen, has a surname that is instantly recognisable. But, did you know that it is actually a name of Danish origin? It means, son of Ib. The name Ib is derived from the name Jacob.
Lund: Derived from the Old Norse word 'lundr,' Lund means 'grove' or 'small forest.' It indicates a family's origin from or near a wooded area. This surname reflects a connection to the natural, forested landscapes that are prevalent in Scandinavia.
Moen: Moen is derived from the Old Norse word 'mói,' meaning 'moor' or 'heathland.' This name would have been given to families living near open, uncultivated land, often found in rural areas.
Solberg: This name combines 'sol,' meaning 'sun,' and 'berg,' meaning 'mountain' or 'rock.' Solberg can be translated to mean 'sunny mountain' or 'sunlit rock,' likely indicating a family from a place known for its sunny, mountainous terrain.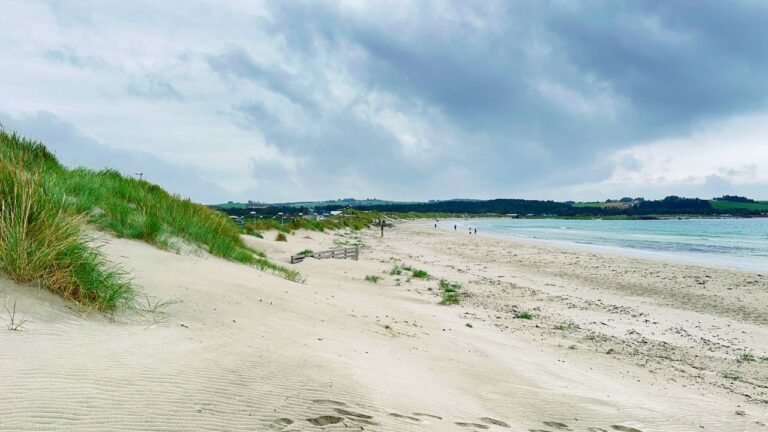 Strand: Strand in Norwegian means 'beach' or 'shoreline.' It is a common surname for families who lived by the sea or along the coast, denoting a close association with maritime life or proximity to the water.
Family names in Denmark
Norway is not alone in their patronymic naming history, two Scandinavian neighbours, Denmark and Sweden, also used this type of naming. Denmark's surnames are mostly patronymic in origin.
Just like Norway, Denmark also use a suffix '–sen' in family names. So a Danish family name like Christensen originally would have meant as 'son of Christen.'
Other surname forms included occupational names taken from the job roles of ancestors in villages or farmsteads. For example, 'Schmidt' meaning 'smith', or 'Fisher' meaning 'fisherman.'
The most common names in Denmark are almost all patronymic. The odd one out in the list is the occupational name 'Møller', which means Miller.
1. Nielsen
2. Jensen
3. Hansen
4. Pedersen
5. Andersen
Family names in Sweden
The most common surnames in Sweden are also patronymic. Norway's next door neighbour abolished this type of naming system a little earlier, in 1901. The change in the law ensured a single family name was passed from generation to generation, just like Norway.
Swedish patronymic names are easily identified through the suffix '-son' or more commonly '-sson.'
Of the top 20 family names in Sweden, only one is not patronymic in origin. The name Lindberg is derived . The name Lindberg means 'linden tree mountain'.
1. Andersson
2. Johansson
3. Karlsson
4. Nilsson
5. Eriksson