Bergen's centre is compact, but residential areas and some tourist attractions are too far to walk. Whether you're a new resident or planning a city break, here's our guide to the public transport options in Norway's second city, updated for 2023.
Nestled between mountains, Bergen, Norway's second-largest city, is dubbed the "gateway to the fjords." Its historic Hanseatic wharf, Bryggen, a UNESCO World Heritage site, reflects its medieval trade significance.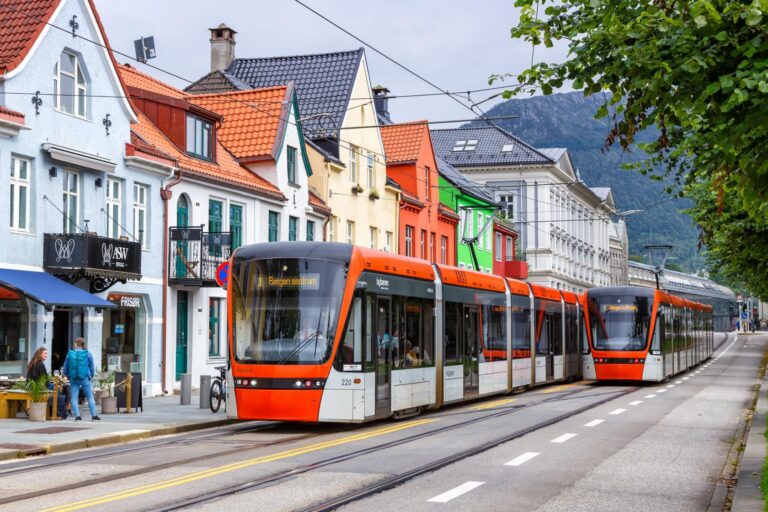 Combining cobbled streets, timbered homes, and a lively fish market with a modern arts scene, Bergen's charm is undeniable. Its blend of nature and history makes Bergen a must-visit for global travellers.
Getting around Bergen
Most of the top attractions in Bergen are located in the very compact central area. Aside from a few cobbled streets, the city is relatively easy to explore on foot.
But the rest of the city is built on mountainous terrain. Even some of the hotels and restaurants close to the central district require a walk up a steep hill.
Many visitors think renting a car is a good idea. But that's not necessarily the case unless you're planning a longer road trip to the fjords. Parking in the city centre is difficult to find, and expensive when you do.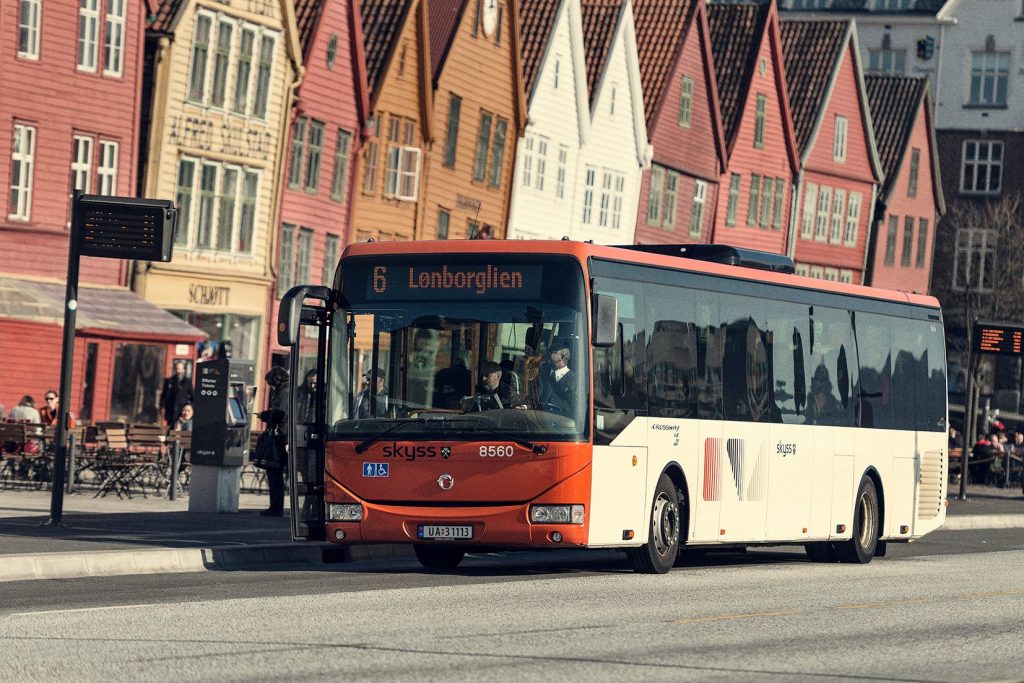 All these reasons mean that getting to know Bergen's public transport system is a good idea. On this page, we cover the basics to get you started using the network, whether you're a new resident or just visiting.
Skyss: How public transit works in Bergen
All public transport in Bergen and the wider Vestland county is coordinated by Skyss. Officially known as a "unified competence body", Skyss works to achieve the political objectives for public transport in the county.
The work includes planning and developing line networks and schedules, awarding contracts to transport operators, school transport planning and coordination, providing information about and marketing travel options and customer solutions, providing customer service, and developing combined mobility services.
Actual transport services are provided by transport companies under contracts awarded by competitive tendering. Skyss follows up on these contracts and the transport companies and monitors the quality of services provided.
Buses in Bergen
Bergen's white and red buses are mainly used by locals commuting in and out of the city centre, but they can also be useful for tourists visiting some of the city's far-flung attractions.
The same is true for visitors staying in some of the cheaper hotels or campgrounds out of town. Be sure to buy your tickets in advance, because paying on the bus is more expensive.
Here are some useful routes to know. Lines 1 and 83 serve Fantoft and Paradis, useful for visiting Fantoft Stave Church. Lines 3, 4, 5, 6 & 83 stop close to the Gamle Bergen Museum.
Lastly, line 12 serves Nordnes, useful for the aquarium, although this is within walking distance for most people.
Bergen light rail
Since the extension to the airport, Bergen's light rail system is much more relevant to travellers. A regular single ticket costing just 38kr gets you from the airport to the city centre. That's a bargain compared to most Norwegian cities.
The network, known as Bybanen in Norwegian, also serves two stops that are close to Fantoft Stave Church. To reach the church, disembark at Fantoft or Paradis and walk from there.
The light rail is comfortable and while you can't speak to the driver, all upcoming stops are announced on loudspeaker and the on-board screens. If you're planning on travelling, you must buy a ticket in advance.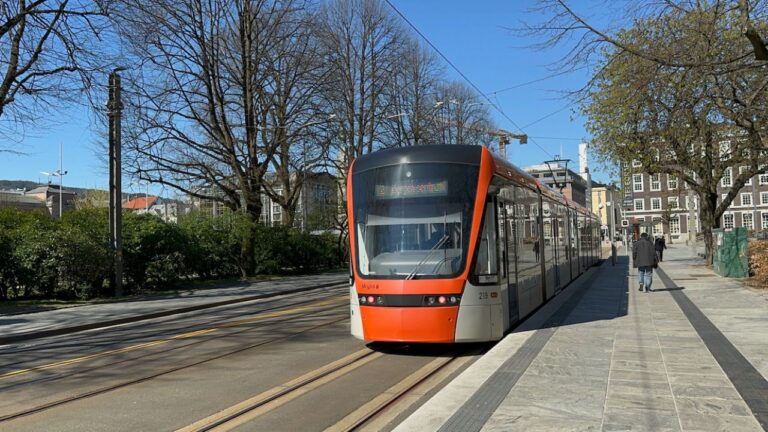 Since 2023, a second line has opened that runs from the city centre to Fyllingsdalen. This line connects with the first in the city centre and Kronstad. It also serves Haukeland Hospital, which is ideal for those planning a trip on Bergen cable car.
Trains in Bergen
The Oslo to Bergen railway is one of Norway's most famous transport options. Travellers from all over the world arrive in Bergen on this iconic transport, most of them with smiles on their faces and their cameras full of photos.
There are also local trains that run between Bergen and Voss. However, these are almost exclusively commuter services, aside from those going to Voss for recreational purposes. If you want to check timetables and fares, head on over to Vy.
How to buy tickets
Single tickets for the central zone cost NOK 40 in advance, or NOK 60r if you pay on board the bus in cash.
If you are staying longer, consider a 24-hour ticket (NOK 105), 7-day tickets (NOK 235) and 30-day tickets (NOK 755) are also available. These prices are correct as of October 2023.
Advance tickets are much better all round, both in terms of value and convenience. The easiest way to buy them is by downloading the Skyss app from the Apple or Google Play store.
Alternatively, tickets are available from the customer service desk at Bergen bus station or from one of the ticket machines at major transit stops.
It is possible to buy tickets on the bus with cash, but they are more expensive and no change is given. To use the light rail, you must buy a ticket in advance.
The Skyss website is fully translated into English and is an excellent resource to plan your local bus and light rail travel. Also, large maps are posted at most bus stops around the city centre.
Passenger ferries in the Bergen region
Due to the number of fjords and islands across the Hordaland region, ferries are a common way of travelling. In many cases, ferries replace roads to cross fjords. In other cases, the distances covered are much longer.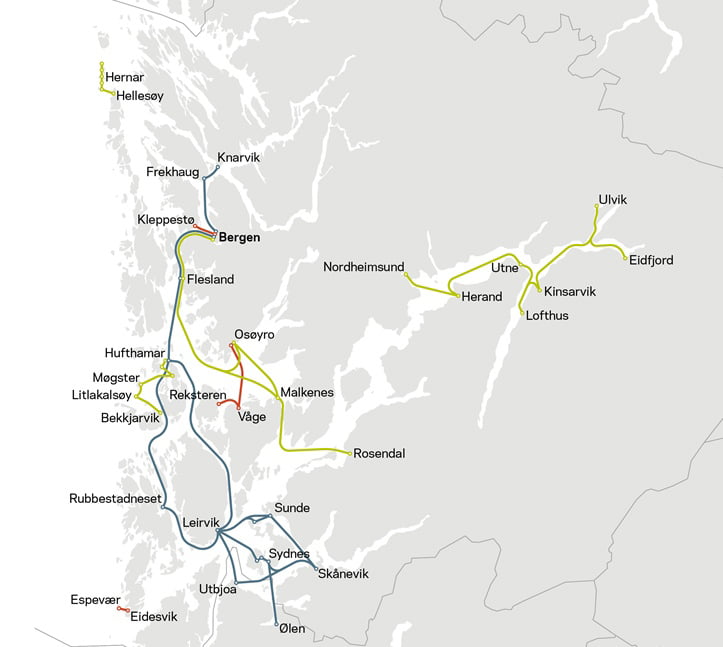 The above map from Skyss shows the current regional network. Their website has full details of routes, timetables and fares. In addition to these commuter and long-distance ferries, several tour operators run boat trips in and around Bergen.
Taxis
Like everywhere in Norway, taxis are an extremely expensive form of transport. My advice is that taxis should only be considered where there is no viable alternative by public transport. There are some exceptions when things become more affordable or more convenient.
For example, those in groups of four or more may find taxi fares more bearable, and it's convenient for those with heavy luggage. for large groups with lots of luggage.
If you need a cab, taxi ranks are located on the Bryggen wharf and at the front of the railway station.
Fløibanen funicular railway
The Fløibanen funicular railway whisks passengers from the city centre up Mount Fløyen in just a few minutes. It's a tourist attraction but also a useful service for locals and schoolchildren who live on the mountainside.
That being said, it is primarily a tourist attraction. More than 1.3 million visitors make the journey every year! This means it can get very crowded at peak times, especially on weekends. There is limited capacity, so be prepared to wait at busy times.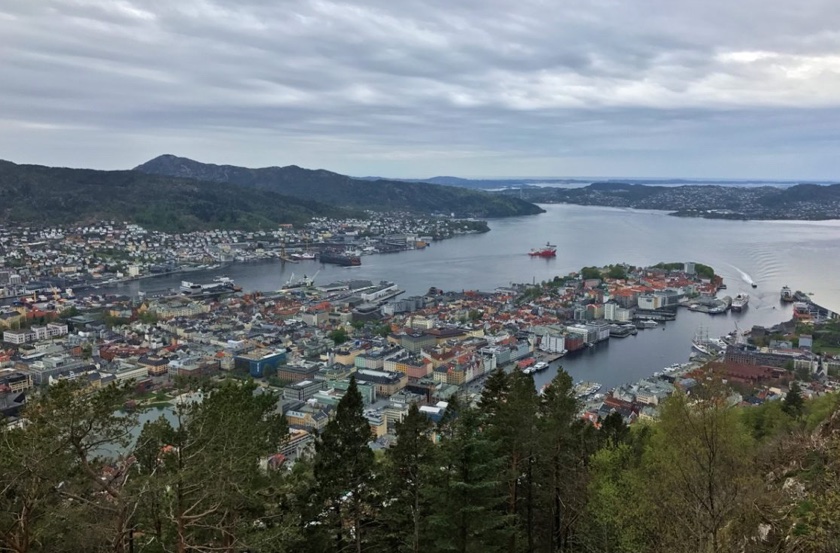 Head here early in the morning for fantastic views and the start of many hiking trails. The funicular is not part of the city public transport system, so separate tickets are required. At the time of writing, the roundtrip costs NOK 120. Children under 16 and seniors pay half. If you fancy walking down, one-way tickets also cost half.
If you want to see the very best of Bergen from up high, consider taking the hike from Mount Fløyen to Mount Ulriken.
It's known as one of the best hikes in Bergen, although it's not one for beginners as it will take around five hours one-way. Once you reach Ulriken, take the cable car down the mountain and use the local bus to return to the city centre.
I hope you've found this article useful! Be aware that although we take care to update this article at least once a year, things do change. Use this advice as a guide, but be sure to check the latest details before you travel with the transport provider.
Did you find this article useful? If so, please consider sharing it on Pinterest. It helps others find it too.