Hiking the pilgrimage trails of Norway and Scandinavia: Ancient footsteps with a modern twist.
The pilgrimage trails collectively known as St. Olav's Ways cross Scandinavia on their way to Trondheim. While not as famous as some pilgrimage routes, they still attract people from all over the world.
In a land where hiking is second only to skiing as a national pastime, many Norwegians are unaware that the longest and oldest of Norway's recognized walking trails crosses not only mountains, streams and forests but also Oslo, barley fields, the E6, and in some cases people's backyards.
From Oslo to Nidaros
Pilegrimsleden, or The Pilgrim's Way, stretches 643 km from the ruins of Mariakirken in Oslo's Gamlebyen to Nidaros Cathedral in Trondheim.
In addition, several historical feeder trails connect with the main route, including a segment from Tønsberg northward to Oslo, and a route from Selånger on the Bothnian Sea in Sweden westward to Trondheim via Stiklestad (known also as St. Olavsleden).
An experience like no other
The Pilgrim Way offers a hiking experience like no other because of its sheer variety and historical back-story. It is a walk through culture and time as well as nature, embracing the human-built environment as much as wilderness and highlands.
It all came about because a Norwegian king, Olav Haraldsson, got himself martyred at the Battle of Stiklestad in 1030, and canonised not long thereafter.
Miracles attributed to St. Olav drew penitents and pilgrims from all parts of Europe to Nidaros, where the slain king was buried after some grave-shifting.
The Cathedral was later erected on the spot. At its medieval heyday, the journey to Nidaros became the northern apex of a pilgrimage matrix extending south to Rome, east to Jerusalem, and west to Santiago de Compostela.
This carried on until the Protestant Reformation in the 16th century. After Norway became predominantly Lutheran, the Pilgrims' Way fell largely into disuse and was all but forgotten for the next 450 years.
A rediscovery
In the 1990s, some prominent proponents of friluftsliv and Norway's Deep Ecology movement, along with church leaders, persuaded the government to join in an effort to rediscover and reestablish the old pilgrim routes.
After five centuries of human activity and imprint this meant that where once stood only woods, footpaths and the occasional river, now there were motorways, homes, and golf courses directly on the places history said St. Olav's devotees trod.
Because the project planners of the resurrected pilgrimage routes wished to hew to the original walks as much as possible, the modern-day pilgrim/hiker traverses everything from city streets and freeway underpasses to steep forests and the Dovrefjell plateau.
The real Norway
Along the way you can expect to see iconic Norwegian stave churches, farms, towns, cities, lakes, rivers, mountains, valleys, ruins, historical monuments, the settings of Peer Gynt and Kristin Lavransdatter, wildlife, and many, many sheep.
Most importantly for navigation purposes, you will have your eyes peeled for a square emblem the size of a cocktail napkin: a red-on-black or red-on-gray Celtic-like cross (the St. Olav's Cross) bisected by a cloverleaf, the symbol that marks the Pilgrims' Way.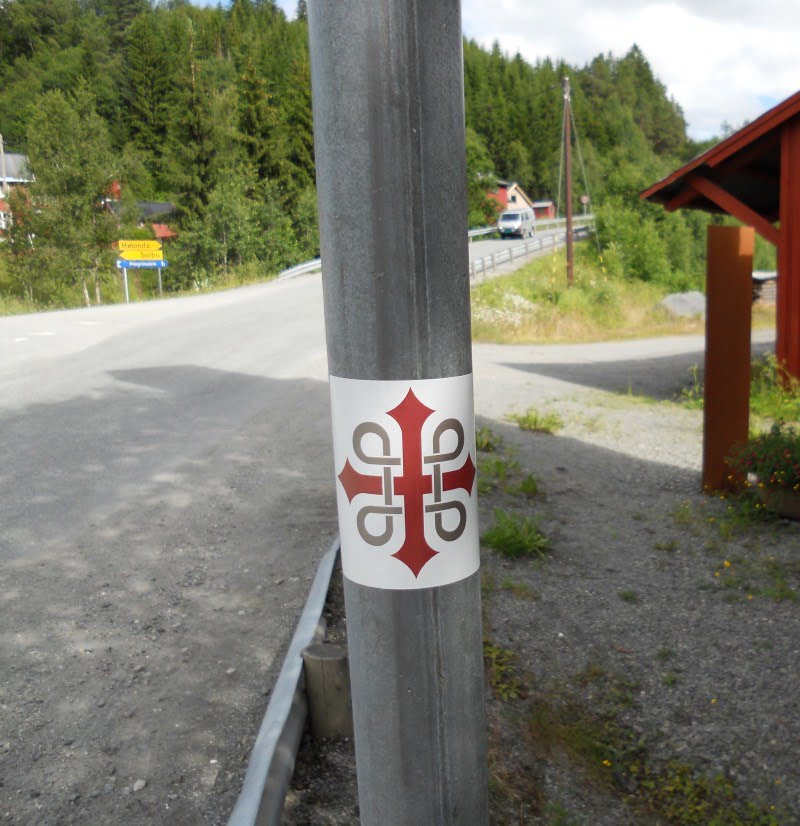 This little homing beacon appears in numerous forms, from sturdy fence-post plates to dangling sticks from tree branches to stickers on traffic poles.
If you look closely on a stroll around Trondheim or Oslo, you will likely come across it in the vicinity of the oldest churches, and various other seemingly random places.
Recently I found Pilgrims' Way markers while wandering around Oslo's Ekeberg sculpture park!
Accommodation on the route
Whereas DNT huts provide shelter to hikers on most trail networks in Norway, travelers on the paths that make up the Pilgrims' Way can bed down for the night in a stabbur, farmhouse, youth hostel, tourist hotel, church hall, community center, or school, among other pilgrim-designated lodging options.
For a list of current accomodations catering to walkers, as well as other information and maps about the Pilgrims' Way, see pilegrimsleden.no and stolavsleden.com.
The option to camp
Camping-oriented hikers and those wanting to save on expenses can, of course, put up a tent in campgrounds or just about anywhere that isn't close to someone's house or in a cultivated field.
When I walked the Pilgrim Way from Oslo to Trondheim with a friend, we did a mix of camping with our own gear and paying to stay at indoor places.
Read more: Camping in Norway
I would highly recommend staying in at least some of the pilgrim-oriented lodging along the way for an opportunity to talk with the hosts and learn more about the areas you are walking through.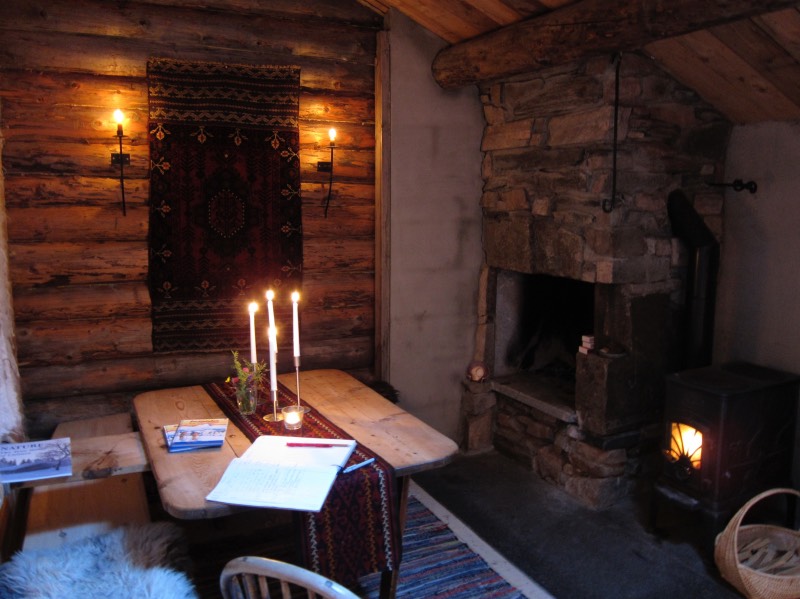 Three truly memorable examples of this are the Sygard Grytting farm in Sør-Fron, welcoming pilgrims since the 13th century; Hæverstølen Gardstun in Rennebu, run by one of the founders of the revived Pilgrims' Way; and Munkeby Hostel on the way from Stiklestad to Trondheim, close to a monastery which produces what many regard as Norway's finest cheese.
Custom-build your ideal hike
Hiking the entirety of the main Oslo-Trondheim route or the trans-Sweden Selånger-Trondheim route will take upwards of a month, but a great feature of the Pilgrim Way is that it lends itself to customization depending on one's interests and available time.
Because the pilgrim paths go right through several population centers, you can pick your own start and end points with easy access by train or bus.
An ever-increasing number of guided group tours for segments ranging from one day to five weeks is also available.
Information about these can be obtained from the Pilgrim Center at Nidaros Cathedral and the websites pilegrimsleden.no and stolavsleden.com.
Whether you are spiritually-minded or just enjoy walking, every day and every part of the Pilgrim Way presents different joys and challenges – just as it must have done for the first travelers nearly a thousand years ago.