From the freedom to roam law to the best campsites, this is your complete guide to planning and making the most of a camping trip in Norway.
Are you an outdoor enthusiast? If so, Norway has to be one of the world's top choices. Well-maintained hiking trails give easy access to incredible scenery, birdwatching opportunities and the chance to immerse yourself in Norwegian friluftsliv.
One of the best aspects of Norway's outdoor life is the proximity of hiking trails to all major cities, even Oslo. This makes short hikes and day trips a breeze, no matter where you're staying.
But to make the most of the outdoor opportunities Norway offers, staying far away from the cities is a must. While there are some hotels, camping in Norway is a cheaper, more flexible alternative.
Of course, camping in Norway can be intimidating for beginners. So we've pulled together this guide to the rules of wild camping, best campsites, plus other tips, tricks and advice to make planning your trip a breeze.
Campsites v Wild camping
The first choice you'll have to make is what kind of camping trip you're looking for.
Norway offers everything from full-service mountain lodges and cabins with kitchens and running water through to campsites with varying standards of facilities and even the opportunity to camp alone in the wilderness.
Staying on a campsite
Norway has dedicated campsites that offer good facilities for those looking to pitch their own tent or park their motorhome.
Typically, this includes kitchen facilities, bathrooms and showers, access to power and fresh water, and sometimes a small shop and cafe.
Many campsites also offer small cabins for rent. These often but not always include a small kitchenette.
But the more adventurous out there may prefer a fantastic option offered by Norway: wild camping.
Wild camping in Norway
Norway's right to roam law gives anyone the right to access public land, including for overnight camping:
There are some limitations, but as long as you're respectful of nature, wild camping is a fantastic way to keep the costs down while enjoying the very best outdoor experiences.
Just bear in mind that wild camping means few or most likely no facilities. If you're not an experienced camper, I would advise you choose a campsite.
Right to roam in Norway
So, let's look in a little more detail at the law that allows wild camping.
The right to roam law allows you full access to public land provided you are respectful to nature and leave no trace behind. In addition, there are two specific rules international visitors should be aware of.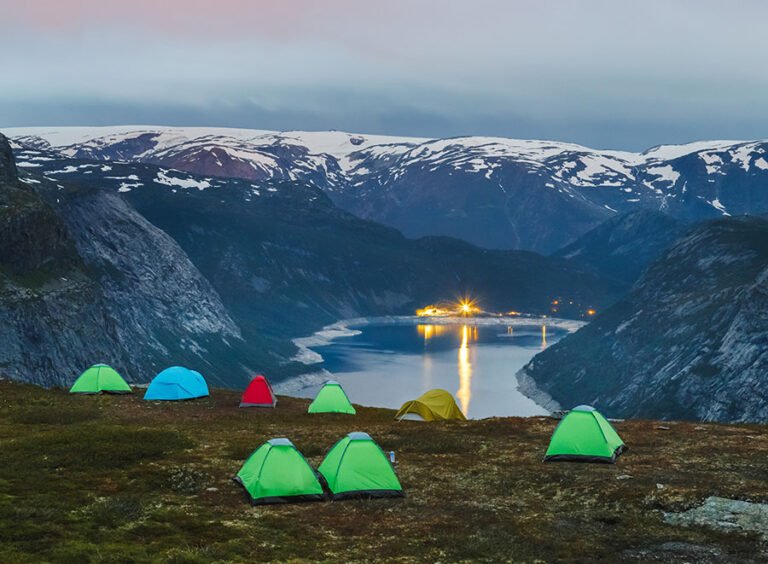 You must stay at least 150 metres away from private property, such as inhabited houses, cabins or private campgrounds. You can also not stay in the same place for more than one night.
Foraging for wild berries and mushrooms is permitted. But if you are inexperienced, you should take special care picking mushrooms to make sure they are not poisonous. Also be aware of specific rules on cloudberries in Northern Norway.
Other important guidelines to check are whether you can build a fire in the specific area you choose. You must also verify it is fully extinguished before moving on. This is especially important in the driest summer months to prevent wildfires.
Camping in a motorhome/RV in Norway
So far, we've only talked about the concept of staying overnight in a tent or on a campsite. But you can also camp using a vehicle, of course!
However, while the right to roam law allows visitors to pitch a tent on public land, the same does not apply with a vehicle such as a motorhome or camper van.
Many car parks have "no camping" signs clearly displayed. If you're unsure, spend a few minutes looking! It will save you some trouble, and a hefty fine.
There are parking spaces and designated campsites for motorhomes and camper vans, some free, some paid. For example, the beautiful town of Risør on Norway's south coast offers a paid parking facility for motorhomes in the town centre.
If you're a keen camper on wheels, there are many, many blogs out there with full guides to Norway. Here's one example. There's also camper van rental companies including Arctic Campers and Cabin Campers.
When is the best time to camp in Norway?
Year-round camping is possible, but probably not a good idea. Winters can be cold but the lack of sunlight is probably the biggest danger, as it reduces the amount of time you have to move around safely.
Camping in Norway is possible during the winter, but many campsites will be closed. Others will be open but will only offer accommodation in on-site cabins, for example.
Yet people do still choose to camp during the winter, many with the hope of seeing the northern lights. February-March is probably the best time as the days are lighter, although there may be more snow on the ground so you shouldn't attempt this as an inexperienced camper.
The usual camping season in Norway runs from the late spring (April-May) through to the end of summer (August-September). July is the busiest month. If you plan on staying at a specific campsite, booking ahead is highly advised.
Camping rules in Norway
We've already outlined some of the rules above, but now it's time for a bit more detail.
You can camp on public land that is 150 metres away from private property, cultivated land, occupied buildings or private campsites. You shouldn't stay more than one night in any single place.
Campers must abide by the "leave no trace" rule. this means clearing up all litter and being very careful with campfires. In many places, there will be signs banning campfires. Take extra care in the dry, summer months.
Swimming is permitted as long as there are no signs marking the lake as "drinking water" or other danger. Foraging for mushrooms, berries etc is permitted, just make sure you know what you're picking.
Top campsites in Norway
As I've already hinted, there are many campsites all over the country. Many are near national parks or next to rivers, others within close proximity to cities.
We can't possibly run through them all in one article. But here is a selection of some of the top campsites, based on location and user reviews.
Campsites near Oslo
Bogstad Camping: A 30-minute bus ride from central Oslo, Bogstad is close enough for easy sightseeing but far enough for some peace and quiet. The year-round campsite is by a lake, a golf course and the vast city forest Nordmarka.
Ekeberg Camping: Open every summer, Ekeberg Camping is well positioned for a fantastic view over central Oslo. It takes just 12 minutes to reach the city on regular buses. The surrounding area is home to a farm with petting zoo and horseback riding, and the modern Ekeberg Sculpture Park.
Campsites in the Sognefjord region
Djuvik Camping: A wonderful setting on the shore of the Sognefjord, Djuvik is located on route 13 between Vik and Vangsnes. Day trips are available by boat across the Sognefjord to Fjærland, home of the Norwegian Glacier Museum and onward boat connections to Flåm and Bergen.
Nærøyfjorden Camping: The stunning Nærøyfjord is at the heart of Norway's UNESCO World Heritage Site known as the West Norwegian Fjords.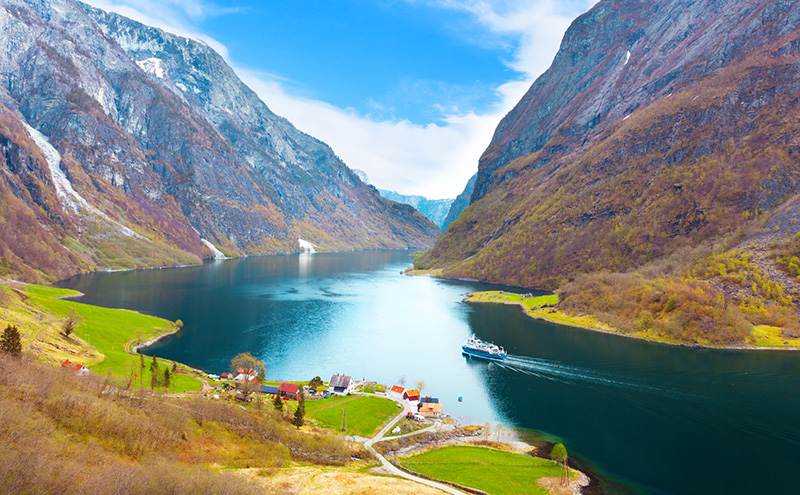 Formerly known as Dyrdal Gard, Nærøyfjord Camping is located a few kilometres from Gudvangen in the peaceful village Bakka. There's few better places to soak up the atmosphere of the fjords.
Undredal Camping: Enjoy sampling Norwegian fjord village life in Undredal with the spectacular setting of the Aurlandsfjord for company. The village is known for its goat's cheese and Norway's smallest church.
Other top campsites in Norway
Lillehammer Camping: Next to Norway's biggest lake (Mjøsa), Lillehammer Camping is a top choice for families wanting to visit the area's many attractions. This includes Maihaugen open-air museum, the sites of the 1994 Olympic Games, and Hunderfossen Family Park. The campsite is especially suitable for motorhomes.
Preikestolen Camping: Quite different from other campsites on this list, Preikestolen Camping is primarily designed as a basecamp for those making the Preiekstolen hike. As such, it's suited for both motorhomes and tents, although prices are a little on the high side.