Aside from the name, taking a cruise with Norwegian Cruise Line is actually a mostly American experience. Here's the story of NCL's links with Norway.
With 18 cruise ships in operation and five more on order, Norwegian Cruise Line (NCL) is one of the world's biggest cruise lines. Just three other lines carry more passengers.
Last year, I was fortunate enough to join the maiden voyage of the Norwegian Prima, one of the world's newest cruise ships. It was my first time on such a large vessel.
While I have obvious concerns over the environmental impact and sustainability of cruising, I couldn't help but be impressed with the experience. However, one question kept coming back to me. The name.
A Scandinavian name for an American experience
There are some definite Scandinavian touches in the staterooms and some of the lounges have a very Scandi-inspired decor, but overall the onboard experience was more American than European.
American cruise lines are generally more laid-back than their European counterparts, and that's especially true with Norwegian. There aren't fixed dining times, and the emphasis is very much on having fun.
So why does a global cruise line with a US-focus have the name "Norwegian Cruise Line"? I asked around, and I discovered an interesting history.
Does Norway own NCL?
In short, no, Norway does not own Norwegian Cruise Line. However, there are strong Norwegian links with the line's origin.
NCL also operates some itineraries in the region, most notably Norwegian Fjords cruises.
The history of Norwegian Cruise Line
Initially named Norwegian Caribbean Line, NCL was born out of collaboration between Ted Arison, who later established Carnival Cruise Line, and Knut Kloster of Klosters Rederi A/S, a venerable shipping firm from Norway.
NCL embarked on its maiden voyage with the Sunward, a ship that sailed from Europe to the then-niche Port of Miami. Although the Sunward departed from the fleet by 1976, the following decade saw the addition of several more ships. Of note, the S/S France was acquired in 1979, proudly renamed "Norway."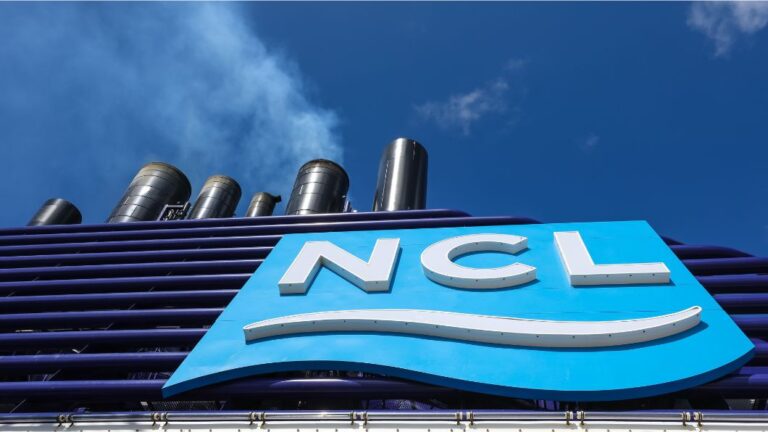 The 1980s marked a quieter period for the line, with Seaward, later known as Norwegian Sea, being the notable addition. It stood out as NCL's first-ever new build.
The 1990s saw both growth with new ships and consolidation. In 2000, Genting Hong Kong acquired NCL, ushering in an era of innovation, introducing "Freestyle" cruising and adding a series of modern ships.
In 2007, a significant stake was bought by Apollo Management, valuing the company at a whopping $1 billion, followed by a stake purchase by TPG Capital in 2008.
The line further expanded its horizons in 2014, acquiring Prestige Cruises International and its associated brands Oceania Cruises and Regent Seven Seas.
Norwegians among the NCL senior officers
During my stay on the Norwegian Prima, I was surprised to discover that the captain was, in fact, Norwegian. I had the chance for a very brief chat with him.
Podcast Interview: A Cruise Ship Captain on Life at Sea
It turns out quite a few of the captains and other senior officers on NCL are Norwegian and Scandinavian. This isn't particularly unusual though, as Norway's maritime heritage means there are plenty of Norwegian captains out there on the world's oceans.
So, while Norwegian Cruise Line isn't exactly Norwegian, there is a Norway influence in both the line's history and its daily operations today. Have a great trip!