How to see the best of the Norwegian fjords from the comfort of a cruise ship. Plan your trip here with our complete guide to Norway's cruises.
Cruise ships offer a unique way of seeing the best of the Norway. You can see the stunning coastline, some of the country's biggest cities, small coastal communities and the world-famous fjords, all without needing to worry about accommodation, food or transport.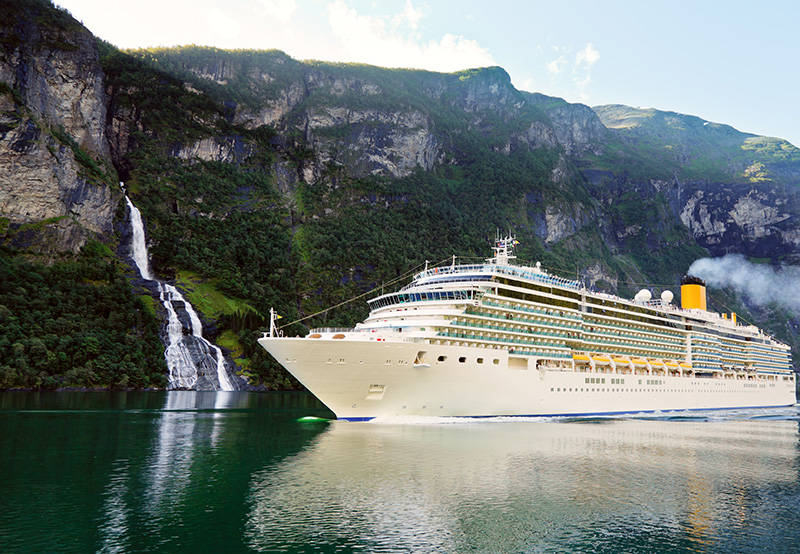 Some of the world's biggest cruise ships call at Norwegian ports from time to time. Whenever a large ship is in dock, locals tend to come out to greet the ship. When the Adventure of the Seas called at Trondheim recently, guests were greeted with cannon fire and a local band.
But increasing cruise traffic is also causing controversy in some communities. So what's the best way to take a Norway cruise in a sustainable way? Pull up a comfy chair because we're going to dive into some serious planning detail! Ready? Let's go…
I'll start by talking about some of the reasons this kind of vacation is so popular. Then look at the types of cruise available, and some of the country's most popular ports.
Why take a Norway cruise?
Norway's coastal cities, thousands of miles of coastline and world-famous fjords lend themselves to cruising perhaps more than any other country.
While a road trip can absolutely take you to some fantastic viewpoints, nothing beats seeing the fjords from the water. The towering mountains and 360-degree beauty mean you'll get a great view wherever you are on the ship.
Types of Norway cruise
Different people have different expectations of their cruising experience. There's plenty of variety available in Norway, so let's take a look at some of the most popular options:
Norway coastal cruise from Hurtigruten
The distinctive red, black and white Hurtigruten ships are a true icon of Norwegian travel, so much so that there's even a museum at Stokmarknes! For more than 100 years, the fleet of ships have worked the coastline providing a valuable cargo delivery and passenger ferry service.
In more recent years, the journey has been marketed internationally as a round-trip coastal voyage. Many passengers combine the trip with a couple of days sightseeing in Bergen or a trip on the world-famous Bergen railway to Oslo.
What makes this trip popular is that it's not like a traditional cruise. There is no formal dress expected at any time. There is also little of the live entertainment that is advertised on other lines. The reason is simple: the scenery is the principal attraction!
Having said that, most of the ships offer talks about Norwegian society and culture, how the ship works, and so on. There's also optional excursions offered at most ports.
Hurtigruten Norway: Check the latest fares and availability for the Norwegian coastal cruise.
A few years ago, I took a full Hurtigruten cruise in winter. So rather than write thousands more words, I'll just point you towards the online diary of my trip instead! This takes a deep-dive into what the experience is like during the dark winter months, when fares are significantly lower than in the summer. Start with day one. I'll wait!
Of course, you don't have to spend all 12-days aboard the vessel. One-way journeys from Bergen to Kirkenes are popular, as are much shorter trips from Bergen to Trondheim.
The new option from Havila Voyages
The Hurtigruten offer has remained broadly the same for many years, but things are about to change.
From summer 2021, new operator Havila will take the place of Hurtigruten on some of the daily departures from Bergen. Four brand new environmentally friendly ships will service the route.
To see what it's like, I took the Havila Capella on a relatively short trip back from Ålesund to Trondheim. I was very impressed with what I saw.
Cruising the fjords
As popular as Hurtigruten is, many people prefer the luxury and comfort of a more traditional cruising experience. You don't need to miss out on the coastal experience! Typically these lines call at far fewer ports but stay longer where they do dock.
Some of the popular alternatives to Hurtigruten that call in at one or more of the Norwegian fjords include:
Norwegian Cruise Line. Cruise Scandinavia, Russia & the Baltic like never before on board the newest ships in the NCL fleet, the Norwegian Getaway and the Norwegian Breakaway. NCL now offer an all-inclusive package on most of their cruises, so you'll know what you'll be paying up front.
Viking Ocean Cruises: Founded by a Norwegian in 1997, the company unsurprisingly offers a range of Nordic and Baltic cruises that incorporate several ports of call in Norway. Although a relative newcomer to the ocean cruise market, Viking has been carrying passengers on river cruises for many years so they know their stuff.
Travel blogger Mary Jo joined one of Viking's Midnight Sun cruises and said you'll never want to leave. Her blog post is a great read if you're considering this line.
Holland America: Combine a visit to some of Norway's best coastal towns with a cruise in the Nordic and Baltic countries, the UK, and even the Mediterranean.
For example, the 21-night Baltic Jewels & Norwegian Fjords cruise begins and ends in Amsterdam. It calls at Bergen, Ålesund, the Hardangerfjord and the Geirangerfjord, along with stops in Russia, Estonia, Sweden, Denmark and Germany.
Royal Caribbean: Three of RCL's giant ships will visit Norway in 2020. Their main focus is the cities of Oslo, Bergen and Stavanger, but the itinerary will also feature a sailing down the Geirangerfjord. An optional shore excursion gives passengers the chance for a RIB safari on the fjord. This allows you to get up close to the waterfalls and old farmsteads.
Travel blogger Faith joined a 7-day cruise on what she called the "gorgeously massive" Serenade of the Seas. Her verdict?: "There was just something so magical about experiencing Norway by cruising that made it all the more memorable. You get a taste of everything: the urban life in Bergen to the fjords in Geiranger."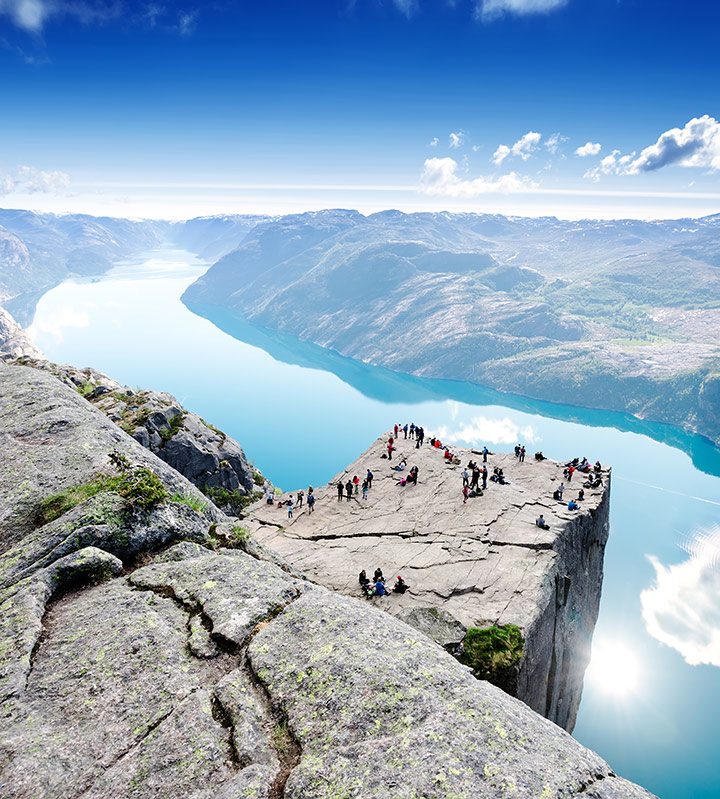 Norway river cruise
Virtually everyone taking a first-time visit wants to see the fjords. That's totally understandable! But if you're visiting again and would like something different, a river cruise could be the perfect alternative.
The Telemark canal is a series of connected lakes and waterways that takes visitors from Skien deep into Norway's heavily forested Telemark region. It's the part of Norway that has changed least over the decades, and some of the locks are still operated by hands.
This trip takes just a single day so it's not your typical cruise experience. However, it can be extended with an overnight stop at the historic Dalen Hotel and incorporated into a more extensive itinerary exploring southern Norway.
Northern lights cruise
I often recommend a cruise to people who want to see the northern lights. That's because you are away from sources of light pollution (towns) for big portions of the night. Most cruises allow you to spend the cold evenings inside in comfort but be notified if and when the lights are active.
Hurtigruten is a good option as there are daily departures throughout the winter. If you're taking the full voyage, the company offers a northern lights sighting guarantee. Just be aware that if you're travelling in December or January, you will experience darkness for much of the day.
Other cruise lines do offer winter cruises in the north of Norway, but there are far fewer departures. You might still find a bargain, however!
Arctic cruise to Svalbard
Arctic cruise tourism is a growing market and Svalbard is a popular destination given its relative accessibility from mainland Europe. The glacial scenery is simply spectacular, and of course there's an opportunity to see Arctic wildlife. While far from guaranteed, the possibility to see a polar bear is an undoubted draw on these trips.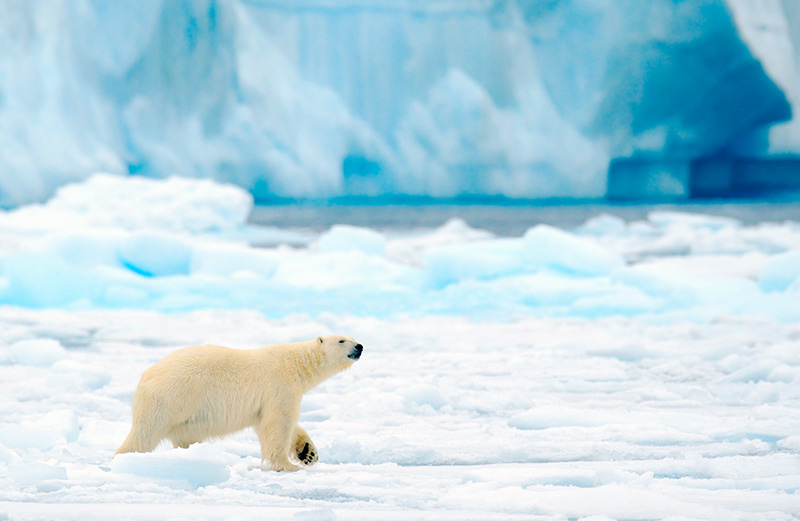 In addition to their coastal voyages, Hurtigruten offer sailings to more remote places. These include Antarctica and Greenland, but also Svalbard.
In addition to the major cruise companies, many smaller companies run multi-day boat trips around the archipelago. This could be a great solution if you are prepared to fly to Svalbard independently. For an idea of what to expect, you can listen to an episode of the Life in Norway Show all about adventure tourism in Svalbard.
Disney cruise of Norway
Last but definitely not least, this special cruise came as a result of the success of the movie Frozen. With a setting based on many famous Norwegian landmarks, the Disney movie was given as the reason for a rapid rise in tourism in the years after its release.
To capitalise on the popularity, a couple of Frozen-themed cruises took place. I can't find any information on future cruises. However, with the upcoming release of Frozen II, keep your eyes open!
Top Norway cruise ports
There aren't any cruises that call into every one of these ports. However, these are the most popular ports of call across a variety of lines. There's plenty to see and do in many of these places, even if you don't book a ship excursion. So, follow the links or use the search box at the top of the page to learn more about these amazing places!
Oslo
Norway's capital city. Most ships stop here for several hours at a minimum to allow passengers to see the best of the Norwegian capital. You might need a bus to reach the downtown area, but once you're there the compact area is relativey easy to get around on foot. Read our Oslo travel guide for more information.
Kristiansand
Southern Norway's biggest city and a hit in the summer with domestic tourists. The city's beaches are a popular draw. Another easy city to get around on foot, don't miss the tidy white houses of the old district. Read our Kristiansand travel guide for more information.
Stavanger
Norway's energy capital is also the gateway to the Lysefjord and the famous Preikestolen cliff. But there's plenty to see for visitors to the city itself, too. Just steps from the cruise terminal, the beautiful old town is perfect for a casual wander.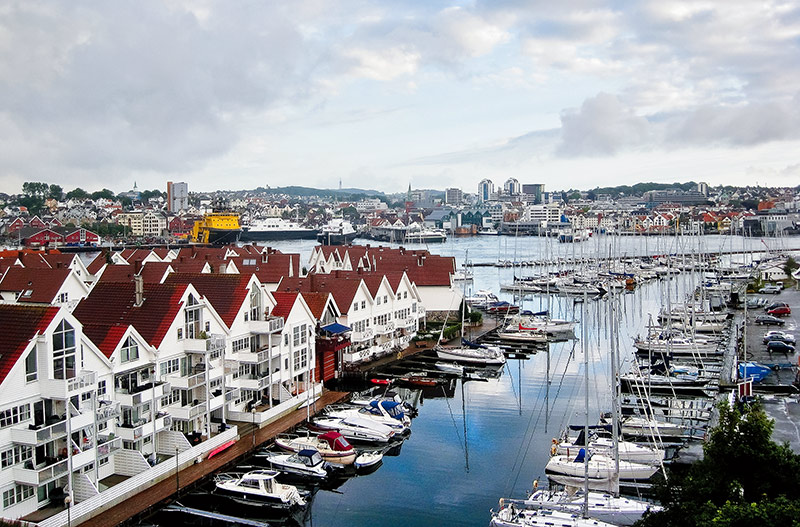 Haugesund
Haugesund bills itself as Norway's home of viking kings. To find out more, take an organised excursion or make your own way to the Viking Village at Avaldsnes.
Bergen
A picturesque and historic city on the west coast. Many of Bergen's attractions are within walking distance of the port, including the Bryggen heritage site. Bergen is hugely popular with cruise tourists as many big lines call here and it is the starting point of the Hurtigruten coastal voyage. Read our Bergen travel guide for more information.
Flåm
Passengers arriving in Flåm are first treated to a sight of the famous Nærøyfjord and Aurlandsfjord. Many also choose to take a trip on the famous Flåm railway, a remarkable one-hour journey up the lush green valley to Myrdal, a tiny station on the Oslo to Bergen line. During the summer the village can often feel cramped as hundreds of day visitors dominate. On such days, I recommend taking a stroll along the valley past the old village to the pretty local church.
Geiranger
A magnet for tourists from all around the world, Geiranger is home to cruise ships galore every day throughout the summer. During the high season, Hurtigruten vessels sail along the Geirangerfjord but do not stop at the village. At the other end of the fjord, the village of Hellesylt is a popular alternative port.
Olden
The main cruise port along Norway's Nordfjord, Olden is a starting point for journeys to the Briksdalsbreen glacier. The two wooden churches are popular sights for those choosing to stay in the village.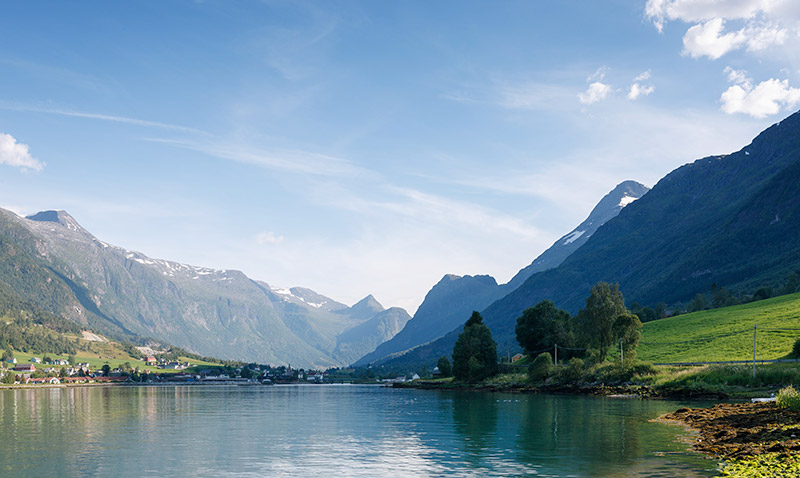 Ålesund
Norway's most unique town and one of my personal favourites, thanks to its distinctive architecture and waterside location. Almost all of Norway's towns and cities are by the coast, but Ålesund takes things up a notch. The town is literally surrounded by water.
Trondheim
Central Norway's historic city is perfect for a slow walking tour to take in the charming central district. Nidaros Cathedral is a must-see, whether you have the time to enter or not. Don't miss the Bakklandet neighbourhood and the old town bridge. Read our Trondheim travel guide for more information.
Lofoten
I guarantee that cruising around Lofoten is an experience you'll never forget. The dramatic granite mountains of the Lofoten archipelago rise from the sea like a giant stone wall. Whether you stop at one of the small ports or simply sail on past, Lofoten is somewhere you'll want to make time for.
Tromsø
The northernmost port on many cruise itineraries, Tromsø is a wonderful little city. If you have the time, take the Fjellheisen cable car for a panoramic view of the city and its mountainous surroundings. Read our Tromsø travel guide for more information.
Norway cruise deals: How to find a bargain
There are websites, forums and books dedicated to finding the best deals on cruises. For that reason I won't go into detail here, but I will share the most common bits of advice.
Last-minute deals: If you are willing to risk missing out, waiting for a last-minute deal can land you with a bargain. Cruise ships absolutely do not want to sail with empty rooms, so big discounts can be had in the weeks and days before departure. Just factor in that the cost of flights may well be higher so close to departure.
Travel off-season: Norway in high season is incredibly popular and the prices reflect that. High season is mid-June to mid-August. If you can travel in April-May or September-October, you're more likely to find a deal. You'll also see a more varied landscape at these times of the year.
Sustainable cruising in Norway
One hot topic all around the world right now is mass tourism. It's definitely a big problem in Norway too. Local newspapers have been full of headlines through the summer 2019 season complaining about the impact of overtourism. Unfortunately, cruising is a big culprit.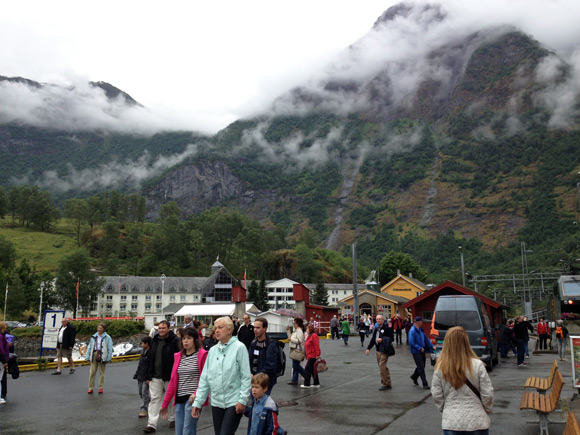 The biggest problem comes in small communities like Olden and Geiranger. When hundreds of day trippers visit a village home to just a few hundred permanent residents day after day, the locals quickly feel overwhelmed.
My best advice based on what I've seen from cruise visitors in such destinations is simple: respect the locals. Don't wander into their gardens to take photos, or peer through the windows. These villages may be pretty, but they are not museums.
There's also the environmental impact to take into account, particularly in the fjord region. This is becoming such a problem that Norwegian authorities have announced plans to make the fjords zero-emissions zones within the next decade. This means only all-electric or hybrid ships will be allowed in the fjords, drastically cutting the availability of cruises in the most popular areas.
Frequently asked questions
I'll keep this post updated as and when I get more questions, as I'm sure I will! For now, I'll include answers to the most common questions I receive about Norway cruises. Keep checking back for regular updates.
What should I pack on a Norway cruise?
This could be an entire article in itself, in fact that's probably something I will write in the future! But for now, I can say that you should prepare for varied weather throughout your trip, regardless of season. It can rain in the summer and there can be bright sunshine in the winter.
Must-haves are wind-proof clothing – thin outer jackets along with a hat and gloves/mittens. Sun cream is advisable all year round, bar
Is a Hurtigruten cruise right for me?
I can't answer this for you as people's expectations differ wildly. You won't get a luxury experience, but you will get to spend time in more communities and get closer to the coastline than with any traditional cruise line. But if you want to be entertained in an evening lounge bar and spin the wheels at a casino, you should definitely look elsewhere. You should also think carefully if you have kids, as facilities for children are limited.
That's all for now! I hope this guide has helped you plan your dream trip to Norway. If there's something missing, feel free to ask a question in the comments. I want to keep this guide as complete and as updated as possible. Happy sailing!