Lofoten is a dream destination for many people all over the world. Here are all your travel options for getting to these remote islands in Northern Norway.
The stunning natural beauty of Norway's Lofoten islands draws visitors from across the world. Dramatic mountains rising out of the ocean give an unforgettable welcome, but it's the charming villages, sandy beaches and views from the endless hiking trails that will stick in your memory for years to come.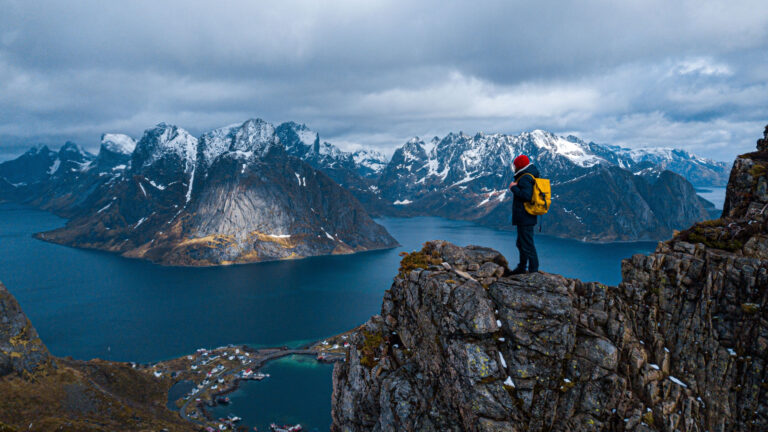 Many travellers plan an itinerary based around the highlights of the Lofoten Islands such as specific hiking trails or places to stay. But planning how to get to this remote part of Northern Norway is just as important.
Picking the right travel option can help you make the most of your time on the islands. It could also help the journey itself become part of your vacation.
Simply put, you either pay with money or with time. Flying there is expensive but convenient, while the cheaper options mean doing battle with ferry timetables and rental car offices.
Where is Lofoten?
Although remote, Lofoten is actually pretty easy to locate on a map. The string of islands jut out from the northern part of Norway, as you can see on this map:
I've also included pins for Oslo and Bodø on the map as these are important locations when planning a trip to Lofoten.
Lofoten travel options
So, first things first, there is not one "best way" to get to Lofoten. The best method for you depends on your travel preferences, but also on your intended location and planned itinerary once you arrive.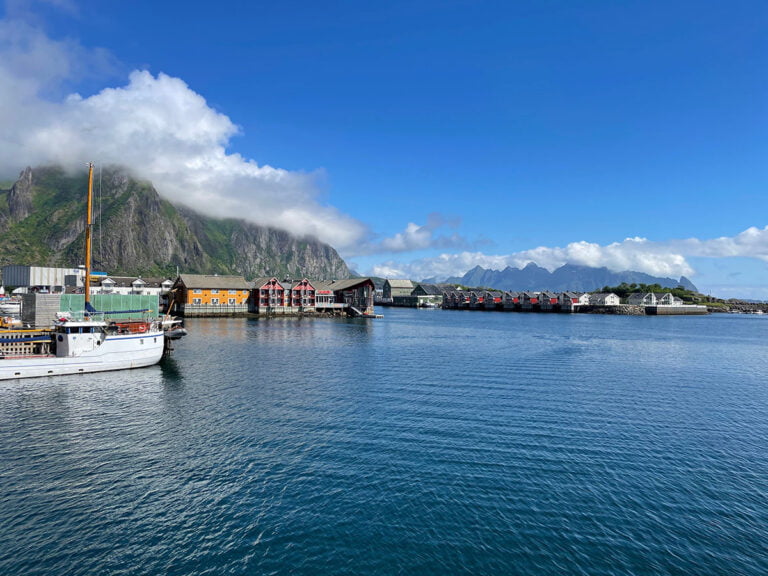 For example, if you are planning to use Svolvær as a base and take day trips out to the western islands, you should look at options that get you to Svolvær.
If you are more interested in hiking and exploring remote beaches, it would be better for you to arrive on the western end of the archipelago.
In addition, consider whether you will be driving and how that might impact your choice of journey. Now, let's look at the main options in more detail.
Flying to Lofoten
There are a couple of small airports in Lofoten but they are tiny compared to airports on the mainland with short runways. Both Leknes (LKN) and Svolvær (SVJ) are typically served by Widerøe propellor aircraft operating from Bodø.
This means that flying to Lofoten usually involves a flight to Bodø first, or at least travel to Bodø by other means. During the summer season, Widerøe usually operates direct flights from Oslo to Svolvær.
Another option is to fly to Harstad/Narvik airport, also known as Evenes. While not on the islands, the airport's longer runway means it is served by larger planes from Oslo. From Evenes, there is a direct (albeit infrequent) bus service to Svolvær.
Renting a car from Evenes (and the other airports) is also possible. If you are flying to Lofoten itself, bear in mind that rental car availability on the islands is very limited especially in the summer.
Book a car in advance. If you turn up without a car in the high season, chances are you will not find one. In fact, the rental car desks may not even be open if they have had no bookings. You can check rental prices in Svolvær here.
Because flying to the islands is expensive, many people choose to travel by air to Bodø instead. From Bodø, there is a choice of ferries that cross over to Lofoten including a car ferry to Moskenes.
Driving to Lofoten
Most people driving to Lofoten without their own car choose to fly to Bodø and rent a car in Bodø.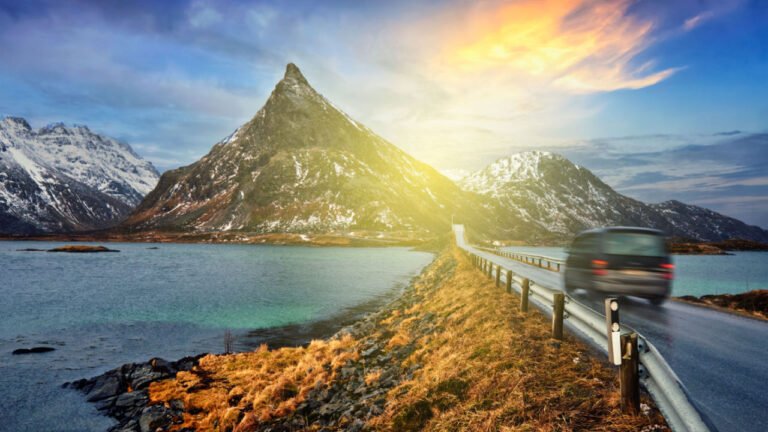 While a longer road trip around Norway is a goal of many, you'll realistically need two days just to get up to Bodø from Oslo, and that's without including any sightseeing.
From Bodø, the best option for drivers is the daily car ferry to Moskenes at the western end of the archipelago. It takes just over three hours.
It's also possible to drive without using the car ferry. However, driving from Bodø to Moskenes takes up to 8 hours and that still includes a smaller car ferry crossing from Bognes to Lodingen.
Driving a completely ferry-free route via Narvik takes at least 8.5 hours. Knock off about two hours if you're driving to Svolvær.
Travel to Lofoten by public transport
Given the crowded roads of the summer, more people are choosing to travel to Lofoten using public transport.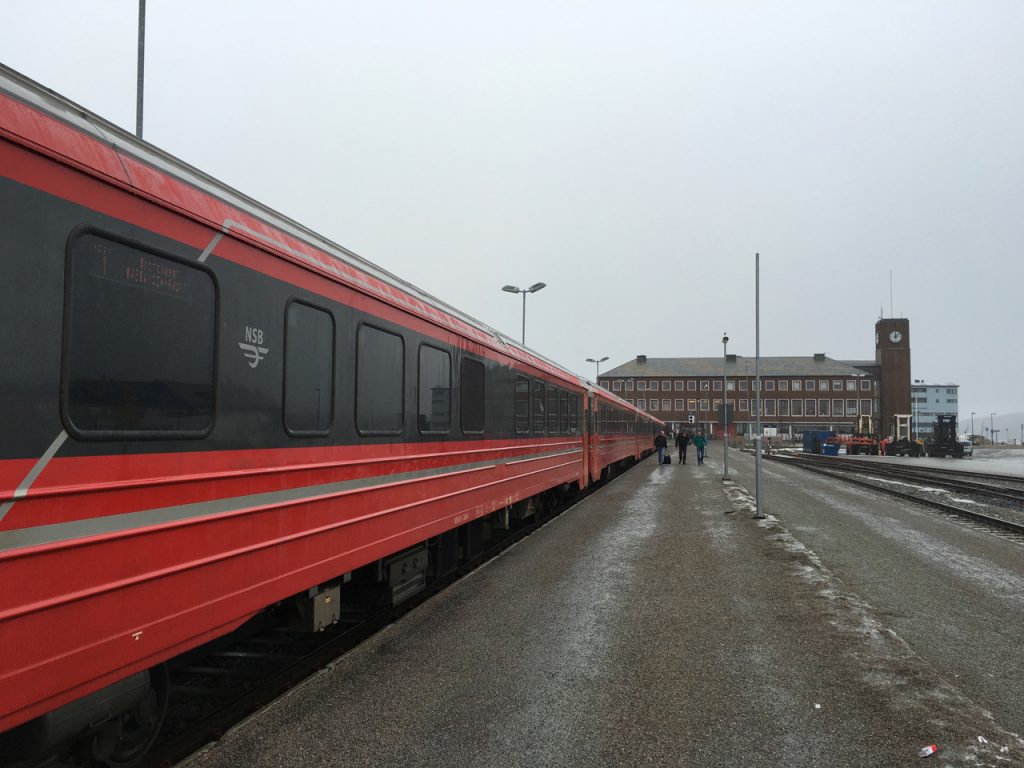 It's possible, as long as you have some patience. From Oslo, you can travel by train all the way to Bodø. However, the Oslo to Trondheim train takes about seven hours, followed by up to 10 hours on the Trondheim to Bodø train.
Night trains run on both lines so it's possible to travel by train between Oslo and Bodø within 24 hours. However, there are no showers on Norwegian trains, so you may prefer to spend a night in Trondheim to break up the journey.
There is also the option to take a shower at a nearby hotel upon arrival for an extra charge. You'll find out more about this option on the train.
Ferries to Lofoten
From Bodø, there are three options to reach Lofoten. Firstly, it's possible to join the Moskenes car ferry as a foot passenger. A smaller passenger-only express ferry connects Bodø and Svolvær.
It takes just over three hours with several stops at islands and small communities along the way.
Finally, you can join the Norwegian coastal cruise as a port-to-port passenger between Bodø and Stamsund or Svolvær.
While slower (the full crossing from Bodø to Svolvær takes six hours) and more expensive, the Hurtigruten doubles as a sightseeing cruise along the rugged Lofoten coastline between Stamsund and Svolvær.
If you prefer, you can travel all the way from Bergen, Ålesund or Trondheim on the Hurtigruten or Havila ferries.
Coastal ferries depart Bergen at 8.30pm most days and arrive in Svolvær approximately 72 hours later.
However, you're unlikely to find a fare for the three-night voyage for under $800 per person, although that will typically include cabin and meals.