Widerøe is Norway's domestic airline, serving many of smaller regional airports all across the country. They operate some international flights, too.
Most travellers have heard of SAS and Norwegian, but newcomers are often unaware of Norway's biggest travel secret, Widerøe.
Their domestic flights provides a vital link for the tiny airports of these small communities and are a great option for the curious traveller.
The biggest downside? The flights can be quite pricey for tourists, especially at short-notice. But when you compare them against the alternatives, such as one-way car hire, the prices don't often look all that bad.
Access to remote parts of Norway
Ever heard of Mehamn, Sørkjosen, or Berlevåg? Each of these communities are home to just a few thousand people, so you can be forgiven if your answer is no!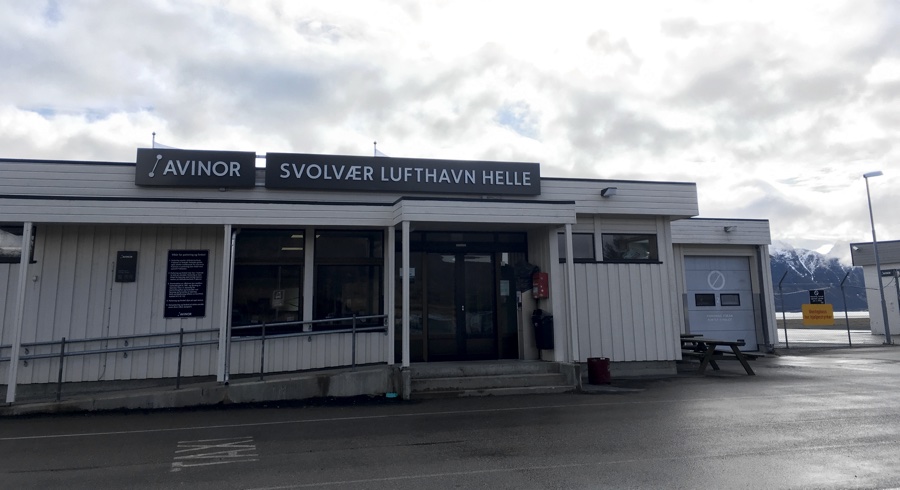 Yet they are both plugged into the air network thanks to their tiny airports and Widerøe flights. Norway has a surprising number of such local airports.
It's not just accessing remote parts of the country that's a benefit. The small planes fly at a relatively low altitude, meaning you often get fantastic views thrown into the bargain too!
The fleet has – until very recently, more on this later – been exclusively made up of Dash 8's for many years now. The Dash 8 is a series of twin-engine, medium-range, turboprop airplanes.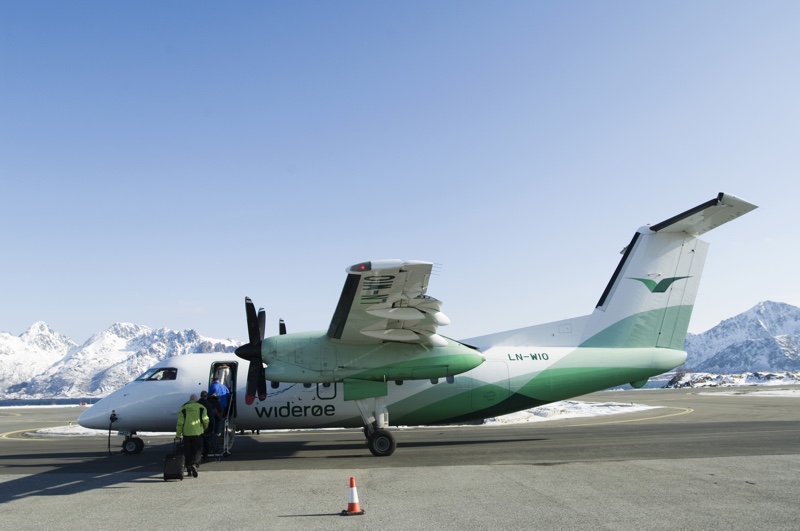 If you've never flown on a prop plane, they are small, quite noisy, and can be quite susceptible to turbulence and bumpy landings, but you quickly get used to them when living in Norway!
A strong history serving rural Norway
Founded in 1934, Widerøe started scheduled seaplane flights and an air ambulance service a few years later.
Since the 1960s, Public Service Obligation (PSO) flights have made up an important part of Widerøe's operations. These are routes supported by the Ministry of Transport and Communications and generally involve connecting small airports to regional hubs.
In the 1990s, the company was bought by SAS and took over the airline's regional operations in northern and western Norway.
An independent airline eyeing expansion
Between 2013 and 2016, SAS sold its ownership of Widerøe. The split with SAS has allowed Widerøe to make their own agreements with competing airlines.
One such agreement with Norwegian applies to Widerøe's PSO routes and Norwegian's domestic routes. Since March 2018, it's been possible to book connecting flights with Widerøe and Norwegian.
Recently, the company announced a codeshare agreement with KLM and Air France, to make it easier to connect onto international flights from small regional airports in Norway.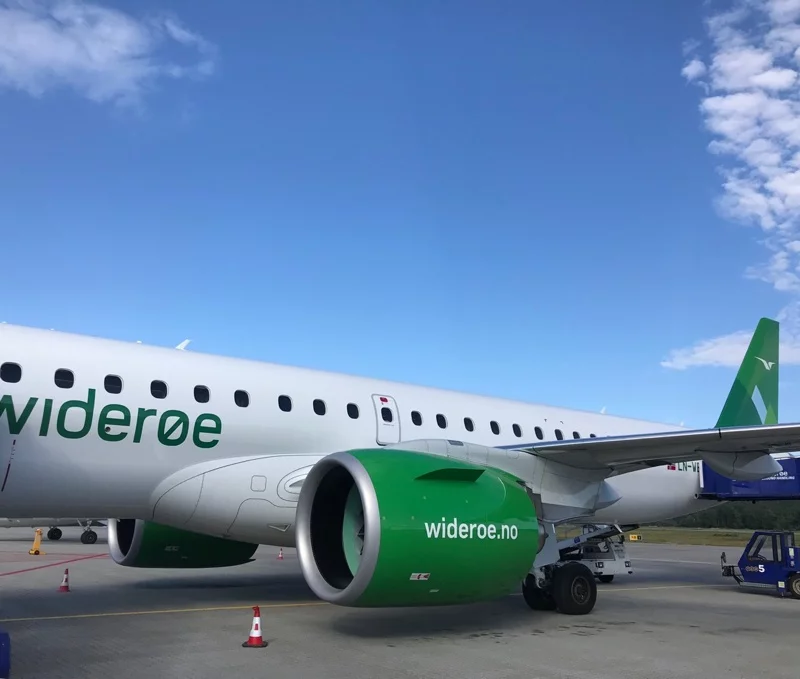 The airline is also branching out with longer flights to international destinations. To facilitate this, Widerøe has invested in a couple of Embraer's upgraded E190-E2 jets, with the option to purchase several more.
In April 2018, Widerøe became the world's first airline to use one of these Embraer jets on a commercial flight.
Pre-pandemic destinations include an interesting connection between Bergen and Liverpool in the UK, and a couple to and from Germany. Those have temporarily closed, but new routes to the Faroe Islands, Alicante and London have since been announced.
An electric future?
Widerøe is involved in a project to bring Norway's first electric aircraft to the country, which is backed by the Norwegian Ministry of Transport and Communication.
The first commercial routes using electric aircraft are expected before 2030. Avinor (which owns most Norwegian airports) believes that all flights under 1.5 hours duration can be flown by aircraft that are entirely electric powered.
Besides the reduction in emissions, other benefits of electric air travel would include a reduction in noise, up to half that of today, and a reduction in operating cost.
On-board service
The service on Widerøe flights retains the free tea and coffee from the days of SAS.
There is a menu for more drinks and snacks, but this only applies on longer flights. Most Widerøe flights are short, well under one hour, so there isn't time for much in the way of service!
The airline also publishes its own in-flight magazine, Perspektiv, although it's only available in Norwegian.
Another benefit retained from the SAS days is that most Widerøe flights are still eligible for Eurobonus points, a great bonus if you're a frequent flyer in Norway. You can also redeem points on some flights.
Explore Norway
Remember earlier when I said that Widerøe flights are quite pricey, with one major exception? Introducing one of the best travel hacks in Norway: Widerøe's annual Explore Norway deal.
Update: At the time of writing, Widerøe is no longer offering the Explore Norway deal. However, I'll keep the information here in case it returns!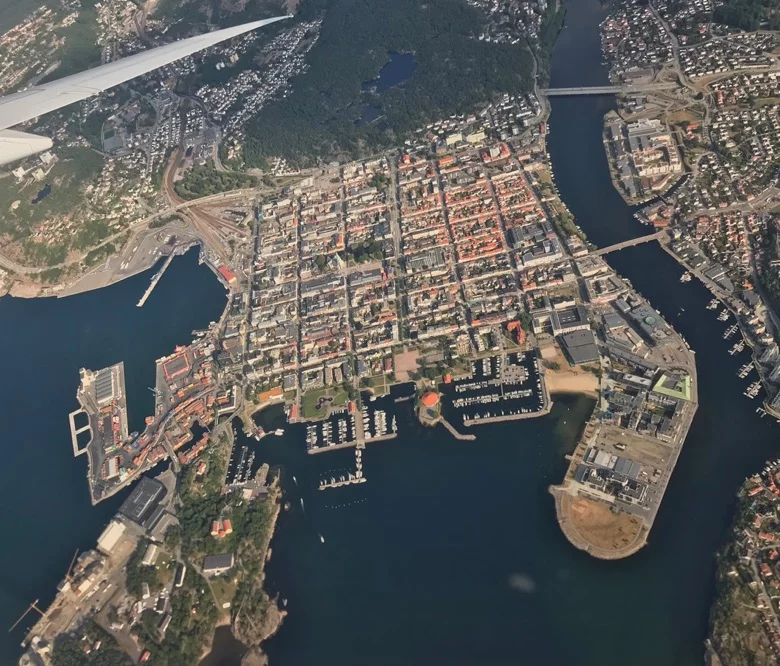 Previously available during July and August every year, the ticket allowed unlimited travel on Widerøe flights for a two-week period. The price started from between 3,460kr to 4,680kr, depending on how much of the country you wanted to see.
A nice touch is that international flights were included in the ticket at the start and end of an itinerary. That was great news if you lived in Copenhagen, Aberdeen, Hamburg, London, or any of the other Widerøe destinations outside Norway and wanted to take advantage of this deal.
You needed to book your itinerary when paying for the ticket, but then you were free to change your plans up to two hours before a scheduled departure, assuming there were seats available of course.
Restrictions apply, but everyone I knew who'd travelled only had good things to say about it. My experience in 2018 was also very positive. I was able to visit Kirkenes, Alta, Tromsø, Svolvær, Bodø and Røst.
Let's hope Widerøe decided to bring the deal back for this summer!
Where you can fly with Widerøe
I won't go into detail on every destination, because as you can see from the route map further up this page that would take a very long time! However, there are a few places I want to pick out, all of them in the north.
Honningsvåg: The nearest town (okay, village, it's a small place albeit one with hotels and restaurants) to the Nordkapp. A popular cruise ship stop in the summer, when tourists are bussed to and from the Cape.
Mehamn: The hipster's alternative for getting to the top of Europe. It's the starting point for the hike to Cape Nordkinn (Kinnarodden), mainland Europe's northernmost point – Nordkapp is on an island.
Røst: The Widerøe flight provides an essential service to one of Norway's most hard-to-reach communities, Røst. While these wild islands are technically part of the Lofoten archipelago, they are almost 40km away from the main islands and 100km away from the mainland.
Have you ever flown with Widerøe? How was your experience?