Come take a look on board the MS Nordlys, part of the Hurtigruten fleet that operates on the Norwegian coastal route. Here's an introduction to the ship.
The sight of a coastal ferry operating along the Norwegian coastline has been in place–with a few interruptions–for 130 years. They provide an important cargo and passenger service to tiny coastal communities.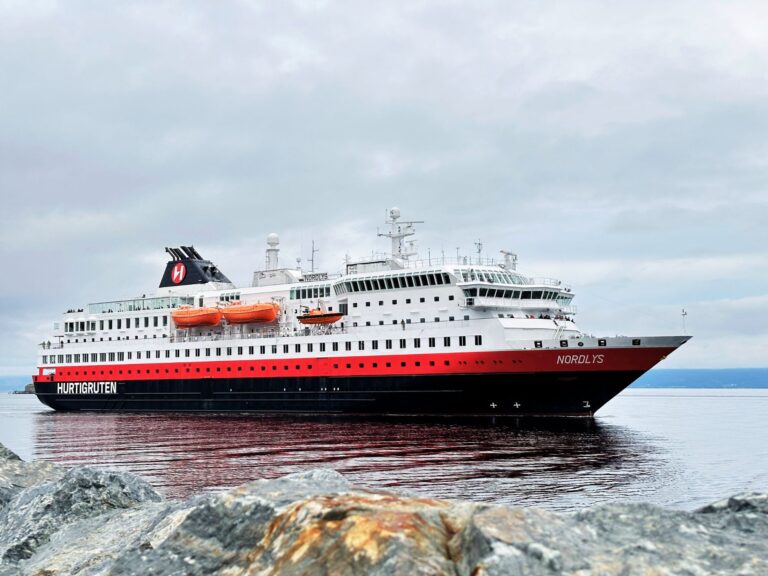 These days, Hurtigruten ferries attract travellers from around the world with their cruise-like roundtrip experience from Bergen to Kirkenes. Because the experience is different from a typical cruise, I do get many questions about the ships. But I've only taken trips on a few of them.
So, because each ship calls in to Trondheim for a couple of hours every week or two, I've decided to take a closer look at all of them!
One morning, I took a look at the MS Polarlys, which was docked from 6.30-9.30am. Just fifteen minutes after the Polarlys departed, the Nordlys arrived, so I was able to tick off two ships from my list on the same morning.
Introducing the MS Nordlys
Built at the Volkswerft shipyard in Stalsund, Germany, the Nordlys entered service in 1994 and last received a renovation in 2019.
Hurtigruten Norway: Check the latest fares and availability on the Norwegian coastal cruise.
There is a total capacity of 590, which includes beds for 471 people. The 121.8-metre-long vessel has space for a maximum 24 cars. With a gross tonnage of 11,204t, it has a top speed of 18 knots.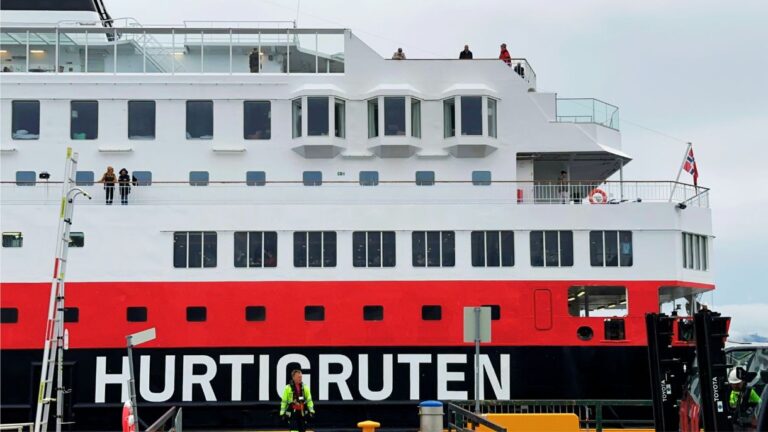 Some tourists expect each Hurtigruten ship to be the same but that's not the case. However, the Nordlys does have two sister ships: the Richard With and the Kong Harald, which are of a similar size and design.
Inside the Hurtigruten Nordlys
This isn't a complete ship tour, but I'm hoping to give you a good impression of what to expect on board the Nordlys. Whether you're curious about taking a Norwegian coastal voyage in general or planning a trip on the Nordlys in particular, I hope this helps.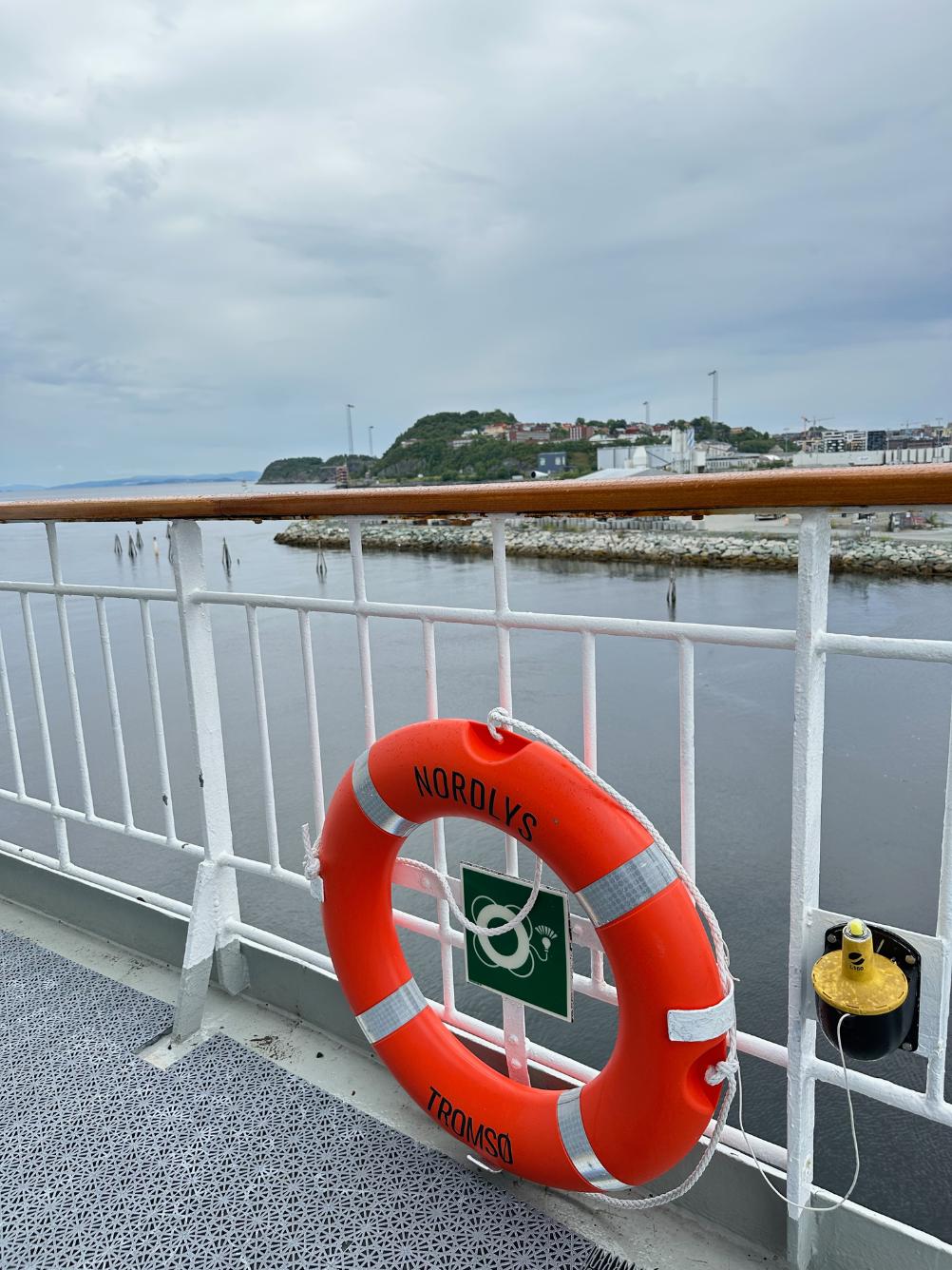 Before I dive into the photos, you may wonder where everyone is. Good question! Trondheim is one of the longer stops on the coastal voyage, so most people had left the ship to explore the city.
Restaurants, bars and lounges
All the restaurants are located on deck four. The largest, Torget, is open for buffet-style breakfast and lunch, and an a la carte dinner. Most guests on roundtrip voyages will eat all their meals here.
I had a quick look inside the restaurant and it was a comfortable space with quite a lot of window seats. Unfortunately my visit coincided with the end of breakfast service so I was unable to see any food.
However, some of my other Hurtigruten ship reviews (including the Nordnorge) do cover the food, so check those out if you're interested.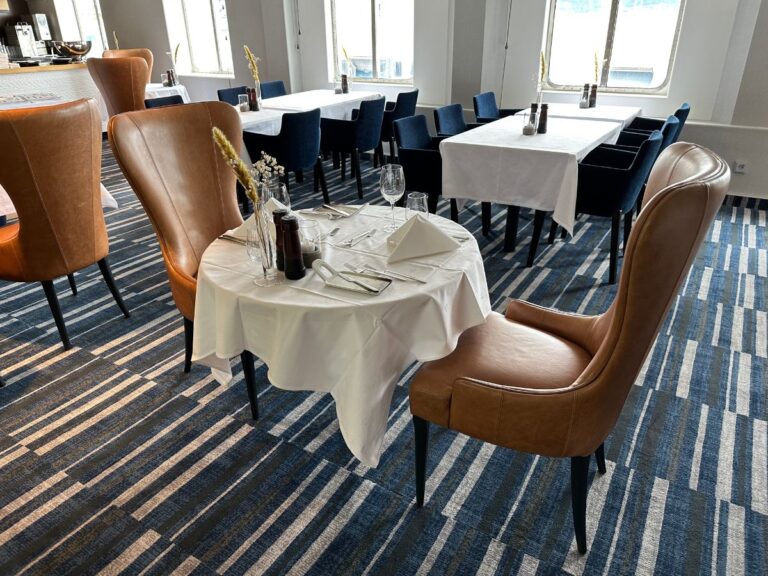 Further along deck four, you'll find a kitchen and restaurant space shared by Kysten and Brygga.
Kysten is a fine dining concept offering an alternative evening dining option (at a cost) while Brygga is an informal daytime bistro, often used by port-to-port passengers.
Immediately next to the restaurants there's a lounge area here with comfortable seating facing a screen. I assume this is used for excursion information and sharing other information throughout the voyage.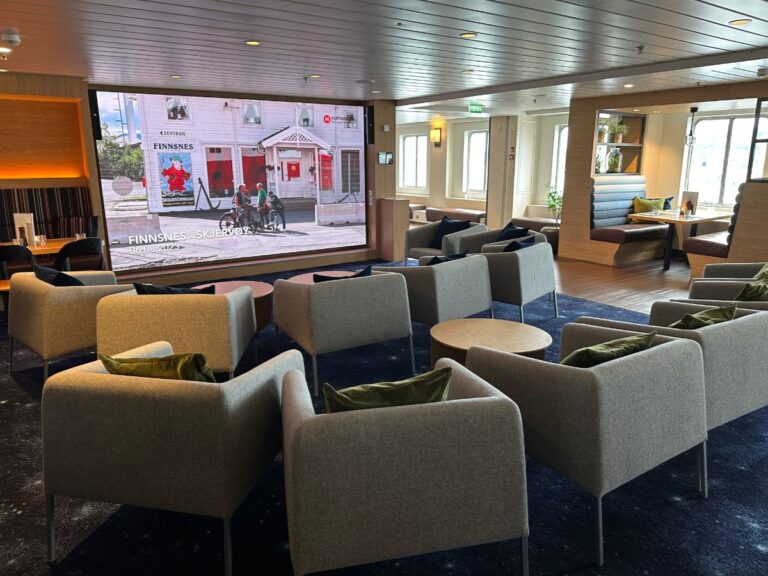 This space is tighter than it is on some other coastal ships where there are defined areas for each restaurant. But that's more of an issue for port-to-port passengers than for those on the roundtrip.
Up on deck seven, Multe is a light, airy cafe with lots of window seating and a Scandinavian-inspired aesthetic.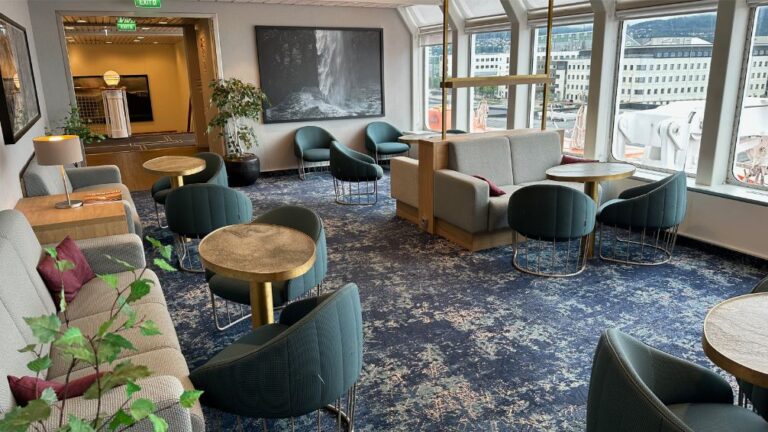 It's a good place to pick up a coffee, or something sweet to enjoy on the adjacent outdoor deck. Multe also offers ice-cream, including the unusual flavours of Pilsner, Tørrfisk and Brunost (Norwegian brown cheese). Try if you dare!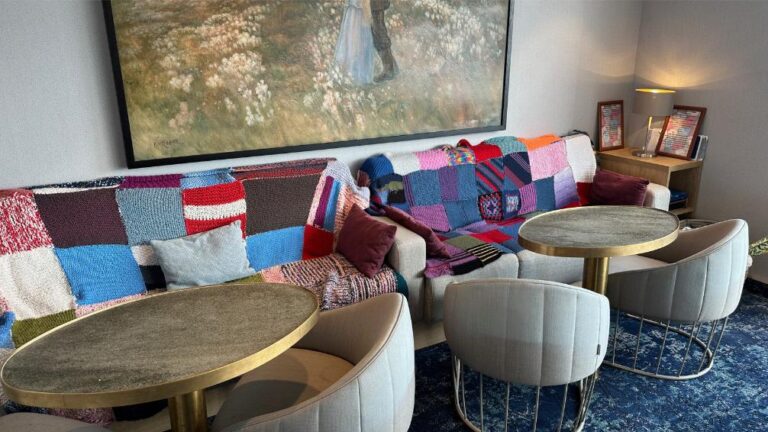 At the front of deck seven you'll find the Explorer bar. This panoramic lounge has comfortable seating for scenic cruising during the daytime, and a late night bar for socialising and relaxing during the evenings.
When I've taken a trip on the Hurtigruten, this is the place I spend most of my time. If I can grab a window seat, that is!
Outside space on Nordlys
As long as the weather plays along, you'll likely want to spend a lot of time outside when taking a Norwegian coastal cruise. That's true whether you're scenic cruising or northern lights hunting. So, what's the outside space like on Nordlys?
The main outdoor deck is at the back of deck seven, through the Multe cafe. When you enter the deck you'll find covered seating areas, one of which is the designated smoking area.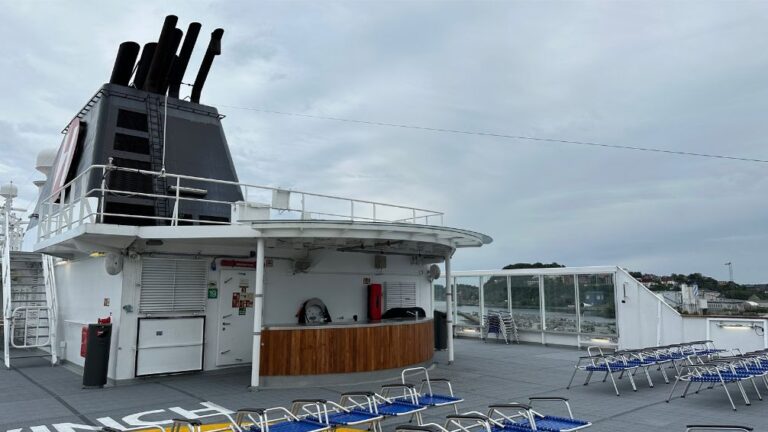 The deck then opens out to a nice space used for sunbathing, scenic cruising, and the occasional event. It's also a popular spot for passengers to gather to watch sail-ins and sailaways.
The other main outside space is on deck 5, where you'll find a promenade deck that wraps around the entire ship. It's narrow in parts but it's possible to walk all the way around, which I always do many times when I'm on board.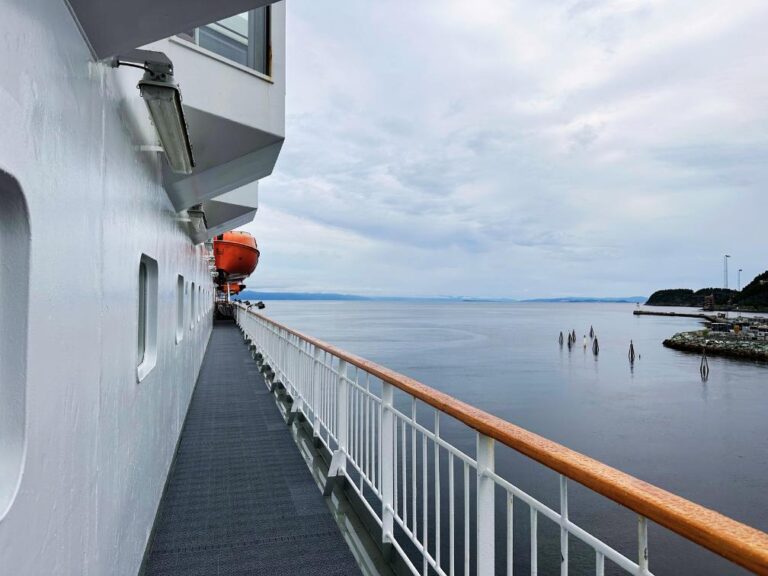 One of my favourite spots is at the very front of the ship directly underneath the bridge. The only downside is it gets very windy here!
That's not quite it for the outside space. Between the promenade deck and the main outdoor deck, you'll find two hot tubs at the very back of deck 6.
Both of them offer terrific views when at sea, or in port. When I've been on longer trips, the hot tubs seem to be very popular.
Other facilities on Nordlys
The restaurants take up most of the space on deck 4, but there's also some useful services at the front of the deck. There's a large shop and two rooms with seating used for lectures and information meetings.
The shop is not cheap, but it does sell a range of essential items, outdoor clothing, and plenty of souvenirs. You can also buy bottled drinks and snacks from here, although they are more expensive than what you'll find ashore. The main information desk for guests is also located here.
The lecture rooms are used for information sessions at the beginning of the roundtrip cruise and before arriving at major ports. Occasionally the onboard team will hold other talks in here too, which will be advertised on the daily program.
Finally, there is a fitness room with cardio equipment and weights. Although it's a small room, it's big enough for the ship. The view from the treadmills should encourage you to keep going!
Hurtigruten Norway: Check the latest fares and availability on the Norwegian coastal cruise.
I hope you enjoyed this quick photo-based tour of the Hurtigruten Nordlys. Although I can't review the coastal voyage experience as I only stayed onboard for an hour, I do hope it helps you in your travel planning. Enjoy your trip!
Have you taken a trip on the Nordlys? I'd love to hear your thoughts and experiences in the comments below.