A little over one year ago I quit my job, moved to Trondheim, and set up shop as a freelancer. Aside from how I would pay my bills and put bread on the table, my biggest concern was where exactly I would work.
Freelancers – and writers and online publishers in particular – are famous for adopting the coffee shop culture, i.e. buying a latte and using the free wifi at their local coffee shop. That's impractical in Norway, where a latte costs as much as 45 kroner (£4.75/$7.50).
Enter co-working
Co-working isn't new, although right now it's exploding in popularity. Some use the concept simply for a cheap place to work, others to meet people, to collaborate, or to try and get their dream projects off the ground. Want to know more? Deskmag is the online home of co-working and gives a great overview of the concept here.
Back in Oslo I joined the established startup environment MESH to try out the co-working concept and meet like-minded people. The truth is I never really fitted in there. Because I could only show up in the evenings and I was often tired after my day job, I never really settled or felt comfortable.
I decided to give the concept another shot, so as I was preparing to move to Trondheim, I got in touch with an emerging co-working space, then named CWRK, which hadn't launched but seemed to be gaining momentum. I met up with Mats, Arnstein, and Jaya who sold me on the concept and I immediately signed-up for a place when the space was ready to open.
My early attempts at working from home in T-Town didn't go well thanks to the lack of a morning routine, the temptation of the television, and more worryingly, the fridge. Just days after the office opened (under the new improved name DIGS) I headed on down to claim my desk: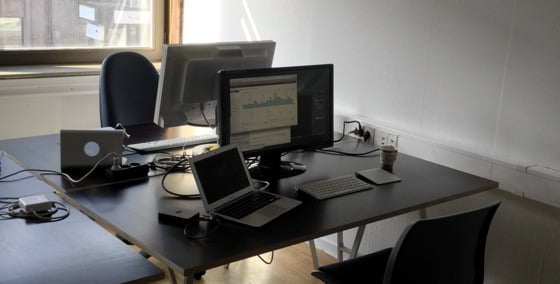 I've since moved desks, but that's the great thing about co-working. If you don't like your neighbours, you just sit somewhere else (only kidding, Digsters ;-))
DIGS is located at the heart of Trondheim, a 40-minute walk from my home or a short bus-ride. I tend to walk down in the morning and ride the bus home, and that morning walk has done wonders for my motivation and energy levels. But the real benefit has been for my business. My productivity has more than doubled (based on number of words I write per day) and the networking led directly to me landing two new clients here in Trondheim.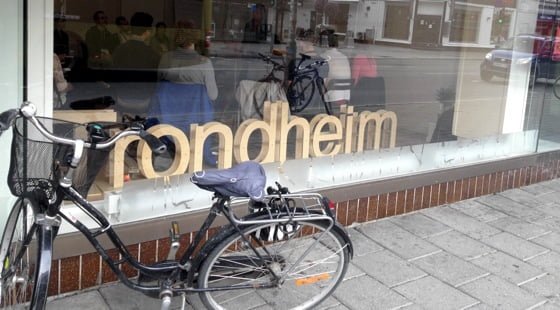 So, just who decides a co-working office is for them?
Me – Freelance writer, journalist, blogger.
Searis – develops and delivers integrated solutions for marine data aquisition and decision making support.
Velg Bedre – "Choose Better" is Norway's new marketplace for responsible consumption, bringing quality products to Norwegian consumers. Positive change is their aim.
Norwegian Creations – a maker community "bridging the Gap Between Idea And Creation". Basically, a bunch of creative and actionable people exchanging knowledge, creating things and making ideas happen together.
AssiStep – a new device that gives extra support for climbing stairs, and helps people to stay active and independent.
Oddworks – An IT solutions provider with a team of 18 engineers in Bangladesh. They focus on creative development, analysis & design, IT development and quality testing.
Plus a load more emerging startups, entrepreneurs, freelancers, makers, remote-workers and others. Apologies to those I didn't list – don't take offence 🙂
The next steps
Things are moving on at pace and soon we'll have a street-level cafe, event space and a workshop. Some businesses will need to move out as they grow, but for freelancers like me it should prove to be a base for a long time to come.
Even better, DIGS and the other coworking spaces are inspiring others to setup places themselves, including Mess & Order down in Stavanger. If you're a freelancer or small business owner working in Norway, why not give coworking a try?