Environmental campaigning meets art for Oslo's newest sculpture.
Meet Plastozilla. The four metre tall sculpture made entirely of recycled plastic waste stands proudly outside Oslo S, the city's main train station.
But you'll have to be quick if you want to see it, for the sculpture will be removed on 26 July.
Plastozilla is the brainchild of Oslo-based artist Pippip Ferner, an artist active in the Guerrilla Plastic Movement, which fights for a plastic-free ocean by using visual, verbal and artistic means.
Its contents may surprise you! The sculpture contains a steering wheel, two shopping trolleys, two punctured inflatable boats, a plastic sledge, toothbrushes and brushes, two traffic cones, drainage pipes, brooms, and a vacuum cleaner head.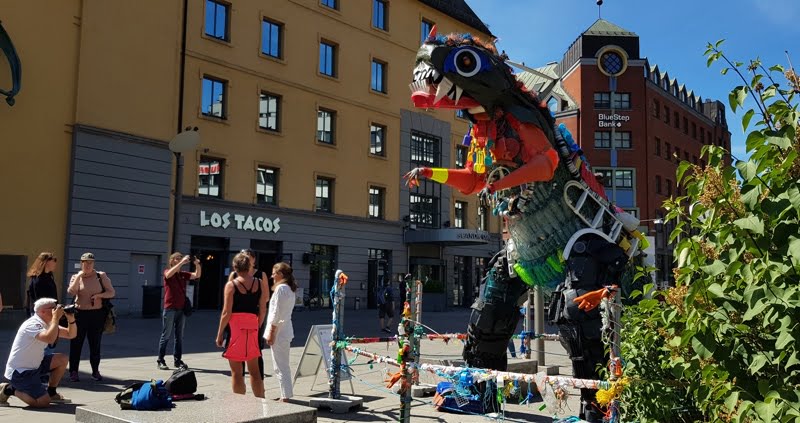 But wait, there's more! A paddle blade, drinking bottles, boots, shoes and sandals, rubber gloves, hangers, various plastic packaging and bubble wrap, 250 snuff boxes, more than 200 plastic bottle lids, car mats, wheel rim protectors, three tarpaulins, and jerrycans.
Momentum behind the campaign
It's a hot topic right now. Prime Minister Erna Solberg was the only Nordic leader to attend the G7 summit, and she used the platform to announce an annual NOK 100 million commitment from Norway to clean up the oceans.
"Popular support for this is huge now. Plastic in the ocean has become symbolic. It's not just in Norway that we've seen whales washed up with their stomach full of plastic," she said.
The story of the project
Commissioned and produced by Kulturetaten (Oslo's Agency for Cultural Affairs) as part of the Bilfritt byliv (Car-free city life) project, the sculpture is playing its part in helping raise awareness of plastic pollution.
The Bilfritt byliv project is not just about removing cars from the centre of Oslo and encouraging people to walk and cycle instead.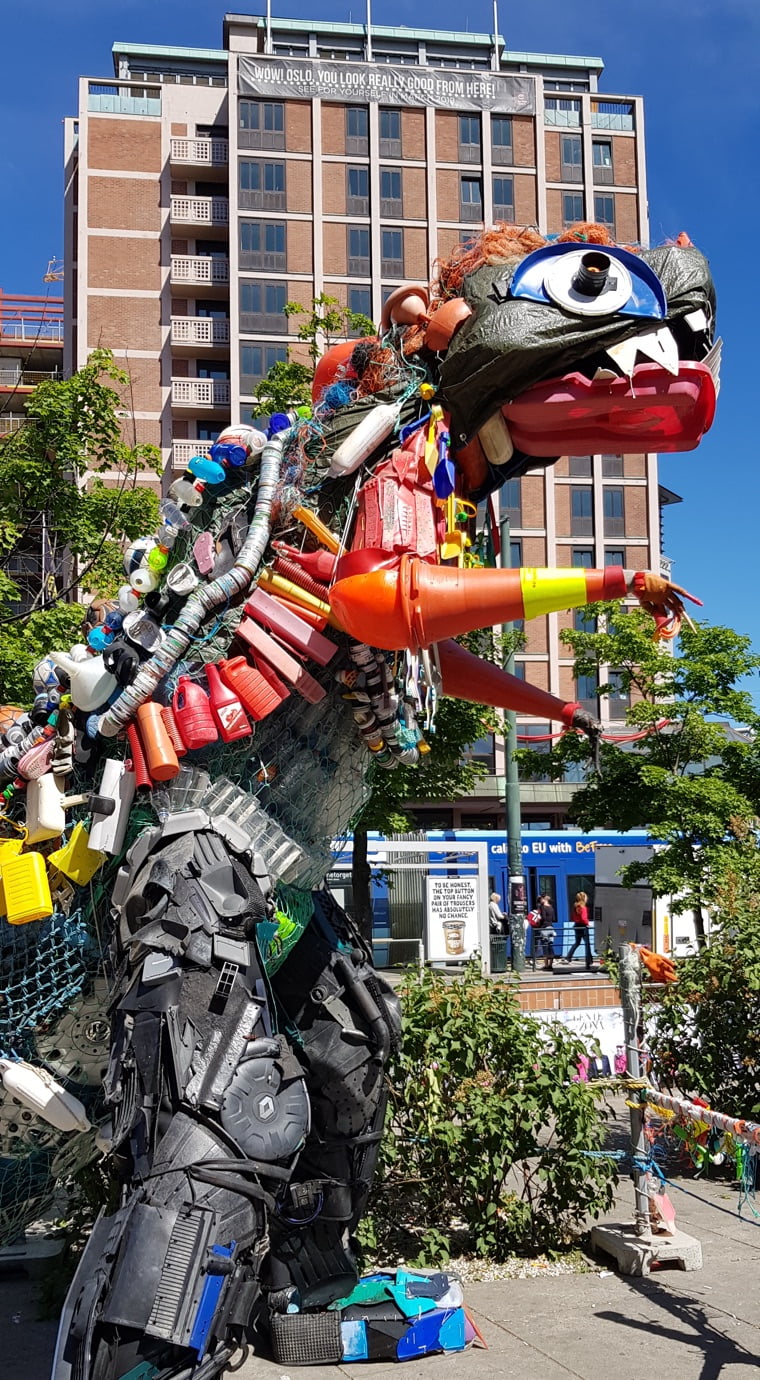 The idea is to create much more pleasant, greener spaces for Oslo residents to live and work in, and 'reclaim' public spaces' (including streets) as places where people interact and socialize.
The green capital
This is all part of a bigger vision for Oslo, which earlier this year was named Europe Green Capital 2019, to become a more environment-friendly city.
A Europe Green Capital is awarded annually by the European Commission to a city that has a consistent record of high environmental standards.
It must be committed to ongoing and ambitious goals for further environmental improvement and sustainable development, and can act as a role model to inspire and promote best practice to other European cities.