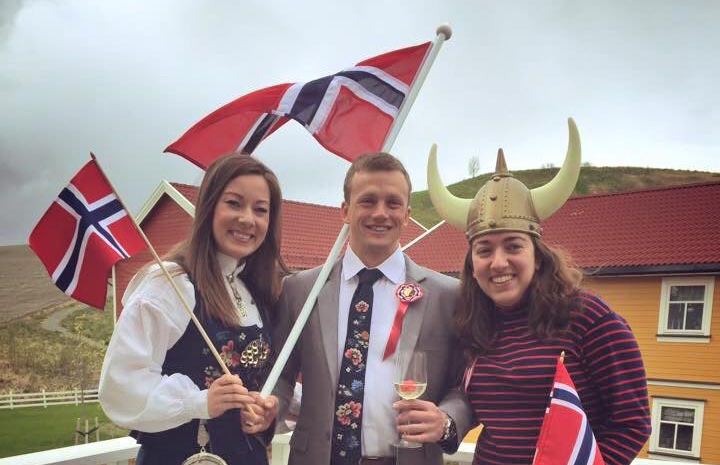 I receive a lot of emails from people asking what life is like in Norway, whether it's hard to find work, what they can expect in the first year and whether it's worth it. I've been in Norway for just over a year now, which honestly made 2015 one of the best years of my life.
As I look back on this past year, here are some of my favorite memories from living in Norway.
Finding a Job
Hands down my biggest challenge and also biggest celebration of my first year in Norway has been getting a job. When I arrived, I knew that I would be at a huge disadvantage not speaking Norwegian.
Finding skilled work in Norway is difficult due to the competitiveness and high education levels of other qualified candidates. Basically, until you get a job, you are walking a tightrope and unsure whether you will even be able to stay in the country once your temporary permit expires. However, there are many benefits to working in Norway.
Norway is a great country with a booming tech/entrepreneurship sector and a great work/life balance. I have found myself extremely fortunate to land a job in a fast-moving software startup with incredible people who I am proud to call friends. The work pace is blistering but the environment is fun, friendly and motivating.
Many people come to Norway looking for work. Let me say outright that it is very difficult. However, if you manage it, it will be one of the most positive and rewarding experiences of your life.
Receiving the Residence Permit
This was pretty easy but also very stressful. If, for some reason, my skilled worker application was denied even after finding a job, I would still have to pack up and head home. While things looked more promising as each day progressed, this still added a dose of anxiety to daily life.
Therefore, when my application finally came back as approved and I received a national ID number and residence card, it was a huge celebration for myself and my fiancé. Many people ask whether they should come to Norway chasing love… my only response is that it is extremely difficult but always incredibly rewarding. I am so very thankful to be here and chasing love has been one of the best decisions of my life. Even though it was not always easy from an immigration standpoint, I feel that the authorities were always quick, respectful and very helpful.
Påske (Easter)
Påske is undoubtedly the favorite holiday of many Norwegians. The weather is finally warm (comparatively) and sunny again, the days are longer and there is still plenty of snow to be enjoyed. Usually påske lasts for one week and consists of lots of skiing, fresh oranges and tasty family meals.
We headed to Isfjorden in the Romsdal region with Katrine's family and spent every day backcountry skiing to mountain peaks, fishing in the fjord and enjoying long sunny days on the deck afterwards, staring at the mountains and enjoying a proper after-ski with Jager. During this trip I experienced the mountains like never before, as we made long trips up overlooking the fjords before skiing back down.
Norwegians cherish påske, and with good reason. This is truly a magical time of year as the weather is sunny and warm but there is still plenty of snow for skiing and the fishing is also great because the ice has just melted and the fish are hungry. The mix of sunshine and such beautiful weather makes for amazing memories.
17 Mai (Norway's National Day)
17 Mai is absolutely wonderful as the whole country comes together, dresses in the traditional bunad and celebrates from morning until late afternoon. Even before moving to Norway, 17 May has always been one of my favorite days… it's my birthday. So, when I learned that it was also Norway's national day, I was pretty excited… seems like I was born to be in Norway!
The day starts with champagne breakfast, friends, waving of flags, cheerful greetings and lots of tasty food. There are plenty of drinks and hugs and a festive mood all around. The whole day is a celebration and the first time you witness it, it is absolutely breath-taking.
Around noon, everyone heads into the city to watch the big parade. I've seen many parades before, but never one quite like this. As a foreigner, I absolutely love seeing folks dressed up in the bunad, each with their own unique design based on where the family comes from.
There are a wide variety of things being celebrated throughout the day, with some of the biggest being those for the children's parade and the russ. If you're not familiar with russ, you're in for a heck of a funny surprise as this graduating high school class drinks and parties their way through two weeks of celebrations, culminating in a final parade on 17 Mai.
The evening can lead you in a variety of directions, of course, ranging from family dinner to partying until you drop. Regardless of which route you take, 17 Mai is a day you will never forget!
Summer hiking trips
Norway is without a doubt one of the most beautiful places on earth and short stays here just do not do the country justice. In order to really understand Norway, I think you have to really immerse yourself in the hytte culture, the summer hiking trips, and even the great pains of long cross-country skiing trips in bad weather. All of this together slowly creates a true understanding of what makes Norway so beautiful and why the Norwegians so quickly celebrate good weather.
This year, one of my favorite hiking trips was a long weekend to Innerdalen where we hiked, camped and enjoyed beautiful blue skies and great views from the peak of the mountain. This was one of those hikes where everything from the freezing river we bathed in to the foggy mountain mornings to the grass roofed hytter along the route and even the celebratory waffles after the hike just screamed what it means to enjoy Norway's scenic beauty in style.
Although this year was not particularly warm and sunny, we still made it a top priority to get into the mountains on bike, foot or climbing rope every chance we got. With the extra long days and beautiful golden glow of summer's warm sunshine, there is never a moment to be missed for adventure.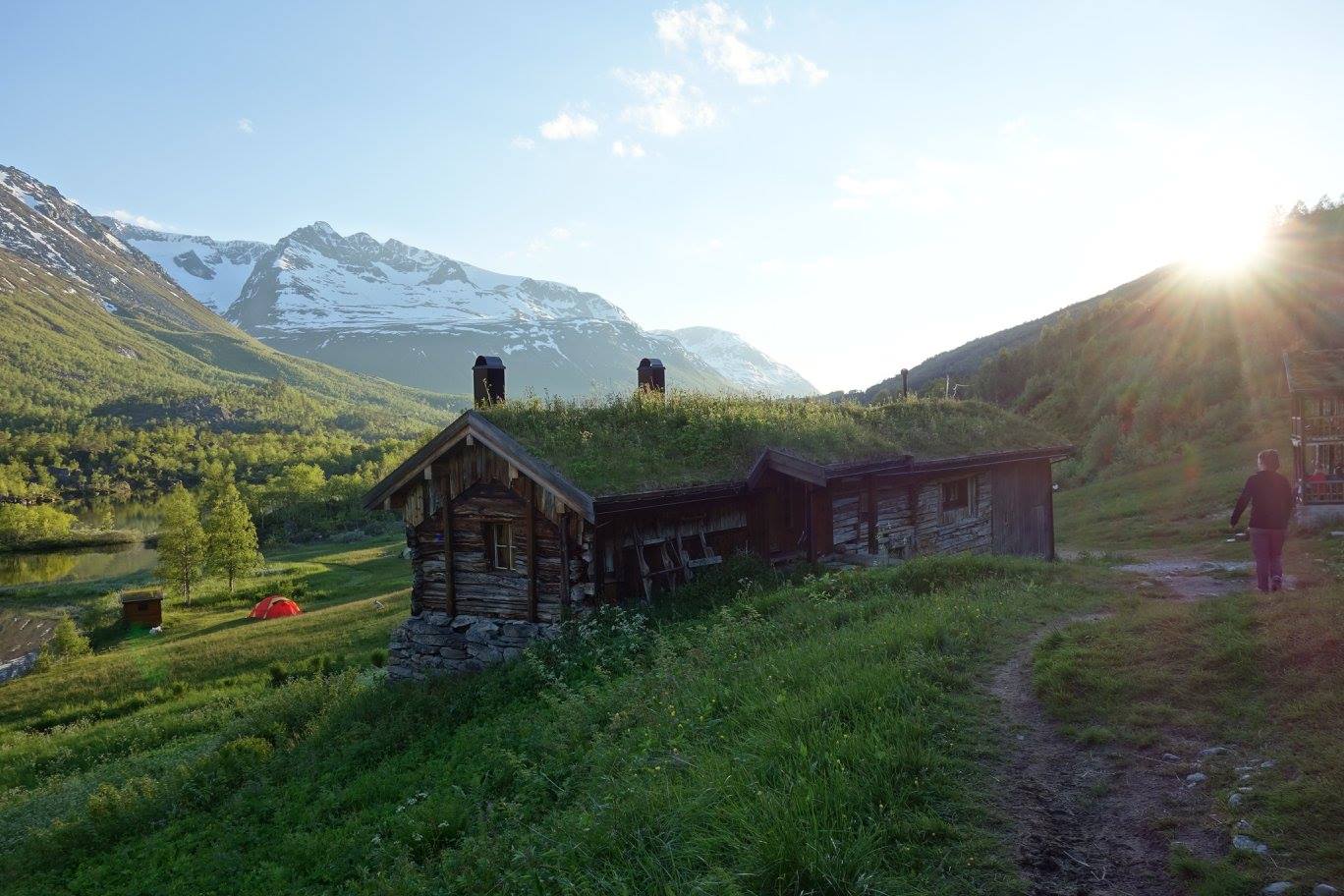 Traveling Through Europe
Living in Norway does come with additional advantages, especially for an American who has always wanted to backpack through Europe. Most of my bucket-list countries, including Switzerland, Spain, France, Italy, Greece, and more are all within a few hours' flight. So, while exploring Europe is usually prohibitively time-consuming and costly for Americans, I have managed to make the most of it. This year I visited France, Switzerland, Finland, Estonia, Sweden, Denmark and Turkey. Not a bad bonus for living in Europe!
The other added bonus is that with so many places to visit, there is a great mix of cultures, climates, terrain, people and activities. The extended vacation days make it much easier to get out, explore the world around you and really appreciate all that Europe has to offer.
Mountain biking in Autumn
Autumn here is generally cold, wet and rainy. For many, it is the least favorite time of year. However, as the Norwegians say, "there's no such thing as bad weather; only bad clothes". So, when it is wet and rainy but the days are not yet too short to hit the mountains, it's perfect weather for mountain biking. To be fair, it more/less sucks for almost anything else.
Due to the large number of interconnected trails and the gentle rolling terrain of most areas here, the biking is absolutely phenomenal. There are fewer people on the trails, there's plenty of mud to get dirty and it's not yet cold enough to snow. The trees are changing colors and the leaves are beginning to fall, which makes for absolutely breath-taking scenery as you weave your way through dense forest and pencil-thin single track.
The Beauty of Winter
I wrote a blog around Christmas that details some of my favorite parts of Norway during the winter. While there are some downsides, such as the long, dark, cold nights there are also many upsides.
Norway is heaven for skiers and the long dark evenings actually make for great times to get together around a fire, chat, play games and appreciate the glistening snow. There are wonderful Christmas markets full of decorations, great food and handy-crafts. Most companies also hold a Julebord or company Christmas party which usually involves great food, plenty of drinking and tons of laughs. Norwegians truly love Christmas and they celebrate it well with everything from festive Christmas markets and tons of festivities. While winter here is indeed a long, cold, dark time of year, there is plenty to celebrate and it is a favorite time of year for many. All in all, winter in Norway is whatever you choose to make of it. So get out there, explore, have fun, learn something new and spend lots of quality time with friends and family.
The Simple Things
Life in Norway is different in a good way and it really is the simple things that are a true highlight. A great work-life balance, lots of vacation, a true focus on family and tons of nature to explore all make Norway a magical place. While many believe that making new friends in Norway can be difficult, that doesn't have to be the case if you are open-minded and willing to try new things.
Norway is much more than just a beautiful (and expensive) destination for travelers. It is a place where the simple things are appreciated, relationships are highly valued and adventure is always just around the corner. So, whether you are visiting for the short-term or in it for the long-haul, there is much to learn, see and do. Life is a bit slower and more relaxed. So, without a doubt, one of my favorite things this year in Norway has been to savor the little things and appreciate life, culture, nature, activities and the warmth of new friendships and opportunities. It hasn't always been easy, but life rarely is, so I hope that you get the chance to truly enjoy all that this magical place has to offer.