This year's St. Olav's Festival gets underway on 28 July.
Every year, Trondheim welcomes back its residents from their long summer holidays for a festival of concerts, lectures, discussions, medieval stalls, pilgrimage, services and more. The 2017 edition of Olavsfestdagene – the St. Olav Festival – runs from 28 July to 5 August.
The tradition of celebrating Olsok (St. Olav's Day) is an old custom that stretches as far back as 1031, when Saint Olav was declared a saint and martyr. During Olsok, people came from great distances to Nidaros (the original name of Trondheim) to repent, but also to exchange and sell goods. Here they heard the latest news, played dice games, and were entertained by travelling clowns and actors.
The medieval market reborn
During St. Olav Festival the lively street market atmosphere in and around the Arcbishop's Garden is recreated, with entertainers, musicians, and trade. Stalls offer such goods as wood carvings, wooden toys, gowns adn dresses, ceramics, handmade soap, jewellery, knitwear, leather products, glass art and more. The air is filled with the scent of roasted nuts as medieval themed meals are on sale along with modern favourites.
Ever since Olav Haraldsson was made a saint in the Middle Ages, Trondheim has been an important goal for pilgrims. People from all over Europe have made their pilgrimage to St. Olav and the cathedral. To this day, people still walk the pilgrim's trail from Oslo to Nidaros, and thousands more come from all across Europe – and even further afield – to take part in the festival.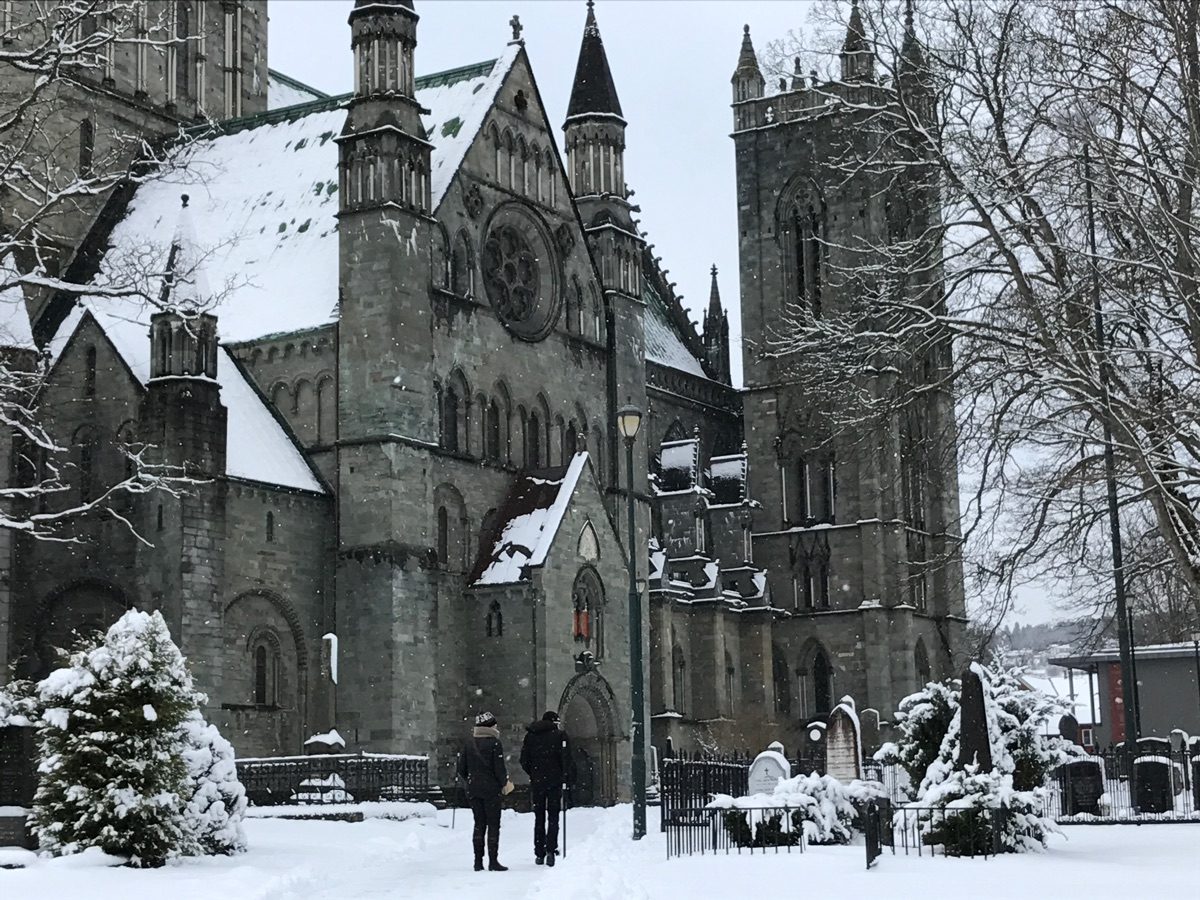 Concerts
Each year, Olavsfestdagene puts on a series of highly-anticipated concerts. This year is no exception.
Stargate: 12 years ago, Mikkel and Tor left Trondheim for New York to make pop music for the whole world. Now they're back in Trondheim where the adventure started. For the very first time, the star duo give a full night concert, and will be joined by emerging Norwegian star Alan Walker.
A classical evening with Telemann and Bach: The Japanese maestro Masaak Suzuki will guide The Norwegian Baroque Orchestra and the eminent choristers of the Hungarian Purcell Choir through the delightful works of Telemann and Bach. 63-year-old Suzuki has been honoured with the German Cross of the Order of Merit and has received several awards for his Bach renditions.
Pilgrim with Trondheim Soloists and the BBC Singers: The BBC Singers are a world-class ensemble, Trondheim Soloists are the award-winning pride of the city, and Jon Fosse is one of the greatest dramatists of our time. These three forces come together for this year's Olavsfestdagene opening concert inside Nidaros Cathedral itself.
Pilgrim is an oratorio for orchestra, choir and soloists. It had its debut in Orkney last month. As one of the two remaining cathedrals of the diocese of Nidaros, St. Magnus Cathedral in Kirkwall, the main town on Orkney, is historically important for Norwegian pilgrims. The historical ties to Norway are strongly recognised so it is appropriate that the second performance of the oratorio should be here at Nidaros Cathedral.
Vamp: The Spellemann award-winning Norwegian band from Haugesund have been making records and touring since 1991. They are known for their mix of traditional Norwegian folk music combined with rock. Øyvind Staveland who writes most of the music is the only member of the group who has been a continuous member from the beginning. Two years ago, they performed for an audience of several thousand in The Archbishop's Courtyard. Now they're back to play in a more intimate venue.
Other highlights
Olavsdagene is about much more than the market and concerts. A full program of lectures and discussions is also scheduled. Game of Thrones star Kristoffer Hivju will take part in a debate titled St. Olav – a role model for the present day? Other debates include Who can save Syria? and Which religion is it best to be different in?
Tickets for all the individual events along with more information and the full program can be found on the Olavsfestdagene website.