Are you planning a trip to Oslo? Here's everything you need to know about how to get around Norway's capital city on the metro, known locally as the T-Bane.
When I first moved to Norway in 2011, I used the T-Bane every day to get to know my new home. It took me high up into the city forests, to football games, and on shopping trips downtown.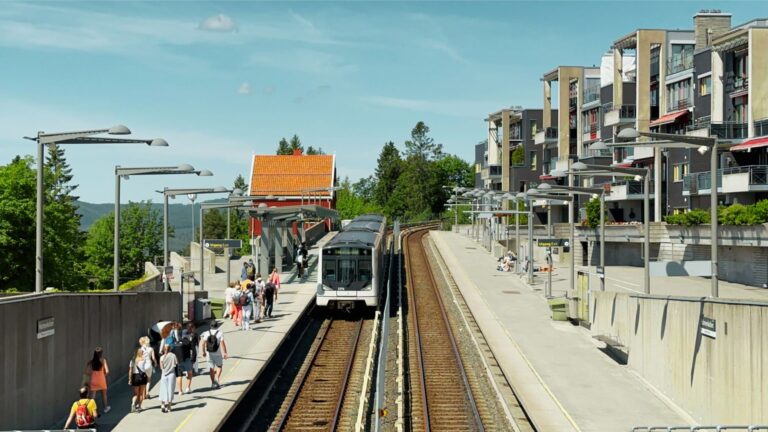 Twelve years later, whenever I visit Oslo the T-Bane feels instantly familiar. Lines have been extended and renumbered, and new stations built, but the Oslo metro system is still an important part of my visits.
If you're relocating to Oslo or simply planning a trip, here's my guide to the T-Bane. Even if you own or rent a car, knowing how to use the T-Bane is important in a city in which parking is difficult and expensive.
Introducing the Oslo metro
The T-Bane has been transporting residents and tourists alike around Oslo since the 1960s. Today, it's an integral part of public transport in Oslo, connecting with tram and bus lines to provide comprehensive coverage in and around Oslo.
Spanning almost 100 kilometres and serving five lines, the T-Bane glides beneath the city's historic streets and also emerges above ground to offer riders views of the surrounding forests and fjord.
Its stations serve as gateways to Oslo's diverse neighbourhoods and attractions. The stations are easy to locate on Google Maps or Apple Maps.
In person, you'll spot the large blue and white T signs when you are close by. Some stations–especially downtown–have multiple entrances.
The tunnels–especially the shared city centre tunnel–give the network its name. T-Bane stands for tunnelbane–or tunnel train.
Understanding the Oslo T-Bane network
There are several lines in the network but they all converge in one large shared city centre tunnel. This means that you never have to wait long for a metro train if you are travelling between one of the city centre stations.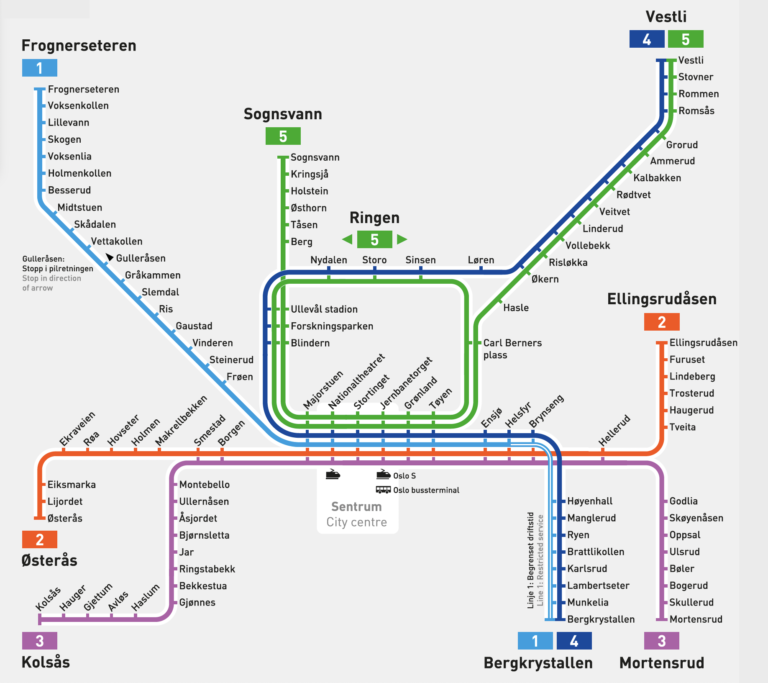 Within the central area, it's useful to know if you're heading westbound or eastbound, as this is how platforms tend to be labelled. In other parts of the network, platforms are likely to be labelled 'towards the city centre' or 'away from the city centre', or it may refer to the final station on the line.
Numbered 1-5, each of the lines goes from one side of the city to the other and through the central tunnel. Following the network changes in 2016, line 5 now incorporate the former 'Ringen' loop line as part of the Sognsvann to Vestli line.
Where you can go on the T-Bane
While the system looks comprehensive, it doesn't cover the entire city. Some of the most notable stations include:
Jernbanetorget: This large station with multiple entrances connects with Oslo Central Station. For tourists, it's useful for getting to Oslo Opera House.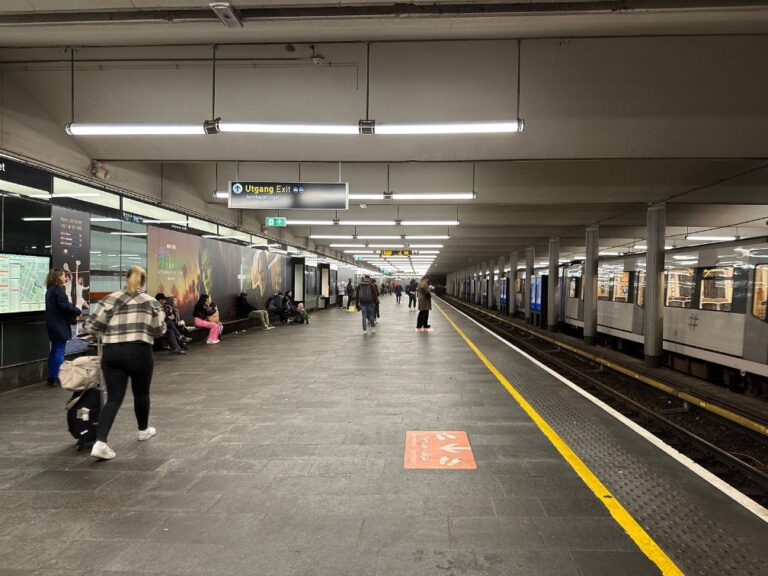 Nationaltheatret: Connects with trains and trams. Also good for visiting the National Theatre, the Royal Palace and gardens, Oslo City Hall, the Nobel Peace Centre, and Aker Brugge / Tjuvholmen.
Majorstuen: Although the tram stops right outside Vigeland Sculpture Park, it can be more convenient to take the T-Bane to Majorstuen and simply walk from there.
Holmenkollen: Access to the Holmenkollen ski jump and arena. Bear in mind the attraction is an uphill walk from the T-Bane station.
Frognerseteren: The last station on line 1 provides fantastic access to the trails of Nordmarka forest. In the winter, this is a popular starting point for skiing and sledding.
Forskningsparken: Oslo Science Park, and parts of the University of Oslo.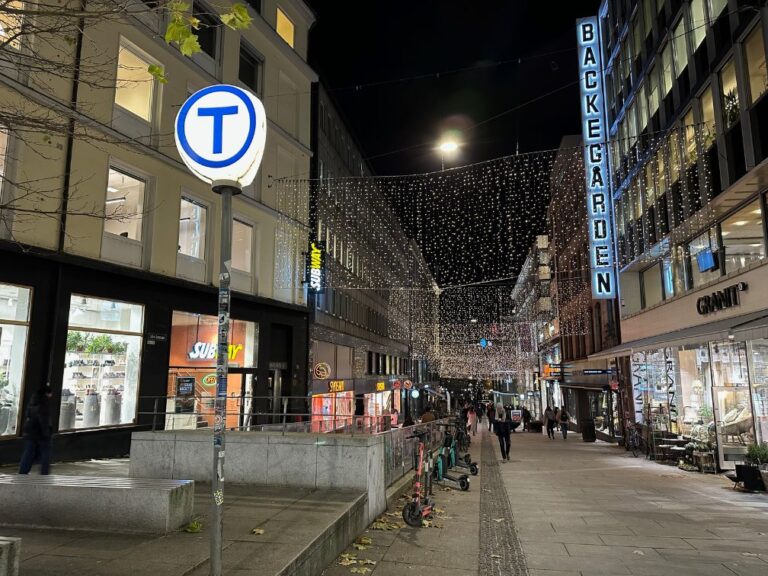 Ullevål Stadion: As the name suggests, this station is primarily used for sports events and concerts at the city's Ullevål Stadium.
How to plan your journey
The easiest way to check timetables and plan a route is by using the Ruter website or app. Just bear in mind that results may include buses and trams unless you specify the T-Bane specifically.
The vast majority of the website and the app is available in English. The app is a little complicated at first, but stick with it!
How to buy a ticket
Public transport in Oslo has a unified ticketing system, for which you can buy single tickets (valid for 60 minutes) or period tickets. Period tickets are available in 24-hour, 7-day, 30-day, or 365-day durations.
Although physical cards are still available, the vast majority of travellers now buy digital tickets using the Ruter app. You can connect a credit card or Vipps for payment.
Whether you're getting a period pass or taking a single journey, the easiest way to buy a ticket is with the Ruter app. However, not everyone–especially tourists–finds using an app easy, so there are other ways too.
A physical card is only worth getting if you are going to be in Oslo for a while, as a new one costs NOK 50. The card can then be loaded with a specific ticket–such as a 30-day ticket–or cash which can be used on a pay-as-you-go basis.
For the pay-as-you-go option, you simply tap the card on a reader as you enter the T-Bane station. If the station doesn't have a reader, you scan the card onboard the metro. This will deduct the price of a single ticket from the card.
Physical travel cards or single tickets can be purchased from kiosks such as Narvesen and 7-Eleven, Ruter service points, and staffed train stations.
Ticket inspections
Buying a ticket and/or ensuring your travelcard is valid is important in Oslo as ticket inspections are frequent, especially in and around the city centre.
If subjected to an inspection, you will be required to show your digital ticket, paper ticket, or have your travelcard scanned. If you cannot produce a valid ticket, you'll be given a fine of NOK 1150, which is reduced to NOK 950 if you pay immediately.
The future of the Oslo metro
With the population of Oslo and its surroundings set to increase massively in the decades to come, Ruter is planning to expand the T-Bane network.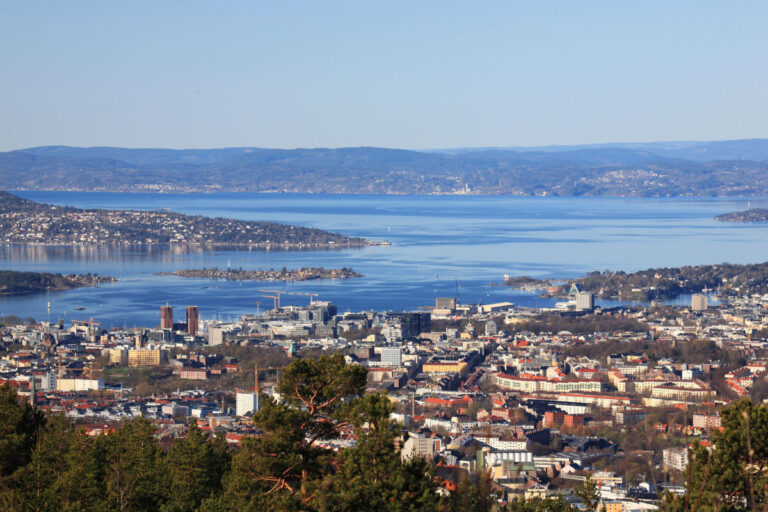 A major extension is planned for the city centre, to reduce the dependence on the single shared tunnel. A new 5km tunnel will connect Majorstuden and Tøyen via new stations at Bislett and Grünerløkka. The new tunnel will also connect to the existing tunnel at Stortinget station.
Meanwhile, work on a 8km extension from Majorstuen to Fornebu is well underway, with new stations being built at Skøyen, Vækerø, Lysaker, Telenor Arena, Flytårnet, and Fornebu.
The Fornebu extension has caused great political controversy over recent years because of the increasing costs, but has now been confirmed. Following delays, the line won't be open any earlier than 2029.