I missed out on one Norwegian tradition last year – the work summer party. Held before the big July shutdown, it normally involves getting together with your colleagues and heading for a cabin in the woods or out on a boat.
Just four weeks into my new job and it was time for the summer party and this time, I wasn't going to miss out. We are a small company and even smaller in Oslo (the head office is in Stavanger) so just six of us headed down to Drammen for "Seiltur på Drammensfjorden" – a sailing trip on the Drammensfjord on a fantastic boat owned by one of my colleagues: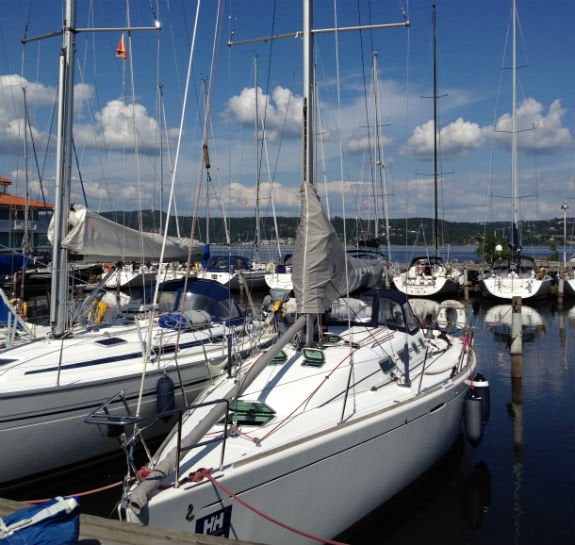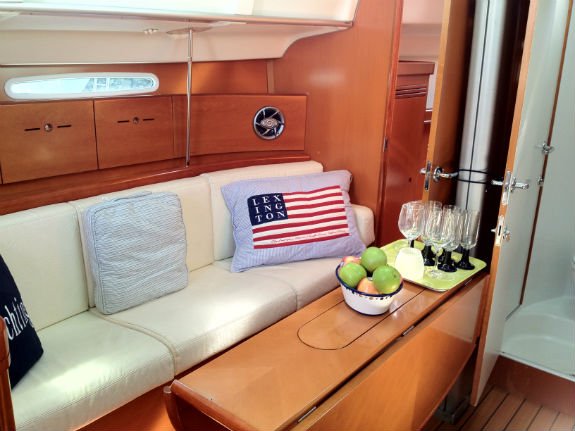 Although we were out on the fjord for several hours, the time flew by and before I knew it we were watching the sun set on the longest day of the year. We enjoyed beautiful warm weather with a light breeze so I'm thankful someone brought along some sunscreen!
Firstly we were all given a fast-track lesson in sailing as we tacked our way southerly down the fjord. Ready to tack!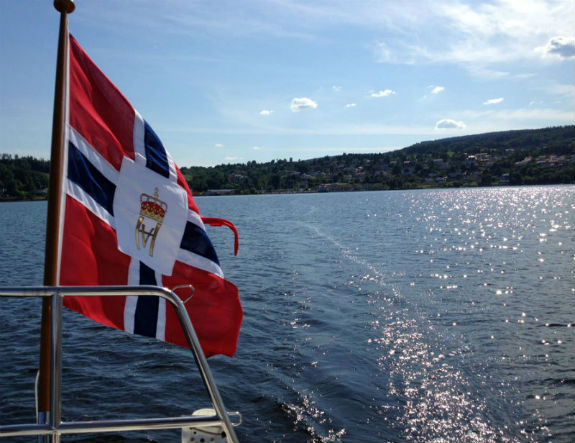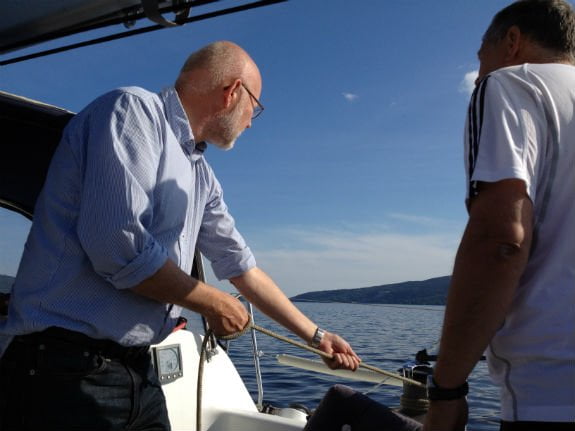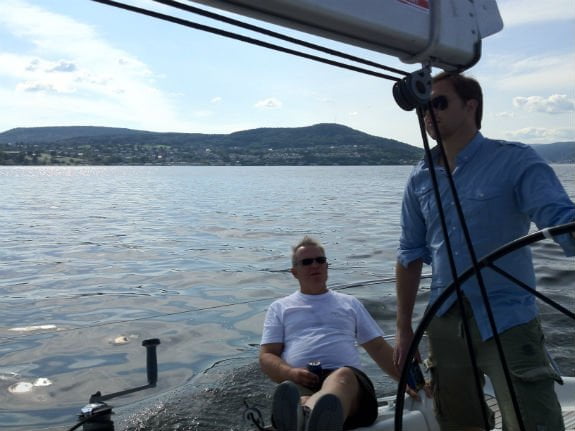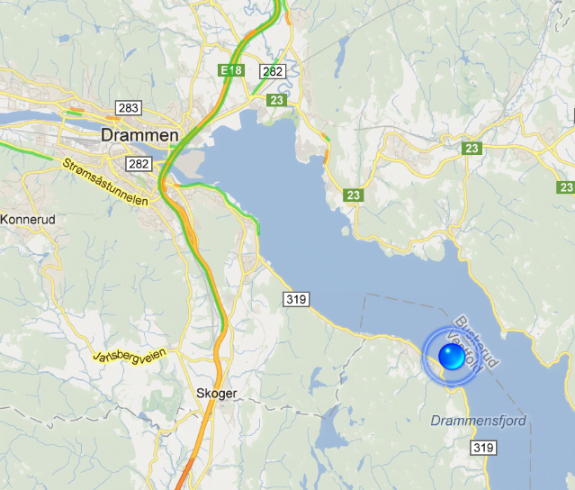 After an hour or so, the wind dropped enabling us to pause for dinner right in the middle of the water. Dinner was a traditional Norwegian shrimp buffet!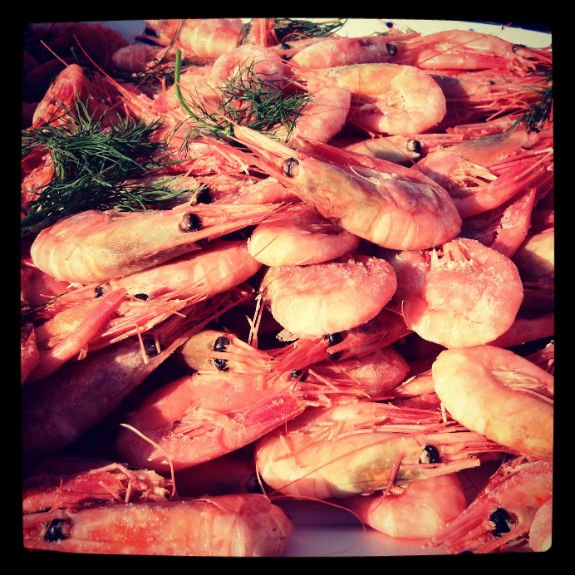 Yep, those are unpeeled shrimps, and a hell of a lot of them at that! The traditional shrimp buffet really is as it sounds: a shedload of shrimps, with dill, lemon juice and bread. We also had crabshells and of course, lashings of wine and beer… we drank the local beer called Aass – it's the pride of Drammen!
Somewhat shamefully, I had never peeled my own shrimps before! Despite growing up on an island, I lived about as far from the sea and fresh seafood as you can get, deep in the Midlands. Seafood was completely off my radar until I moved to Norway.
My boss showed me the ropes, simply saying "pull off the head, rip off the tail, get rid of the other crap and pop it in your mouth", or words to that effect. Lovely! Anyway, it was surprisingly easy after all 🙂
I was also taught to not only squeeze the lemon juice over the shrimps, but over your hands too, as it gets rid of the fishy smell. Works a treat!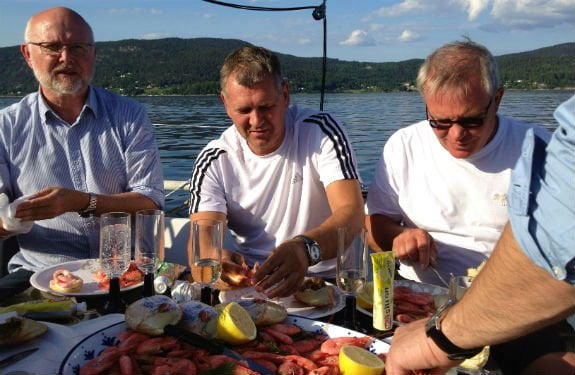 We spent the rest of the evening floating around the fjord before gently returning to Drammen with a little help from a motor. Back at the Sailing Club we enjoyed another Norwegian tradition, coffee and cake, while admiring the setting sun and listening to jazz. It was one of the more relaxing work events I've been to 🙂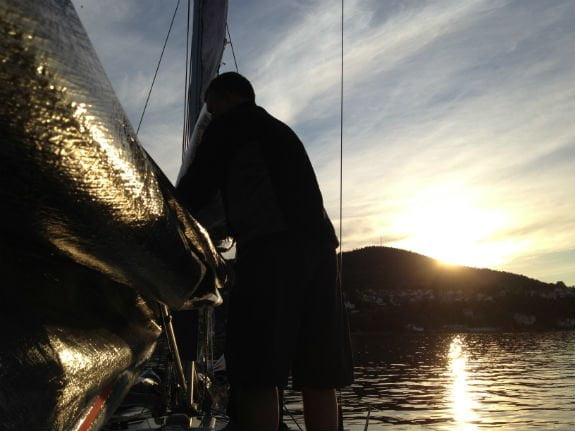 So a big thank you to Svenn Erik, Inge, Frank, Morten and Øyvind for a very enjoyable evening, and for making me just a little bit more Norwegian.