A relaxing place to stop on the way to Lofoten.
The remoteness of the Lofoten Islands is a blessing and a curse. On the one hand you can find yourself alone on a spectacular secluded beach, where if it wasn't for the cooler temperatures you might think you were in the Caribbean (yes, really!)
However, it also means getting to Lofoten is awkward. The islands have several airports served by Norway's small domestic airline Widerøe including the one at Svolvær, but these routes can be expensive and often involve several stops.
An alternative to Widerøe
Until the long talked about major airport for Lofoten is built, most travellers from within Norway will arrive at Evenes Airport, also known as Harstad/Narvik, which is still a two-and-a-half hour drive away from Svolvær. If only there were a charming hotel that travellers could use to break up their journey…
A 20-25 minute drive from Evenes Airport (importantly in the direction of Lofoten!) is the gorgeous Sandtorgholmen Hotel. Made up of several different buildings, the hotel is set on a small peninsular so there is a view of the water from practically every window.
Guest rooms
I stayed in the main building, which is the yellow wooden building you can see in the photos. The room was small yet perfectly suited to my needs, and offered a fantastic view across the water. I spent almost an hour sitting with the window open, watching ferries and small fishing boats drift past. Understandably in such an old building, the rooms vary considerably in size, shape and amenities.
The restaurant
Because you'd have to drive quite a distance to be able to eat anywhere else, you're likely going to want to make use of the hotel's restaurant. Thankfully, it's full of character and charm and so a very pleasant place to spend an evening.
I was lucky enough to be the only guest on this particular night, so received attentive service and I had time for a chat with the friendly owners. They also fried up a fish that was caught especially for me that morning in the water I was looking at while I ate. Perfect! The hotel was recently named as one of Norway's most romantic places to stay, and it really wasn't hard to see why.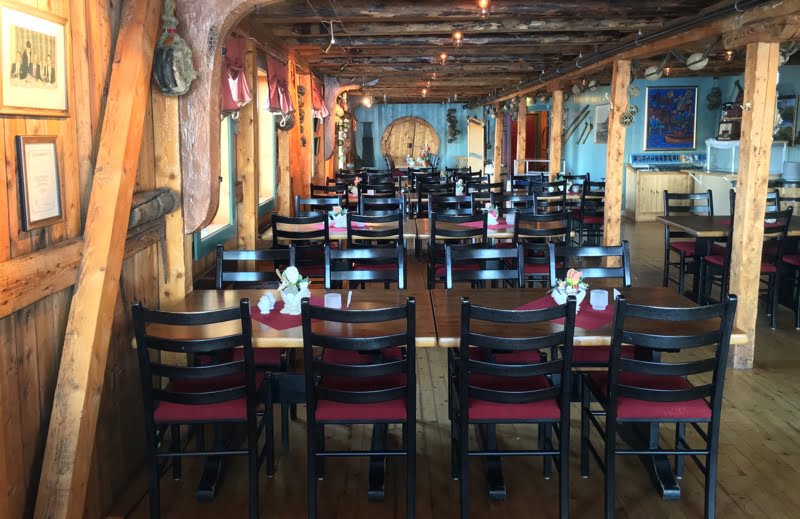 The grounds
Although there are a few houses dotted around, the hotel is in a rural location so there aren't any shops or galleries to potter around. The immediate area is perfect for a stroll however, which I took full advantage of after a filling meal and a couple of beers. The waterfront is lined with some intriguing modern artwork and a rocky beach.
During the summer season, the owners construct a mini golf course right outside the main building. In short, you won't get bored in the evenings here!
As I had a 10am flight from Evenes back to Trondheim, I chose to stay here rather than face a long drive from Svolvær or Sortland. It was a great decision, as I was able to enjoy a morning walk along the waterfront and a leisurely breakfast before making my way to the airport with no stresses.
I can highly recommend the Sandtorgholmen Hotel to anyone with a flight in or out of Evenes. It would also make a great spot for a romantic getaway or to celebrate an anniversary.
My stay was courtesy of the Sandtorgholmen Hotel. However this review is independent and free of influence from the hotel management.