Learning about the Olympic legacy of Lillehammer, Norway, on a day trip from the capital city, Oslo.
This Saturday I packed my furry boots, thermos and countless layers of clothing for my first visit inland. My destination was the small town of Lillehammer, 170km due north of Oslo on the shores of Lake Mjøsa.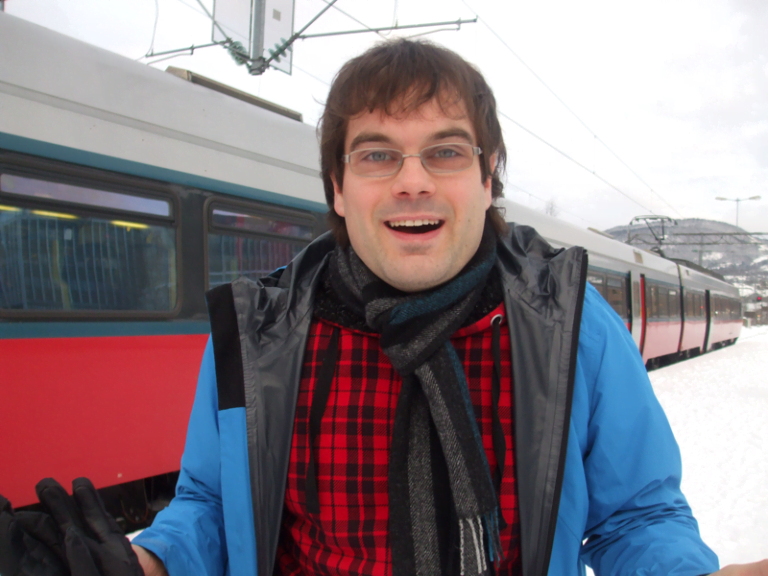 The day began for me (and my travelling companion Gerry) with an early start on Dovrebanen, the train line which transports countless people the 553km between Oslo and Trondheim.
It might not be as famous as the Oslo to Bergen railway, but Dovrebanen offers views which rival it. Much of the two-and-a-bit hour journey to Lillehammer is spent skirting Norway's biggest lake, Mjøsa:
The first thing to note about Lillehammer is its size. SMALL. If it were a guy, it would shop in the kids section of H&M. Just 26,000 people live here, which makes its hosting of the 1994 Winter Olympics pretty stunning.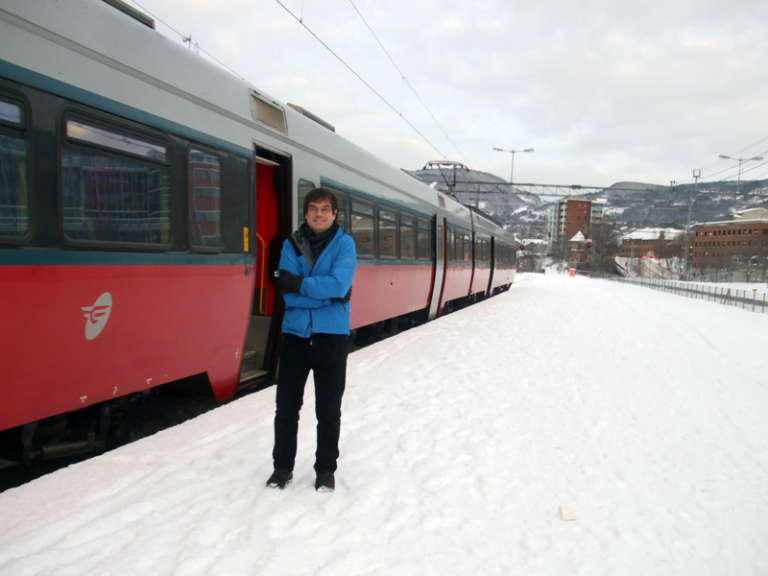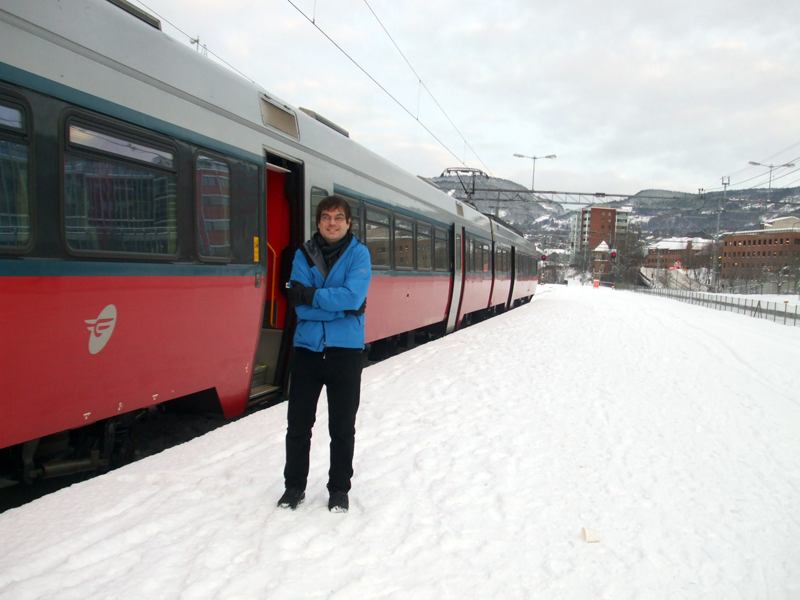 That is of course why the vast majority of people have heard of Lillehammer. Aside from that it's just a small lakeside town with a couple of ski resorts close by, much like many small towns in Norway.
The quiet town centre
I don't mean to talk the place down, it sure has its charms. What I want to get across is what an almighty legacy the Olympic Games has left on such a small place.
From any point in the town the ski jump arena towers over the houses and shops below, a constant reminder of the events 18 years ago (and of what is to come – Lillehammer is to host the Winter Youth Olympics in 2016)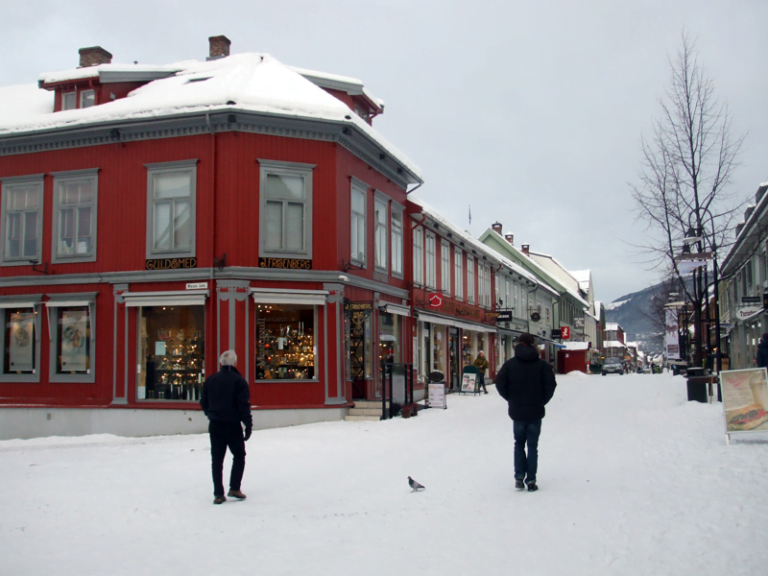 Like most Norwegian towns, Storgata is the centre of activity. It's a very picturesque main street with wooden houses galore and reminded me of Storgata in Tromsø.
In fact, the whole setting felt similar to Tromsø – an expanse of water, snowy mountains all around, small wooden houses, a pride in the town – but I guess these are generics to be found in most Norwegian towns.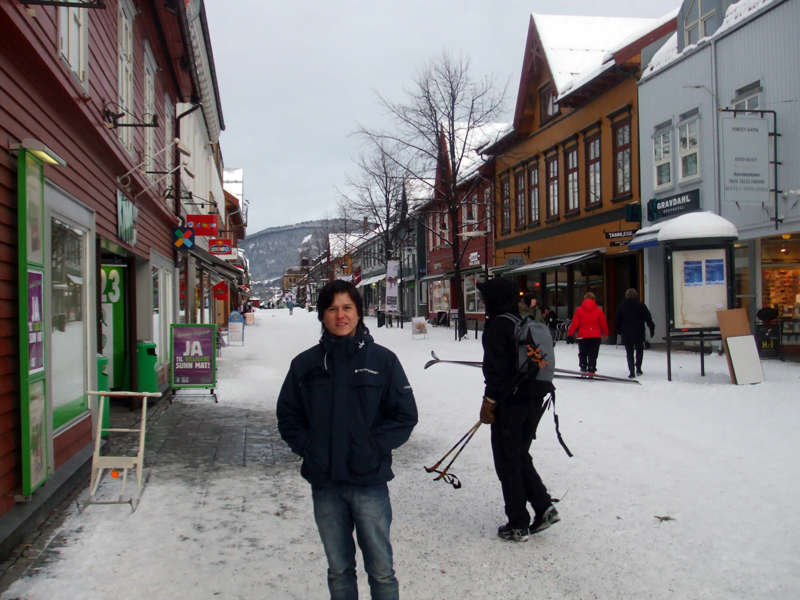 There was one important difference though and that's the activity levels. It was a much quieter place, with Storgata almost deserted at 11am on a Saturday.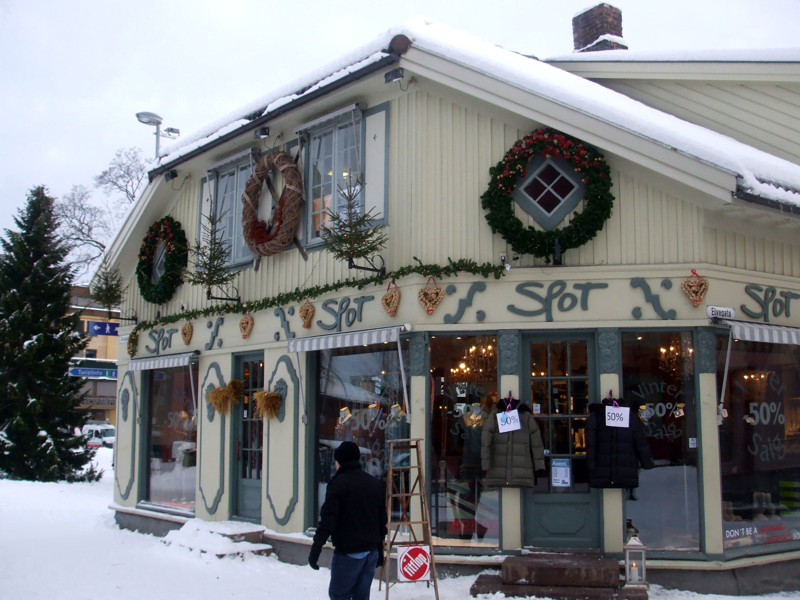 Lillehammer is not a town where groups of teenagers hang around outside the shops… it seems most people were already up, or heading up to the mountains. So up we went!
Olympic park in Lillehammer
Well, not quite up the mountain, but up to the main attraction for the day, the Norwegian Olympic Museum.
Rather than just an exhibition of the Lillehammer 1994 Games, the museum is a walk through the entire history of the Olympic movement, summer and winter, from its beginnings as the Ancient Greek games right up to the 2010 Winter Olympics in Vancouver.
There is of course a healthy amount to see from the two winter events Norway hosted, Oslo 1952 and Lillehammer 1994, but the focus is on the Olympic movement as a whole.
There's a sweet little video about how the town coped with being the centre of the world's attention back in 1994, just ask the receptionist to put it on for you when you arrive 🙂
The museum is housed within Håkons Hall, the sports arena which hosted the Olympic ice hockey tournament and still hosts ice hockey and handball tournaments today. Inside the arena itself is the giant egg from the opening ceremony, an unexpected surprise!
Next door is Kristins Hall, home to Lillehammer IK, one of the better ice hockey teams in Norway. And outside were a whole bunch of families with skis, sledges, and basically any object on which you could sit/stand and slide about on snow!
IMPORTANT FOR VISITORS: Since publishing this article, the Norwegian Olympic Museum is now co-located with the Maihaugen museum. You can read more about this interesting place below.
There's a ton of Olympic-related stuff to do on a return visit in the summer, including a trip up the chairlift to the top of the ski jump and a unique chance to ride down the Olympic bobsleigh track a few miles away at Hunderfossen. However, this was the end of David's Olympic adventure for the day.
Maihaugen open-air museum
A work colleague suggested a visit to the open air museum, which turned out to be such a great place it deserves its own blog post… which is here! In the evening we found a nice little Italian-Turkish restaurant called Toscana on Storgata. Yes I know Italian-Turkish conjures up images of kebab meat pizzas, but it was actually a decent place, obviously popular with locals and best of all, cheap beer! 56 Kroner for half-litre of Ringnes or Carlsberg, very good for a restaurant.
There wasn't a great deal on offer in the evening other than Premier League football in the pubs, so we ended up waiting in the train station with a coffee, although we were entertained by a slideshow of scenic photographs from a local photography club. It's useful to note that even on a Saturday most shops were closed by 4pm.
If you have even the slightest interest in the Olympic Games then Lillehammer is definitely worth a visit, but from Oslo I'd recommend just a day trip. Unless you're a skier or snowboarder of course!