Northern Norway's magnificent Arctic archipelago is a must-visit destination for all curious travellers. If you're planning a trip, here are the very best things to do in Lofoten.
Norway's mesmerizing beauty has long captivated the hearts of travellers from around the globe. Yet, even within such a nation renowned for its breathtaking landscapes, the Lofoten Islands stand out as an exceptional gem.
Situated in Norway's extreme northwest, the Lofoten Islands boast a harmonious blend of jagged mountain ranges, pristine beaches, quaint fishing villages, and a rich history and coastal culture.
The natural beauty of Lofoten, Norway
One of Lofoten's most iconic features is the 'Lofoten Wall' – a majestic mountain range that appears as an awe-inspiring fortress to those approaching by sea.
These mountains not only promise thrilling hikes and rock-climbing challenges but also serve as an ever-present backdrop, painting every moment in Lofoten with grandeur.
Yet, Lofoten's allure doesn't stop at its natural beauty. Beyond its famed outdoorsy appeal lies a treasure trove of activities suitable for everyone – from families seeking bonding moments to solo travellers hungry for unique experiences.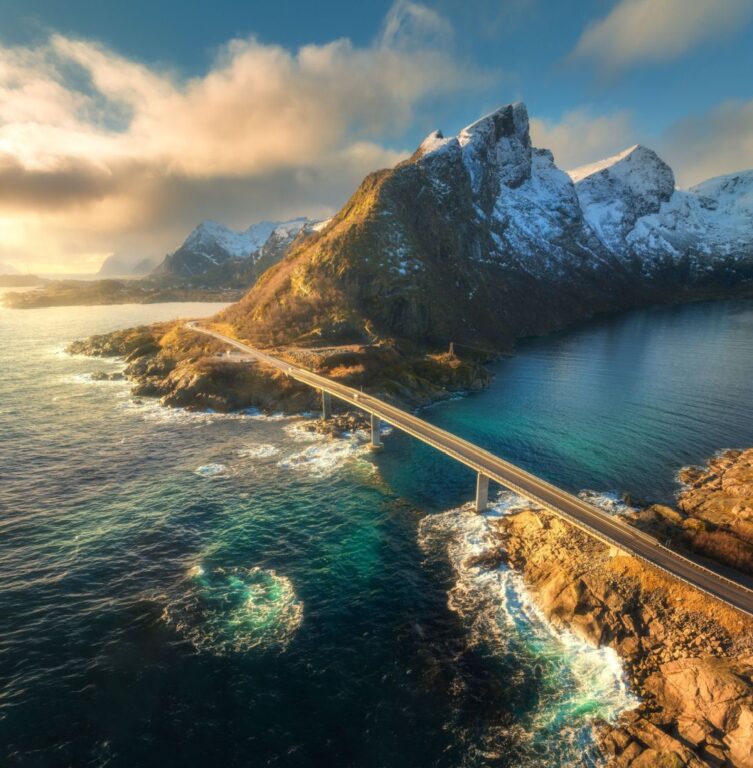 Whether you're a nature enthusiast, history buff, or simply someone in search of serenity, Lofoten beckons with the promise of unforgettable moments. Now, let's dive into some of the best things to do in Lofoten, Norway.
Discover Lofoten by car
Here, buses may be sparse and unpredictable, but the freedom of a car opens up a realm of serendipitous stops, breathtaking landscapes, and intimate glimpses of local life.
Venturing through Lofoten by car isn't merely a means to an end—it's an unfolding narrative of adventures, discoveries, and postcard-perfect moments. Embark on this westward journey from Svolvær and let the road introduce you to Lofoten's heart.
If you need a car, there is car rental at Svolvær. You'll need to book in advance though, especially in high season.
1. Visit the 'Lofoten Cathedral'
A short distance from Kabelvåg lies Vågan Church, often referred to by locals and in the tourist brochures as the 'Lofoten Cathedral'.
This impressive wooden building, dating back to 1898, stands as a testament to Lofoten's architectural prowess. Its size, juxtaposed against the sparse population of the area, adds to its mystery and charm.
2. Stop by the artistic haven of Henningsvær
Lofoten has long been a muse for countless artists, writers, and visionaries. As you drive, small art galleries punctuate the islands, but the village of Henningsvær is an artistic hub.
The road to this picturesque village is a visual treat in itself. And once there, a labyrinth of waterfront walks awaits, leading you to a handful of museums and galleries—a testament to Lofoten's everlasting impact on the creative soul.
3. An authentic experience in Nusfjord
Hidden away from the common hustle, Nusfjord cradles the very essence of a Lofoten fishing village. Just 25 people live here year-round, but they manage to keep alive historic traditions.
Prolong this immersive experience by spending a night at the luxurious Nusfjord Arctic Resort. Whether you choose to indulge in traditional activities like fishing and hiking, or rejuvenate in the embrace of an open-air sauna, Nusfjord promises memories of a lifetime.
4. A photogenic stop in Reine
In a region brimming with picturesque locales, Reine stands out as a crown jewel. As you approach, the scenic drive promises to be one of your most cherished memories of Norway.
Keep your camera ready, and ensure you've set aside time for unplanned stops! Within the village, the Reine Culture Center showcases local artistry.
Coupled with quaint cafes and dramatic vistas of soaring peaks, Reine offers an experience that's both tranquil and exhilarating.
5. The end of the road in Å
Nestled where the road concludes its meandering journey westward is the quaint fishing village of Å. This village, frozen in time, now thrives as a living museum, bearing witness to the rich maritime heritage of the islands.
In Å, history is not merely read but experienced. Wander through the well-preserved boathouse that once echoed with the tales of brave seafarers. Step into a bygone era as you visit the vintage post office, which once connected this remote village to the wider world.
The old cod liver oil factory stands as a testament to the island's fishing legacy, while the stately manor house provides a glimpse into the domestic lives of the villagers in times past. After absorbing the stories and sights, let your senses be further delighted at the village's traditional bakery.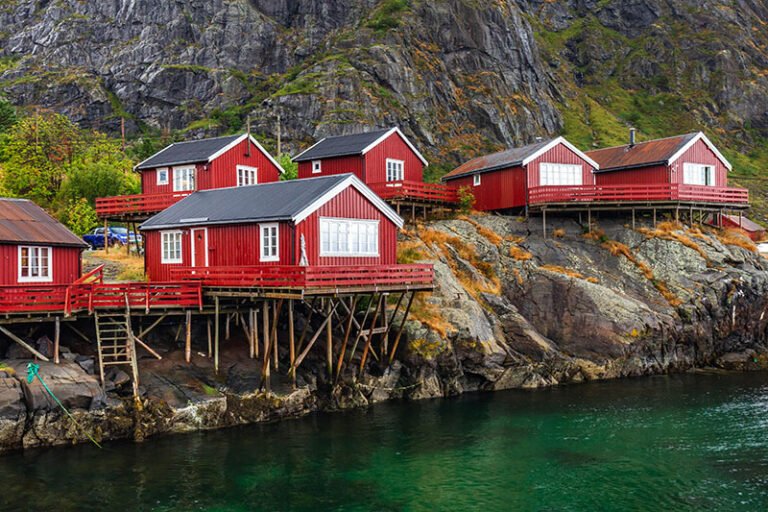 For travellers yearning for a more immersive experience, Å offers the unique opportunity to reside in authentic 'rorbuer'—traditional fishing cabins. While these cabins retain their rustic charm, they've been thoughtfully upgraded for modern comfort.
Spectacular hikes and beaches
The rugged terrain of the Lofoten Islands invites explorers from all walks of life to experience its natural splendor.
With a network of hiking trails that accommodate all skill levels, the most seasoned trekkers and casual wanderers alike will find their own slice of paradise.
But it's not just about conquering peaks. Many trails reveal hidden beaches, often golden and secluded, some of the best beaches in all of Norway.
6. Kvalvika Beach
Among the many beachside trails in Lofoten, Kvalvika stands out as the ideal starting point for novice hikers. Though its popularity has led to some congestion in the parking area, an early start assures a more serene experience.
What awaits you at the end of this hour-long walk? In the words of local photographer Cody Duncan, "Turquoise waves crash on golden sands and vertical cliffs rise into the clouds in a display of Lofoten at its best."
7. Ryten trail
If you wish to see Kvalvika Beach framed by the jagged peaks that define Lofoten, the Ryten hike is your trail.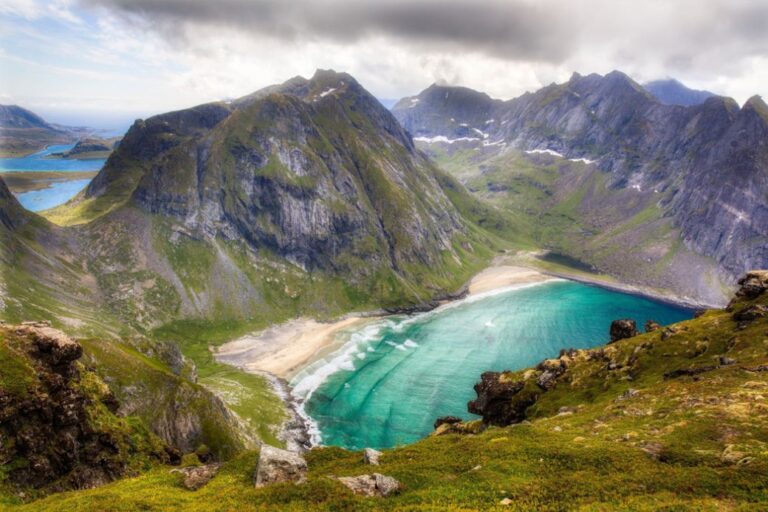 With multiple routes available, the most popular choice generally takes around 2.5 hours to ascend the 1,780-foot elevation. The payoff is an awe-inspiring view that contextualizes the beauty of Kvalvika Beach.
8. The upgraded Reinebringen
Lofoten's Reinebringen hike has earned its reputation as one of Lofoten's most iconic trails. Upgraded in 2021 with Sherpa-built stone steps, the trek to the 1,469-foot summit has become significantly safer.
While not the highest peak in the archipelago, the panoramic views of the surrounding islands and village below make this hike an absolute must.
9. Horseid Beach
Reaching Horseid Beach is an adventure in itself, requiring a ferry ride followed by a two-hour hike. This logistical commitment helps limit visitor numbers, making the beach a tranquil retreat for those who make the journey.
10. Bunes Beach
Another splendid white beach, Bunes requires a ferry from Reine just like Horseid, but offers a shorter and more family-friendly trail. Here, the sands seem untouched, and the ocean meets the sky in an endless horizon.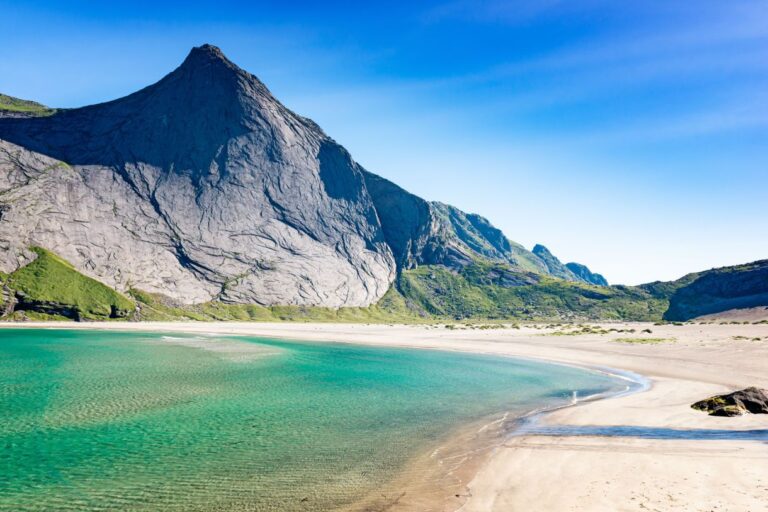 11. Tjeldbergtinden
Don't think that the eastern part of Lofoten lacks hiking opportunities. Located between Svolvær and Kabelvåg, Tjeldbergtinden offers an easy and family-friendly hike.
Upon reaching the 1,200-foot summit, you're rewarded with expansive views that lay Svolvær city against a magnificent backdrop of mountains and ocean.
Lofoten boat trips
To truly understand Lofoten, one must embrace both its land and waters. These magnificent mountainous islands, with their pristine waters and jagged coastlines, offer an unmatched allure from the vantage point of the sea.
While road trips and hiking trails can provide access to some hidden nooks and crannies, the islands truly unfold their grandeur when seen from the deck of a boat.
Whether you're on a serene fjord or chasing eagles, every nautical mile adds more depth to your Lofoten story.
12. Arrive on a coastal cruise ferry
Of the myriad ways to journey to Lofoten, the Havila or Hurtigruten coastal cruise ferries are standout choices. They seamlessly marry comfort, affordability, and unparalleled views.
Starting from Bodø and sailing to Stamsund, the journey is more than just transportation—it's a prelude to the Lofoten experience. Continuing from Stamsund to Svolvær, this leg serves as an unmissable sightseeing extravaganza, with the iconic Lofoten wall forming the backdrop.
13. Visit Skrova island
A mere 30-minute ferry ride from Svolvær transports you to Skrova. A small group of locals live here and many will be happy to see you've taken the time to visit their small community to learn about Arctic island culture.
While compact in size, the island is rich in visual narratives. Much credit goes to the local initiative that transformed the island into an open-air gallery.
Among the art installations, the most striking is the tunnel adorned with photographs, capturing the essence of island life over the centuries.
14. Visit Røst
Lofoten itself feels remote, but Røst stands out as an untouched sanctuary. Positioned over six miles from the main Lofoten islands and a staggering 60 miles from mainland Norway, this tranquil archipelago offers an undisturbed experience.
With a dwindling population of fewer than 500, Røst, however, thrives, with a booming fishing industry.
Additionally, ornithologists and nature enthusiasts are drawn to the vast colonies of seabirds, ensuring that tourism continues to support this insular community.
There's places to stay here, and if you don't fancy the boat trip, you can even take a small propellor-powered plane.
15. Sail into the Trollfjord
While many associate Norway's majestic fjords with the south, the Trollfjord stands as a natural wonder in the north. Characterized by its narrow passage hemmed in by towering mountains, it offers a sense of imposing serenity.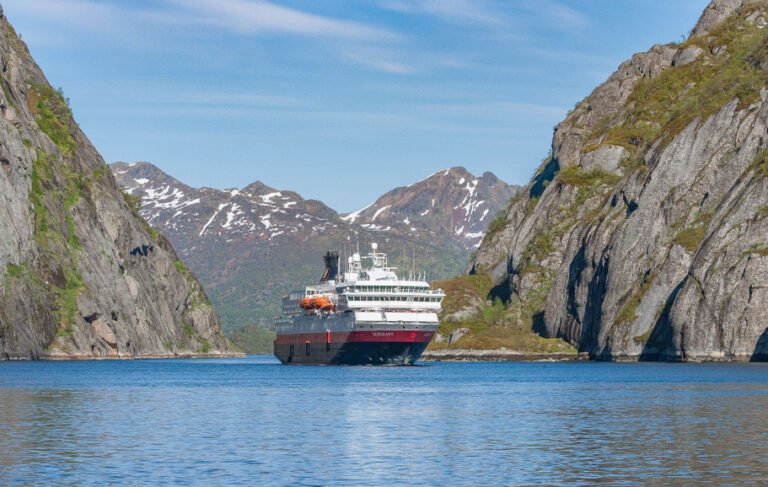 Its narrowness ensures only specific cruise ships can navigate its waters. Both Hurtigruten and Havila often visit here on their voyages. But for those not on a coastal ferry, daily boat expeditions depart from Svolvær.
16. Sea eagle safari
Although many Trollfjord trips offer a glimpse of the sea eagle, true enthusiasts will benefit from a dedicated safari. Venturing out in an inflatable RIB boat, these tours are available from various locations, including Svolvær, Henningsvær, and Stamsund.
Guided by local experts who know the region like the back of their hand, passengers stand the best chance to witness the majestic sea eagle in action, perhaps even catching sight of its impressive hunting prowess.
Things to do in Svolvær
While the Lofoten archipelago is a treasure trove of natural wonders and picturesque villages, Svolvær, its largest town, holds a unique charm of its own.
Spending a night or two here offers a taste of island life with a cosmopolitan twist. While we've touched on the hiking trails and boat excursions that Svolvær offers, the town's available experiences extend beyond the obvious.
Much like Henningsvær, Svolvær is an art aficionado's delight with an array of intimate galleries, each one offering a unique perspective on the region's beauty and culture.
For the gastronomically inclined, the town's waterfront boasts restaurants that dish out sumptuous, freshly-caught seafood, allowing you to savor the very essence of Arctic cuisine.
17. Chill out at Magic Ice
While it might seem like a tourist magnet on the surface, Magic Ice offers a genuinely cool experience, literally.
Step inside this frosty wonderland adorned with meticulously carved ice sculptures. Your entrance fee not only lets you marvel at these icy artworks but also entitles you to a refreshing drink, served in a glass made entirely of ice.
Don't fret about the cold; a snug cape is provided to ensure you stay warm. To avoid the crowds and soak in the ambiance, time your visit between the departure of cruise ships or coastal ferries.
18. Discover Lofoten's wartime history
The Lofoten War Memorial Museum may be compact, but it's a poignant testament to the region's wartime past. Amidst its eclectic collection of World War II uniforms and artifacts, history enthusiasts will find a rich narrative waiting to be explored.
Each exhibit is informatively labeled, but should you find yourself curious or wanting to delve deeper, the museum's passionate owner is always eager to share insights, anecdotes, and lesser-known facts.
19. Conquer the 'Svolvær Goat'
Dominating Svolvær's skyline is the iconic 'Svolværgeita' or Svolvær Goat, a formidable rock formation with twin peaks that resemble a goat's horns.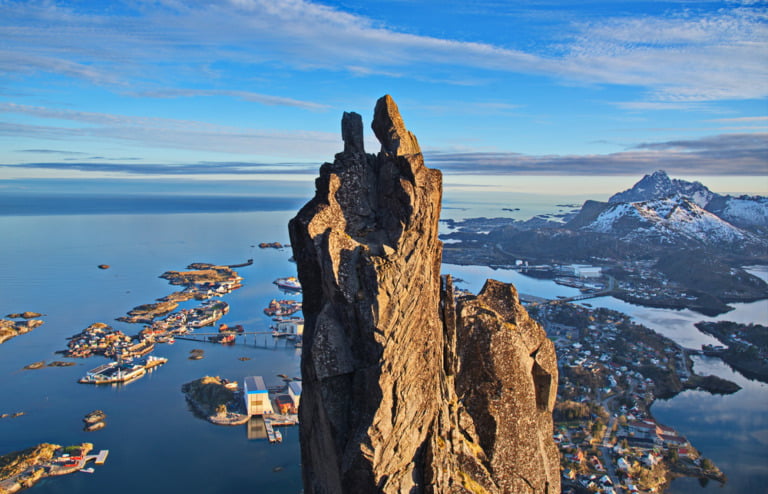 A beacon for rock climbing enthusiasts, this is not a climb for the faint-hearted or the inexperienced. The challenging ascent promises adrenaline-packed moments and unparalleled views from the top.
If you're up for the adventure, ensure you have a guide by your side and are equipped with all the necessary safety gear. This is no climb for beginners.
Museums in Lofoten
In addition to the war memorial museum that graces downtown Svolvær and the fishing village museum at Å, Lofoten's storied past is told through a variety of specialised museums. Each establishment paints a vivid picture, adding depth to our understanding of life in this enchanting archipelago.
20. Lofoten Museum
Nestled in Kabelvåg, the Lofoten Museum is set within a meticulously preserved former manor house, with its surroundings caressed by serene waters. A visit here is a journey into the heart of Lofoten's traditions.
Dive into tales of fishing, boat crafting, and thriving trade. Experience the stark contrast between the opulent life in the manor house and the humble existence of fishermen in their cabins.
21. Lofoten Aquarium
Discover a world teeming with the mysteries and wonders of the frigid northern oceans. As you wander through Lofoten Aquarium, you're transported beneath the surface of the icy waters, coming face-to-face with an array of marine inhabitants.
From playful sea otters that dance and glide with grace, to the otherworldly luminescence of jellyfish drifting in their tanks, and from the curious gaze of deep-sea fish to rich coral reefs, the aquarium showcases the diverse marine ecosystems of the Arctic region.
Interactive displays and informative plaques peppered throughout the facility enrich the visitor's experience, offering insights into the behaviors, habitats, and challenges faced by these aquatic creatures.
22. Lofotr Viking Museum
The 1980s brought to light a groundbreaking discovery in Lofoten. The remains of a Viking Age building, almost unparalleled in its grandeur across Scandinavia, revealed Lofoten's stature as a pivotal centre of power.
Today, a meticulously reconstructed longhouse stands as the main attraction of the Lofotr Viking Museum. History enthusiasts and curious minds alike will find this destination indispensable on a Lofoten itinerary.
On special nights, the atmosphere is particularly electric as an actor, donning the role of the Viking Chieftain, invites guests into the longhouse. A feast ensues, animated by tales of valor, rhythmic songs, and a generous sprinkle of Viking mirth. This experience is often offered as an excursion on the coastal voyage and cruise ships.
Other things to do in Lofoten
If you've not been inspired yet, don't despair. We're not quite finished!
23. Northern lights hunt
The vast majoriy of tourists visit Lofoten in the summer, although the shoulder seasons are becoming more popular. If you're among the relatively few people who visit between the months of September and April, you're likely intrigued by the chance of seeing the northern lights.
Organised tours are available, but you'll have just as much luck finding a secluded spot yourself with an unobstructed view to the north. A cloudless sky will be required as well, of course!
24. Try some Lofoten cheese
The farm-based cheese factory Lofoten Gårdsysteri is a hidden gem of the Lofoten Islands. You can try some of the products that are available from the Coop in Svolvær, Leknes, or Kabelvåg.
You can also visit the farm itself to see how the cheese is made and buy the products as fresh as possible. Located near to Lofotr Viking Museum, the cafe and farm shop is open Monday to Saturday.
25. Try the local beer
Lofoten Pils (Lofotpils) is proudly served in most bars and restaurants across the archipelago. Made locally in Svolvær, sampling the local beer is a must when passing through the islands.
If you are visiting Lofoten on the Hurtigruten or Havila coastal voyage, you may get the opportunity to visit the factory when in Svolvær. I recommend the tour!
No matter what your hopes for your trip, I hope this article has given you some ideas for your itinerary. I'm sure you're going to have a great time.
Have you ever been to Lofoten? I'd love to hear your favourite things to do in Lofoten in the comments below. If you enjoyed this post, please consider sharing it on Facebook or Pinterest, so others can find and enjoy it too.