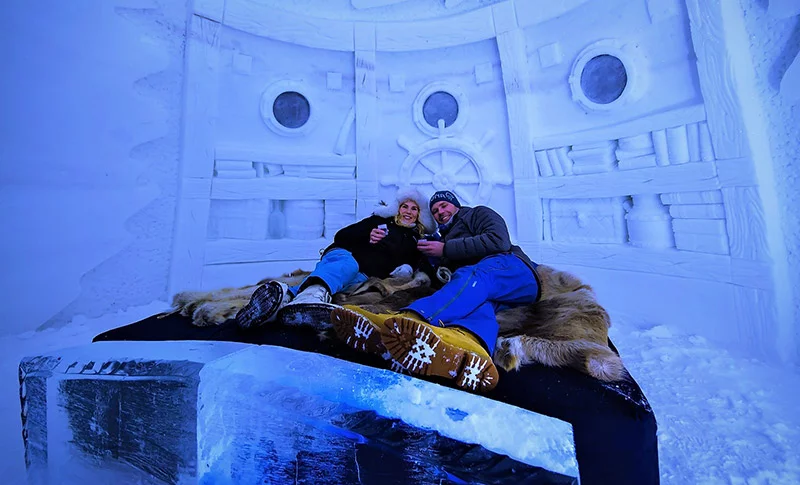 Fancy a unique vacation this winter? Check out some of these snow hotels and other perfect winter accommodations in Norway and Scandinavia to inspire your trip planning.
The summer is the most popular season for visiting Norway, by a distance. Given the warmer temperatures and longer days (thanks, midnight sun!), that's no surprise.
However, some locations are becoming overcrowded, including popular hikes on Lofoten and down at Preikestolen. Because of this, some tourists are considering other times of year. Despite low temperatures, the winter is proving popular.
Read more: Norway in the Winter
There's snow-covered mountain scenery, skiing opportunities, and of course the northern lights. But where should you stay? With the exception of many campsites, all the usual chain hotels, budget accommodations and AirBnBs are available.
Yet the winter season also offers some fantastic options, many of which aren't available at other times of the year. Here's a close look at some of the best winter hotel options in Norway.
Staying at a snow hotel in Norway
Spending a night in a room built of ice and snow sounds like something out of a fairytale. Yet such accommodations have been around for a while, and now they're more plentiful than ever before.
If you're wondering why you can only stay in a snow hotel in the winter, the answer is simple. They are built from scratch each year! Because of the effort required to build these attractions, the nightly rates are much higher than your standard hotel. Even so, the chance to stay somewhere so different means there's rarely a shortage of takers.
I say attraction rather than hotel, because that's what the experience is like. Most only offer one-night packages and there are fairly strict times that you must arrive and depart. That's because many of the hotels also open up for "day visitors" who are keen to have a look around.
Read more: Oslo in the Winter
But what's it like to spend the night in an ice hotel? The answer is not as chilly as you might think! The temperature of guest rooms does hover around freezing, of course.
But typically, guests are given plenty of warm clothing, thermal sleeping bags and so on. It's not for everyone, but some people report a really good night's sleep!
Considering a snow hotel? Another factor to bear in mind is that bathrooms, showers, dining rooms and other facilities are usually located in a separate service building. So, while you won't have to pee in a cubicle made of ice, you might need to trudge through the snow to get there!
Some of these accommodations also offer standard rooms in the service building. These are much cheaper and while you'll still get to look around some of the ice rooms, it's not the same experience.
Just make sure you know what you're booking to avoid disappointment. That's especially true if you prefer to use third-party booking sites.
Snowhotel, Kirkenes
From 2020, the Kirkenes Snowhotel welcomes guests year-round. but the winter remains the best time to visit. That's because you can combine your stay with a tour of the impressive grounds. The area is home to huskies, reindeer and of course, beautiful winter scenery.
The majority of visitors here don't actually spend the night. Many people spend a few hours here as part of an excursion from the Hurtigruten coastal voyage.
They get to take a look around the hotel, enjoy a drink in the ice bar and enjoy the grounds before returning to their ship. Guests arrive later!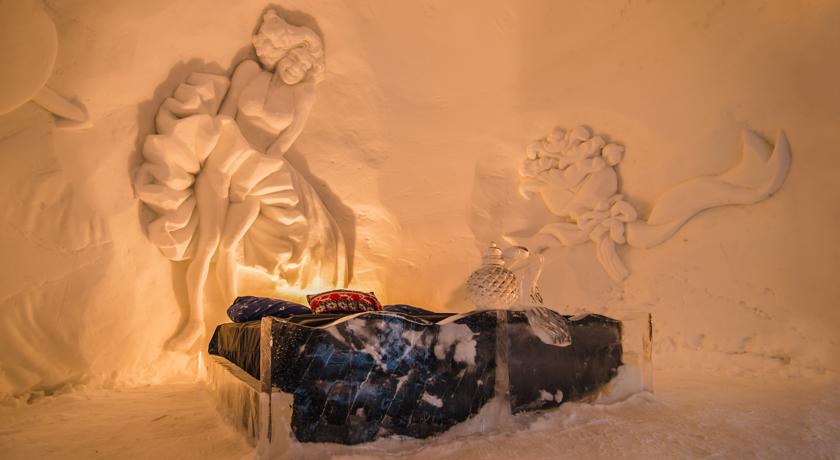 Sorrisniva Igloo Hotel, Alta
Also in northern Norway, the Sorrisniva Igloo Hotel is just a few miles south of Alta. Along with the igloo hotel, there is an excellent restaurant and an interesting selection of optional winter activities.
Read more: Where to Stay in Alta
Each year the hotel is made around a specific theme. In a typical year, it's open from mid-December to mid-April.
Some of the more intriguing features of this hotel are the ice bar and the chapel that hosts several weddings each year. Sorrisniva is also one of the best value stays, with starting rates a little less than many others.
Hunderfossen Snowhotel, Lillehammer
Now we're leaving northern Norway and travelling hundreds of miles south to the Winter Olympic city of Lillehammer. Or more specifically, several miles away at the Hunderfossen Winter Park.
Located by one of Norway's best ski resorts Hafjell, the Hunderfossen Snowhotel is only open for a handful of days during the season and is usually accessed by buying a package deal from the Hunderfossen Hotel.
This is somewhere I haven't yet had the pleasure of visiting, so if you've been, let us know what it's like!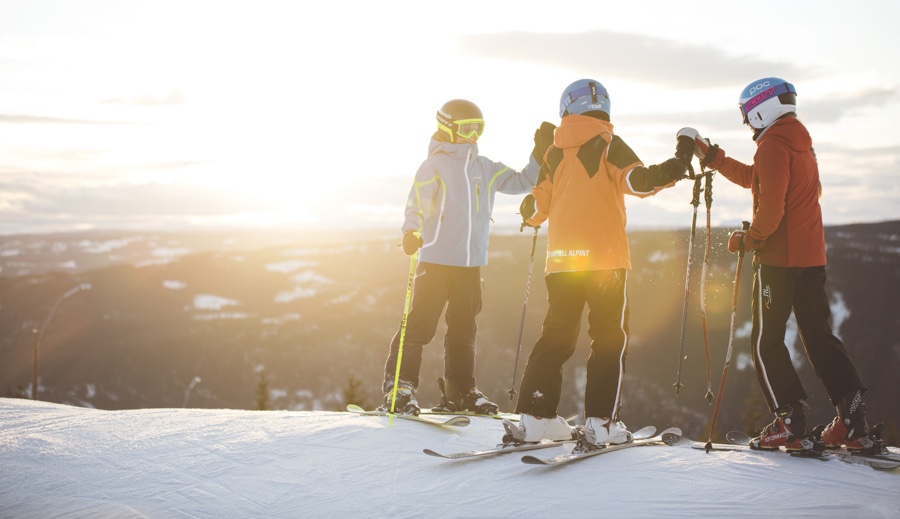 Top hotels at Norwegian ski resorts
The image of a skiing trip in Norway normally involves a warming fire in a remote cabin. Proper koselig! But if you're a fan of alpine skiing rather than cross-country, there are many top-tier hotels right by the slopes of many of Norway's best ski resorts.
Located at the gateway to Jotunheimen National Park, the Radisson Blu Beitostølen is just steps away from world-class slopes. In and around Beitostølen you'll find 21 slopes, 350km of groomed cross-country trails and a fun park.
If you don't fancy the snow hotel in Hunderfossen, there's several great options at the Hafjell resort. The best of the bunch? Pellestova Hotel lies at the end of the road, 970 metres above sea level, giving direct access to the high mountains and a warming, homely experience when you're done.
There's many more hotels at many more ski resorts, of course! But this should give you an idea of what to expect.
Snow hotels in Scandinavia
If nothing in Norway grabs your fancy, how about a trip to our friends across the border in Sweden? Calling itself the original ice hotel, Sweden's Icehotel is located in Jukkasjärvi near Kirikuna in the Swedish arctic, close to the borders with Norway and Finland.
Forty artists from around the world take part in the construction of this remarkable building (open Dec-Apr) each year. Overnight guests get a warm glass of lingonberry juice and access to the sauna before breakfast.
Since 2016, the permanent Icehotel 365 allows guests to enjoy an ice experience year-round. If you just want to enjoy the art exhibition and ice bar, you can buy a day ticket or stay in one of the regular on-site Arctic chalets.