Football in Norway is a popular sport among both women and men. Here's everything you need to know about watching and playing women's football in Norway.
The national team may have suffered humiliation in England during Euro 2022, but the women's game remains popular within Norway. From a popular national league to a strong grassroots network of clubs, women's football is everywhere.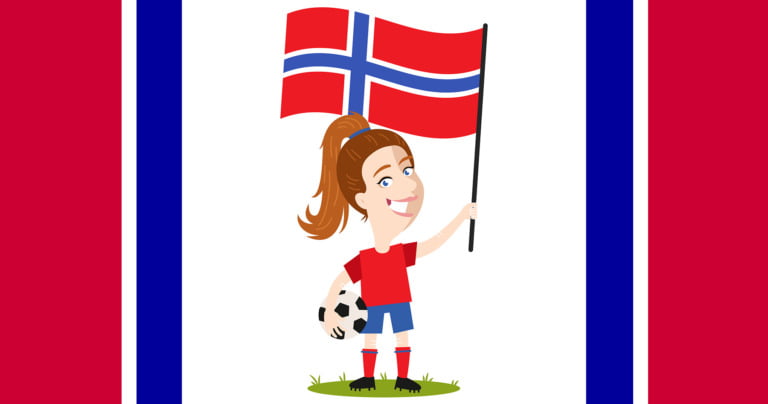 In England, women's football has really developed in the past few years. But it's been popular in Norway for a lot longer. When I first moved here, I was surprised by the sight of league games on TV, something that is only just now becoming normal back in England.
More recently, I've attended a few games live. While attendances are still low in Norway, they are creeping up gradually. It's also very clear to see the number of younger girls involved in the game from the tracksuits they wear adorned with the name of their local club.
So, if you are interested in watching the game in Norway, or perhaps taking part yourself, here is everything you need to know.
Introducing Norway's Toppserien
Founded in 1984, Toppserien is the UEFA-affiliated top level of Norwegian football for women. 10 teams play each other twice a season for a total of 18 games each. As with the men's league, it is played over the summer from April to September.
From 2022, a controversial new league format was introduced. Rather than crowning the league winner as the champions, the league will essentially split into two. The league "winner" then enters a championship play-off with the second, third and fourth placed teams.
Supporters groups of Norway's four biggest clubs recently issued a statement condeming the decision, and calling on supporters to boycott the play-off games.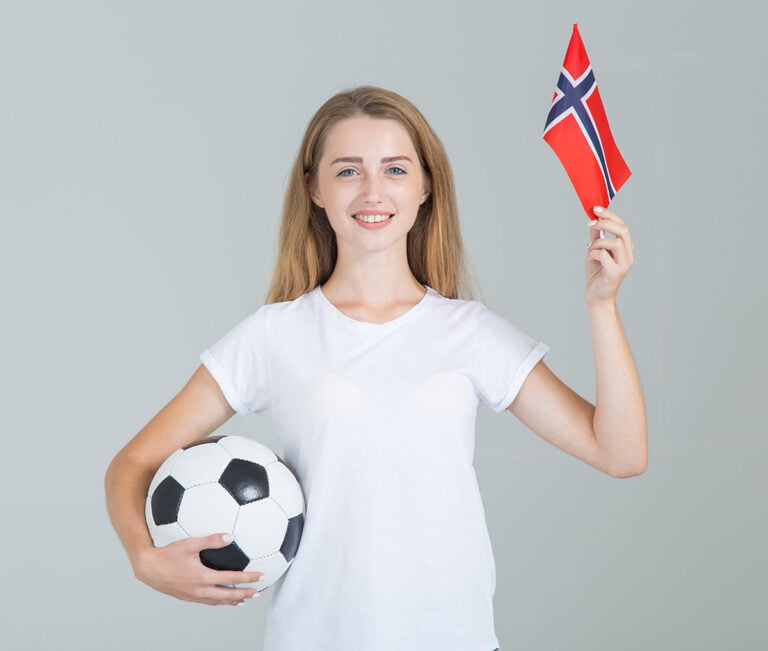 Despite the controversy about the decision, league spokesperson Hege Jørgensen said she was really looking forward to the season: "The attention surrounding women's football has skyrocketed and the quality is higher than ever."
NRK is the media partner for Toppserien. This means that most weekends a game is broadcast live on one of Norway's national TV channels that anyone can watch.
Winners of Toppserien
Trondheims-Ørn (now known as Rosenborg) and LSK Kvinner (formerly Setskog/Høland FK and Strømmen) are jointly tied for best Toppserien club, with 7 titles each.
However, they come from two very different eras. Trondheims-Ørn won the title seven times between 1994 and 2003, while LSK Kvinner won seven between 2012 and 2019, missing out on eight consecutive titles by finishing second to Stabæk in 2013.
In the last two seasons there have been two first-time winners of Toppserien. Vålerenga took the title in 2020 and Sandviken in 2021.
Norwegian Cup
Held annually since 1978, the national tournament includes more than 50 women's teams. The final is usually played at Oslo's Ullevaal Stadion the day before the men's cup final.
Rosenborg (formerly Trondheims-Ørn) won the cup eight times between 1993 and 2022. They have also reached the final seven times without winning. LSK Kvinner (formerly Setskog/Høland and Team Strømmen) have won six times.
Asker, Røa and BUL have each won the cup five times. Vålerenga won the trophy most recently, in 2020 and 2021.
European competitions
Rosenborg (as Trondheims-Ørn) and Kolbotn both reached the semi-finals of the women's Champions League, an annual tournament featuring the best club teams from across Europe.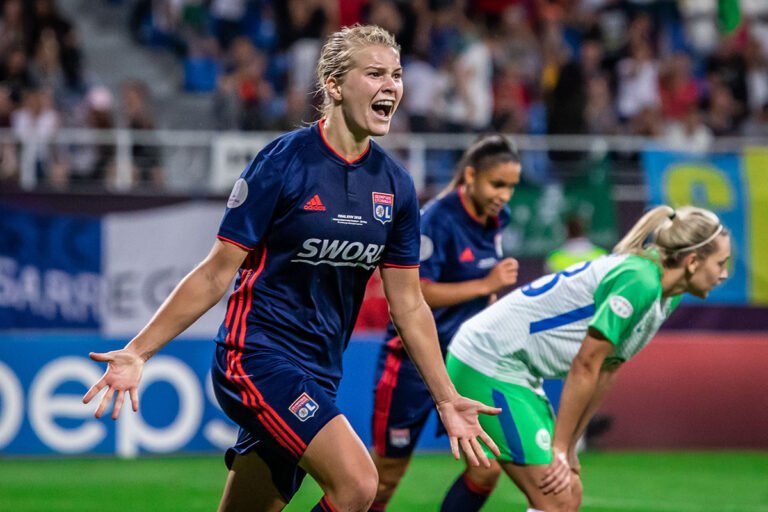 The top scorer in the tournament is Norway's Ada Hegerberg, although she has played outside of Norway for most of her career. Since 2014, she has played for France's Lyon, where she has scored 55 of her 59 Champions League goals.
Norway's national team
While I'm on the topic of Hegerberg, it's a good time to bring up the Norway national team. Hegerberg famously quit playing for Norway over an equal pay dispute for several years, although she is now back in the national colours.
Formerly known as one of Europe's strongest national teams, the development of the game elsewhere in the continent has seen Norway struggle over the past decade.
The team finished runners-up in the first Women's World Cup in 1991 and then won the second tournament in 1995. They also reached the semi-finals in 1999 and 2007. The team won the European Championships in 1987 and 1993, and were losing finalists in 1989, 1991, 2005 and 2013.
Top Norwegian clubs
You'll have noticed by now that many Norwegian clubs have changed names over the past years. This is partly a marketing ploy and partly a merger of sporting clubs. There is a clear trend that the best teams in the domestic game are now associated with men's football clubs.
Among several examples, Sandviken joined SK Brann in 2021 and are now known as Brann Kvinner. In 2020, Trondheims-Ørn merged with the men's football club Rosenborg BK to become Rosenborg Kvinner.
While some have been disappointed with these decisions, it has had an immediate impact on increasing attendances. The attendance record was twice broken during the 2022 season in games featuring 'established' sports clubs.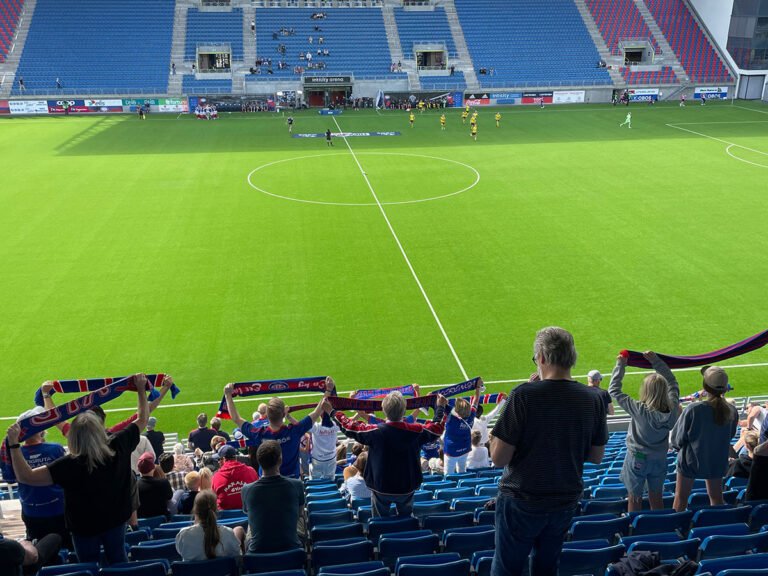 Rosenborg Kvinner: Historically the most successful Norwegian team although they haven't won a league title since 2003. They finished runners-up in 2020 and 2021. They are based in Trondheim and usually play at the Koteng Arena at Lade. However, in 2021 the club switched their game against Brann to Trondheim's Lerkendal Stadium and set a new attendance record for the league of 11,636.
LSK Kvinner: Founded as Setskog/Høland in 1989, the club recreated to Strømmen in 2001 and changed their name to Team Strømmen. From 2010, the team became part of Lillestrøm SK and changed their name once again. They have won seven league titles and six Norwegian Cups.
Vålerenga: The first sports club to have its own women's team promoted to Toppserien, Vålerenga have enjoyed success in recent years, winning the league in 2020 and the Norwegian Cup in both 2020 and 2021. The club plays at Oslo's Intility Arena, the same stadium used by the men's team.
SK Brann: Formerly Sandviken, the club won its first league title in 2021. Previously they had finished runners-up in 1996. Sandviken also won the Norwegian Cup in 1995 and have finished runners-up three times, most recently in 2021.
Grassroots women's football
Women's football in Norway is incredibly popular at youth level. According to NFF, there are around 70,000 active female players in the country.
Read more: Playing Football for Fun in Norway
Norway has a strong sports club culture and many local areas have their own sports clubs, most either youth clubs or adult clubs with a youth football section.
There are 6,951 teams for girls and women in Norway, compared with 16,277 teams for boys and men. Of the 6,951 female teams, 4,367 are children's teams.
The best place to start is by searching on the NFF website or simply by asking around your local area.