A wooden bridge just ten years old has collapsed in Norway's Gudbrandsdal valley. Two vehicles became stuck, with one driver requiring an airlift to safety. Here's what we know so far.
Early this morning, a wooden bridge in Øyer collapsed into the river. Two vehicles—a car and a truck—were on the bridge at the time. Both drivers are now safe.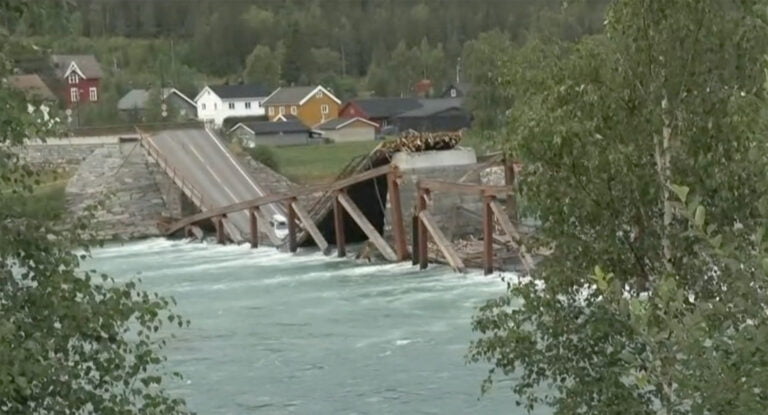 The bridge—Tretten Bru—runs between the E6 and county road 254 in Øyer municipality, just north of Lillehammer. The E6 is Norway's main north-south highway while the county road is used as a backup when the main highway is closed.
Made of wood, the bridge is almost 150 metres long and 10 metres wide. It has a two-lane road and a pedestrian walkway.
What we know so far
Innlandet police district issued a statement at 8.30am, approximately one hour after the incident.
"At 07.34, the police received a report that a bridge in Tretten had collapsed. A truck and a car were affected. It is currently unknown how many people have been affected by the accident. The driver of the car has been taken care of by the health service," said the statement.
Since then, the driver of the truck was airlifted off the bridge by helicopter. While the occupants of the vehicles have been rescued, police have not yet established if there was anyone else involved. There is a pedestrian walkway over the bridge in addition to the two-lane road.
The E6 highway is currently closed in Tretten as a result of the incident. It's not yet known when it will reopen.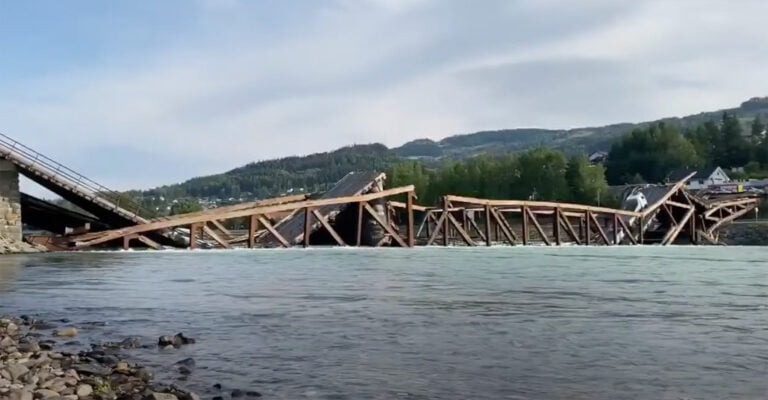 Local mayor Jon Halvor Midtmageli was on site on Monday morning. "I am standing here and looking at it now. It is completely destroyed. Everything has fallen down. It is completely catastrophic, completely unreal. It is also a fairly new bridge," he told Dagbladet.
Similar wooden bridge collapsed in 2016
What is worrying is that a very similar bridge collapsed just six years ago. Both bridges are glulam bridges.
According to APA, glulam is "a stress-rated engineered wood beam composed of wood laminations that are bonded together with durable, moisture-resistant adhesives."
In February 2016, another glulam bridge collapsed in Sjoa. The cause of that incident was the under-dimensioning of a joint that joins two longitudinal glulam beams in the bridge.
Norconsult together with assistance from Plan arkitekter designed the bridge at Tretten.
Norconsult communications director Hege Njå Bjørkmann told Teknisk Ukeblad that they have set up an emergency organisation that will look into the incident together with the National Road Administration.