Having lived in the Norwegian capital for almost two years now, the time had come to cross over to the dark side and check out Stockholm, the capital of Sweden. Some old friends from England were in town for the weekend so I decided to hop over and join them.
The city's tourism chiefs don't miss a trick at Arlanda Airport, every square inch is covered in pro-Stockholm images and the infamous "Capital of Scandinavia" slogan…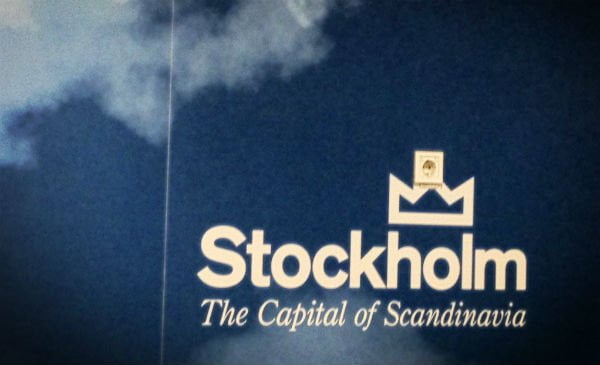 As regular readers know, I'm a travel nerd. Usually before visiting somewhere new I like to check it out online, finding places I might like and getting a feel for the place before I even arrive. But maybe I'm changing? When I went to Helsinki before Christmas I let Chris arrange it all, and this time Jaime was charged with the job of "Dave's official Life in Norway on tour city tour guide". Snappy name, right?
So, here's some highlights of my tour!
Fika
First things first – the big Swedish tradition of fika, which is basically people going for coffee and cake. Now this happens all the time in Norway, just as much as Sweden I would say, but without a specific name for it. Still it would've been rude not to, so all five of us descended on Cafe Publik, right underneath my hotel, to sugar and caffeine ourselves up. Lovely!
Downtown
Stockholm feels like a much bigger city than Oslo. It's taller, noisier, busier, with much more of an international feel. The downtown area feels a little anonymous, much of what made Stockholm interesting for me is further south on Gamla Stan and Södermalm.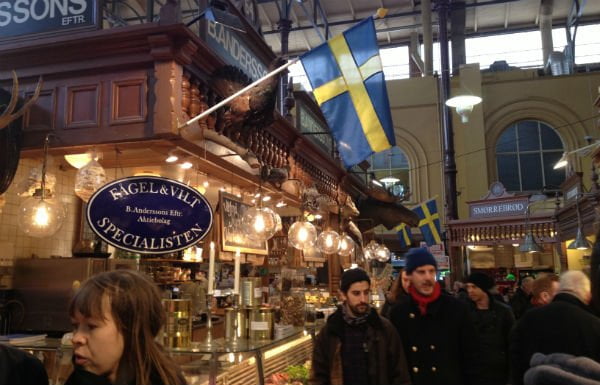 Gamla Stan
The Old Town. Beautiful. And on Sunday, it came complete with a Hare Krishna mantra!

Södermalm
Stockholm's version of Grünerløkka, but much bigger. Full of coffee shops, bars, restaurants and unique shops. I ate twice here over the weekend, first at a Mexican fast food place called La Neta, which is the closest you'll get to Latin American street food in Scandinavia. Then on Sunday I went for "traditional Swedish food" at Pelikan. Traditional Swedish food is of course pretty much the same as traditional Norwegian food – i.e. meat and potatoes. But good meat and potatoes!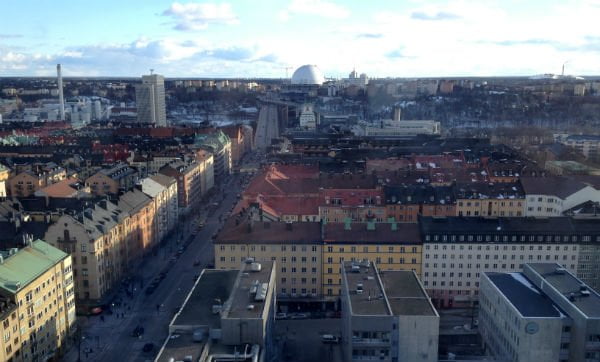 The ship that sailed 1500m… and sank
On Sunday morning I took a long walk around to the Vasa museum, home to a 17th century warship that sank on its maiden voyage. Vasa was salvaged from the sea and now sits proudly restored inside a specially designed building.
The WOW factor when you walk into the building is worth the entrance fee alone. The ship is enormous and I stood there for ages just trying to take in the sheer size of it. It's a really well designed museum, allowing visitors to view the ship from many different levels, with a ton of exhibitions around the edge.
It's well worth a visit, and the walk along Strandvägen is great. At one point about 50 "older" people dressed up in colourful jogging suits tore past me, at first I thought I was about to be in the middle of a Harlem Shake – but no, they really were an elderly running club. It seems the elderly Swedes are just as into exercise as the Norwegian ones…
Anyway if Strandvägen is this popular in the winter I can imagine it's bustling in the summer. Oh! And when you arrive at the Vasa Museum there's a nice park and waterside walk along with a couple more museums, so you could make a day of it if that's your thing. Note: The Vasa Museum is now closed until the end of April for improvements!
Tack så mycket, Sverige
This wasn't my usual city visit. I spent more time hanging around with friends than ticking off the sights. Having said that, I still got a good feel for Stockholm. It's a city I could live in, although it didn't inspire me like some other cities have. Perhaps it justifies the claim of Capital of Scandinavia, but to know for sure I'll have to visit Copenhagen too. Oh go on then, if I really must 😉
And finally… some funny Swedish chocolate names.