The country's fifth biggest city is off the radar of most travellers. Here's what you need to know about Drammen, Norway.
For business reasons, Drammen came on to my radar shortly after moving to Oslo many years ago. But it's not somewhere that many travellers have ever heard of, despite its size.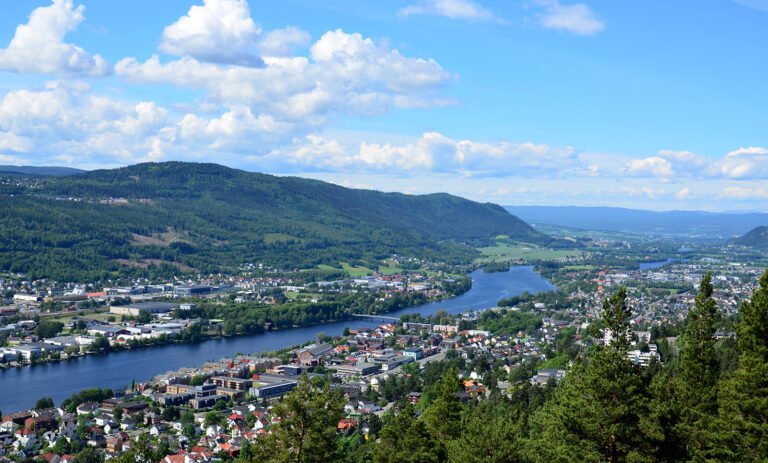 Drammen is home to around 100,000 people. But there's not a great deal for tourists, which is why many of our readers won't have heard of it.
In fact, even some Norwegians just know of Drammen as an industrial town somewhere southwest of Oslo, and as the home of the Aass brewery, of course!
Nevertheless, it's an important town in Norway and it's about time we covered it here on Life in Norway. So without further ado, here's a brief introduction to Drammen.
Where is Drammen?
The city and port of Drammen is in Viken county in Norway's southeast, the most populated part of the country. Prior to the creation of Viken, Drammen was part of Buskerud and will be once again following the upcoming disestablishment of Viken.
The city is about 44km southwest of the Oslo, west of the Oslofjord. Although close to the famous fjord, the waterway that splits the city in two is the Drammensfjord. The Hurum peninsula separates the Oslofjord and the Drammensfjord. The fjord is known for its strong tides.
From Oslo, it's easy to get to Drammen by train or bus. From Oslo Airport you have the choice of the Airport Express train (flytoget) or the regular and much cheaper Vy commuter train.
Population of Drammen
I've said Drammen is Norway's fifth biggest city, but that's a figure that's hard to define. There are other ways to cut stats. For example, Drammen is actually Norway's seventh biggest municipality and sixth biggest statistical urban area.
Drammen municipality also includes smaller towns and villages including Konnerud, Svelvik, Mjøndalen and Skoger.
At the beginning of 2022, the population of Drammen municipality stood at 102,449. During 2021, there were 1,025 registered births and 806 registered deaths.
Drammen is growing, driven partly by immigration from overseas and from elsewhere in Norway. Official population projections put the population of the municipality at 106,535 by 2030 and 115,099 by 2050.
At the beginning of 2022, a total of 29,840 people living in Drammen municipality is an immigrant or born to parents with an immigrant background. Of those, 9,333 are from EU/EEA, UK, USA, Canada or New Zealand.
Aass brewery
It's impossible to miss the famous fjordside brewery as you pull into Drammen train station. The historic white building provides a striking welcome on the other side of the fjord.
Founded in 1834, Aass is the oldest Norwegian brewery still in operation. In 2020, Aas produced 30 million litres of beer. The company offers direct sales from its premises along with brewery tours, although these are currently on hold.
The best way to try Aass? Simply walk into any bar or restaurant in Drammen! Everywhere in the city serves the brand on tap. You can also buy cans in most supermarkets, in Drammen and elsewhere especially in the south-east of Norway.
Other things to do in Drammen
So if you find yourself in Drammen, whether on business or simple curiosity, what is there to do?
Tourists do visit the city, as I found out on my recent visit. Within seconds of leaving the train station, I was asked to take a photo of two people in front of the water feature.
The first impression of Drammen through the vast public square Bragernes Torg is a positive one, especially on a sunny day as the pavement cafes were full and there were plenty of people milling around (even though it doesn't seem like it in the picture above!)
Buskerud Kunstsenter
A regional centre for contemporary art, Buskerud Kunstsenter hosts eight annual exhibitions and events. It also runs its own art shop with a good selection of visual arts and crafts items.
Drammensbadet
The large modern building Drammensbadet hosts one of Norway's largest swimming facilities and a gym. The gym opens early and stays open late, giving everyone a chance to enjoy the facilities.
Family tickets are available for the pool area, which includes several different pools, a diving tower and both indoor and outdoor water slides.
The Spiral
Opened by King Olav for Drammen's city anniversary in 1961, the Spiral is a spiral road tunnel that takes drivers on a dizzying six-and-a-half laps through and up a mountain. At the top, there's a cafe and a wonderful view of the city.
Hiking in and around Drammen
Of course, this is Norway, and that means hiking. Even the biggest of Norway's cities gives its residents and visitors fantastic access to nature.
Popular destinations near Drammen include Kjosterudjuvet, a historic ravine of 1,300 meters with high stone walls, and the walk up to the top of the Spiral if you don't drive.
Strømsgodset
Football fans have generally heard of Drammen because of their Eliteserien club Strømsgodset. If Aass beer is the pride of Drammen, Strømsgodset generally comes a close second for most locals.
While traditionally one of the most established clubs in Norway, the club has struggled for success on the pitch lately. They last won the title in 2013 and finished second in 2015, but in recent years have flirted with relegation more often than not.
The team play at the 8,935-capacity Marienlyst Stadion. It's usually easy to get tickets for home games, which typically take place on Sundays. The stadium has previously hosted Norway under-21 international matches.
Where to stay in Drammen
If you're planning a trip to Drammen, there are a number of good hotels to choose from in the downtown area. The closest to the train station are the Scandic Ambassadeur and the Quality Hotel River Station.
It's also worth bearing in mind that Oslo is just 35 minutes away and the airport just one hour, so you may not need to stay in Drammen itself.