A review of a disappointing stay at the Scandic Ambassadeur, a large business-focused hotel in the downtown district of Drammen, Norway.
On a recent trip to Drammen, I chose to stay in the town itself rather than in Oslo or at Oslo Airport, which would have been my normal choice.
There are a handful of hotels in Drammen, but I picked the Scandic Ambassadeur based on its location and relatively low price. Here's how the stay went.
Introducing the Scandic Ambassadeur hotel
I chose the Scandic Ambassadeur Drammen simply due to its location, just a few minutes walk from everywhere I needed to be in the city. It was also on the right side of the river for me, as Drammen is essentially split in two by the Drammensfjord.
My first impression was two-fold. The hotel was big, and it was geared up for conferences and other big events. The reception area was large, with a comfortable seating area and bar and large restaurant all within view.
There were several lifts in different parts of the ground floor to different sections of the hotel, so I assume this was once seperate buildings all now together as one hotel. Some of the cheapest rooms were even across the road in a completely seperate building.
Check-in
Unfortunately, check-in took a long time as someone was at the reception needing to resolve a big issue with their booking, which seemed to involve a lot of admin work and new credit card payments. His family looked on, embarrassed.
Despite a couple of members of staff being in and around the area, no-one took the time to come over and quickly check me in. They were too busy attending to the large tour group eating in the restaurant. After a long journey including a rail replacement bus, this wasn't the best of starts.
Guest room
My room seemed to be in the corner of one of the newer parts of the hotel that is usually used for conference guests.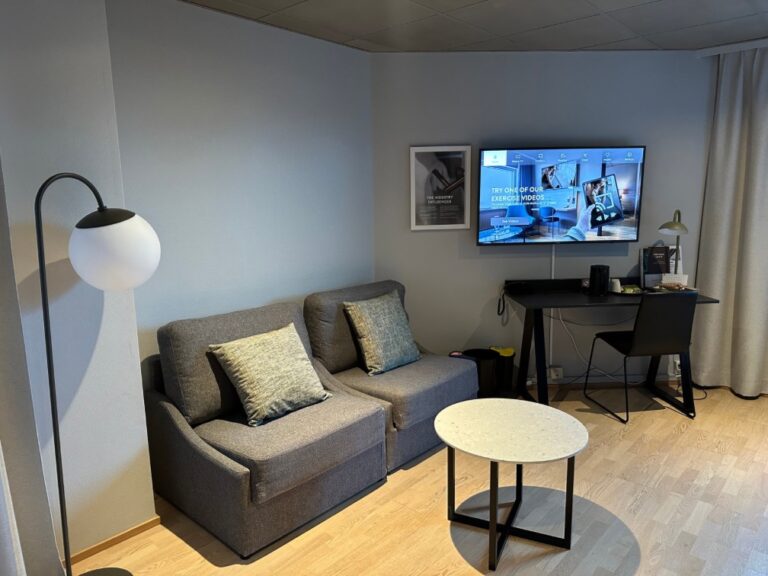 It was more spacious than I'd expected with a sofa, working desk, TV, coffee table, kettle with tea and coffee, and enough storage space for clothing with hangers. There weren't any power sockets on either side of the bed, but there were enough elsewhere in the room.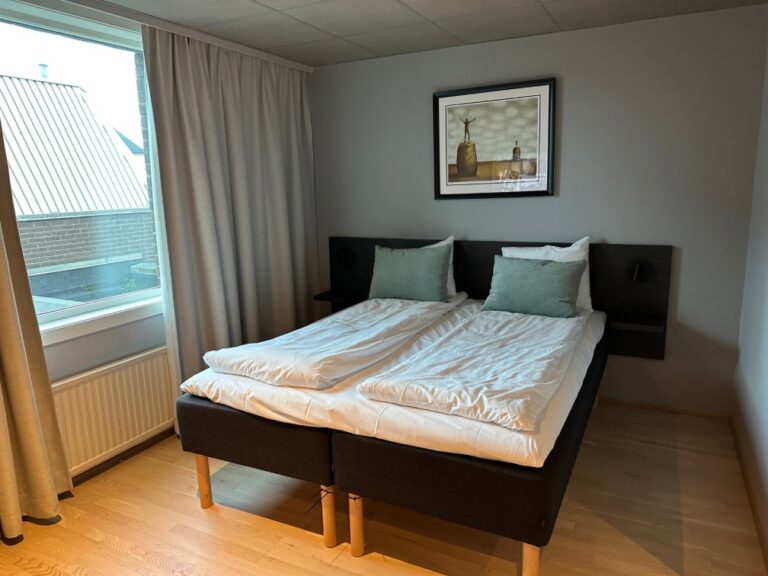 The bed was more comfortable than it looks in this picture and I slept fine. The only negative about the room itself was the relative darkness. There were very few lights. While this didn't matter too much in August, I wouldn't want to stay here in December or January.
The bathroom was comfortable although it did have a shower over bath, which I know is not everyone's preference. There were only two small towels but I did find two more hidden away on a shelf in the bedroom.
Breakfast
The last time I stayed in a Scandic was at their Oslo Helsfyr hotel, where I experienced the nightmare that was the breakfast buffet combined with a bus tour group who were staying in the hotel. To my dismay, exactly the same thing happened in Drammen.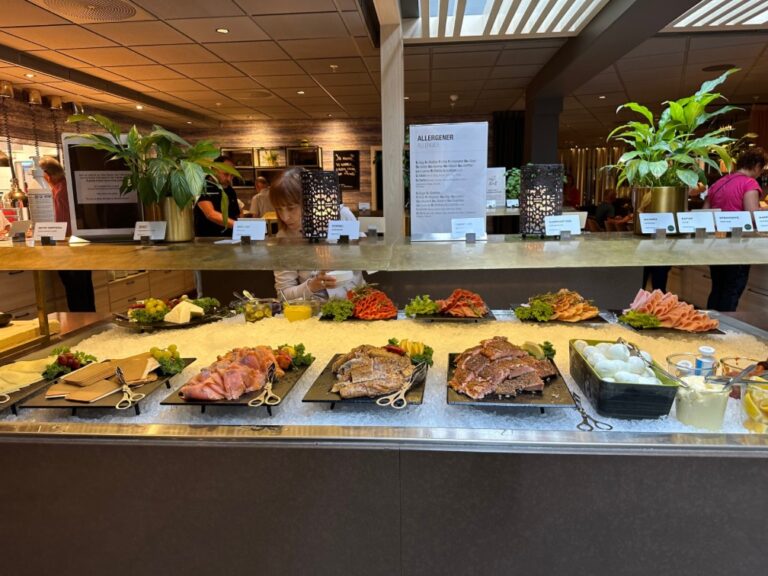 I got up for breakfast just after it opened at 7am, encouraged by the signs in the lift that said this would be the quietest time. But it was absolutely packed, once again with a bus tour group loading themselves up before departure.
I went out for a walk (to record one of my 'Norway walks' videos, in fact!) and returned for a later breakfast at 9.15am.
Despite the signs stating to avoid this time as it would be too busy, it was incredibly quiet and I enjoyed a peaceful breakfast. For what it's worth, the breakfast is excellent, with a good selection of hot food and vegan options.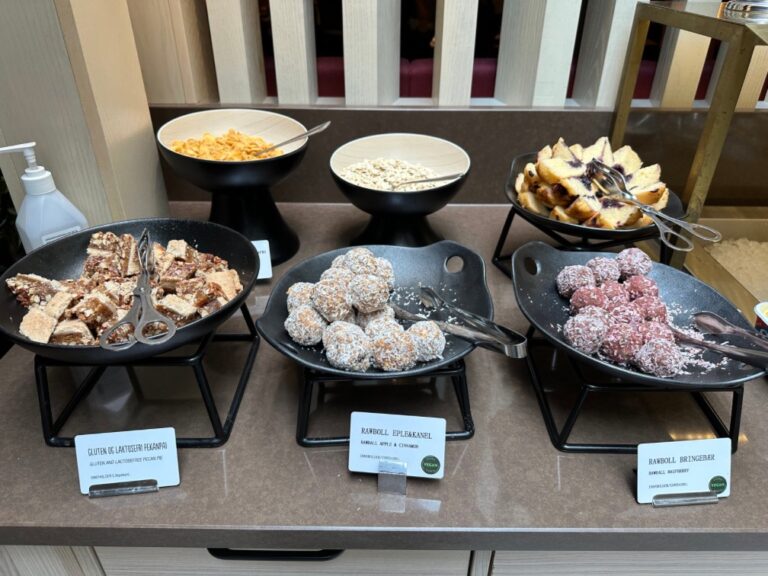 But my overall experience was poor, again. As in Helsfyr, why can't the reception staff advise guests of this likelihood upon check-in? It's basic customer service and costs nothing.
Bar and restaurant
The hotel offers an evening buffet from Monday to Saturday. Upon returning to the hotel at 8pm on Saturday I asked about the buffet and was told it would cost NOK 369, about $36 at the time of writing, with no discount or other offer for overnight guests.
Unfortunately there was no menu aside from the buffet, and the reception 'shop' was understocked with just one item of food that I wasn't able to eat, although there were plenty of salty and sweet snacks. So I headed out to buy some food from a local takeaway instead.
Overall impression
This hotel is geared up for conferences so I understand they are keen to take tour groups during the quiet summer period, but this shouldn't be at the expense of regular guests.
It's not often I decide not to return to a hotel but in this case, I cannot recommend the Scandic Ambassadeur Drammen. There are a couple of nearby hotels, which I shall try out if I return to the city.