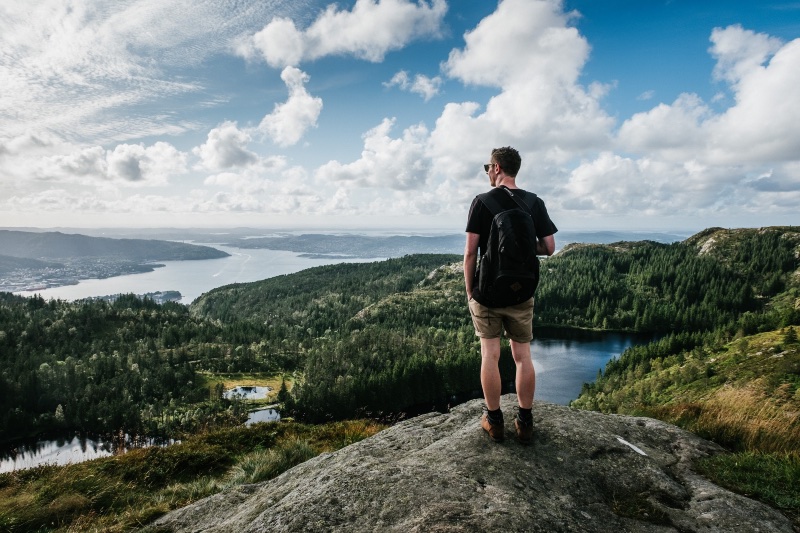 There are so many beautiful hiking routes in and around Oslo. Discover some of the best in this quick guide to the Norwegian capital's great outdoors.
It's true, Norwegians love the great outdoors and most like nothing more than to keep active, fit and healthy. Living in a busy city like Oslo is no barrier to that. There are plenty of hiking routes available both to locals and tourists alike. Often they can be explored entirely on foot. Other times, they are only ever a short bus, train or tram ride away.
Some hiking routes meander through dense forests, past still lakes and up, high into the mountains, offering panoramic views down over the city below. So whatever hiking trial you're looking for, you'll probably find it in and around Oslo.
There's also a variety of trails to suit all skill levels. Whether you want a casual stroll around a lake or you're ready for a strenuous climb with the reward of wonderful views, Oslo has a trail for you.
Here are my recommended routes:
Kolsåstoppen
The Kolsåstoppen hike is one of the most popular in the region. I'm going to suggest the route that starts at Stein Gård Farm, although there are various other alternative paths to take to the top.
In order to get to Stein Gård Farm, take the number 150 bus from Gullhaug bus terminal to Stein Gård and walk in the direction of the farm for the start of the hike. If you wish to do this hike from a different starting point, take the T-bane (line 3) to Kolsås.
Read more: Hiking in Norway
The Kolsåstoppen hike is best enjoyed between April and November. The Stein Gård route is a total of 7.5 km, that includes the full loop that returns to Stein Gård. Elevation gains of 375 metres ensure stunning vistas out over Oslo, Bærum and the Oslofjord. It's a route of medium difficulty and can be untaken in little under three hours.
Vettakollen
Another popular hike in the region is Vettakollen. This route couldn't be easier to get to, just a short T-bane ride from Majorstuen to Vettakollen on line one. The trial starts just over 150 metre away from the station, at the top of Bånternveien.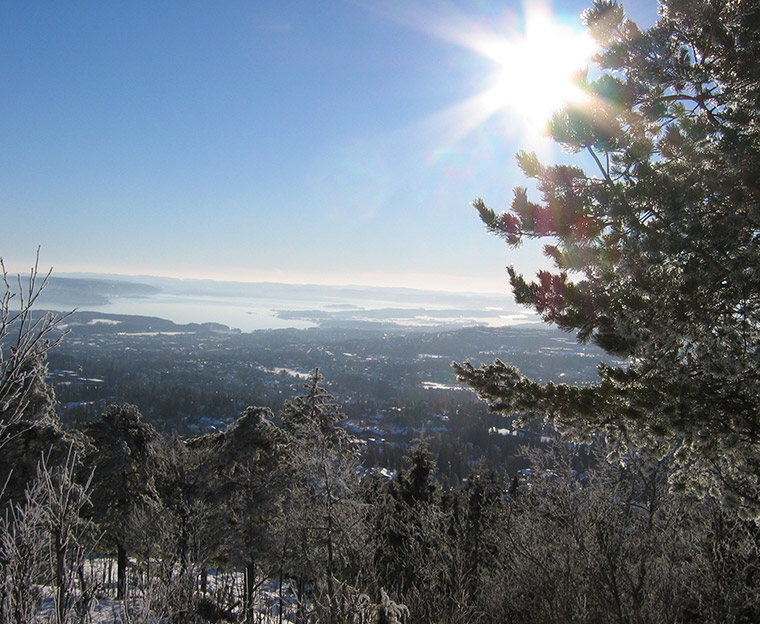 The route I'm going to suggest here, is a little under 2.5 km (this includes the distance there and back to the starting point) and can be completed in one and a half hours if you have a fair level of fitness.
Read more: Fun Facts About Oslo
It has elevation gains of 180 metres which allows you to enjoy the great views of Oslo from the top. Once you make it to the to the summit, there are many other hiking options available to you (if you're feeling energetic), from Frognerseteren to even more options at the nearby Sognsvann lake.
Sognsvann
Speaking of Sognsvann, if you are looking for an easy, gentle walk with views out across a lake and steep up forested hillsides, then this route is for you.
The lake is up in the hills of Oslo and can be reached easily from the city by taking T-bane line five all the way to end of the line (Sognsvann). From the station, the path that circles the lake is just 100 metres away.
The trial is a 3.3 km loop and is mostly flat with little or no elevation. Sognsvann can be enjoyed all year round: in the summer, it's a nice place to take a swim or have a lakeside picnic and in the winter, it turns into a winter wonderland – the lake is freezes and trees are dusted in snow.
Grefsenkollen
Another relatively easy hike is Grefsenkollen. This trial is located to the north of Oslo and with an elevation of 140 metres, it offers scenic views out over the city, Oslofjord and Holmenkollen. The route I'm going to suggest is 3 km in distance (there and back) and takes about 1 hour 30 mins.
At the top, there is a restaurant where you can enjoy a nice meal and the fine views simultaneously. Nearby, there are plenty of places to sit, relax and soak up nature whilst peering down over the city.
There are a number of ways to get to the start of this hike, but a bus to Grefsenlia will get you closest to the suggested starting point.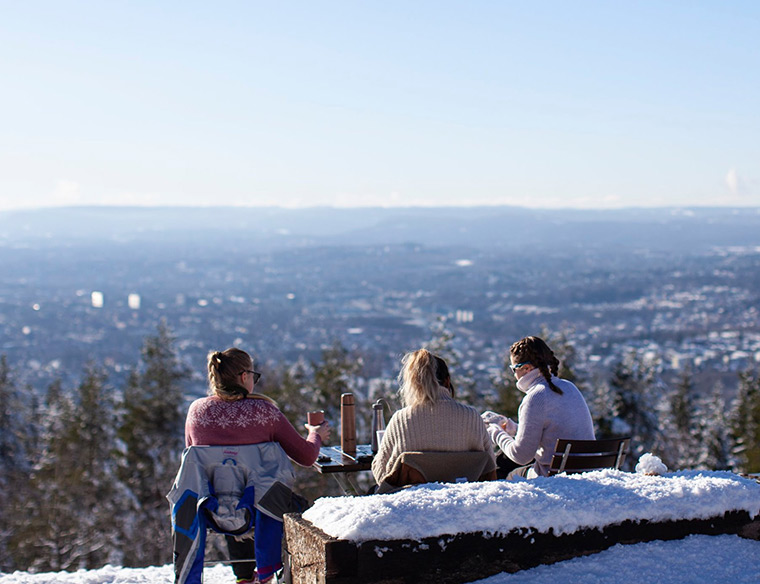 Mellomkollen
One of my favourite hikes I'm going to suggest is Mellomkollen. This one is slightly more strenuous but still in the medium bracket for difficulty. It's also a little more difficult to get to from Oslo, so we'll cover that first.
From Oslo central take the 54 bus to Godals vei, then the bus 51 to Skar (the last stop). It's advisable to check bus times and schedules beforehand to ensure a smooth and uninterrupted journey.
This hike takes you along the eastern shore of Oyungen lake, through forested areas, open spaces, and all the way up to the plateau. The route offers places to rest, picnic and even camp along the way – so take your pick! It comes recommended for those days when you want to escape the city completely.
Bygdøy
One walk that's located right near the centre of Oslo is the trial at Bygdøy, a small peninsula. Like Sognsvann, it is more of a walk than a hike. It has a distance of 6.5 kms (loop) and an elevation gain of 130 metres – a perfect Sunday route!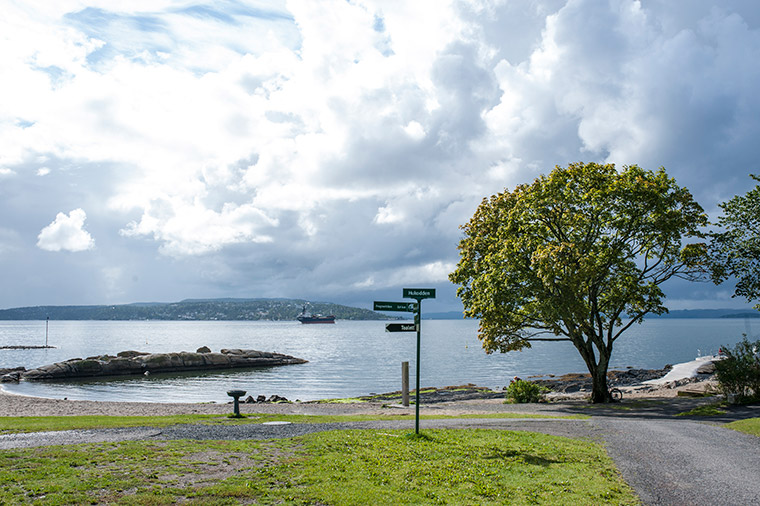 To get to the start, from Oslo central, take the number 30 bus and get off at Karenslyst allé. The trail starts just over the highway at Dronning Blancas vei, you can't miss it.
The are a few options of routes available, but the one I'm advising takes you past the best Bygdøy has to offer, from the mysterious shaded forests to scenic parts of the coast with great sea views. There are even some grocery stores and cafes dotted around the peninsula, which ensure you'll never go hungry or thirsty on this route. It's advisable to take a rest at Huk – a beach with a view.
Apps to help you on your way
I use routes on the UT.no app, which I often use for my hiking trips in Norway. You can find all the routes above on the app. It gives you detailed descriptions of routes so you are never in danger of getting lost or taking the wrong path.
Meanwhile, RuterReise is a handy app for planning public transport in Oslo, which can help you plan your journey to and from your hike of choice.
Happy hiking!