Norway's iconic Preikestolen hike is one of the most popular day trips from Stavanger, especially among international visitors. Here are your options for how to get to Pulpit Rock.
Hiking the mountains and fjords of Norway has long attracted people from across the world to Scandinavia. Fuelled by photos shared on social media, Pulpit Rock is somewhere that has achieved new levels of popularity over the last two decades.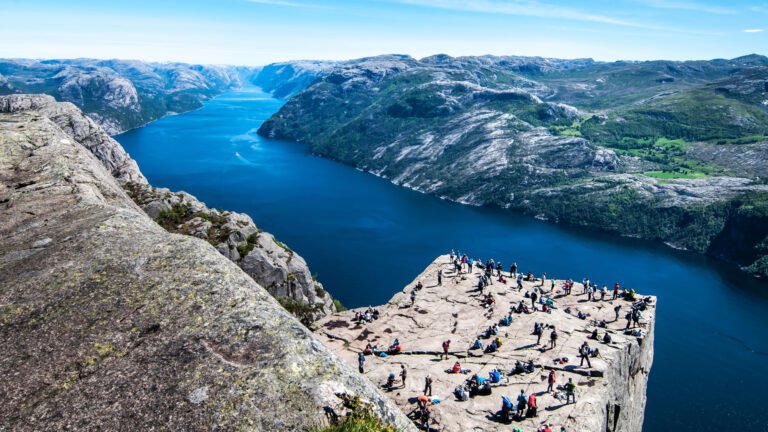 It's absolutely one of the most popular day trips from Stavanger. While you can't describe the Preikestolen hike as easy, it's far from extreme and also much shorter than many of Norway's other most famous hikes at about 3 hours roundtrip.
This makes it an extremely attractive travel destination for those visiting Stavanger and the fjord Norway region.
To make the most of your time, planning how to get from Stavanger to the Preikestolen trailhead is something that should be done in advance. Several tour operators run bus trips to Pulpit Rock, or you can make your own way there.
Before I go on, I'll just briefly mention the name. The Norwegian name for the clifftop is Preikestolen but the English name Pulpit Rock is just as commonly used by tour guides and the travel industry. We'll refer to both in this article.
Where is Pulpit Rock?
Although often listed as one of the best things to do in Stavanger, Preikestolen is actually quite some distance away.
The clifftop overlooks the Lysefjord to the east of Stavanger. By car, the trailhead is about 39km from downtown Stavanger, so getting there needs some thought.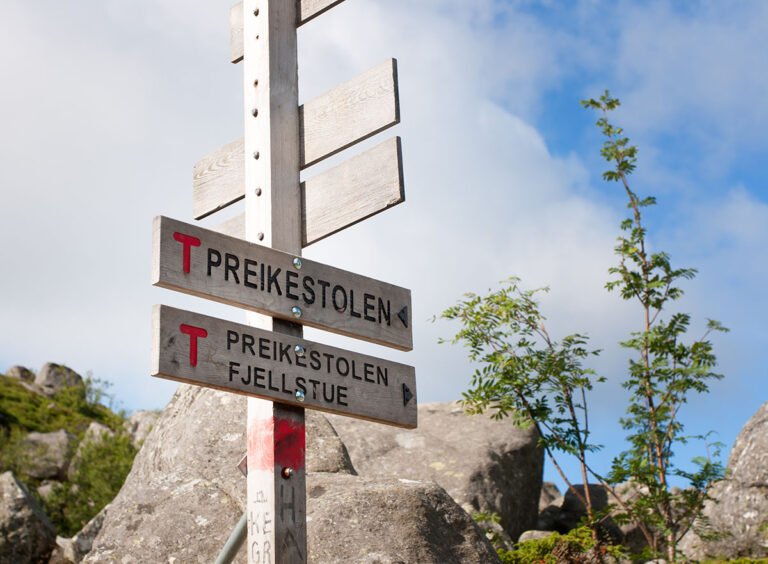 Of course, a Preikestolen hike doesn't have to be a day trip. It's also possible to stay near the trailhead in lodges, cabins or campsites, or by wild camping in the surrounding areas.
How to get from Stavanger to Pulpit Rock
I'm going to assume that most people planning the hike are going to be basing themselves in Stavanger. With lots of other things to do such as exploring the picturesque old town, Stavanger is a great choice as a base.
When researching this trip, you may find some out of date information that talks of complicated journeys involving a ferry.
While the ferry between Stavanger and Tau does still run, the journey to Preikestolen no longer requires it. Since its opening in December 2019, the 14.4km-long subsea Ryfylke Tunnel has made getting to the trailhead from Stavanger easier than ever.
Preikestolen by car
If you have a car, driving to the trailhead is now easy and ferry-free via the Ryfylke tunnel. It should take about 40 minutes to complete the 38km journey. Bear in mind there is quite a hefty toll payment for the tunnel.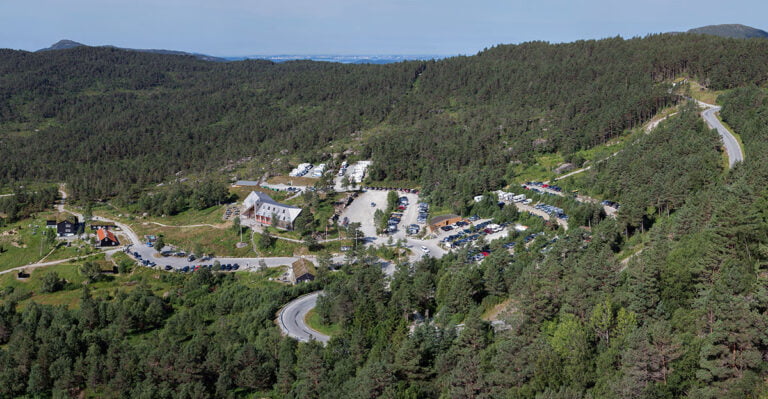 Leave Stavanger by crossing the Stavanger City Bridge on route 13 towards the north. You'll soon come to the Ryfylke Tunnel. Once through the tunnel, keep driving through Jørpeland and watch for the left turn on to the signed road up to the Preikestolen trailhead.
Parking can be an issue at high season, so plan to arrive early. There are 1,000 spaces managed by the Preikestolen 365 Foundation, together with 20 electric charging stations.
According to the Foundation, "on the busiest days, the parking areas fill up and can be temporarily closed in the middle of the day."
Parking costs NOK 250 for the day for cars, while electric car charging also comes with a fee. If you are staying at some of the trailhead accommodation, they may offer free parking.
Preikestolen by bus tour
At least two companies run bus tours to Preikestolen from Stavanger. While they may seem expensive, such tours can be more convenient than driving and do offer value when you consider all road tolls and parking fees.
Note that these trips are not guided hikes. They are bus transport to the trailhead only. Transport must be booked online in advance.
The best known bus transport is offered by Go Fjords. They offer departures from central Stavanger at 8am, with a matching return departure from the Preikestolen trailhead at 2pm. There is also a 10am/4pm departure.
Pulpit Rock Tours offer more departures and a more flexible return system. This is an option worth considering if you are planning an overnight stay.
Preikestolen by public bus
If you are on a budget, there is a public bus that gets you most of the way to Preikestolen. Part of public transport in Stavanger, bus 100 operated by Kolombus runs throughout the day from central Stavanger to Jørpelandsvågen in Jørpeland.
From Jørpeland, you would need to walk 8km (with a substantial uphill stretch) to Basecamp or take a taxi. The cost of a taxi will likely negate any savings you made by taking the public bus.
Of course, you could thumb a lift from others heading to Pulpit Rock, but you do this at your own risk.
Staying overnight at Pulpit Rock
If you are on a bus tour or drive yourself mid-morning from Stavanger, you're going to find the trail busy. Many keen hikers choose to camp close to the trailhead or along the trail itself in order to get the best possible experience in the morning or evening.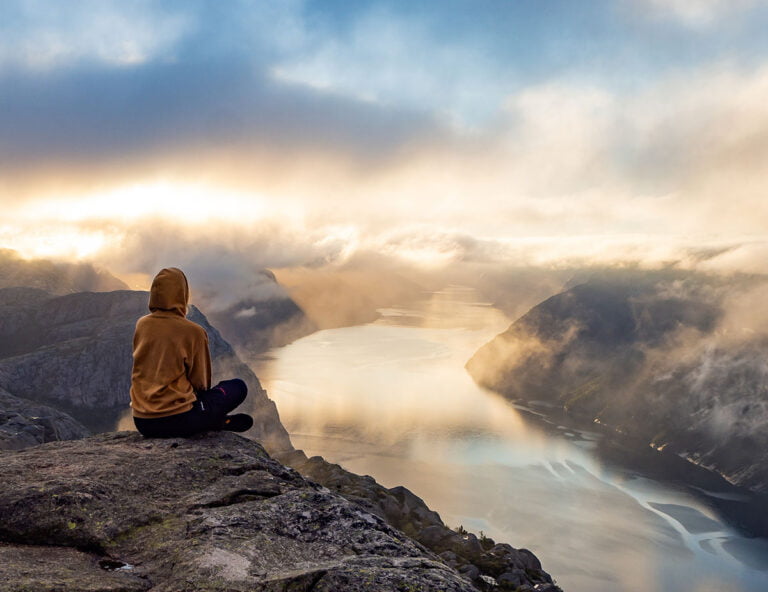 Also known as Basecamp, Preikestolen Fjellstue is the best-known accommodation at the trailhead. The striking architecture of the mountain lodge is an attractive place to stay the night before an early hike, or the night after an evening hike.
Accommodation is basic yet fitted to a high standard. You can rent equipment such as hiking jackets, boots, poles and snow shoes should you forget to bring anything, or should weather conditions not be as your expected. Parking is free for guests.
Other accommodation close to the trailhead includes Hikers' Camp, which is managed by Basecamp and offers 24 wooden tents. Mattresses are provided but guests must bring their own sleeping bags.
There's also some accommodation farther away in Jørpeland. About 4km away from the trailhead, Preikestolen Camping offers year-round space for pitching your tent or parking your campervan, caravan or RV.