Hurtigruten cruises are a bucket list item for so many travellers. But there is a lot to understand about them before you book. Here's everything you need to know.
As I stand on the aft deck of the MS Nordnorge, the salty sea breeze toys with my hair and the crisp Arctic air bites at my cheeks. The midnight sun casts its golden glow across the imposing mountains of Lofoten as we approach another picturesque fishing village.
This is the world of Hurtigruten, a concept where historic seafaring traditions meet modern cruise comforts to create an unforgettable voyage in Norway.
With world-famous fjords galore and a seemingly never-ending coastline to explore, it's no surprise that cruises in Norway are a top choice for foreign tourists wanting to visit the country. For many, Hurtigruten tops that list.
In this ultimate guide to Hurtigruten cruises in Norway, you'll find all the information you need to embark on your own seafaring adventure. So, come aboard and discover the wonderful world waiting to be explored along Norway's magnificent coastline.
Introducing Hurtigruten
In its advertising, Hurtigruten says it dates back to 1893. That's true in part, although the company Hurtigruten as it today was established in the 1990s as a merger of previous operators.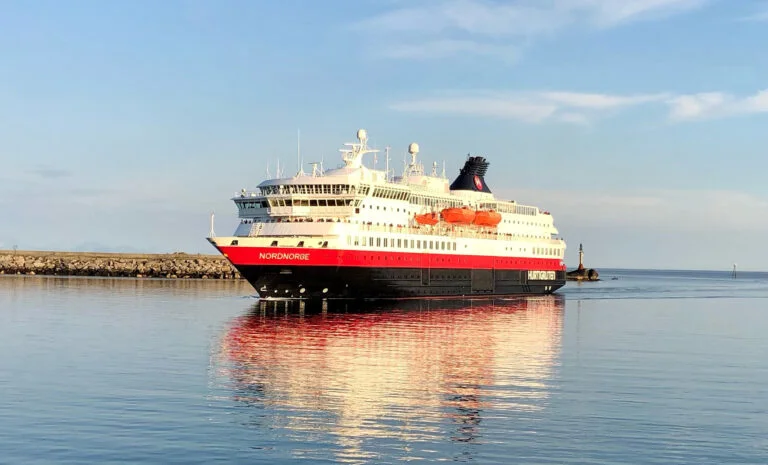 Hurtigruten means "the fast route" and many companies have operated ships on the Hurtigruten route over the years since its establishment in 1893. Most recently, Havila Voyages have started competing services on the route.
But Hurtigruten and Norway's coastal route differ in more ways than just the history. When considering a Hurtigruten cruise to Norway, make sure you understand if its the coastal voyage or an expedition cruise.
Hurtigruten Coastal (BKB) v Hurtigruten Expeditions
Hurtigruten is best known for its coastal cruise service. It now operates seven out of eleven departures from Bergen. The Hurtigruten Norway coastal ferry (known as BKB for Bergen-Kirkenes-Bergen) can be done as a full roundtrip, one-way trip or shorter voyage such as Bergen to Tromsø or Trondheim to Tromsø.
It's also possible for foreign tourists to use the Hurtigruten as a coastal ferry, just as many Norwegians do throughout the year.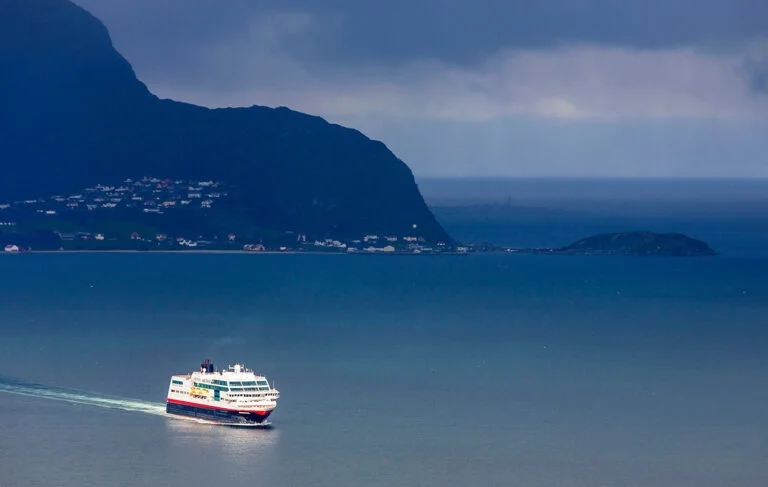 A few years ago, Hurtigruten Expeditions entered the game. This sister company offers expedition cruises all over the world, including Antarctica, Galapagos and Iceland, among others.
Hurtigruten Expeditions also runs expedition cruises to Norway, but these are quite different from the coastal service. They almost all depart from the UK or Germany and offer a more cruise-like experience with fewer, longer port calls. I'll go into more detail on this later.
Hurtigruten v Havila
Of every 11 departures on the daily coastal BKB service from Bergen, seven are operated by Hurtigruten. The others are operated by newcomer Havila Voyages.
The fundamental concept is very much the same although there are some onboard differences. Havila has newer, greener ships and takes an all a la carte approach to dining, for example. Check out my review of the Havila Capella to learn more.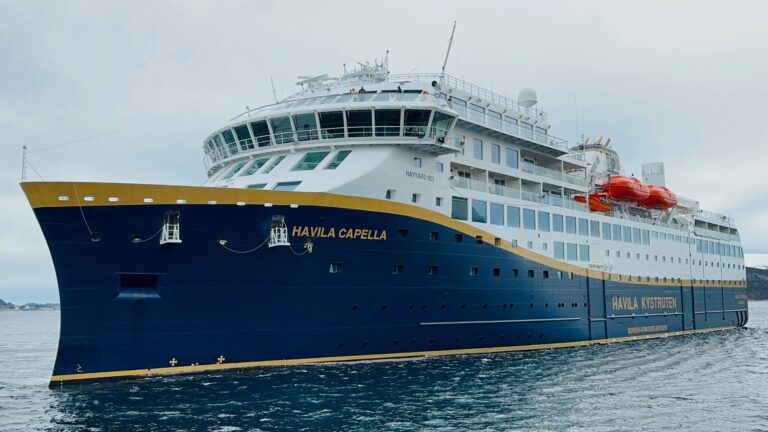 If you are considering a BKB coastal voyage, you should absolutely consider Havila in addition to Hurtigruten. Many former Hurtigruten staff now work for Havila and the mother company has a rich maritime heritage in Norway.
How do I pronounce Hurtigruten?
The name is a tongue-twister, that's for sure. But it's actually quite difficult to explain to an English speaker how to accurately pronounce Hurtigruten!
The name is actually a compound of hurtig (fast) and ruten (the route). In Norwegian, you don't pronounce the letter g at the end of a word that ends in -ig. Also, the letter u has a much deeper "oo" sound than in English.
Finally, you generally put the emphasis on the first syllable in Norwegian, which is what causes the sing-song sound of Norwegian compound words–to English ears at least.
The best English approximation I can come up with is "HOOty-ROOTen" but the "oo" sound isn't quite as strong as in English. Check out this pronunciation to see what I mean. Enjoy practising!
Now that's the introduction out of the way, let's dive into more detail. First, we'll look at the coastal cruise flavour of Hurtigruten, before moving on to the expedition ship experience.
Hurtigruten coastal cruise
With roots dating back to 1893, the coastal route has provided essential transport for people and cargo for 130 years. Although it still carries cargo and local passengers, today it's best known for the unique roundtrip cruise-like experience.
Hurtigruten Norway: Get the latest fares and availability for your trip on the Norwegian coastal voyage
Passengers taking the full 11-night cruise will enjoy the breathtaking beauty of the country's fjords, mountains, and remote settlements as it calls at 34 ports between Bergen and Kirkenes and back again.
A Hurtigruten coastal cruise presents passengers with the opportunity to see some of Norway's most iconic natural attractions, including the UNESCO-listed Geirangerfjord (summer), the Lofoten Islands, and the North Cape.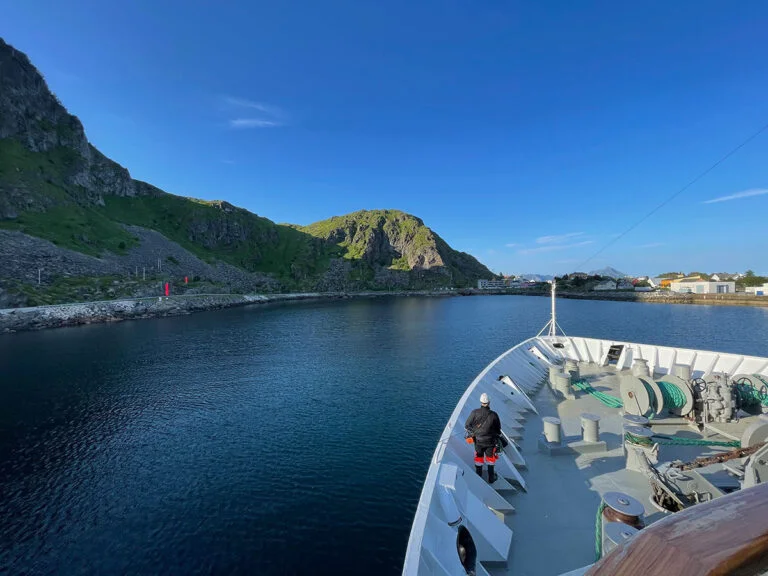 The cruise operates year-round, providing different seasonal highlights such as the enchanting midnight sun in the summer months and the opportunity to see the aurora borealis in the autumn and winter.
Hurtigruten coastal cruise ferries
The Hurtigruten coastal fleet is designed to offer comfort while navigating the rugged Norwegian coastline. Passengers can enjoy a range of comfortable accommodations and dining options that showcase fresh, locally-sourced ingredients.
I say cruise-like experience because Hurtigruten doesn't offer the bells and whistles you might expect on bigger cruise ships. There's no casino, no show lounge or theatre, and no live musicians for example.
Instead the focus is very much on the landscape and wildlife. An onboard expedition team is well-versed in the region's history, culture, and nature. They do provide engaging lectures throughout the cruise.
The crew may also hold lectures or demonstrations. On a recent trip on the MS Nordnorge, I watched the head chef demonstrate the correct method to fillet salmon, for example.
But what takes priority at all times is the coastal route timetable. As a working cargo ship and passenger ferry, port calls are only missed because of extreme weather. The ships will not wait for late cruise passengers, unless you are on a delayed Hurtigruten excursion.
Also, although there are 34 ports of call, many are just long enough to load and unload cargo. This can be as short as 10 or 15 minutes. In these ports, there's not enough time to get off and explore the village or town.
There are some longer ports of call such as Ålesund and Trondheim. But if you're a cruiser who likes to spend a day wandering a port of call, Hurtigruten's coastal voyage may not be for you.
Hurtigruten Expeditions in Norway
If you're considering a Hurtigruten Expeditions cruise, it's a very different concept from the Hurtigruten coastal voyage. They do not run to a timetable like the coastal ferry and there is a much wider choice of itineraries and departure ports.
There are similarities with the coastal route, however. The focus on landscape, wildlife and nature is very much still at the forefront, as is the high quality local dining concept.
While Hurtigruten Expeditions offer expedition cruises all over the world, we'll focus here on expedition cruise itineraries that feature Norway.
Expedition itineraries in Norway
Ports of call are fewer and longer, allowing you to immerse yourself more deeply in specific destinations. In Norway, that means the Norwegian fjords, the Lofoten Islands and Arctic destinations such as Tromsø and Alta. Svalbard is also an option on expedition cruises.
Hurtigruten Expeditions: Discover the varied itineraries along with fares and availability on the Expedition Cruises from Hurtigruten
Another major difference from the coastal route is that expedition ships generally do not depart from Norway. At the time of writing, departure ports for Norway itineraries include London, Hamburg and Amsterdam.
Expedition itineraries in Svalbard
If you want to visit Svalbard, a Hurtigruten Expeditions cruise could be for you. Itineraries typically involve circumnavigating Svalbard or at least sailing around much of the coastline. Many start from Longyearbyen, and some continue to/from Iceland.
Hurtigruten Expeditions fleet
Some of Hurtigruten's newest, greenest ships have been put to work in the expeditions fleet. Ships like the MS Roald Amundsen were needed to cope with the challenging conditions of destinations such as Antarctica.
At the time of writing, the MS Maud is one of the expedition ships most commonly used on Norway itineraries. Formerly the MS Midnatsol when it operated as a coastal cruise ferry, the MS Maud underwent refurbishment to better equip it for expedition cruises. It has a passenger capacity of 570.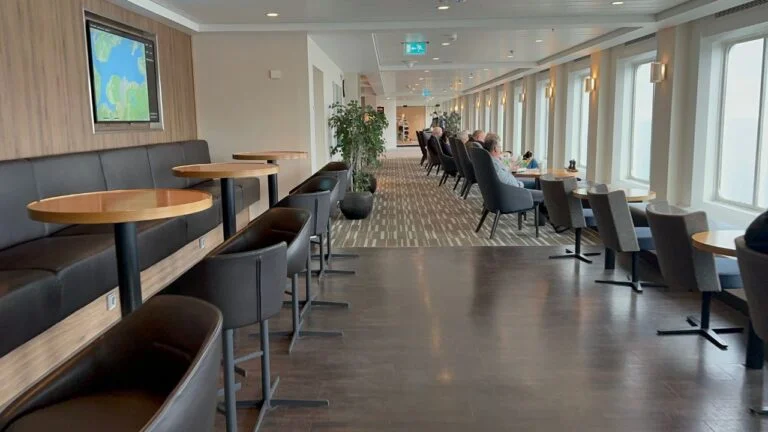 As with the coastal route, you will find less entertainment options than with a typical cruise ship, but there are likely to be more lectures and events with the expedition team throughout the cruise.
Packing for a Hurtigruten cruise
Whichever cruise itinerary you pick, you'll need to be well prepared. The Norwegian coastline experiences famously changeable weather and rain is possible–perhaps even likely–at any time of the year.
One top tip that many Hurtigruten passengers share is the need to bring plenty of layers. Long, woollen underwear is a must, as is a windproof, water resistant outer layer. Top this off with a range of layers suited to varying conditions–from t-shirts to zip-up fleeces to thick, woollen sweaters–and you'll be well set.
Bear in mind that quite often the interior of the ships are warmer than you might expect and the outside decks are colder thanks to the biting wind while at sea.
For passengers used to traditional cruising, it's also worth noting that the ships are very informal. Although a few people may dress smartly for dinner, there is no formal night and dress tends to be functional onboard.
If you are visiting during the autumn or winter hoping to see the aurora borealis, check out our northern lights tour packing list for more suggestions.
Coastal cruise v Expeditions cruise: How do I choose?
The two flavours of Hurtigruten are really two quite different concepts. If you choose the coastal voyage, you will join a working ship and there will be plenty of coming and going of local passengers throughout the 11 night voyage.
You will sail much closer to the coastline meaning there will almost always be something to see from the ship–day or night. You must travel to Norway to board the ship, although flights are often included in fares when booked by international travellers or through travel agents.
An Expeditions cruise feels more like a cruise, in that you'll be travelling with the same people from start to finish. There will rarely be more than one port call per day, and possibly some sea days too. Expeditions itineraries typically start from the UK or mainland Europe.
Which one you choose is up to you, but I'm sure you'll have a great time regardless!
How to book a Hurtigruten cruise
Whether you want to book the BKB coastal cruise (or port-to-port ferry) or an expedition cruise, the best place for you to book is directly with Hurtigruten. Here you can book the Norwegian coastal cruise or if you prefer a Hurtigruten Expeditions cruise.
There is no best time to book, although if you are planning to travel during the summer you should book as far in advance as possible. Solo traveller deals are often available in the shoulder seasons and on the older ships in the fleet.
Why is Hurtigruten so expensive?
There is no doubt that a Hurtigruten BKB cruise is not cheap, but there are good reasons for this.
Hurtigruten Norway: Get the latest fares and availability for your trip on the Norwegian coastal voyage
Because this is a government contract route, both Hurtigruten and Havila must use Norwegian registered ships and a primarily Norwegian crew. They are also subject to Norwegian taxes, and Norwegian laws on things such as alcohol.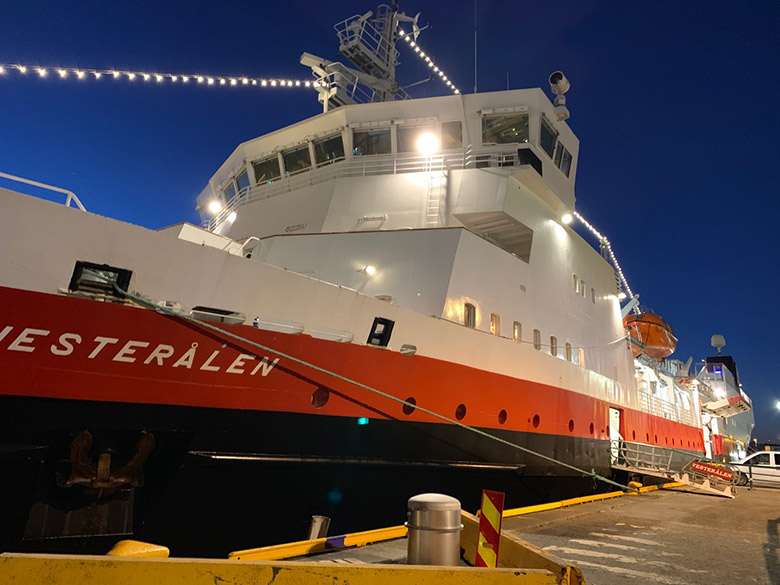 This means both companies must pay much higher wages than on other cruise ships, and charge significantly higher amounts for alcohol to comply with local laws.
There are bargains to be had, though! Fares for the BKB route are much lower outside of the peak season. Travel in April/May or early September for example, and you might find some great value-for-money deals.
Hurtigruten's loyalty program
When I took the full BKB journey in 2019, I was genuinely shocked how many people onboard had done the trip before. In my mind, while not necessarily a 'once-in-a-lifetime' thing, a BKB trip was a one-and-done thing. Far from it!
Hurtigruten has its fans from all over the world, particularly in Germany. Some people take the trip every year, while others do it every so often. Some have transferred their love for the coast route into trying an expedition cruise for the first time.
For some time now, Hurtigruten has rewarded its loyal travellers through its 1893 Ambassador program. The program gives discounts on future travel, cheaper souvenirs on board and discounts with Hurtigruten partners such as Helly Hansen.
Have you travelled with Hurtigruten? What advice do you have for travellers considering a trip? Let us know in the comments.