Day 12: Twelve days that seems more like a month comes to an end as we pull back into Bergen and bid farewell to the MS Vesterålen.
Today was something of an anti-climax as we spent a long time at sea doing not very much, preparing to leave the ship. Of course this is the case on all cruises as you have to check-out of your cabin before arrival and then a bunch of time just sitting around.
Hurtigruten Diary: Day 1 / Day 2 / Day 3 / Day 4 / Day 5 / Day 6 / Day 7 / Day 8 / Day 9 / Day 10 / Day 11 / Day 12 / Ship Tour Video / About the Book
The advantage of sailing close to the coastline is there's plenty to look at to pass the time! After a quick early breakfast I made it up to deck F just in time to say goodbye to Florø.
This isn't a place I had any chance to explore, but as the final stop before Bergen I felt I had to go and take a snap at the very least.
After that, I packed and left the suitcase outside the cabin for it to be taken away by the crew and delivered at the terminal. an extremely handy service.
Log book
A nice touch for this trip is the production of a hardback log book, albeit at an additional cost. These were available for pick up on the evening of day 11 for those who'd ordered one.
Inside is a record of all twelve days, including the daily programmes, menus, weather, and a whole ton of photos (yes, including the one of me getting an ice bucket dumped on my head!)
Each one is hand-signed by the captain and tour leader, and the overall package as a souvenir of the trip is hard to beat. As we spent so much time up on deck taking photos, a few of us were asked if we'd like to submit some photos for inclusion, which we happily did.
The final lunch
I didn't expect much from the final lunch, and so was more than a little surprised to find it was to be table service for a three-course meal, albeit one starting at 11.30!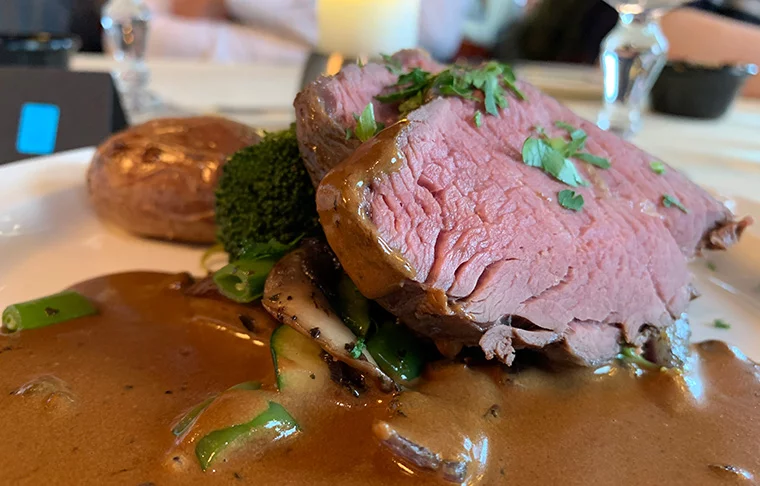 The main course was one of the best so far, and made a welcome change from the amount of fish served up so far. The fish has been outstanding from start to finish, but many people were pleased to get some beef today.
Saying goodbyes
This is my first time on a cruise ship of any kind, and I hadn't expected to get to know 6-8 people so well in such a short space of time, plus countless others on a first name basis. The intimate nature of the Vesterålen encourages meeting and conversation, but it also makes goodbyes tricky, at least for me.
I've just spent 12 days getting to know a truly diverse group of people from all walks of life, both passengers and crew. As much as I'll remember the scenery, northern lights and blood moon, I think it's the people and the personalities that I will remember most.
But the goodbyes weren't just limited to the people, but to the ship itself. I did a 'farewell tour', having one last look at every public part of the ship.
I spent quite a long time looking at one of the history displays near my cabin on Deck D. Although I walked past it several times every day, there was plenty on there I'd still not had the chance to study.
One element I particularly enjoyed was the full program for the voyage from 1973. While much of the program was familiar, there were some interesting differences: "When the ship arrives at Molde, a bus is waiting on the key to take you overland to Kristiansund, while the ship crosses another open stretch of sea, the Hustadvika".
The motion of the ship bobbing through Hustadvika was one of the more "interesting" parts of the journey! Given the choice, I'm not sure if I'd take a bus alternative, but I have met many passengers who would have!
Disembarking at Bergen
Leaving the ship was quick and easy. We left via the outdoor deck and into the bridge that took us to the terminal, just like at an airport. By the time we got down to the ground floor our luggage was already on the belt.
Two buses were waiting outside, one to the airport and one to the various hotels for those staying on in Bergen. Our bus took a while to leave as one couple didn't know if their hotel was in the city or at the airport, but we were soon on our way.
I'm now back home in Trondheim, and was greeted with a -13C temperature and more snow than I'd seen on the entire voyage!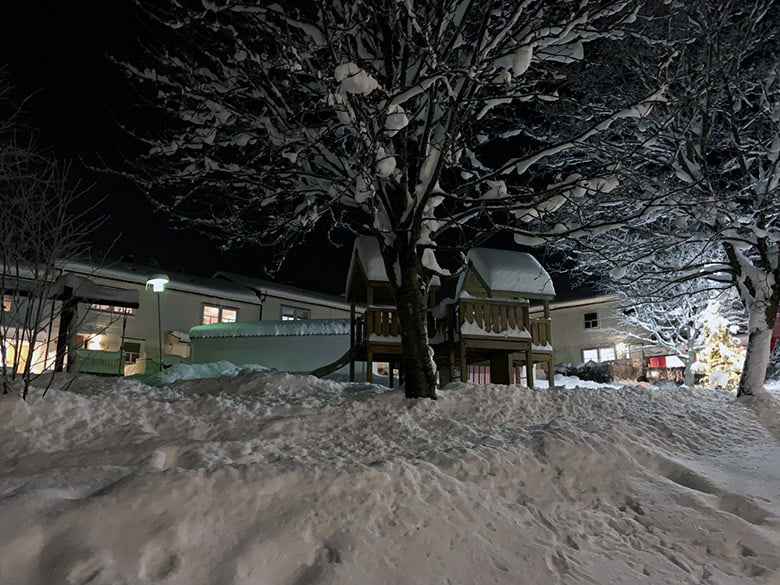 Last night (my first night off the ship) was interesting. I woke up in the middle of the night with the feeling of motion, stood up  and soon found myself rocking from side to side as I walked to the bathroom, so much so that I had to hold on to the wardrobe to steady myself.
Then this morning I woke up with a dizzy feeling. Apparently this is all quite normal when you've experienced motion on a cruise ship of any size, and should pass by the end of the day. Fingers crossed!
Watch: Video tour of the MS Vesterålen
My focus now turns to editing the videos and podcast episodes that I recorded on board, and of course, writing the book all about my adventures on the high seas! If you're interested in hearing more you can sign up for the book launch notification, or if you prefer, my weekly newsletter about all things Norway.