Hurtigruten Diary Day 2: A difficult first night, an enjoyable if chilly return to one of Norway's prettiest cities, and crossing the open ocean in gale force winds.
Well, I did say I wanted to experience a Norwegian winter on this voyage, and boy did that statement come back to bite me in the behind today!
Hurtigruten Diary: Day 1 / Day 2 / Day 3 / Day 4 / Day 5 / Day 6 / Day 7 / Day 8 / Day 9 / Day 10 / Day 11 / Day 12 / Ship Tour Video / About the Book
A difficult first night of adjustment
First things first, my first night about the MS Vesterålen was a difficult one. The unfamiliar surroundings and motion of an overnight ocean crossing in poor weather combined to keep me awake for much of the night. From what I've heard from others this is entirely normal and I should adjust in another night or two. Watch this space!
Thankfully the motion didn't cause me to suffer from any seasickness, so at 7am sharp I was up and over to the breakfast room to try and kickstart my day.
Breakfast on the Hurtigrtuen
The first meal of the day is an open seating, self-service buffet in the main restaurant. Before I'd even taken my seat I had poured myself a cup of coffee and grabbed a fruit smoothie.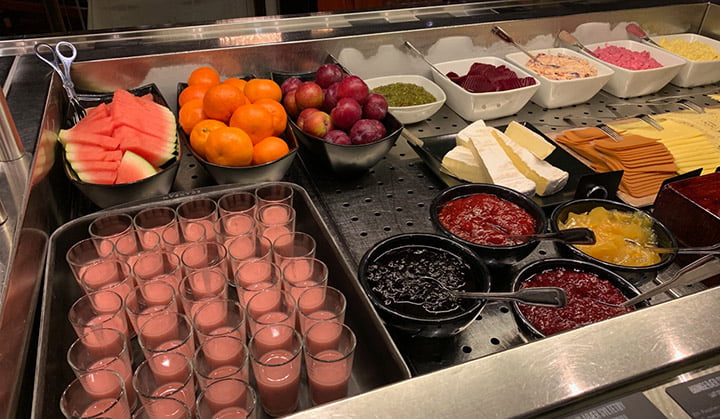 The breakfast on offer was unsurprisingly a typical Scandinavian breakfast buffet, albeit one with the quality turned up a notch. There was plenty of fruit and veg in addition to the usual breads, meats, cheeses and hot options including bacon and eggs, pølser (Norwegian sausages) and porridge.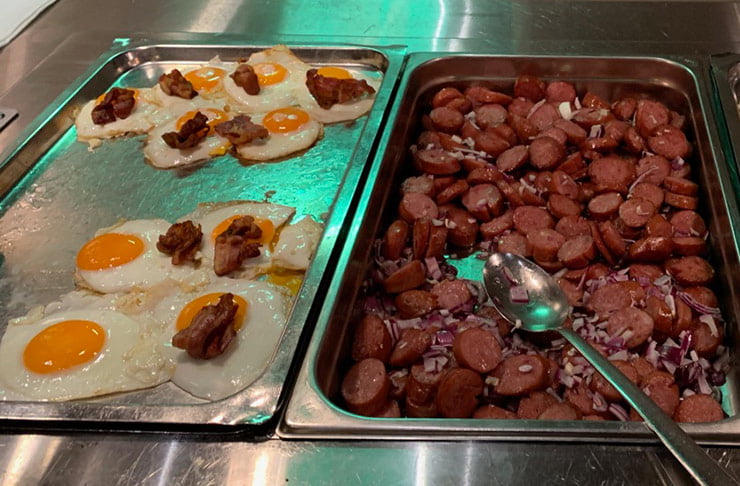 In honour of the early morning port of call while I was enjoying my food, Måløy, I heaped a load of salmon onto my plate. Måløy is one of western Norway's most important fishing towns, but I was too busy enjoying brekkie to take a look during the short 30-minute stop, bar a very quick photo out on deck.
Unfortunately, the bad weather was far from over, and the ocean crossings either side of the day's main stop in Ålesund would prove to be the most memorable parts of the day. But let's continue with the positives!
A snowy stop in Ålesund
With one wobbly crossing done and a quick lunch on board, I was pleased to set foot onto solid ground in Ålesund. It's absolutely one of my favourite Norwegian cities. It just looks great, whatever the weather. And we had ALL the weather today!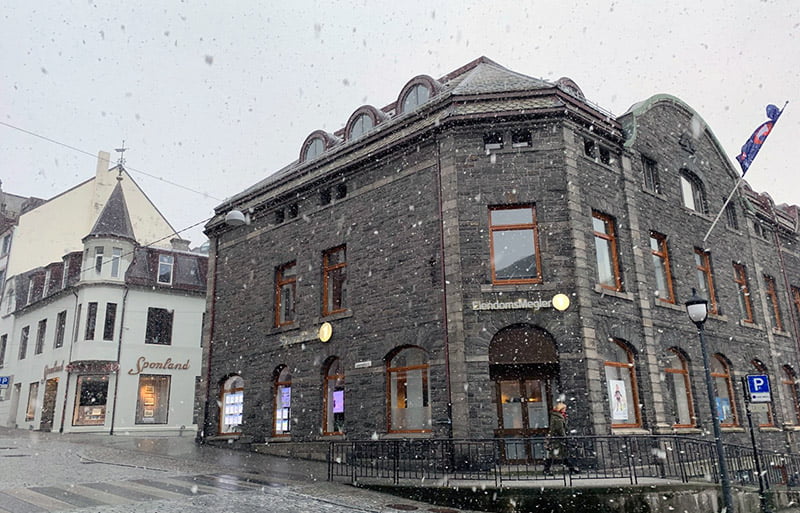 Around half an hour after I took the snow-filled picture above, I snapped this one:
I am quite familiar with Ålesund so used the time to enjoy a relaxing coffee in a cafe that didn't move (!) with my friend Elise. We caught up with what's new in town and I asked her a few questions about Ålesund's relationship with the Hurtigruten for my book.
Two hours after we left, she messaged me to say there was now 10cm of snow on the ground! Norwegian weather, gotta love it.
Don't rock the boat
"It's like a rollercoaster that you can't get off", is the only way I could explain it to a friend on WhatsApp while I lay as horizontal as possible on my cabin bed.
Unlike many of my fellow passengers I wasn't feeling 'seasick' in terms of nausea. It was simply impossible to stand without falling over, and even sitting upright wasn't as straightforward as it usually is! Laying down was the only way you could switch off.
This was because we were crossing a notorious stretch of open ocean off Norway's coastline – Hustadvika – in gale-force winds. It was the second time today that we hit a storm front and this one really did rock the boat.
An announcement told everyone to stay in their cabins so we retired from the lounge. I had to help an older lady back to her cabin and there were many others struggling with the four-way movement of the ship. The lifts are automatically closed when there is such high movement at sea, so negotiating the stairs was not easy for a lot of people.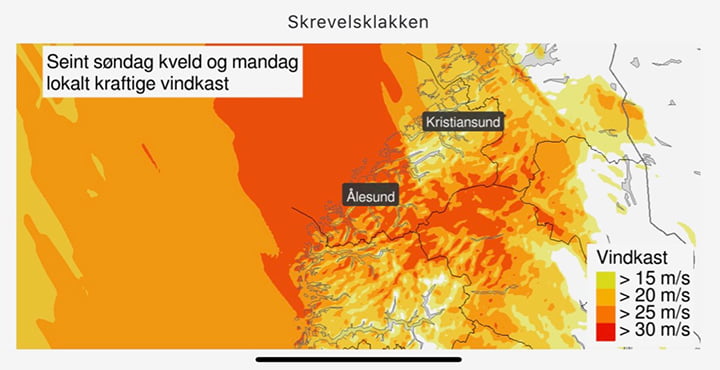 Despite its age and small size, I was later told by three different people within the space of one hour that the MS Vesterålen is the most stable ship in the fleet and the best to cope with a storm. Heh.
One of those people was the barman. As we pulled into Kristiansund and finally hit calmer waters, I did what any Brit would do and headed to the bar. Unsurprisingly after two hours of funfair-like activity, I was the only customer.
First night troubles are normal!
We chatted about the ship and I also found out that most of the crew don't sleep well on the first night of their shift pattern, so perhaps my experience wasn't so unusual!
There's so much still to talk about including dinner (I met my dinner companions for the ten evening meals) and much more about the MS Vesterålen, but that's for another day. In the meantime, don't forget to sign-up to the book launch list if you'd like more information about the book I'm writing all about this trip!
To help others discover this diary, please share on Pinterest: