Today I had intended to continue my search for Oslo's best cafe, but I took a slight detour and decided to concentrate on coffee. Living in the centre of Oslo I am surrounded by cafes offering good coffee, but nothing outstanding. For the capital of one of the world's greatest coffee consuming nations, that's been a surprise. I've missed the variety on offer back in Birmingham at Urban Coffee Company. So a quick surf on some coffee blogs and I arrived, via a gloriously sunny stroll along the Aker river, at Tim Wendelboe.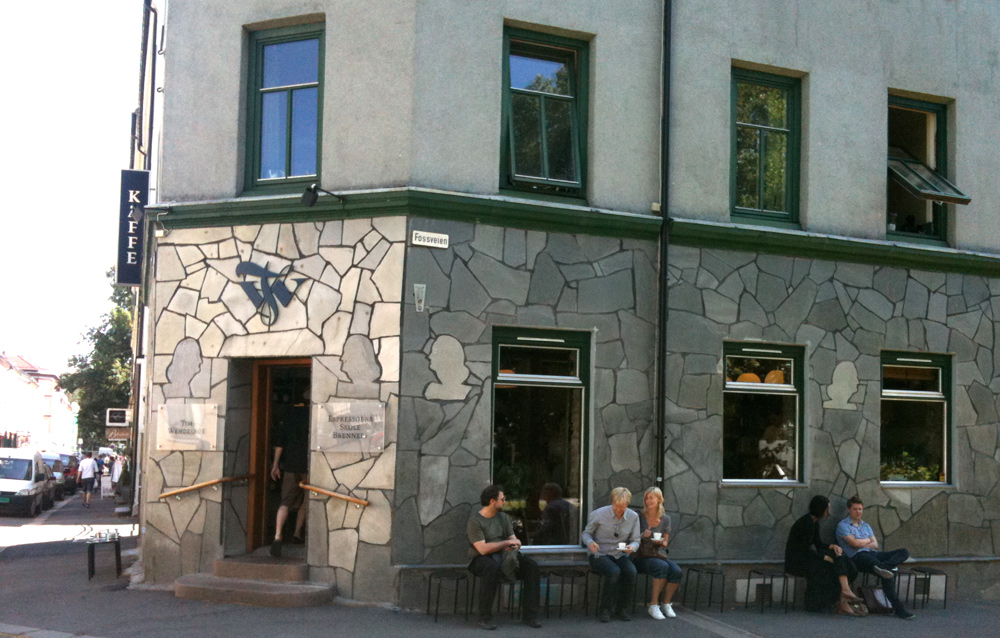 I ordered a Kenyan Ndumberi, one of two Kenyan coffees on offer, which came recommended by Tim himself. As advised, I let it cool a little, before tasting one of the mildest, fruitiest coffees I've ever come across. Worlds apart from anything you get in Starbucks.
Tim clearly takes his coffee seriously. There aren't any fancy cupcakes on offer, no sandwiches, no distractions – just coffee. This is reflected in the clientele – I met a New York Times food & drink journalist and the owner of the "other" best coffee shops in Oslo, Java and Mocca. The small shop was bustling with people willing to queue almost out of the door – says it all.
I've written before about my "dream" of running a cafe or coffee house, but I've always wondered how to make it pay. Here it's obvious, Tim offers world class coffee, but also runs courses, seminars and consulting services.
Sorry about the quality of the photos, I only had my iPhone with me and my hands were shakey. Probably too much coffee 😉