"That was easy!" shouted the 20-year-old as he crossed the line to take Olympic Gold and set new Olympic and European records.
Jakob Ingebrigtsen claimed Norway's fourth Gold medal of Tokyo 2020 after coming out on top the much anticipated duel with Kenya's Timothy Cheruiyot.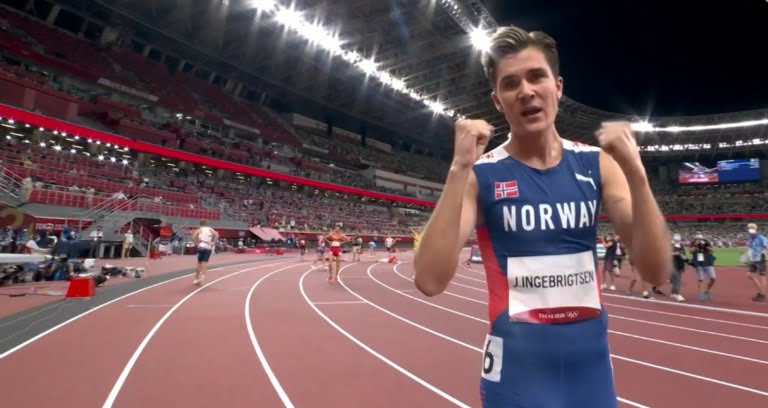 It's Norway's fourth Gold of the games so far and the second of the day, following this morning's victory in the beach volleyball final. Norway's other Gold medalists so far are triathlete Kristian Blummenfelt and record-breaking 400 metre hurdler Karsten Warholm.
Jakob's father and coach Gjert broke down in tears afterwards. He coaches Norway's Ingebrigtsen brothers: Jakob and his brothers Henrik and Filip.
Jakob finally triumphs over his rival
Many had expected the Gold to be won by Jakob Ingebrigtsen or Timothy Cheruiyot. But having win all ten previous races between the pair, the Kenyan was slight favourite to take the title.
The pair set out at pace in the 1500 metre final and followed each other all the way to the final lap. On the approach to the final bend, Ingebrigtsen sped away and couldn't be caught.
It was the perfect situation for Ingebrigtsen, who had enough in the tank to make the final sprint look easy. "My self-confidence just built up and built up. It became a dream scenario," said Ingebrigtsen in his first interview after the race.
Read more: Norway's Team Sweater for Tokyo 2020
He may have felt it was easy, but Jakob's winning time was not a slow one. The winning time was a quick 3.28.32, enough not only for Olympic Gold but also a new European and Olympic record.
Ingebrigtsen had showed good form throughout the Tokyo games. In the semi-finals, he finished with a time of 3.32.13.
Who is Jakob Ingebrigtsen?
Jakob Ingebrigtsen and his brothers were born in Sandnes, a place they still call home today. He has been competing in running events since the age of 8.
Read more: The Ingebrigtsen Brothers
Ingebrigtsen finished fourth in the 1500 meters at the World Championships in Qatar two years ago. At just 20-years-old, we can surely expect more to come.