Norwegian beach volleyball duo Anders Mol and Christian Sørum took Gold in the Tokyo Olympics.
Anders Mol and Christian Sørum took beach volleyball Gold for Norway, beating the Russian representatives (ROC) by 21-17, 21-18 in the early hours of Saturday morning.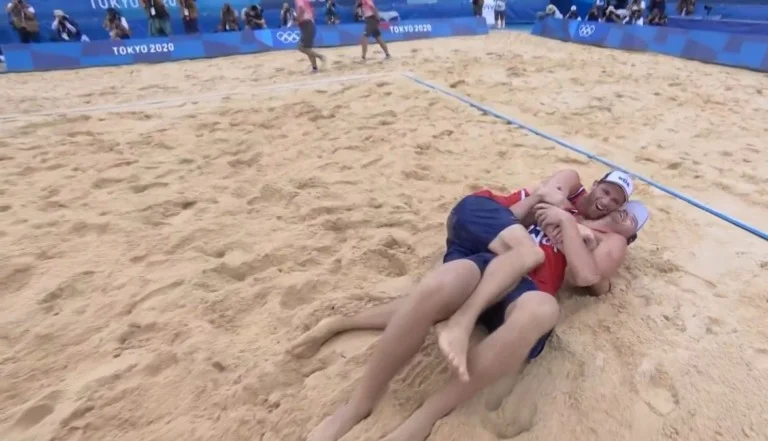 It's a fantastic achievement for the duo from a country not exactly known for its beach volleyball performances, despite Norway's excellent beaches!
It's Norway's third Gold of Tokyo 2020 so far, following Kristian Blummenfelt's triathlon win and the record-breaking run in the 400 metre hurdles from Karsten Warholm.
A dream final
Media had billed this final as featuring the world's four best beach volleyball players, and it did not disappoint.
The ROC players took an early four-point lead, but the Norwegians soon found their form. Mol and Sørum eventually won out 21-17, 21-18, after the Russians served into the net.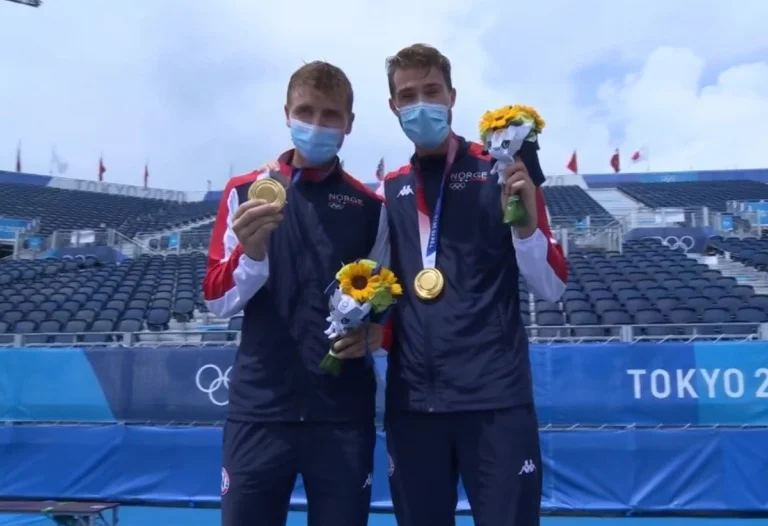 An injury to Vyacheslav Krasilnikov no doubt played a part as the game progressed. Yet after the injury, the Norwegians to serve against the other player, showing what the Olympic spirit is all about.
Assistant coach Jetmund Berntsen told NRK that the boys had played their best match of the tournament, adding that "the boys are just so calm. I do not understand what they are made of."
Norway's prime minister was quick to congratulate the duo on Twitter: "Congratulations to Anders Mol and Christian Sørum on Norway's first Olympic gold in beach volleyball! A fantastic achievement."
The best in the world
Of all the countries you might expect to lead the world in beach volleyball, Norway is unlikely to be the one!
Yet Mol and Sørum have turned heads in the last few years, gradually rising through the ranks to become the number one ranked duo in the men's game.
"The young Norwegians' run these past three years has been one without precedent in beach volleyball," explained an expert.
Norway: not just winter sports!
Norway's dominance at recent Winter Olympic Games is well known. But the country wins far fewer medals at the Summer Games.
So, despite Mol and Sørum's reputation, casual observers of the Olympics would still be surprised to see Norway claiming Gold in a sport involving a beach. The Norwegians take it all in good spirits though.
Andres Mol totally understands why some people may be surprised to see Norwegians doing so well in such a sport. "We have a medal in the Olympics and we're frickin' Norwegians," laughed Mol after the duo clinched their spot in the final by beating Latvia.
"We're not supposed to take gold in beach volleyball. We're supposed to ski, you know? But now we're so proud. … And this is really a victory for the whole Norwegian volleyball community," he added.
Family support in Tokyo
Many athletes at the Olympics have missed having their family on hand to support them through the games. But Anders Mol had both his father and uncle in Tokyo. Mol's father Kåre is his coach, while his uncle is also in the training team.
Mol's parents are former volleyball champions and Sørum's parents met on a volleyball court when playing for fun.