Moving to a new country can be a stressful thing to do at the best of times and it only gets more difficult when you have to take an animal with you. Here is a handy guide about moving to Norway with a pet.
If you are a pet owner that has ever considered moving to Norway, then you've probably wondered about the entry requirements.
There are different guidelines depending on the type of animal and from where in the world you are travelling from.
Whatever your circumstances, the journey will go a lot smoother if you plan well in advance. Here is what you need to know about moving to Norway with a pet.
Norwegians love cats and dogs
Whether you are travelling to Norway with a pampered pooch or feline friend, you will be pleased to know that Norway is a nation full of cat and dog lovers.
In 2019, 31% of Norwegian households owned at least one cat, while 17% of households had at least one dog as a pet.
One of the most popular dogs in Norway is the Norwegian Elkhound. It's a breed that is native to the region and one that has been around for thousands of years.
Where are you traveling from?
Pets that enter Norway from the European Union (EU) and European Economic Area (EEA) are treated differently than those that enter from the rest of the world. From January 2021, the United Kingdom is classed as 'rest of the world'.
Pet passports are commonly used in Europe. For the rest of the world, in most cases, this document is replaced with a health certificate. It is vital that you bring the respective document with you when traveling into Norway with an animal.
The rabies situation in EU/EEA countries is considered safe so you do not normally need to provide proof that your pet has been vaccinated.
However, if you are traveling from the rest of the world, documentation must be produced on arrival proving your pet has adequate protection against the disease.
It is always advisable to check with the Norwegian Food Safety Authority in order to get a full overview of the rules before you travel. Despite the name, it is the NFSA that oversees the veterinary guidelines for the transport of live animals into Norway.
Moving to Norway with a dog, cat or ferret
Dogs, cats or ferrets must be clearly identifiable by microchip or another readable marking such as a tattoo. The number of animals you travel with must not exceed five, or your reason for travel could be considered commercial.
Some breeds of dog are classed as dangerous, so it is important that you check with the police before you travel. In some cases, a special permit can be obtained from the police for certain types of dog.
In addition to your dog having been vaccinated against rabies, if you are arriving from a non EU/EEA country, your canine friend must also have been treated against the fox dwarf tapeworm.
On arrival in Norway
When you arrive in Norway with your pet, you must go through the red channel at the border check. After your papers have been checked and ratified, you will then be directed through the green channel for entry into Norway.
If you have lived outside of Norway for one year or more with the pet you are travelling with, you will be exempt from paying any customs duty or VAT on arrival.
Different rules if you are travelling from Sweden
Different rules exist if you travel into Norway from neighbouring Sweden with a pet. Just like EU/EEA rules, a pet passport is required when traveling from Sweden to Norway, even if it's just a day trip or weekend break.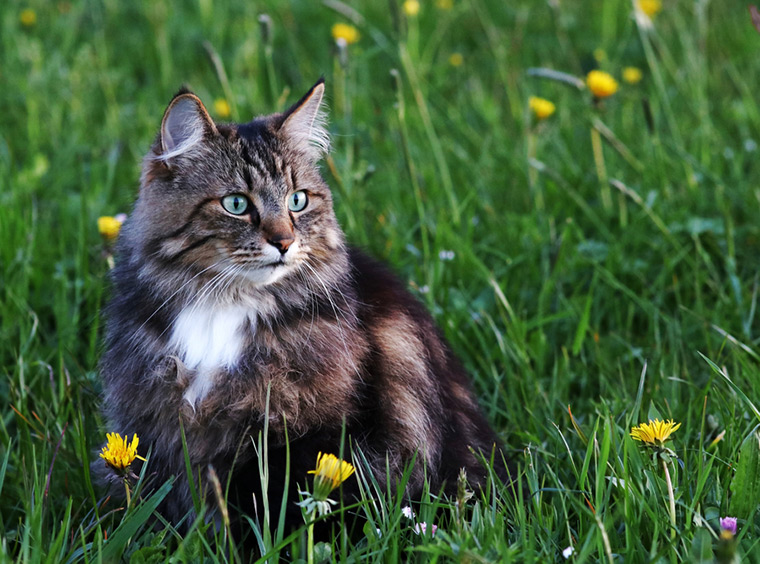 You do not normally need to provide proof that your pet has been vaccinated against rabies at border checks.
But evidence of treatment against echinococcus multilocularis with praziquantel between 24 and 120 hours before entering Norway must be provided, or confirmation of treatment against the fox tapeworm parasite must be documented.
Different guidelines for other animals
There are different guidelines for those wishing to move to Norway with any pets not mentioned above. Animals such as caged birds, rodents and rabbits are considered pets by the NFSA; however, bird species such as chickens, ender, geese, guinea fowl, ostriches, partridges, pheasants, turkeys and quail are not.
It almost goes without saying but, animals that are intended for the food chain are not considered pets and will be refused entry.
This article is intended to be an initial introduction for moving to Norway with a pet. It is always advisable that you make use of the information available on the NFSA's website and Toll Customs before you travel.
It is also possible to contact the relevant pet owners' associations in Norway if you have any specific questions, such as the Norwegian Kennel Club (NKF) for dogs.