So, three weeks into my Norsk adventure and I'm starting to get to know my way around Oslo. I find my eyes looking further afield at what delights may be in store for me in the rest of Norway. I'm planning a few weekend trips, perhaps longer, to the following places:
Tromsø
Far far north of Oslo, 350km INSIDE the arctic circle, lies the remarkable city of Tromsø. Driving there would take three days so the only realistic option is the cheap two-hour flight. I'm torn between visiting in summer and winter, its location means you get two vastly different experiences. In summer, Tromsø is bathed in permanent daylight and a picnic overlooking the city at midnight sounds delightful. Some nutbars even take part in the Midnight Sun marathon, which is kinda cool.
This contrasts with the winter months when it only reaches twilight at best. Tromsø is also known as one of the best places in the world to see the northern lights, something I've wanted to see for many years. I'm hoping Andrew can join me for a trip this winter so we can buy some Sami knitwear, ride a husky sled and go hunting for the northern lights.
I'm also grateful to Wendy for teaching me how to pronounce Tromsø correctly…
Ålesund
Ålesund is an important fishing port in Western Norway. Not very exciting you may think. But after being destroyed by fire in the early 20th century, the town centre was rebuilt in art-deco style and looks the kind of place I could easily spend a day pottering around. It's built on islands and so you get a great view of the fjords and mountains nearby.
Geirangerfjorden
Norway is famous for its fjords and perhaps the best known is Geirangerfjorden on the west coast. It's very close to Ålesund (above) so a combined trip here is a must. I need say very little about why I want to go, just take a look at the spectacular images below. A summer visit here seems likely, although I think my parents would really enjoy a boat trip around Geirangerfjorden, so perhaps I'll visit more than once.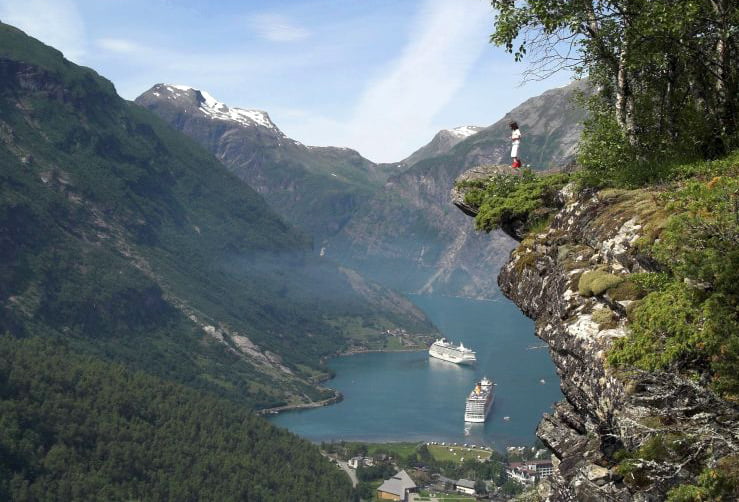 Bergen
As Norway's biggest city after Oslo, Bergen will be worth a visit anyway, but what interests me most is the journey there. The Oslo to Bergen train line is frequently touted as one of the greatest railway journeys in the world. There's tons to do in Bergen and I'm especially keen to wander around Gamle Bergen (Old Town). Chris and Graham are visiting in October and want to take the train from Oslo to Bergen and fly back, so I'm already getting excited about this one.
Trondheim
Further north up the western coastline is Trondheim. It's a historical city so there will be plenty to see and do, even if the place is overrun with students. The cathedral looks especially interesting and it greatly amuses me that from the Central Station you can buy a one-way ticket to Hell.
Again the train seems a good way to get from Oslo to Trondheim, with a (one-way) ticket for the 6.5hr journey costing just 199kr (about £22) if you book in advance.
So… who wants to come with me? 🙂