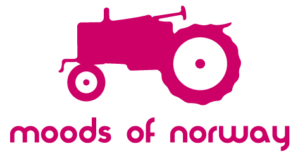 When I first stepped off the plane that brought me to Oslo, I noticed several things about Norwegian fashion: the Mr Whippy hairdos, brightly coloured trousers, and Liverpool shirts. But I also spotted someone wearing a bright blue and pink hoodie with a tractor on it. That was my introduction to Norway's designer label, Moods of Norway.
Happy Clothes for Happy People
In many ways it's an obvious approach. Take something as iconic (perhaps less so outside Norway) as a tractor and the outdoor life in general and turn it into an aspirational fashion brand. Unlike their British equivalents of the Jack Wills variety, they don't go for browns, greys and the look of tradition. Despite the tractor logo, Moods is bright, bold and unashamedly colourful.
This might fly in the face of the Norwegian stereotype of being quiet and reserved, but if you take a look around Oslo you will see colour on display everywhere. Trousers in red, blue, green, yellow, contrast-stripe shirts and colourful sportswear are everywhere. Moods just takes this a step further.
It's definitely a look you either love or hate.
Moods is an undisputed Norwegian success story. The concept was dreamt up in 2003 in the small Norwegian town of Stryn, miles from anywhere. Less than ten years later, that idea has become one of Norway's most recognisable fashion labels with stores as far afield as Beverly Hills and Tokyo, and has made the founders very rich men, even by Norwegian standards.
The shops are worth a visit even if you're not keen on the style. Retaining the link to its home of Stryn, milk churns mark the entrance and most come equipped with brightly coloured tractors and wooden changing rooms. At the Oslo flagship store on Hegdehaugsveien, there is a lounge and fireplace to greet you as you enter, along with a "cocktail sports" annex complete with ping-pong table.
Olympic Gold for Moods?
The label recently unveiled the official casualwear and eveningwear for the Norwegian Olympic and Paralympic teams for London 2012. Incorporating national colours, floral linings, "Heia Norge" (Go Norway) stitched into the cuffs, and a medal pocket (a nice touch!), the collection has caused quite a stir. Not least across the border in Sweden, where their Olympic cycling hopeful Emma Johansson, who lives in Norway, tweeted "I wish I was Norwegian" in response to the collection! Norge 1 Sverige 0 😉