Two of the best players in the Premier League right now are Norwegian. But it's not the first time that Norwegians have starred in English football.
Erling Haaland and Martin Ødegaard were rarely out of the headlines during the 2022-23 football season. For many months it looked as if Arsenal captain Ødegaard would lift the Premier League trophy. In the end, his fellow Norwegian Erling Haaland got his hands on the trophy.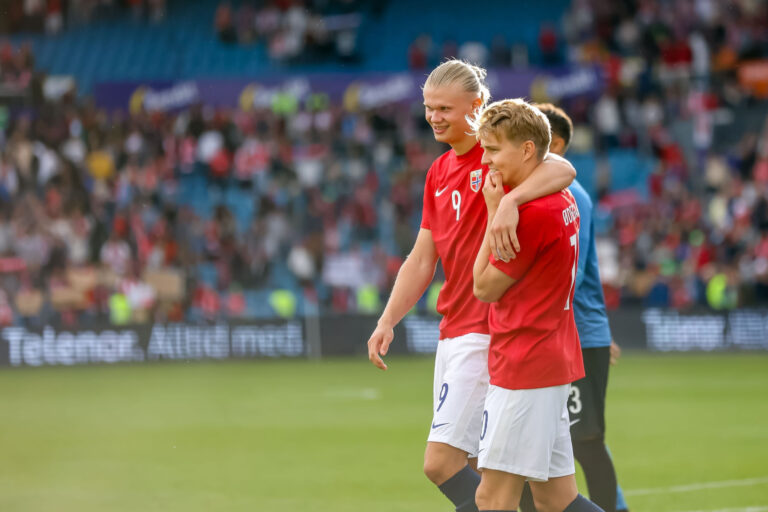 Whether you call it football, soccer, calcio or fotball–as the Norwegians do–the beautiful game is both enjoyed and played in most countries around the world.
For players from countries where the game is played at a lower level, the only real chance to shine is by moving abroad to play for one of the big European clubs. While Norwegian football seems to be increasing in popularity, the best Norwegian players have enjoyed great success in other countries over the years.
Nowhere is that more true than in England. Haaland and Ødegaard might be making the headlines today, but so did a group of talented Norwegians back in the 1990s.
Why Norwegians succeed in England
There are a few good reasons why Norwegians often find themselves playing football in England. Firstly, the harsher climate in Scandinavia makes them more accustomed to the conditions in the English winter, where cold temperatures make playing slightly more tricky.
Players that sign for English clubs from warm countries in Africa and South America often find that the winters, or at least the first one, come as a complete shock as they've never encountered temperatures so low before!
People of Norway learn to speak English to fluency, removing one of the big barriers to playing sport in a foreign country. Players can hit the ground running and understand most of what the coach is telling them without an interpreter.
Finally, Norway and England are geographically pretty close and, in terms of timezones, only separated by one hour. That means if any problems occur, it's not too difficult to head home to spend time with family or consult professionals in their own country.
"We were kind of pioneers at the time," Lars Bohinen told The Guardian. He was one of the stars of the 'first wave' of Norwegians who played in English football in the 1990s.
"We didn't make any waves, we were just constantly being professional and producing performances. I think that's why we had so many players doing well in England," he added.
A game of two Norsemen
The 2022-23 English Premier League was clearly dominated by two Norwegian players. Manchester City and Arsenal finished as the top two teams. With Erling Haaland and Martin Ødegaard as vital members of their respective teams, you could say it was a Two-Norse Race!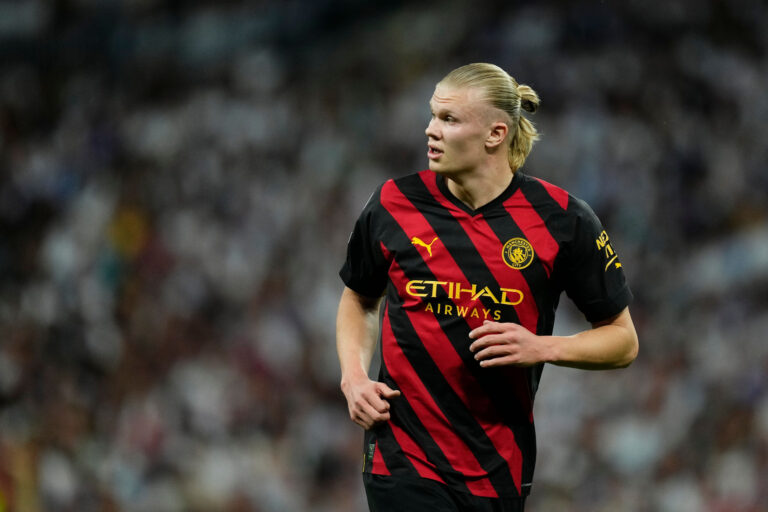 But whilst these two youngsters have enjoyed huge success in the EPL this season, they're far from the first to do so. In fact, since the inception of the Premier League in 1992, an amazing 74 Norwegian players have graced Europe's most exciting league.
Some are barely remembered, of course, in careers that never really took off. Others, however, will be remembered fondly by fans of their clubs – and some by fans of all clubs – as true footballing greats.
Both players are still closer to the start of their careers than the end. Join me as I take a look at the success they've enjoyed so far and how they compare to their parents' generation of Norse exports.
Erling Haaland
Medal winner and breaker of all the records, Erling Haaland enjoyed a phenomenal first season in England. A scoring record of 52 goals from 51 games across all competitions is virtually unrivalled in the game. He has taken the record for most Premier League goals in a season beating Alan Shearer's 34 in 1994-5.
More amazingly, he's taken a record from 1931! The record of 50 goals across all competitions was set by Aston Villa's Tom 'Pongo' Waring and looked unlikely to ever be broken. But with one EPL game left, plus the FA Cup final and Champions League Final, he's already smashed that with 52 goals and could potentially put it even further out of reach.
Born in Leeds (on which, more later) Erling grew up mostly in Bryne, near Stavanger. At the age of 17 he made his debut for Molde and scored a modest 14 goals from 39 games. This was enough to tempt Red Bull Salzburg, where in a single season he amassed 17 strikes from 16 appearances.
This attracted the attention of Borussia Dortmund, who gave him 62 games in two great seasons, and he rewarded them with 67 goals. Finally, the Premier League came knocking and Manchester City signed him and he had the stellar season described above!
Martin Ødegaard
By comparison, Martin Ødegaard's season might sound tame. He's 'only' scored 15 goals from 36 appearances – much less than Erling's 36! But that still places him at number 7 on the goalscoring charts for the season. And there's one more important difference: Martin Ødegaard is not a striker but a midfielder!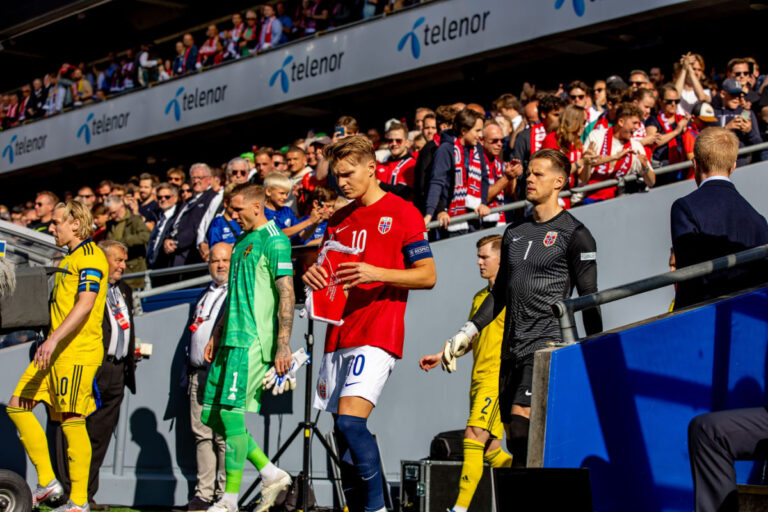 In that context it's a great season. He's Arsenal's top scorer – ahead of their two main strikers – and is the highest scoring midfielder in the league. In goal contributions (goals plus assists) he's on 23, equal with Kevin de Bruyne who is arguably the best midfielder in the EPL.
Martin was born in Drammen, south-west of Oslo, in 1998. At the age of 11 he joined Stromsgodset's youth team and over the next few years worked his way up through the ranks. When he was 17, he caught the eye of Real Madrid, who bought him for around €3m.
He enjoyed great success in their reserve team – Real Madrid Castilla – but Madrid then sent him out on a series of loans.
In 2020-21, Martin played only 8 times for Real Madrid and in the January transfer window made it clear that he'd like to leave. Madrid loaned him to Arsenal, where he found fairly instant success. He'd found a club that wanted him and knew how to play to his strengths.
At the end of the season, Arsenal bought him outright from Real Madrid for around €35m – not a bad profit for a few years of doing nothing!
After a great first season at Arsenal, Martin was made club captain ahead of the 2022-23 season and, as you can see, paid them back with their best season for years!
Norwegians in the 90s
Erling and Martin are not the only two Norwegians playing in Britain, but they are streets ahead of all others. It harks back to the first great influx of Scandinavians into English football back in the 1990s.
There were too many players to list them all here, so we'll just take a look at some of the biggest names.
Alf-Inge Haaland
Known affectionately as Alfie, Alf-Inge Haaland joined Nottingham Forest in 1993. His transfer took such a long time that it was started under manager Brian Clough and only completed under his successor, Frank Clark!
Mostly playing as a full-back and right-sided midfielder, his spell at Forest was successful and he was signed by Leeds United. He then went on to play for Manchester City who were, at the time, just recovering from a long period bouncing between the EPL and Championship.
His time in English football will mostly be remembered for a feud with Roy Keane. In a match early in his Leeds career, he taunted Keane on the ground, claiming he was feigning to get a penalty, when in fact he'd suffered a cruciate ligament injury.
Three years later, when they next met on the field, Roy Keane launched studs first into Alfie' right thigh in what he later described as a pre-meditated attack due to the earlier incident!
But Alfie's biggest contribution to English football is still evolving. In 2000, while he was still playing in Leeds, his wife gave birth to a son. That son they named Erling and, as you read earlier, he's currently doing rather well for one of his dad's old clubs, Manchester City.
Steffen Iversen
When it comes to kids outdoing their famous fathers, Erling Haaland is not alone! Steffen Iversen's father, Odd Iversen was a highly prolific striker during his 18 year career in Norwegian football.
It's hard to know how Odd would have fared abroad but if he was anything like his son then the answer would be very well! After a successful first season for Rosenborg at the age of 19, Steffen joined Tottenham Hotspur in 1996 for £2.3m. His debut came only 4 days after his last Rosenborg game!
In 1998-99, Steffen helped Spurs win their first major trophy for almost a decade, providing the assist for the Danish striker Allan Neilsen's injury time winner. Steffen had also scored the winning goal in the semi-final against Wimbledon. He was top scorer that season, and the next, before a couple of years marred by injury.
In 2003 he joined Wolverhampton Wanderers on a one-year deal but he failed to regain his form, scoring only 4 times in 18 games. After that he returned to Norway for 7 years where he found instant success with Vålerenga and then Rosenborg. He then returned to England for one last season, this time with Crystal Palace, but unfortunately the story was similar to the one at Wolves.
Lars Bohinen
Currently managing Norwegian Premier League side Stabæk, Lars Bohinen is best known among English football fans for his spells at Nottingham Forest, Blackburn Rovers and Derby County.
Known as a midfielder who chipped in with more than his fair share of goals, Bohinen also played for the national side. He scored 10 goals in his 49 appearances for Norway.
His managerial career has been less impressive, but he has managed several clubs in Norway's top tier including Sandefjord, Aalesund, Sarpsborg 08 and Stabæk. His son, Emil, followed his father into professional football and currently plays for Italian Serie A side Salernitana.
Henning Berg
One of the happiest accidents in Blackburn Rovers' history, the manager Kenny Dalglish attended an international match between England and Norway in 1992 intending to check out Tore Pedersen.
He was injured, so Henning Berg took his place. Dalglish was so impressed he made buying him a priority, signing him in January 1993 for £400,000. Tore Pedersen ended up signing for Oldham Athletic.
Henning quickly made himself a key member of the Blackburn Rovers defence. He was part of the side that won the Premier League title in 1994-95, in what to date is Blackburn Rovers' finest achievement in football.
Two years later, Manchester United came calling and Henning moved there for £5 million – a joint-record at the time for a defender. He quickly settled into the side and enjoyed a season of being a regular before the arrival of Jaap Stam restricted his appearances. But when Manchester United won the league title in 1999, Henning Berg became the first player to win the Premier League with two different clubs.
Shortly afterwards, Henning returned to Blackburn, initially on loan, and enjoyed three more seasons, helping them win promotion back to the Premier League and then winning the league cup the following season. He then went on to join Rangers in the Scottish Premier League where he played his final season of professional football.
Ole Gunnar Solskjær
Saving the best for last, in my opinion by far the most successful Norwegian player of the older generation was Ole Gunnar Solskjær.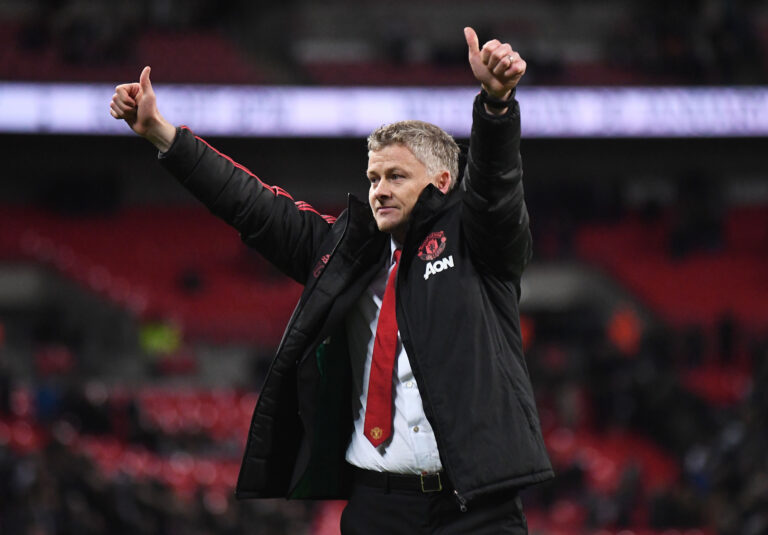 In the same year that Newcastle paid a then-record £15 million to secure the striking services of Alan Shearer, Manchester United quietly bought the unknown 23-year old whose success at Molde had gone unnoticed by most.
The media expected Ole to play second fiddle to Cantona and Cole but scoring on both his debut as a substitute and his debut start, it soon became clear that Ole was not just there to make up the numbers.
He ended his debut season as Manchester United's top scorer with 18 goals from 33 appearances. This earned him the nickname of the 'baby-faced assassin' for his youthful looks and ruthless finishing.
Over his eleven years at Old Trafford, Ole scored 91 goals in his 235 appearances in the league as well as 19 from 77 in the Champions League. He won every competition including a continental treble (League, FA Cup and Champions League) during a period where Manchester United were almost unrivalled in English football.
After retiring from playing in 2007, Ole spent 3 years coaching Manchester United's reserves before joining Molde as manager where he found instant success. He briefly returned to England to attempt to save Cardiff City from relegation in 2014 but failed and returned to Molde.
Then, in December 2018, with Manchester United sacking Jose Mourinho after a poor run of results, Ole was announced as caretaker manager.
Ole's time in charge of Manchester United was reasonably successful in some ways but failed to yield any trophies, or the kind of success that Manchester United fans demand.
Luckily for Ole he'll always hold a place in their affections thanks to scoring the winning goal to secure the Champions League, and thus the continental treble, against Bayern Munich in 1999.
With success coming very early in their Premier League careers, it's likely that Erling Haaland and Martin Ødegaard will go down in the history books as two of the greatest Norwegian footballers in the Premier League.
But it's important to remember the players that went before them and blazed the trail that allowed them to follow.
Have you enjoyed watching any of these players play in the English Premier League? Let us know in the comments below.