The young Norwegian footballer who signed for Real Madrid is now making a name for himself in the Dutch League.
As a 16-year-old, Martin Ødegaard was the name on the lips of every football fan (or at least, those who could pronounce his name) when he signed for Spanish giants Real Madrid.
It brought to the end months of speculation on who the Strømsgodset star would sign for, with Bayern Munich, Arsenal, Manchester United and Manchester City all said to be interested.
Since then, everything's gone rather quiet and Ødegaard is in fact now playing for Dutch side SC Heerenveen. Let's take a look at his story so far.
The beginnings
Born in Drammen, Ødegaard is the son of former Norwegian footballer Hans Erik Ødegaard, who played as a midfielder for Strømsgodset and Sandefjord. He was still attending a local lower secondary school when he made his professional debut for his home town club, Strømsgodset.
He began training with the first team at the age of just 13, and made his league debut at the age of just 15 years and 118 days, becoming the youngest ever player to play in the Norwegian football league.
The dream move to Real Madrid
Following the big move to Spain, the BBC reported that Ødegaard "says it is not important whether he plays for the first or second team, believing Real Madrid is the best place for him to develop both on and off the pitch."
It was indeed the second team where Ødegaard spent much of his time, scoring five times in 62 appearances for the 'Castilla". Despite playing for the reserve side, he spent much of the time training with the first team.
Opportunities were limited, but he did become the club's youngest ever debutant when he replaced Cristiano Ronaldo in a La Liga game against Getafe. His only full appearance for the first team came in a Copa del Rey match against lower league side Cultural Leonesa.
Pundits were impressed with his performance but it was Zinedine Zidane's son Enzo who stole the headlines with a goal on his senior debut.
A transfer to the Dutch league
In January 2017, Ødegaard joined Dutch top flight side SC Heerenveen to get regular first team football in a competitive league. "It was a good chance to play," former Norway international Tore Pederson told the New York Times. "The culture is similar in Holland to Norway, so it is easier to settle, and Heerenveen has a good record with Scandinavian players."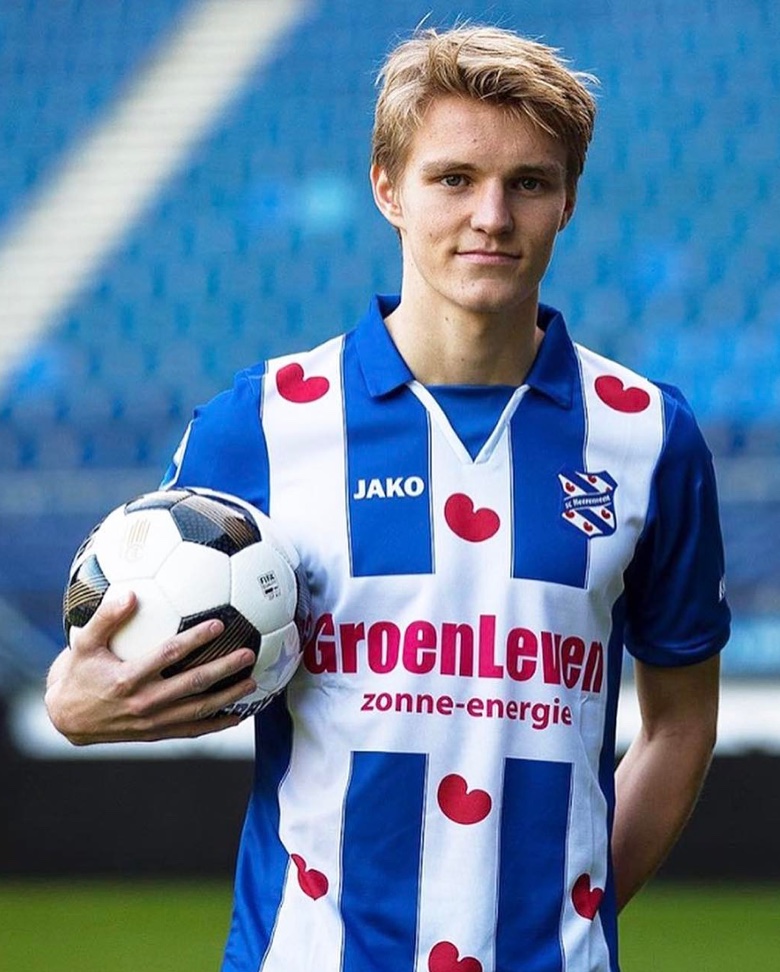 Although he started poorly, the Norwegian has featured throughout the 2017-18 season and become a regular starter. His form earned him a recall to the Norwegian national team, but some Dutch pundits have stated that he has shown only glimpses of his true ability.
"It's his first year in top-level football and while he has shown that he can be a game changer, it's also true to say that he lacks something," the Norwegian journalist Arilas Ould-Saada told GiveMeSport. "He's not the finished product which can deliver goals and assists."
Ødegaard and the national team
Ødegaard also holds the record as Norway's youngest ever national team player. At 15 years and 253 days, he played the full 90 minutes in a friendly against the UAE in Stavanger. He made his competitive debut as a substitute in the 2-1 win over Bulgaria, becoming the youngest ever player to play in a European Championship qualifier.
Six months later, Ødegaard became the youngest player to start a European Championship qualifier at the age of just 16 years and 101 days, although it wasn't a happy experience as Norway were well beaten 5-1 by Croatia.
Why is Ødegaard such a promising player?
An article in the Liverpool Echo described Ødegaard as "an attack-minded midfielder very much in the modern mould. Diminutive, quick-footed, with natural balance, pace and, perhaps surprisingly for one so young, excellent shooting power".
Whether Ødegaard manages to live up to his undoubted potential remains to be seen. At the age of 19, much depends on what happens once his extended loan period in the Netherlands comes to an end.
While improving, he hasn't set the league alight and one assumes he'll need to move on from Madrid to get a shot at some more first-team football in the future.