On a recent trip to Estonia, I stayed at the Radisson Blu Sky Hotel in the capital city, Tallinn. Here's what to expect.
When travelling, sometimes I want to stay somewhere unique, off the beaten track, or in the cheapest possible hostel. Other times, I fall for the comfort blanket of familiarity.
Staying at Tallinn's Radisson Blu definitely falls into the latter category. For all Norwegians, or expats used to Norwegian hotels, the Radisson Blu Sky Hotel is an excellent option at the heart of Estonia's capital city.
Book your stay at the Radisson Blu Sky with our partners Booking.com
Room with a view
There's no debate about the best feature at this hotel. This was the view from my room on the 15th floor: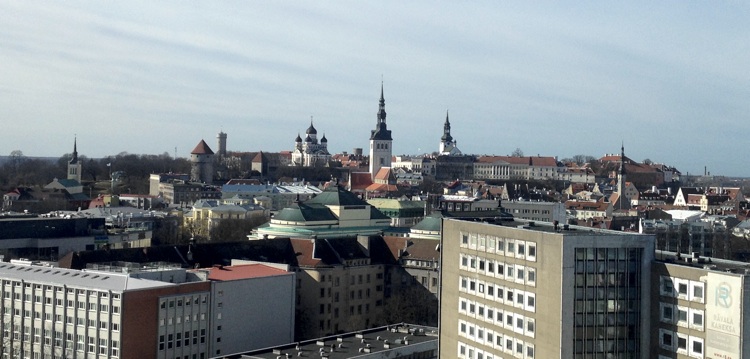 The room itself wasn't the biggest, but perfectly adequate for a solo traveller. A large comfortable bed dominated the room with an easy chair offering the perfect place to relax and enjoy the view across Tallinn's medieval old town.
All the facilities you expect from a Radisson were in place, including a TV with English-speaking channels, a hairdryer, iron and ironing board, tea and coffee making facilities, in this case a Nespresso machine with its capsules topped up each day. And a full minibar, of course! The bathroom was small but functional with a bathtub and powerful shower, plus the standard Radisson toiletries.
Bars and restaurants
On the 24th floor I found Lounge 24, a rooftop bar with an outdoor terrace and stunning views across Tallinn – even better than the view from my room on the 15th floor! The picture at the top of this article is from Lounge 24…
There's live jazz every Monday too, which I'd have loved to have checked out. Another time! I did check out the lobby bar, Harry's, ordering a James Bond (as a Brit in a former Soviet state I simply couldn't resist) and ended up staying for dinner.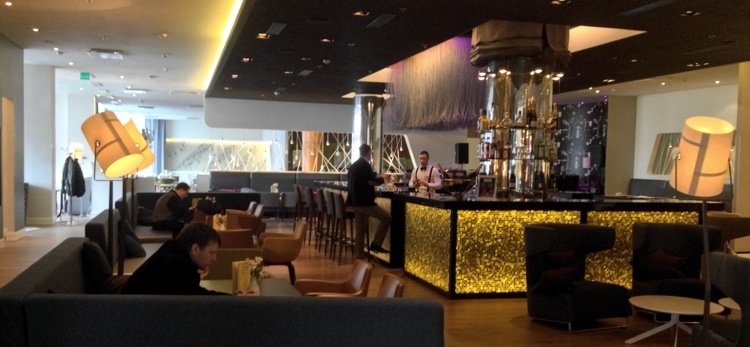 The New-York inspired Harry's Bar serves a decent range of food – I chose duck – although there's an even wider selection at the hotel's grill restaurant next door. I followed this up with an Estonian-style cheesecake, with no idea what Estonian style would be. It turned out to be more cake-like and less sweet than a "normal" cheesecake, but no less delicious 🙂
Harry's was a nice bar with nice food but its proximity to the lobby led to a slightly subdued atmosphere until the pianist started at 9pm, so I'd recommend coming to eat and drink here later in the evening, perhaps prior to a cocktail up at the Lounge 24 bar. If you're heading out to sample the nightlife of Tallinn's old town, it's close enough to be a good choice for an evening meal.
Hotel facilities
A lot of facilities are on offer elsewhere in the hotel. A substantial spa and beauty salon is available including a Finnish sauna overlooking the old town. Further saunas are located in the basement. Free wifi is available throughout the hotel, an airport check-in kiosk is located in the lobby (I took advantage of this) and I was even able to check out an hour late with no issues.
Breakfast
Last but not least, breakfast! The most important meal of the day? If you're spending the day exploring Tallinn on foot, it should be. You'll have no problem filling up at the "super breakfast" buffet.
If you've stayed at a Radisson Blu in Norway you'll be familiar with what to expect – a generous buffet of cold cuts, cheeses, breads, fish, jams, juices, along with a good selection of hot food. You can request omelettes to order.
Radisson Blu is a comforting name for Norwegians and others used to Scandinavian hotels, but it's great to see this hotel doesn't rely on its brand, providing an excellent business-class experience for its guests.
Book your stay at the Radisson Blu Sky with our partners Booking.com
My stay at the Radisson Blu Sky Hotel was complimentary, however this review is free of any influence from the hotel itself.