Despite travelling as much as I do, it's been over six years since I last flew long-haul. On that occasion I flew American Airlines from London to Los Angeles, a whopping eleven hours, and back again. But at least that was just one flight…
For my trip to the Twin Cities, the journey wasn't so simple. I crossed the Atlantic from Copenhagen to Chicago (and back from Chicago to Stockholm) with SAS, but this required connecting flights at both ends. There was an option to fly Delta/KLM via Amsterdam, but this was more expensive at the time of booking.
Outbound: Copenhagen – Chicago
Copenhagen is the major SAS hub and easy to reach from Trondheim. It's an airport I often change at on the way back to Birmingham or elsewhere in Europe. It's also my favourite airport – well laid-out, easy to navigate, and an awesome selection of shops and bars.
Because of all my flying over the last few years, I've achieved Gold status with SAS, which entitles me to use all the Star Alliance airport lounges around the world. The SAS lounge at Copenhagen is particularly nice, with a simple buffet, wine, beers, and other drinks available. With food and drink to come on the plane, I didn't indulge too much, I just sank into an easy chair and listened to some crazy Japanese businessman trying to land a deal.
Sounded like it didn't go well 😉
I was one of the first on the plane so had ample time to stow my bag and settle into my seat. I was on the right hand side of the four middle seats in a 2-4-2 formation, but thankfully there was no one next to me, so I enjoyed plenty of space and comfort during the journey.
Legroom was okay, slightly better than on some domestic flights I've taken. Freebies were a small cushion/pillow, a pair of headphones and a bottle of water. Each seat featured a small personal screen with a controller stowed in the armrest.
The system wasn't the newest, but there were plenty of films and TV shows to keep me entertained, along with an amusing camera on the front and bottom of the plane, especially fun to watch when taking off and landing but less interesting above the clouds…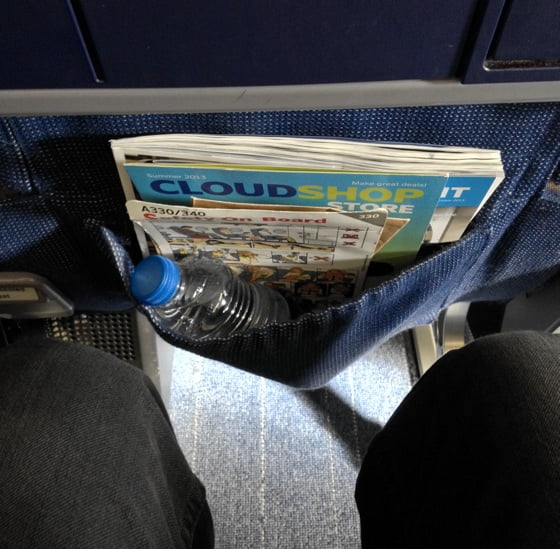 I watched Now You See Me, a pretty cool magic "caper" film starring Jesse Eisenberg and Mark Ruffalo. How can you not love a film with these two in!? During the movie the first meal was served, a really nice chicken risotto (way nicer than it looks in the photo!) with some salad, warm bread, cheese and crackers, and some weird creamy dessert. I chose some white wine to accompany it.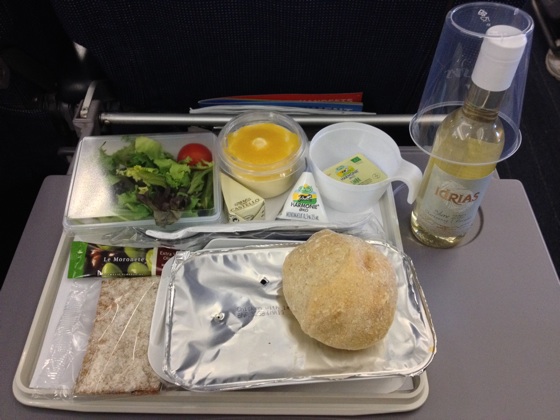 After reading for a while, I tried watching Tinker, Tailor, Soldier, Spy but couldn't get into it. Eat, Pray, Love met the same fate, perhaps it's something to do with random words making up movie titles? Anyway after a brief nap, some more reading, a coffee and a walk around the cabin, it was time for the second serving – a warm vegetarian wrap served with pear juice and a small bite of chocolate.
Chicago O'Hare Airport is truly awful – crowded, badly signed, dirty, and just horrible. Thankfully I didn't have to wait long for my United flight to Minneapolis St. Paul. Give me Copenhagen any day!
Return: Chicago – Stockholm
Ahh the ole' red-eye. I tend to struggle with all night transportation – bus, train, or plane. This flight was no exception.
It started off in frustrating fashion, with long (and in my opinion, needless) queues at security at both Minneapolis and Chicago, but I still made my way from my American Airlines connection to the SAS lounge at Chicago (next to the gate) in a surprisingly short time. It's a much smaller lounge than the Scandinavian ones, but still offers snacks, a good view of the airport and runway, and some decent beer! Samuel Adams – beats Carlsberg all day long.
Again I was early to board so found my seat quickly, and again I was on the edge of the middle seats. However, this time I was unlucky enough to have a tall guy sit next to me – complete with protruding knees and elbows. I could actually see the chances of me sleeping disappear right in front of my eyes.
My strategy was to watch a movie, enjoy dinner with plenty of red wine and hopefully manage to catch four hours sleep in mid-air. I watched and really enjoyed The Great Gatsby as I tucked into chicken meatballs, rice, broccoli, a really good salad, red wine and orange juice.
And another red wine 😉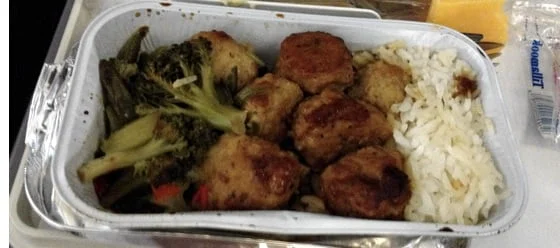 I was comfortable enough in the seat but just couldn't get more than a few minutes sleep at a time. I was able to relax though, and largely ignore what was going on around me (except Mr. Elbows) thanks to the noise cancelling headphones Gerry lent me. I highly recommend them for any night flyers out there!
After 3-4 hours of semi-sleep I gave up as breakfast was only 30 minutes away. I grabbed a Coke Zero and a coffee from the galley to wake myself up before enjoying a typically Scandinavian breakfast – a cheese ciabatta, yoghurt and of course, even more coffee.
The feeling of landing at 7am when your body feels like it's 1am is impossible to explain to anyone who's not flown long-haul before. If you haven't, let's just say it's not very nice.
While not as nice as Copenhagen, Stockholm Arlanda Airport is still a pleasant place to spend a few hours waiting for a connection, especially with lounge access. A few orange juices, coffees, and snacks later I actually felt like it was morning. I even got an hour's work done!
I was surprised to find my flight to Trondheim was on a Braathens Regional Saab – my first flight on a prop-plane and a freaky experience watching the propellor crank up out of the window.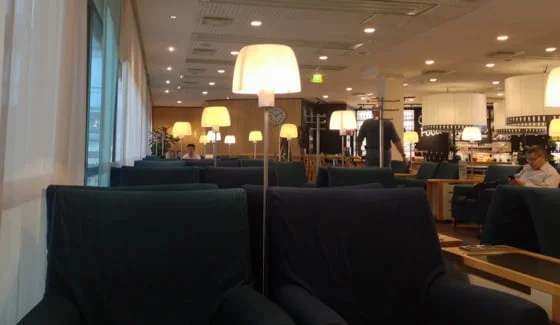 And with that, I was home 🙂
Want to know what I got up to in the Twin Cities? Stay tuned!