The story of the Norwegian love of coffee and discover the best places to join the locals.
If you've never been to the region it may surprise you that people in the Nordic countries drink a lot of coffee. In the cold climates of Finland, Iceland, Sweden, Denmark and Norway, coffee is big business.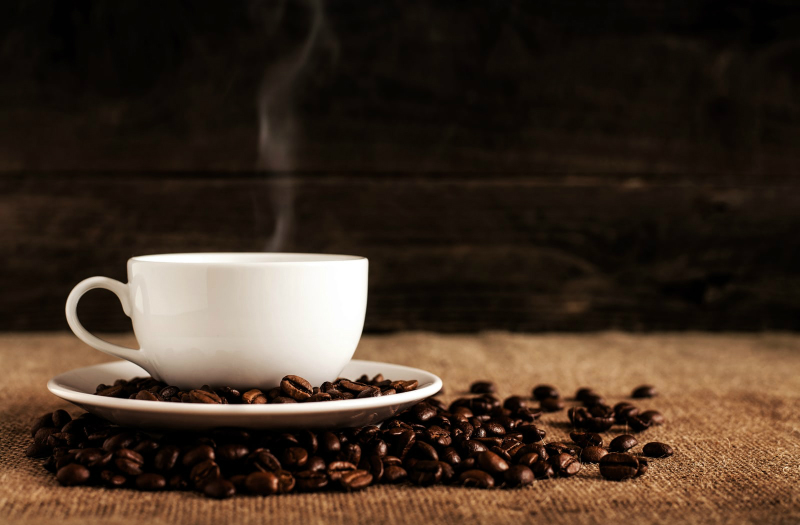 Typically, Norwegians drink coffee at breakfast and at dinner after the meal or with dessert. Then there's the coffee consumed during the day. Those cups at work quickly add up.
The Swedes even have a word for their take on the premium coffee break, at which something sweet is consumed with friends, families and colleagues, but always alongside a cup of coffee: fika.
The Scandinavian obsession with coffee
In Norway's capital Oslo, there is a coffee shop on most street corners. Because coffee is so readily accessible, Norwegians can easily keep up their habit of at least two cups per day. Many drink way more than that.
But given that Norway's climate can't support the growth of coffee beans, how did Norway turn into a nation of coffee lovers? And how does coffee fit into everyday Norwegian life?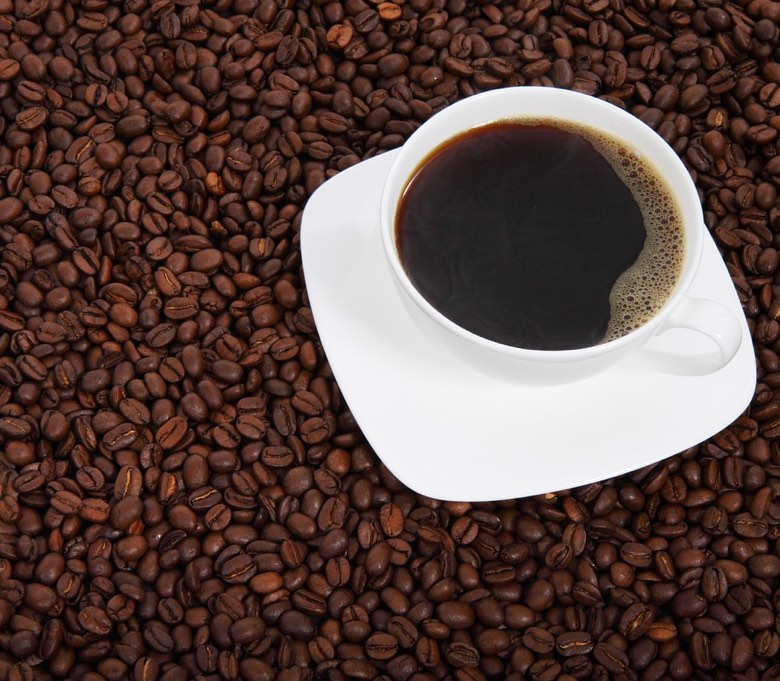 The history of coffee in Norway
Between 1917 and 1927, Norway had a prohibition on alcohol, but this mainly applied to spirits.
Some believe that this restriction on alcohol partly resulted in Norway becoming the coffee-drinking nation it is today. Even when alcohol was available, the high price pushed people to find another social drink.
Coffee arrived in Norway in the early eighteenth century, where, just like Europe, it was a drink mostly enjoyed by the wealthy. This was despite Norway being a fairly poor nation at that time.
Coffee still trickled down to the poorest parts of society, helped by an increase in trading that saw a sharp increase in people drinking coffee.
Despite these initial factors, I believe one of the biggest reasons for the spike in coffee's popularity in recent years is largely to do with the country's climate.
Norwegian coffee shop chains
In the dark and cold of a Norwegian winter, it's fairly common to see coffee shops full with people huddled over their steaming mugs in warm and cosy surroundings. Norway's climate means it's even more of a reason to visit a coffee shop. It's also a popular pastime during afternoon shopping, taking time out to recharge before returning to the shops.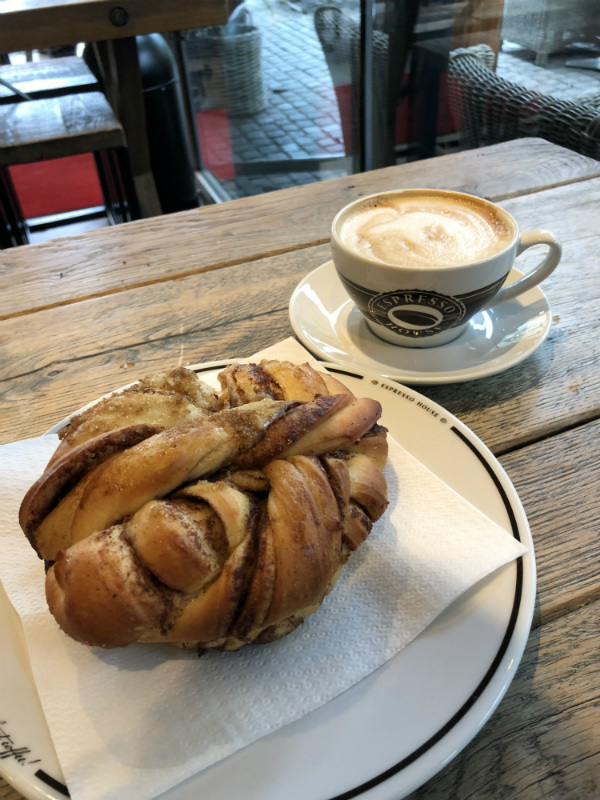 Espresso House is the most frequent face of all coffee shops in Norway and is the largest chain in all Nordic countries. It was founded in Lund in Sweden in 1996 and now has 430 locations across Norway (44), Finland (44), Denmark (52) and Sweden (243).
In addition, it also has a total of nine outlets in Germany. Espresso House serves everything you could expect from a coffee shop, including festive varieties on coffee during the holidays and many iced versions of traditional favourites during the warmer months. If you're a regular visitor, download the Espresso House app for 10% off regular prices and frequent coupons.
Coffee shops in Oslo
Another prominent player in coffee shops in Norway is Kaffebrennerient. Unlike Espresso House, Kaffebrennerient is located only in Norway and has a focus on Oslo. It was founded two years before Espresso House in 1994, but different in its interior and overall coffee shop ethos.
Kaffebrennerient was built on the model of the coffee shops of the west coast of America – clean and sleek shops with an open plan feel. The chain boasts over twenty shops in Oslo alone.
But many Oslo locals and especially the coffee connoisseurs prefer Stockfleths. The expert brewers trace their origins back to 1895. It's also the place where Oslo coffee expert Tim Wendelboe got his start.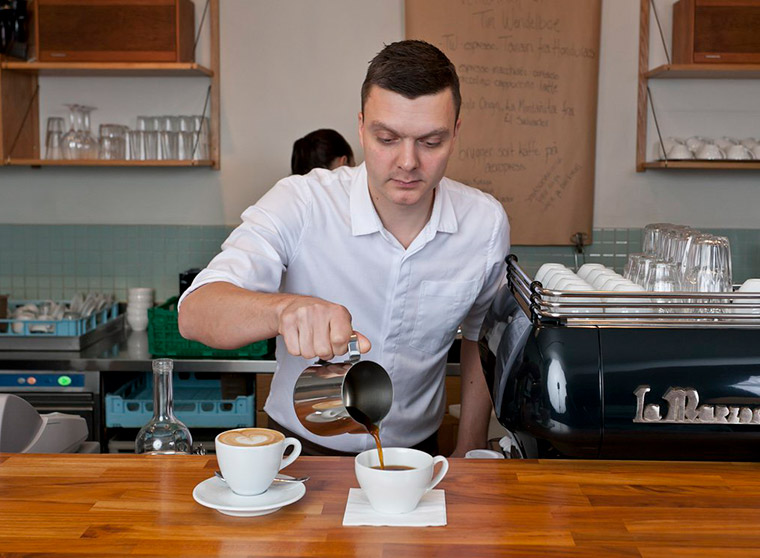 Tim now runs his own roastery and espresso bar espresso bar, but spends much of the year working directly with the farmers who grow his beans. Read this interview with Tim to find out more about his story.
Independent coffee shops in Norway
There are also numerous independent coffee shops in Norway. Check review sites for the coolest places to hangout and for the best coffee in town, of course. The smaller coffee shops can often be the best places to get your caffein fix, often offering something a little different compared to regular, bigger chain coffee shops. And of course, you'll nearly always find a Starbucks hidden away down a city street if you get stuck.
Coffee facts & figures
A recent survey to find the world's top coffee consuming countries revealed Norway's love for coffee. Norway ranked second, with an average annual consumption of 9.9kg per capita. Norway trailed leaders Finland (12kg) but placed ahead of Iceland in third with 9kg. Nordic neighbours Denmark were in fourth on 8.7kg and Sweden in sixth on 8.2kg.
These facts and figures from Norsk Kaffeininformasjon are overwhelming:
In Norway, 9 out of 10 adults drink coffee
2 out of 3 of them drink coffee everyday
2 out 3 people also have a coffee machine in their home
Coffee and hiking
Coffee is as much a part of Norwegian hiking as hiking boots, Kvikk Lunsj or the humble sandwich. Turkaffe (hiking coffee) is a tradition that goes back a long way. To go hiking or camping in Norway without coffee would be like going skiing without skis – it simply wouldn't happen.
For many, drinking coffee on these trips is something that has been passed down from generation to generation, and coffee drinking can start in childhood. While short trips may be about bringing a thermos and stopping for a black coffee and Kvikk Lunsj break, on longer jaunts it's as much about the process of making coffee.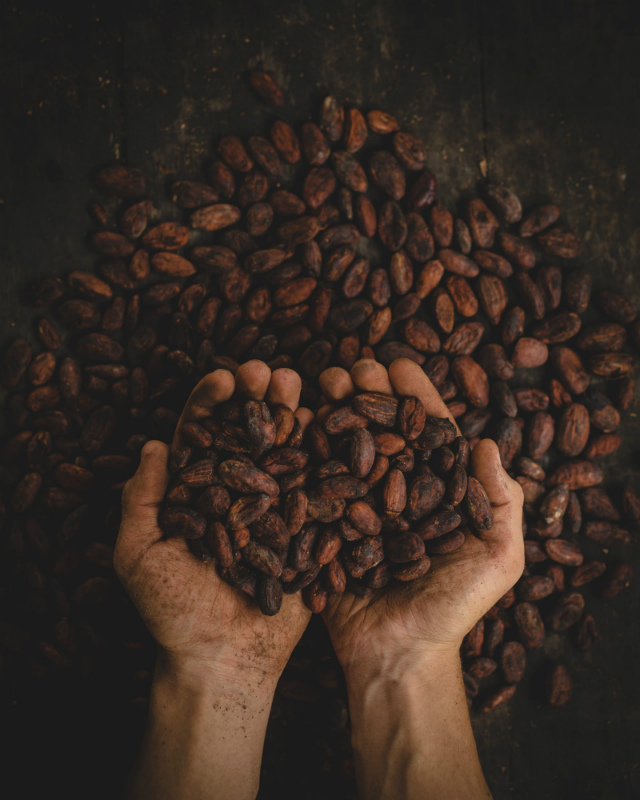 It might start with the collecting of wood and starting the fire (or using a gas stove), readying the pot, then waiting for the freshly brewed coffee. Hiking just wouldn't be hiking without coffee.
Coffee in supermarkets
Up until fairly recently, the coffee selection in Norwegian supermarkets was fairly slim. Nowadays, it's much better, and it's expected to get even better. A recent agreement between Nestlé and Starbucks will see Starbucks Coffee sold in Norwegian supermarkets.
It means that Norwegian shoppers with have more choice in addition to the standard options with brands like Evergood, Friele, Ali, Jacobs, Espresso House and each chain's own brand. Both Nestlé and Starbucks have clearly realised there is an opportunity in the Nordic area and have pounced.
Top tip: If you are on the lookout for something away from the familiar brands then there are usually a few independent coffee stores dotted about Norwegian cities. That's especially true in the big cities Oslo, Stavanger, Bergen and Trondheim. These shops often sell more specialist coffee and a more diverse bean range.
Next time you are in Norway, whether you're hiking, camping or on a city break, be sure to warm yourself up with a mug of steaming hot coffee.