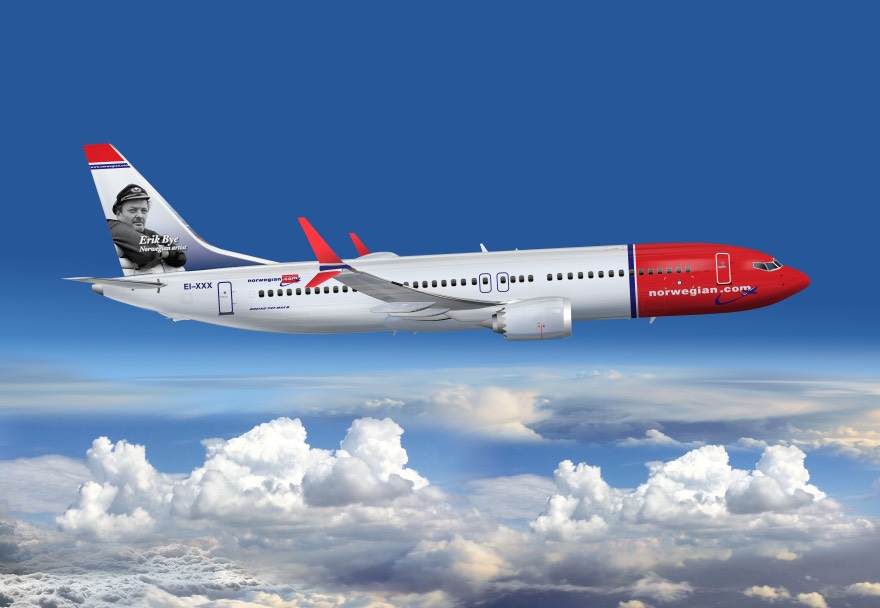 We take a closer look at some of the famous faces that adorn the fleet of Norwegian Air jets flying around the world.
A Norwegian plane is hard to miss in the skies. Its distinctive red and white livery affectionally known as a "red nose" is one of the most instantly-recognizable airplane designs. But there's another feature of Norwegian's fleet that catches the eye. Adorning the tail fin of each of the 171 jets is a large portrait.
When the first of Norwegian's Boeing 737's took to the skies in 2002, they were challenging the establishment within Scandinavia. To make the point, they chose to include an image of other people who have pushed boundaries on their tail-fins.
As the airline grew and the fleet was refreshed, Norwegian stuck by this original design. First Norwegians and then Scandinavians, the entire fleet now features personalities from every market in which Norwegian operates a base: The Nordic countries, Spain, France, the United Kingdom, Ireland, Argentina and the U.S.
Read more: Norwegian Launch New Routes From Norway
Join us as we take a look at some of those names. We won't cover them all, but it will give you an idea of what to expect. Some names you'll know, others will be new to you. Welcome to the wonderful world of Norwegian's tail-fin heroes!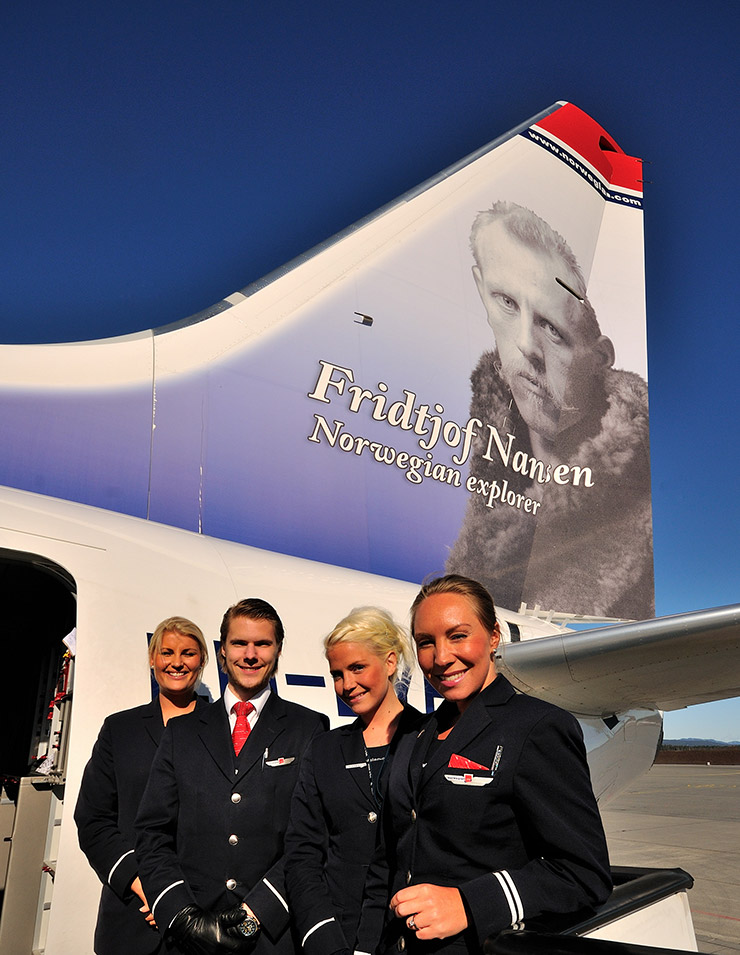 Norwegian heroes
It's easy to guess many of the Norwegian contingent on the planes. The likes of composer Edvard Grieg, sculptor Gustav Vigeland, artist Edvard Munch and playwright Henrik Ibsen are of course included.
There's also explorers Fridtjof Nansen, Otto Sverdrup, Helge Ingstad, Thor Heyerdahl and more. It seems only right that so many early pioneers of global exploration should be honoured on aircraft that travel the world.
But there's many names that while better-known inside Norway, are less well-known internationally. They include women's rights activist Fredrikke Marie Qvam, actress Wenche Foss, cybernetics engineer Jens Glad Balchen, and the novelist and Nobel Prize for Literature winner Sigrid Undset.
Norwegian resistance heroes are also honoured on tail-fins. Harry S Pettersen and Gunnar Sønsteby were involved in critical sabotage operations and other activities throughout World War II in northern Norway and the Oslofjord region respectively.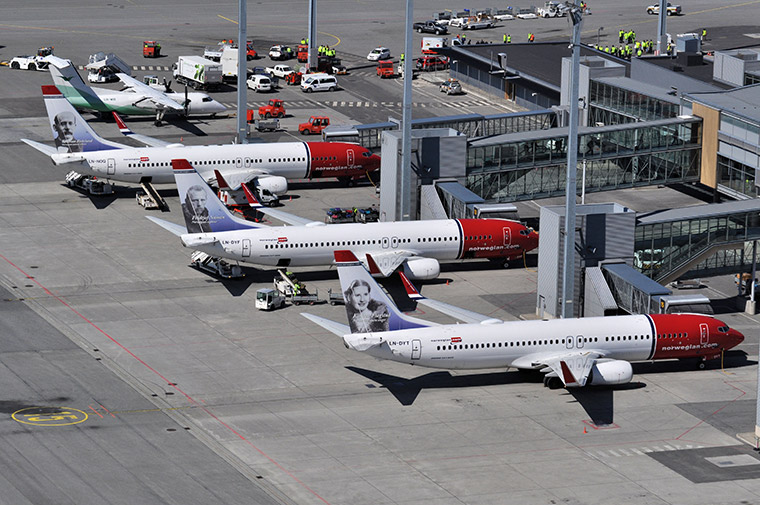 Other Nordic names
There are many tail-fin heroes from other Nordic nations too. Perhaps the most globally famous is Swedish actress Greta Garbo, who received an Academy Honorary Award in 1954.
Other Swedes honoured with their own tail-fin include the artist John Bauer, opera singer Jenny Lind and artist Carl Larsson. Industrial inventor Christopher Polhem also features.
The most famous Dane to get their own Norwegian tail-fin has to be Hans Christian Andersen. The prolific writer of plays, travelogues, novels, and poems is best remembered for his fairy tales.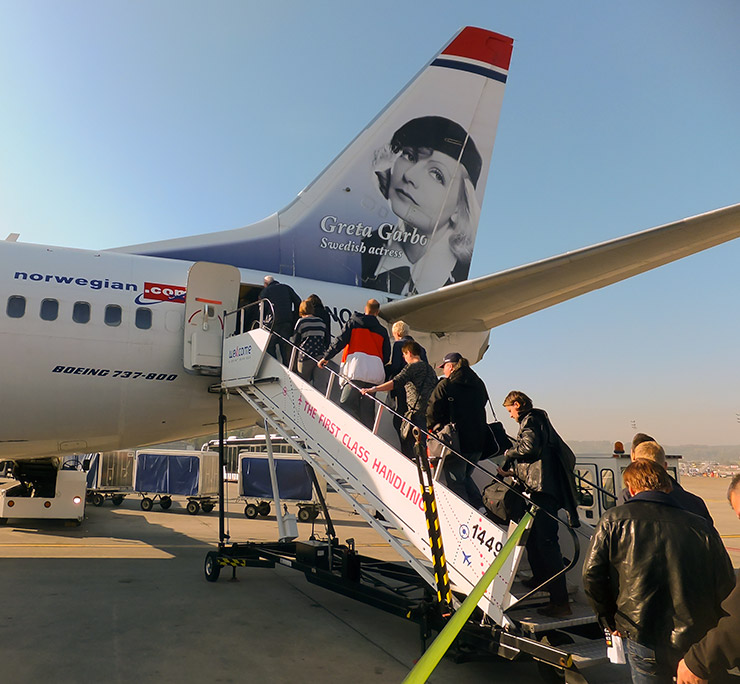 But as with the other Scandinavian countries, Norwegian feature a broad range of Danes, some globally famous, others not so much. Author Karen Blixen, improvisation actor Dirch Passer and comedian Victor Borge are among the other Danes.
Another well-known Dane with a Norwegian tail-fin is the architect Jørn Utzon. He was best known for designing the iconic Sydney Opera House, but also made important contributions to housing design within Denmark.
There are also a handful of Finnish names chosen by Norwegian, including writer and activist Minna Canth and poet Johan Ludvig Runeberg.
International heroes
Since Norwegian began to open bases outside of Scandinavia, the nationalities of their tail-fin heroes also expanded. One interesting choice from the UK even has a strong Norway connection! Author Roald Dahl was born in Wales to Norwegian parents, and grew up speaking the Norwegian language at home.
Another popular British name to feature is the groundbreaking novelist Jane Austen. Although she achieved only moderate success during her lifetime, Austin's work has since gone on to be recognised as a major contribution in the transition to 19th-century literary realism.
Despite cuts earlier this year, Spain remains an important base for the airline. It's no surprise then to see many Spaniards among the tail-fin heroes. They include Poet Gloria Fuertes, politician and women's rights activist Clara Campoamor and explorer Juan Sebastián Elcano. Elcano was the Basque navigator who first completed a circumnavigation of the Earth by sea.
Americans to be honoured include aviator Charles Lindbergh, writer Mark Twain and politician Harvey Milk. The lesser-known radio engineer and entrepreneur Arthur Collins also gets a tail-fin.
Many other nationalities feature on the fleet. Irish poet and playwright Oscar Wilde, French hot air balloon pioneers Joseph & Etienne de Montgolfier, Italian explorer and writer Marco Polo, and Argentinian artist Xul Solar are among them.
Who is your favourite Norwegian tail-fin hero?