There are plenty of puffins in Norway, but catching a glimpse of these adorable creatures requires some planning. Here's what you need to know.
Aside from penguins, puffins must surely be the most smartly dressed bird. With an immaculate black and white coat, vivid orange beak, expressive eyes and playful nature, puffins are loved by people all over the world.
Also known as the Arctic puffin, the Atlantic puffin is the species you'll find in Norway. While Norway is home to approximately 30% of the world's Atlantic puffins, they are far from easy to find.
That's not just because of their small size. Puffins prefer a life at sea, moving to rocky colonies mostly during the breeding season.
Of all the birds in Norway, puffins are a big tourist attraction. Whether you're a keen birder, wildlife photographer or simply curious, getting to the best spots at the right time requires some planning.
Introducing the Atlantic puffin
These carniverous birds live most of their lives at sea and simply rest on the waves when not swimming or flying. They are excellent swimmers, steering with rudder-like webbed feet and can dive down to 200 feet, although not for very long.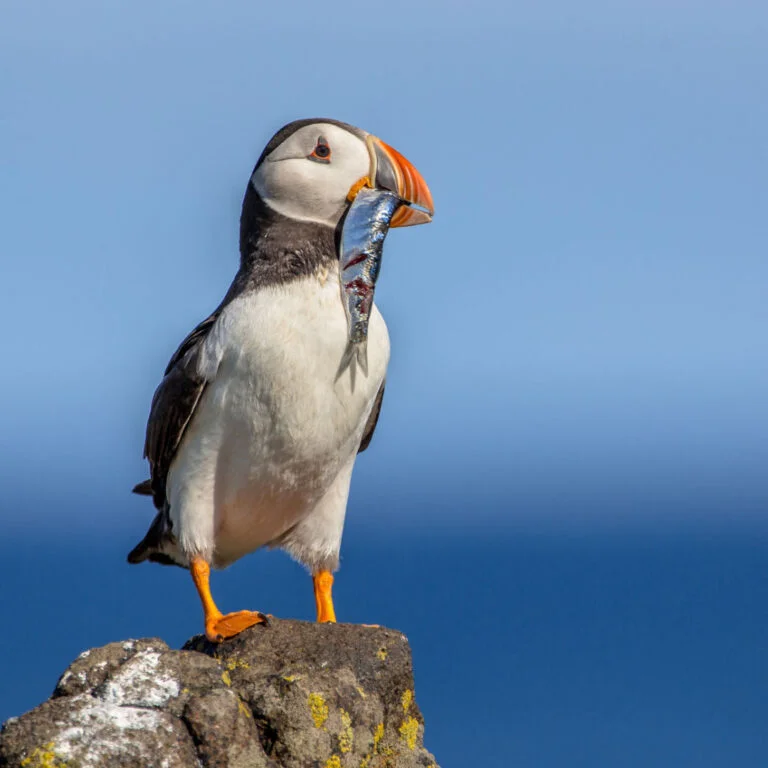 Aside from Norway, the Atlantic puffin lives all across the Atlantic Ocean. The majority of the world's population, as much as 60%, breed on bird cliffs in Iceland.
Puffin colonies in Norway
The vast majority of Norway's Atlantic puffins are spotted along the Atlantic Ocean and Norwegian Sea, when they come ashore to breed.
There are several bird cliffs on Norwegian islands which puffins favour, mostly but not exclusively in remote parts of the north.
Runde
We'll start off by looking at the southernmost colony. As it's close to Ålesund, Runde island is relatively accesible for tourists although it still needs planning to get to.
Runde is a very small island, home to just 150 people. However, it's the 500,000 seabirds including up to 100,000 puffins up until the end of July that draws visitors. The hike to the bird cliffs takes about one hour.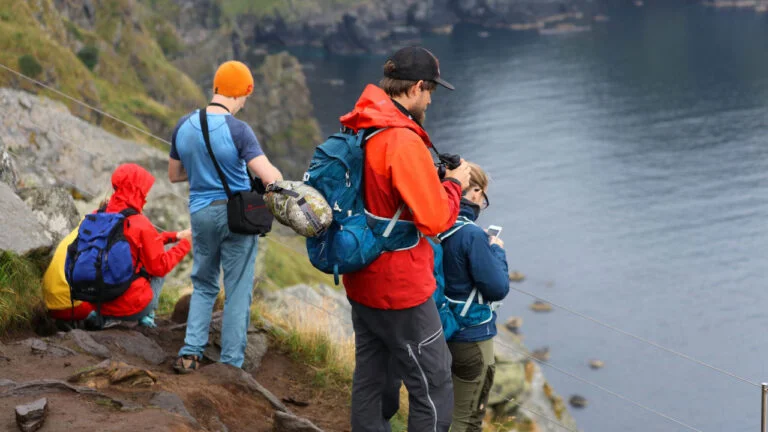 Runde is also known for a number of shipwrecks, notably the Akerendam in 1725. Rediscovered by scuba divers almost 250 years later, the ship contained more than 57,000 coins including many of gold.
Thanks to a number of bridges, Runde is accessible by car but is more than two hours' drive from Ålesund despite the relatively short point-to-point distance. For those looking for a closer place to stay, consider Ulsteinvik.
Lovund, Helgeland
A highlight of the Helgeland coast, Lovund is another small island community with a big colony of puffins. It's a natural addition to a longer drive along the Helgeland costal road, one of Norway's national scenic routes.
That being said, it's probably a good idea to leave your car on the mainland. There are very few roads on Lovund, and you need to hike a trail to get to the bird cliffs. The puffins arrive in mid-April.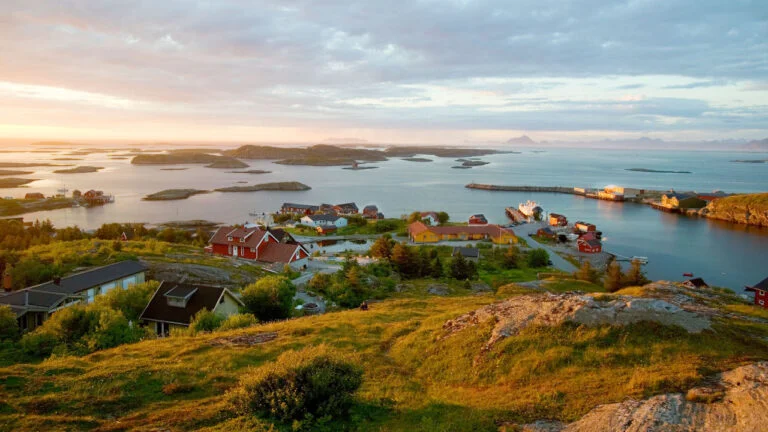 There is a year-round ferry to Lovund with 1-2 daily departures from Sandnessjøen. During the summer, a Nordland coastal ferry from Bodø calls at Lovund on its way to Sandnessjøen. There are other departure points for both ferries.
Røst, Lofoten
Another remote island—are you starting to sense a theme here? The island of Røst is a fascinating place to visit. Known as a fishing community, Røst is also known internationally as a birding destination.
A nearby island has one of the biggest bird cliffs in the North Atlantic. While you can get to Røst by car ferry or by air, you'll need to join an organised tour to see the puffins. You'll also see colonies of European shag, kittiwake and cormorants.
Bleik, Vesterålen
Have you had enough of remote Norwegian islands yet? Nope? Good, because we're heading to the Vesterålen islands.
The fishing village Bleik on Andøya island is known for its long, sandy beach and its wildlife. An offshore canyon attracts whales and giant squid, while the steep uninhabited island Bleiksøya is home to vast numbers of puffins.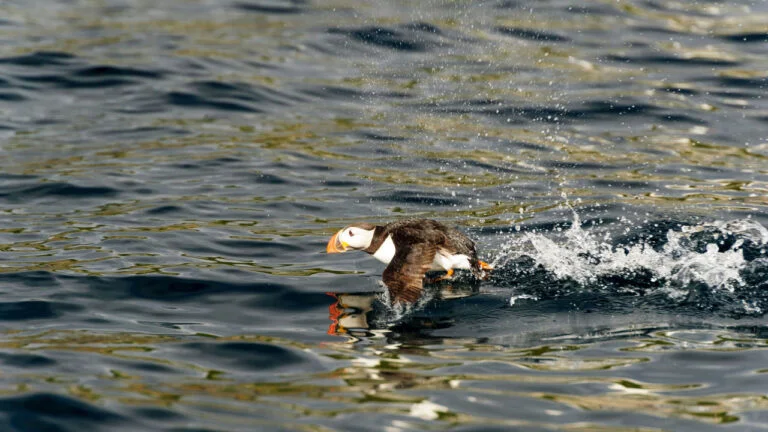 As the island is uninhabited there is no public way to access the bird cliffs, so you'll need to join an organised puffin safari from Bleik or Andesnes. It's just ten minutes out to the island from Bleik, leaving plenty of time for birdwatching and photography.
Hornøya, Varanger
At the very northeast of Norway, the island Hornøya off the Varanger peninsula is another prime birdwatching location.
Accessible via a summer-only boat tour from Vadsø, Hornøya is home to less than 10,000 breeding pairs of puffins. But there's plenty more birdlife to enjoy, including the common guillemot, Brünnich's guillemot, razorbill and the kittiwake.
Svalbard
Puffins do gather along the western coastline of Spitsbergen and on Bjørnøya, but hte numbers are not so great compared to the size of the land. While you shouldn't go to Svalbard in order to see puffins, you should keep an eye out if you go!
When to see puffins in Norway
Once you've picked your preferred location, it's time to look at the best time. The breeding season tends to begin in mid-April, with puffins arriving in some places on the same day every year.
Generally speaking, the best time to see the birds is in June and July, before they leave once again for the open ocean.
Before planning a trip specifically to see Atlantic puffins in Norway, it's well worth doing some local research.
Look online for advice about birdwatching in the specific area. If you have questions, contact the local tourist information office. Knowledgable locals will be best placed to advise on local conditions, hiking trails, accommodation and so on.
Have you seen puffins in Norway? If so, where? What tips would you give keen birdwatchers? Let us know in the comments below.