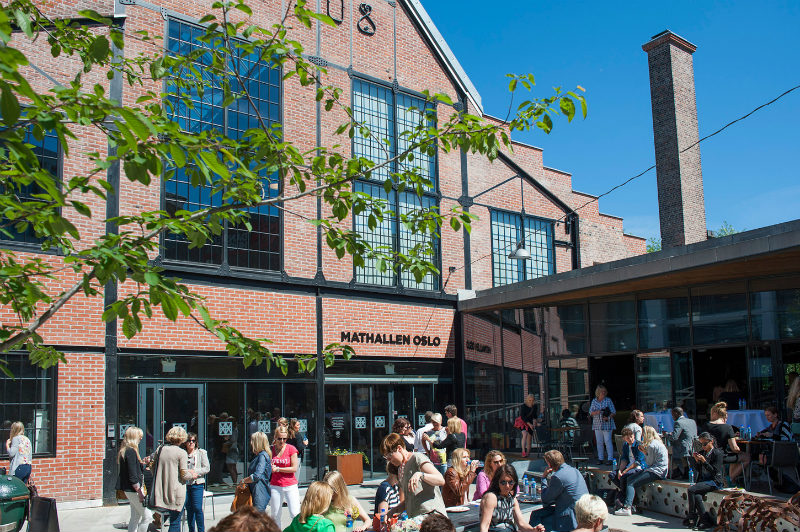 Explore Oslo's cool and quirky side with this guide to places to visit on the city's flourishing hipster scene.
In Oslo, there is always something new being built, and a day never passes when you don't walk past some type of building site or renovation. Norway's capital is always changing and evolving.
Oslo is a young city, full of cultural diversity and a place with a truly international makeup. It's these core ingredients (and the help of huge funding) that has helped with the development of the fashionable and the trendy parts of the city.
The leading light in this cool and happening surge is a part of the city known as Grünerløkka. Located in the East End of Oslo, its vibrant and colourful streets and avenues are lined with quirky coffee shops, cool bars, retro clothes stores and an array of international places to eat.
Norway's capital is hip and is happening now. Let's take a closer look at some of the cool places in Oslo to visit.
Oslo Street Food
Just a short distance from the city centre in Torggata, is Oslo Street Food. This former bad (baths) has been transformed into an international array of food stands (16 to be precise). Here, you can find food from Hungary to Hawaii and it's all under one roof.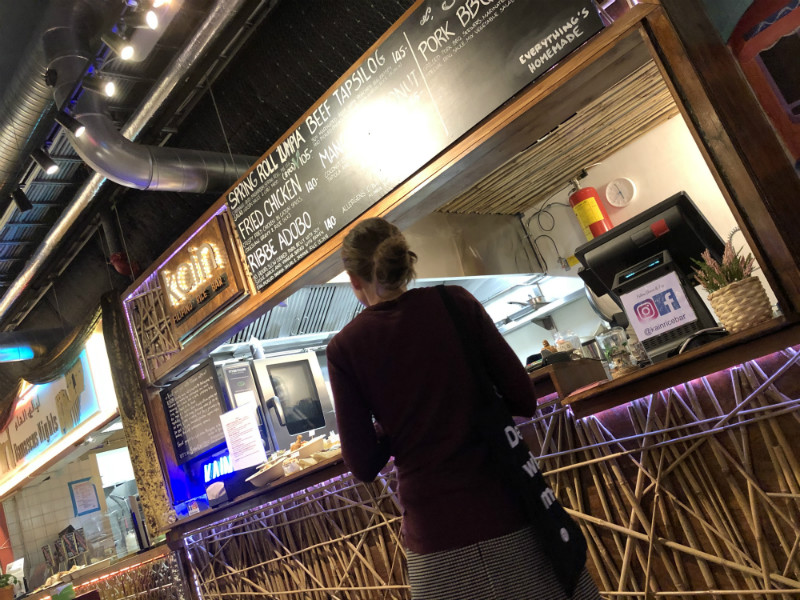 One of my favourite places to eat in the Food Hall is Kain, a Filipino rice bar. I can highly recommend the Ribbe Adobo – a slow cooked pork belly, soy sauce, garlic, egg, papaya salad, served with jasmine rice. This dish goes great with a cool glass of Aass Pilsner from the nearby Pool Bar.
Read more: Oslo Travel Guide
Located by the entrance/exit of the food hall is a place called Monkey's. It's a sweet stand that sells indulgent bubble waffles, decorated in a fun way and sure to give you a sugar rush. There are also a few bars and a coffee stand so it's possible to pick the perfect drink to match your choice of food.
Also in the building is Oslo Bar and Bowling, a great place to enjoy a drink whilst you play games with your friends. You can choose from bowling, billiards, shuffleboard, or just kick back with your friends in the lounge.
If street food is your thing, check out Vippa. The former waterside warehouse has been converted to a street food venue with a social mission.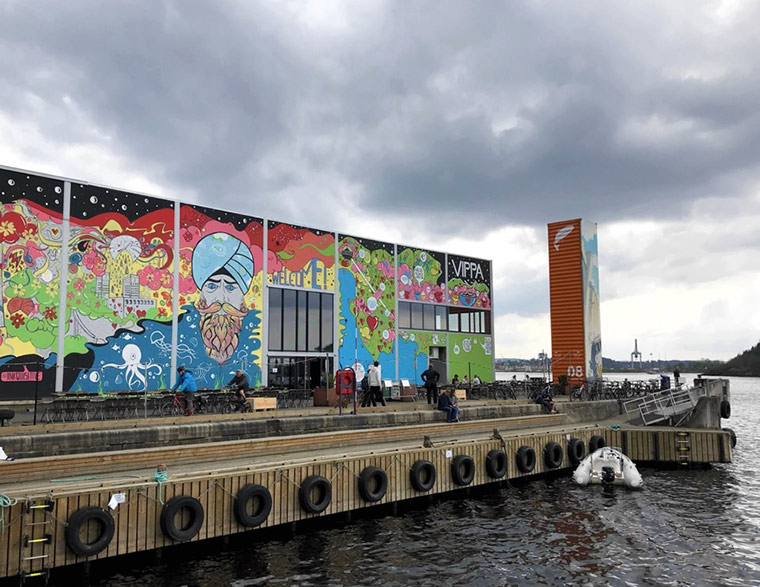 Tilt Arcade and Bar
Right next to Oslo Street Food on Badstugata is Tilt. A bar over three floors of pinball machines, shuffleboards, pool tables and plenty of other entertaining things. You'll find pinball machines from The Adams Family to The Munsters, as well as everyone's arcade favourite, PacMan.
Read more: Oslo in Pictures
Tilt has an excellent choice of beers, both on tap and in bottles and cans. Its selection of craft beer from microbreweries in Norway is particularly impressive.
On my latest visit, I was surprised to find a few beers from my favourite Stavanger brewery, Lervig. However, after a few beers I'm not sure it gave me the competitive edge over my friends in all the gaming fun.
Radio Løkka
Radio Løkka is a trendy little bar on Thorvald Meyers Gate in Grünerløkka. It's decorated in a natural way, with lots dark woods. But by far the coolest thing is the numerous vintage radios on the walls.
Radio Løkka is the perfect place to grab a light bite to eat or take a short break from city life, or enjoy a glass of pils after work on a Friday.
Vulkan
Located on the banks of the Akerselva River is Vulkan. A former industrial zone in the city, Vulkan is an area that has been transformed into a vibrant array of bars, restaurants, eco-friendly apartments, offices and hip hotels.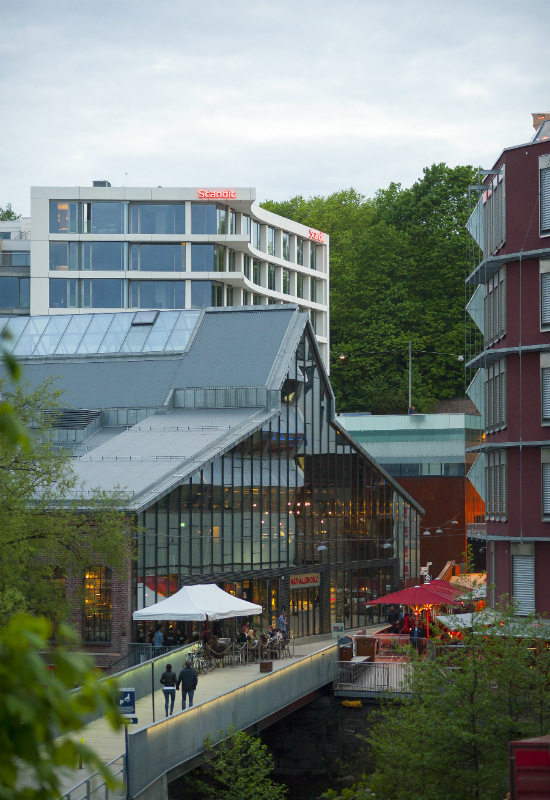 Vulkan has many trendy bars and cool places to eat. Lucky Bird is an American food eatery giving you southern Americana from fried chicken to mac 'n cheese. The portion sizes are very generous.
It's also home to Mathallen, an indoor food hall that has some thirty food stalls. In addition to the array of fresh and prepared foods in Mathallen is a place called Hopyard, a bar with over 200 different types of beer.
Read more: The History of Oslo
If you want to work off some calories, then why not head over to Vulkan Climbing Centre. Here you'll find something for all skill levels on their various indoor climbing and bouldering walls. Equipment can be hired.
If you are looking for somewhere to stay in the area then PS:Hotell is convenient and trendy. To quote their website, they offer 'a comfortable, unpretentious and relaxed atmosphere in a three-star hotel'.
PS:Hotel has just 31 rooms and happens to be one of Oslo's smallest hotels. Its location in the vibrant part of Grünerløkka, simple but sleek rooms, make it the perfect choice for younger travellers and visitors in Oslo.
Hendrix Ibsen
Also in the Vulkan neihbourhood, Hendrix Ibsen is a café with a chilled vibe. It's a place that is so good I felt it deserved its own section. In this café bar you can get tasty pastries, creamy cappuccinos and delicious sandwiches – it's also vegetarian friendly.
Hendrix Ibsen is often noted for its good taste in music, friendly and welcoming staff and laidback atmosphere. These ingredients make it a great place to enjoy a beer or quick lunch.
On cold winter days/nights, keep warm with friends over a hot chocolate and play some board games. This café bar has something for everyone.
Døgnvill Bar and Burgers
In my opinion, Døgnvill burgers are the best in Norway.
I'm never disappointed after eating in one of their three Oslo restaurants (located in Akerbrygge, Operagata and Vulkan). Døgnvill also has many chains across Norway.
If you do visit a Døgnvill restaurant anytime soon, be sure to checkout their chilli cheese fries or the sheer variety of their generously sized burgers. Prices range from NOK 179 to 278. Vegetarian options, vegan choices and gluten free options are also available.
Good hamburgers are hard to find in Norway. Thankfully, Døgnvill puts puts a Norwegian spin on a great American favourite. Their milkshakes are pretty damn good too!
Aker Brygge
Another place to consider if you're looking for a chill and a colourful place to hangout is Aker Brygge. Situated not far from Rådhusplassen (The City Hall Square), this an area that has gone under extensive remodelling since the turn of the century.
Formerly, it was a shabby and neglected dockland but now it's been transformed into a sleek and hip haven for Oslo's residents.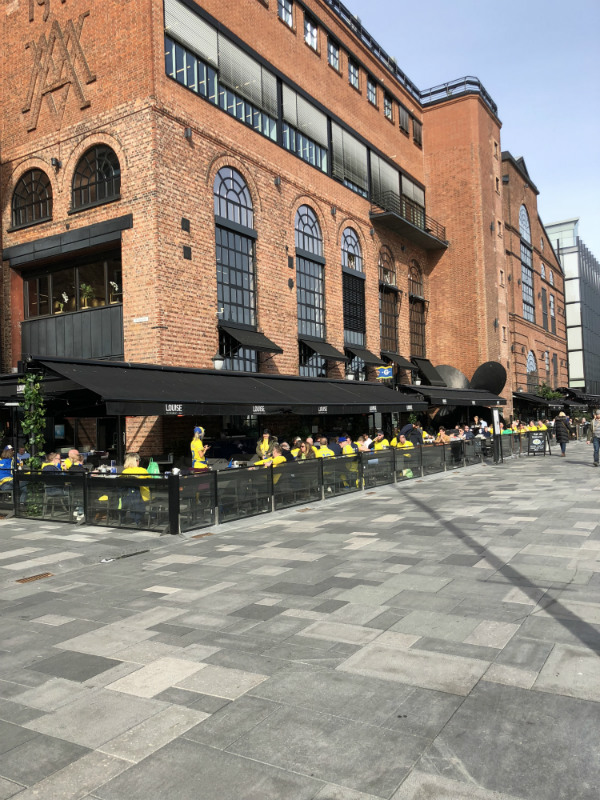 What adds to the overall appeal of this part of town is aesthetically, its pleasing on the eye. Rarely will you see two buildings that are alike, and despite the renovations and newness of Aker Brygge it has a general feeling that it's been around for a while.
Located amongst its various waterways you'll find many cool places to get a drink, numorous restaurants to grab a bite to eat, shops, museums, offices, and if you have several million Norwegian Kroner to spare, modern apartments with views over Oslo fjord to live in.
Looking for something more energetic? In nearby Tjuvholmen you'll find an indoor skatepark and a small outdoor gym area to pass the time.
Vigeland Park
Last but by no means least, I would highly recommend a visit to Vigeland Sculture Park in Frogner.
The park attracts many visitors from old the young, and its sculptures can mean something different to each of those visitors. The best thing is hipsters (and hipster wannabes) can access the park at all hours! It's open 24 hours a day and is totally free.
The park has over 200 sculptures in bronze, cast iron and granite by the renowned Norwegian artist Gustav Vigeland.
It's a place that attracts more than one million tourists every year, with scultures such as the iconic Sinnataggen (The Angry Boy) and the park's giant, Monolitten (The Monolith) proving most popular. Vigeland Park should be right up there on your things to do in Oslo next time you spend time in the city.
What are your favourite hangouts in Oslo, Norway?