Life in Norway Show Episode 23: Long-term Longyearbyen resident and tour guide Anna Lena Ekeblad talks adventure tourism in Svalbard on a scenic drive around the settlement.
After more than seven years in Norway, I finally ticked off a major item on my bucket list this March by visiting Svalbard. The Arctic archipelago is the farthest north you can get on a scheduled flight – anywhere in the world.
Adventure tourism in Svalbard
Although coal mining still takes place on Svalbard, scientific research and adventure tourism are of growing importance. Because you can't leave Longyearbyen, the main settlement, without a gun and without knowing how to use it, the role of tour guides is an important one.
Swedish citizen Anna Lena Ekeblad has lived in Longyearbyen for a remarkable 24 years. She has worked in tourism for all of that time and today runs her own tour company Barents Expeditions. Her company takes interested visitors on a dream tour of the fjords of Svalbard on multi-day expeditions by boat.
When she invited me for a tour of the landscape immediately surrounding Longyearbyen, I didn't hesitate, and took my recording equipment along for the ride! Enjoy the show, and don't forget to scroll down for the photos.
Listen to the show
You can listen to the show using the web player below, or on your podcast player of choice, including: Apple Podcasts, Stitcher, YouTube (audio only), and now Spotify. Simply search for 'life in Norway' on your platform of choice to get started.
Wherever you listen, don't forget to hit 'subscribe' to ensure you don't miss an episode!
Adventdalen
We begin by driving up to coal mine number seven, the last remaining coal mine in operation on Svalbard. As you'll hear on the podcast, it's incredibly cold and incredibly windy!
From our position around 400 metres above sea level we can see some of the 40km of road that's here on Svalbard, winding its way along the valley floor back to Longyearbyen.
Beyond the fjord we can see mountains beyond the Isfjord covered in white snow. Despite what it looks like now (in March), Anna Lena explains that in the summertime we will see green and brown, not white!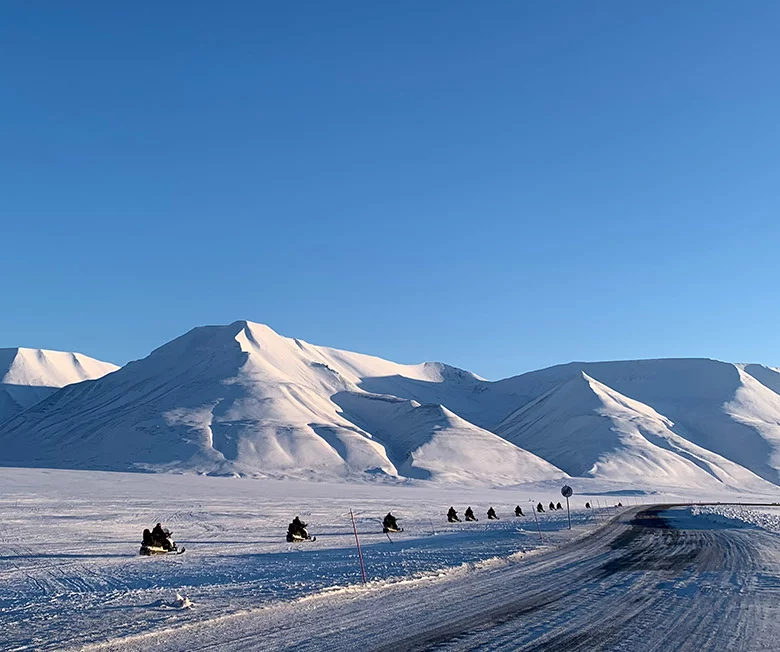 We also see a whole bunch of people on snow scooters, using what is essentially a scooter highway running parallel to the road. Anyone with a regular driving license is permitted to use a scooter in Svalbard. Tourists looking to rent one will be given basic instruction.
Longyearbyen and the Isfjord
Having spent the previous four days in Longyearbyen, we skip a tour of the town itself. Here you can read my write-up on life in Longyearbyen, with plenty of photos of course! However, I do ask Anna Lena what brought her to the town all those years ago:
"I lived in Iceland for a few years and also went to Greenland so I was just finishing the Arctic on my travels. I came here when I was 24 and immediately fell in love with the nature and the changing environment. I came back to work here in 1995."
Once we pass Longyearbyen, we turn onto the tundra toward the Isfjord. The colours in the water are beautiful as it starts to freeze close to the shoreline.
We pass a campsite next to Svalbard airport, currently closed. Anna Lena tells me guests stay here during the summer at their own risk.
Bjørndalen
We soon reach Bear Valley, named as it's one of the most common places near the town to see polar bears. Anna Lena says a bear will be spotted here three or four times per year. The area is rich with wildlife, and we see several wild reindeer grazing at the side of the road.
Svalbard reindeer are small, and tend to live in small groups. Much of the energy they require during the long winter comes from a thick layer of fat, with the remainder to be found from what little tundra vegetation they can discover.
Seconds later Anna Lena sees a Svalbard rock ptarmigan, and then another, by the side of the road.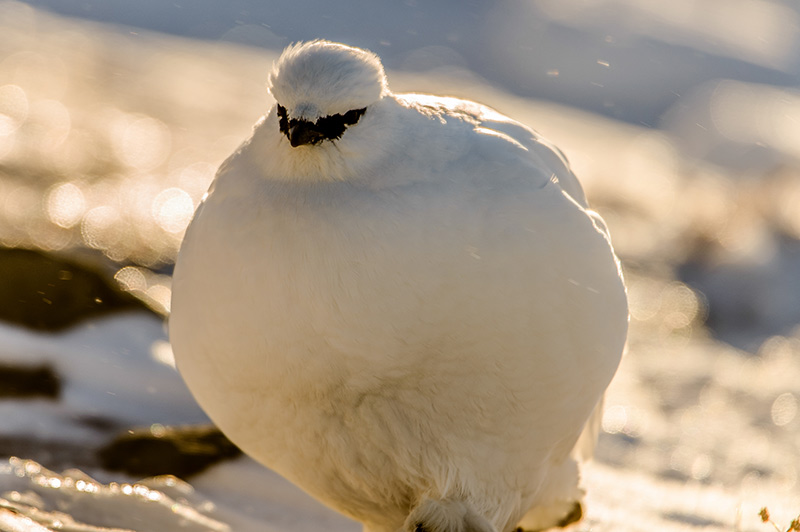 She fumbles around for her camera, excited to see the birds with their winter plumage. They moult three times per year, with their all-white winter coat providing excellent camouflage.
A huge thank you to Anna Lena for the tour and for agreeing to the interview! You can find out more about Anna Lena and her company's boat tours of Svalbard at Barents Expeditions.
If you enjoyed the show, why not share it on Pinterest so others can discover it? We've got just the pin for that: