This simply beautiful wooden church lies at the very heart of Valdres. It's a great example of a stave church is still in regular use.
I recently took a road trip through Norway's historic Valdres valley. One of the top sights I had wanted to see was another fine example of a Norwegian stave church. After a couple of nights in Beitostølen, I drove south towards Fagernes and stopped off at Hegge stave church.
Norway's stave churches are wooden Christian church buildings from the Medieval era. They were once common throughout Scandinavia but now only a handful remain in Norway.
Such churches are built with a timber framing with load-bearing ore-pine posts, or staves. Styles vary, with some featuring notably more decorative features than others.
Video: A walk around Hegge stave church
I'll talk more about the church below, but if you prefer, watch this short video to get a feel for what it's like to be at the church.
Unfortunately I didn't get to go inside, but you'll still get a feel for the building and the beautiful surroundings.
Where is Hegge stave church?
Midway between Oslo and Bergen, Valdres is home to about 18,000 people spread over Nord-Aurdal, Sør-Aurdal, Øystre Slidre, Vestre Slidre, Vang and Etnedal municipalities.
This charming Norwegian church is located in the small village of Hegge, and near another village Heggenes.
The dark red building is perched on the hillside just above the E16 road, offering a terrific view of the valley below.
Introducing Hegge stave church
Originally constructed in the early 13th century (possibly as early as 1216), the church has been extensively rebuilt over the centuries. What stands today is mostly post-reformation.
If you're familiar with the extravagant exteriors of stave churches such as Borgund and Heddal, you might be surprised at the simpler appearance of Hegge. But this is no reflection on the age of the church.
Despite the earliest surviving written records of the church dating from 1327, modern dating techniques of the timber suggest the church was built as early as 1216.
It is a basilica type church with 8 free-standing interior columns forming an arcade, surrounding a central area with a raised roof. To enter the church, visitors pass through a charming gate from the Middle Ages.
Inside the church
Visitors are allowed in the church, although it does still function as a local parish church. However, outside of services opening hours are extremely limited. During the summer of 2021, the church is only open for a few hours on Saturday afternoons.
Read more: Why Norway's Stave Churches Are At Risk
It's worth taking the time to look inside if you can. While the exterior is rather plain, there are some interesting details inside. Original staves are carved with face masks of ancient northern saints in the attic, one of them adorned with Scandinavian runes.
The baptismal font is made of soapstone. Dating from the 1100s, it is elegantly decorated with ornaments of knots, trees, human figures, and stars.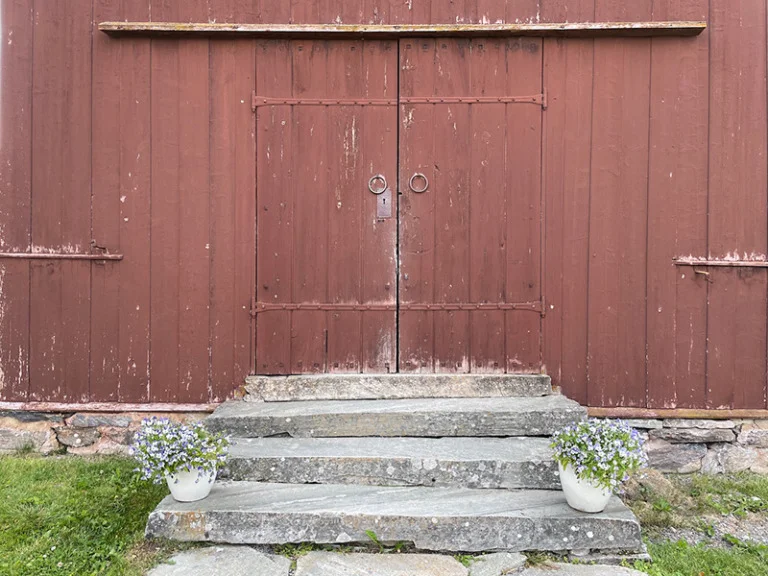 There's also an interesting tale about the 18th century altarpiece. According to the story, four men from Hegge were in the neighbouring valley Gudbrandsdalen to trade livestock. They were caught in a mountain storm on their return, so promised God that in return for safe passage, they would each donate the value of a cow to the church.
They made it back to Hegge safe, and they kept their word. The men ordered an altarpiece from a local artist in Gudbrandsdalen and brought it home on a sledge.
The bell tower at Hegge
Immediately to the left as you walk through the entrance gate is the wooden bell tower.
Set apart from the church itself, the bell tower has a distinctive design with a wider lower story than the upper one.
Graveyard
At first I was surprised at the number of modern gravestones in the graveyard, which surrounds the church on three sides. Some of the graves are old but others are very recent.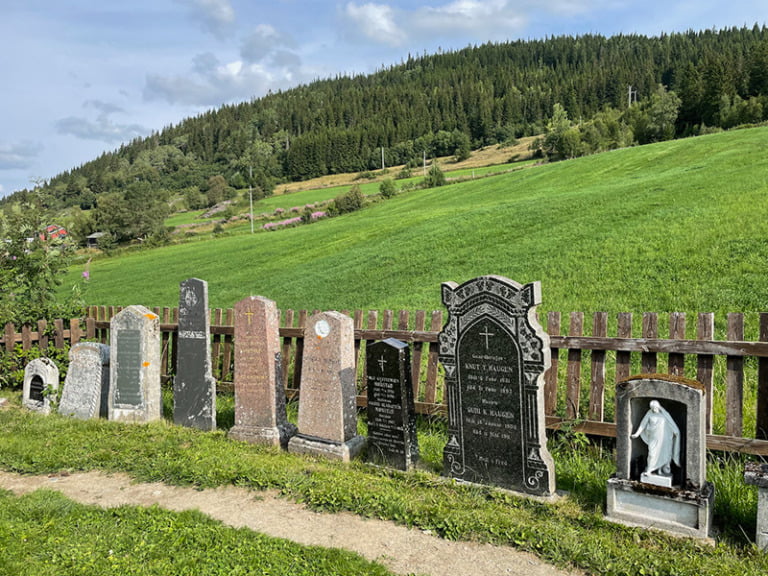 There are also many family graves. What's worth noting here is the number of family graves with names in common with local place names such as Beito and Hegge. These families must date back in the same area—perhaps even the exact same locations—many hundreds of years.
A trip to Hegge isn't worth going out of your way for, unless you are researching your Norwegian ancestry from the Valdres valley. That being said, if you're driving though the valley to Beitostølen or Fagernes, it's absolutely worth stopping off.