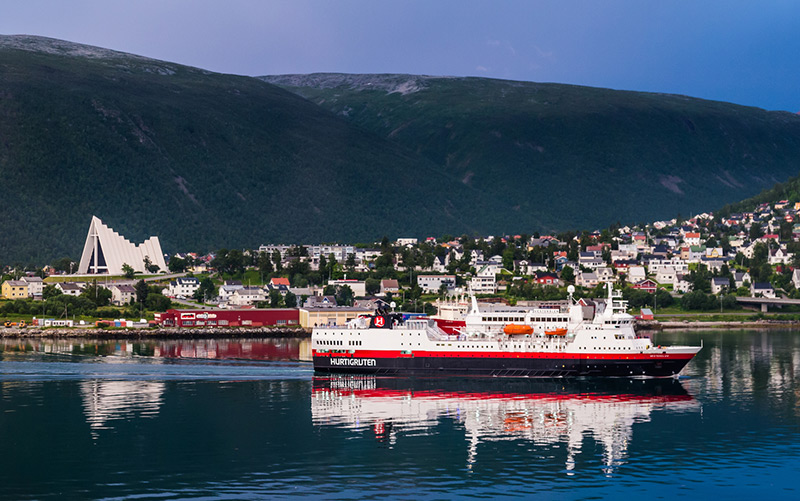 Troubled ferry and cruise line Hurtigruten are to cut their famous Norwegian coastal service from 11 to just 2 ships. This leaves many remote communities without their most vital transport service.
For many years, Hurtigruten vessels have called daily at 34 ports along the Norwegian coastline. Many small coastal communities especially in northern Norway rely on the service to transport medicines and other goods along with passenger transport.
So much so, the route is an assignment from the Ministry of Transport and Communications, which considers it an essential service. However, the ongoing health crisis has cut passenger demand on the route, both as a local ferry and the full Bergen-Kirkenes-Bergen journey that is sold as a cruise.
Just two ships in operation
Following a full stop during the crisis and temporary cuts since, Hurtigruten now announces just two ships will operate the coastal route for the coming weeks.
At the time of writing, this means just the MS Polarlys and MS Kong Harald will be in service between now and the end of October. This means some of the smallest communities will go from a daily service to an arrival every 5-7 days.
It's not clear whether this decision will be extended into November and beyond. But with Norway's restrictions getting tighter, it seems possible.
The move has been made after consultation and agreement with the Ministry of Transport and Communications. Minister Knut Arild Hareide said the "difficult choice" was essential because of reduced demand. However, many local municipalities are furious about the decision and the process, claiming they were not consulted about the decision.
The company explained the decision on its website as follows: "With the escalating uncertainties, very low number of national and international travelers, and the impact the pandemic has on our operations, we are sorry to inform that we must reduce capacity on our coastal service."
Berlevåg: Danger to people and businesses
Rolf Laupstad is the mayor of Berlevåg, a small municipality in the north-east of Norway. Home to just 1,000 people, Berlevåg relies on Hurtigruten as a critical social function. Laupstad says that long distances by road and weather-exposed mountain passes make the ship the safest transport option.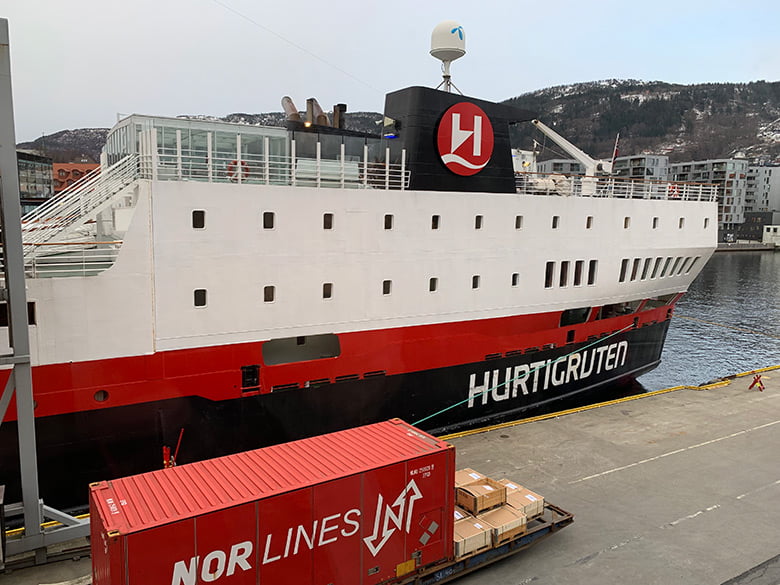 "When the calls are cut from daily to every fifth or sixth day, it will be problematic for, among other things, the delivery of medicines to us. It goes without saying that this means an increased risk for those who use medication. The business community is also affected. Fish is transported from here by Hurtigruten, so this is unfortunate," Laupstad told NRK.
Creating a long-term problem
Berlevåg's port manager Bjørn Tore Sjåstad was much stronger in his language, calling the move "a disaster for the coast."
He believes the Ministry of Transport and Communications doesn't understand the long-term danger this poses. Businesses will find other solutions and may not return to the shipping option if and when Hurtigruten resumes a daily service.
"Of course, you will not be able to count on Hurtigruten in the same way. I am very concerned about the coastal route when passengers and business find other routes. It will take a long time to rebuild what is now being demolished," said Sjåstad.
What next for Hurtigruten?
The move comes after a turbulent few months for the Norwegian company. Once loved by Norwegians and tourists alike, Hurtigruten's reputation is now tarnished.
Following a return to operations after the health crisis, the company failed to follow infection control procedures and put arriving Filipino workers straight to work instead of obeying Norway's quarantine procedures. This combination led to a serious outbreak on board a ship last month, with many crew and passengers contracting the virus.
The latest news of a cutback to the Norwegian coastal service will not help their reputation.
In recent years, the company has made major investments in new eco-friendly hybrid vessels with an eye on the future. However, with international travel seemingly a long way off a return to 'normal', the company faces a challenging future.